Dog Breed Info Center(R) Success Stories and Positive Feedback
A lot of people write into the site with positive feedback and how the Dog Breed Info website helped them better understand their dogs. We decided to start sharing some of these stories with you. If you would like to share your own story please feel free to do so.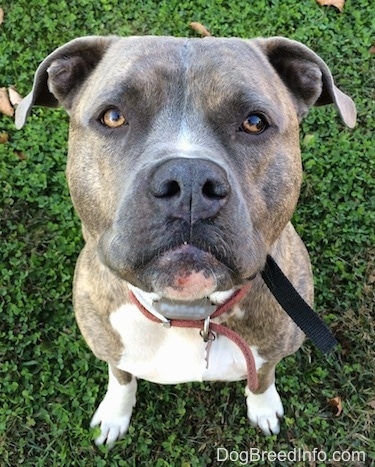 _______________________________________________
I just want to say thank you. I have been wanting a puppy for awhile now and I was looking through websites for training, caring, body language, and such and came across your website. It is the only website I need. My roommate has a Lab that is about 6 years old and after reading your articles, I know his body language and what is he wanting/thinking by the way he is standing. I plan on getting a Pit Bull very soon and just want to say thank you again for the information you provide. I am reading your articles daily.
Erick
_______________________________________________
I want to thank you for this website. I first found it around 5 or 6 years ago when I was adopting my first puppy and it was so helpful for me. I loved reading the "Raising Bruno" portion because it helped me to know what to expect when raising my own pups. And probably best of all, your site led me to Cesar Milan. I had never heard of him before finding your site and I wish I would have learned of him sooner! I incorporate his methods in raising my German Shepherds and they are stable, calm followers in my pack. I'm getting another pup later this spring, and here I find myself back on your website to reread the Raising Bruno section. Your site is very well-organized and the blog portions are well-written. Thank you so much for putting this together! It has made all the difference in my family!!
Amanda
_______________________________________________
Here's a happy tale from a boy and his soon to be dog who both have happy tails! First off, I'm a 14-year-old boy (writing to you with his mother's permission) with a passion for dogs (ironically I had a ridiculous fear of dogs from ages 4 to 7). In a few weeks I'll be the owner of a 3-year-old Jackapoo named Oreo. Oreo previously belonged to my cousin who just didn't have the time or energy for him. He'd bark and bark and bark, begging to be let out from the confines of her room, and she did her best to ignore him (as she thought that would get him to be quiet, but it rarely worked). For one, my first choice for my first dog was an American Bully (I'd attended one ABKC show and watched many videos on the breed). But one night I decided to skim your site for all the doodle designer dogs and when I reached the Jackapoos my mind wandered over to Oreo. And I forgot to mention... I hated having to deal with him!!! He just wouldn't settle down... that was until I decided to let him follow me around the house. When he was allowed to show his true colors I saw a totally first-owner type dog. He'd trot behind me as I did simple chores, he'd settle down if I told him to hush, he'd roll on his back and relax as I reached down to put his leash on. Terrific! It took a couple of different sessions to get him to behave on a walk (I'd hold the leash super tight and stiff and he'd take off to try and meet other dogs) but eventually we both were walking like professionals (he heels nicely and I am assertive and calm). I'm going to strive to be a calm, assertive owner and do my best to help many owners do the same. Thank you, DogBreedInfo, for teaching me true dogmanship!
Kevin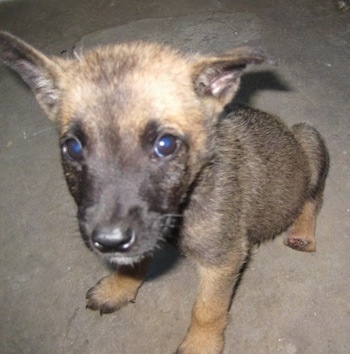 I found my Lucky dog in my flower bed, three weeks old and two pounds, one year ago. He was starving one paw missing and ate up with worms.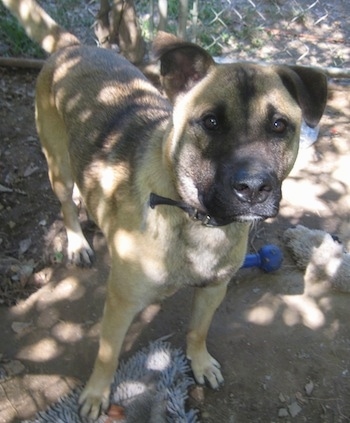 He is nearly seventy pounds now and what a beautiful dog he has grown into. I have searched and read articles every time I'm unsure of something. Thank you, Thank you, for this site. First time a site went on my favorite list. I tried the techniques when he jumped on me today and WOW it worked. I have done so many little things wrong but they will be corrected. I know it takes a lot of work but at least now I know the right way instead of guessing. I am now feeling pretty good about some questions I had and I have learned a lot of things I need to change. I feel really confident about where we go from here. Thank you sooo much!!!!
Terri
---
Thank you, thank you, thank you!!!! At last a website about dogs and dog training that makes sense and cuts out the rubbish being sold by so many dog training sites and trainers. A site that sees it from the dog's perspective (thereby respecting dogs for the magnificent animals they are). I have been a professional dog (person) trainer now in England for 4.5 years since I retired from a life career in the British police service. I consider my real job is to assist people to train their dogs rather than me training their dogs for them. My biggest challenge so far is trying to explain and to convince dog owners that their dogs are animals to be respected as such rather than people (children) dressed in a fur coat. My experience is the reason it is so difficult to get most people to understand things differently is that that's what they are actually looking for... a person (child) in a fur coat. It seems they go and get a puppy very often to fill a part in their lives that has actually existed before but is now missing (the child that has now grown up and has flown the nest, the life long partner who has passed on, the human brood that has not been created yet). I find many younger couples go and buy a puppy then try to treat it as a baby person. It's almost as though they think they can practice for the real thing. When one tries to explain a dog is not a replacement person the response is so often disbelief, sadness, bewilderment and on occasions right down anger at someone saying it! At least now I can refer people to your site which says,so well, so many things I am trying to convey to them. It gives my words more credibility being written down in black and white. I could go on praising your site for a very long time but for now once again
THANK YOU,
Trev Woolgar —Kent Dog Whisperer
---
This is the BEST site I have found for any and all info on dogs and training! So glad I found your site. Many thanks from people like me.
Nancy
---
Thanks for your website! You've provided me with a wealth of information helping me sustain a balanced, healthy home for my dogs. I visit often! Your website is a valuable tool for responsible dog owners, and it should be required reading for anyone bringing a puppy into their "pack"!
Heidi

---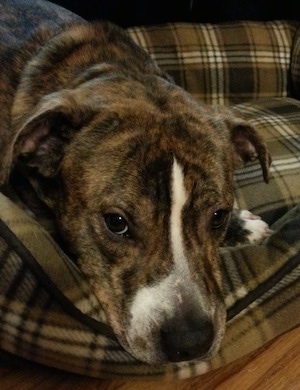 While I've lived with many dogs, I just adopted one of my own. I wasn't really sure if natural dogmanship would really work, but so far the results have been amazing.
When we first met our new housemate, she would pull on the leash like no tomorrow. But after just a couple of days, she goes on regular pack walks, is getting along on commands and is calm and happy. We're still working on staying off furniture, and passing dogs... but I'm sure we'll get there.
Thank you for the wonderful information on your site.
Dan
---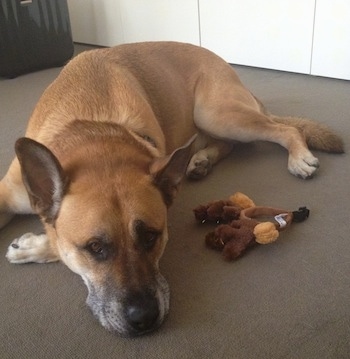 Hello, I just wanted to say thank you for this amazing website. I rescued a dog several months ago and have found your site to be the most informative and practical after many, many hours of doing research on dog behavior. I rely on this site (all the way from Australia) and regularly review articles and tips. Your story about Buddy at the SPCA broke my heart . It really sickened me. Thank you again for all your hard work in putting these stories and articles together, they are much appreciated.
cheers,
Kathy
---
Hello, I just wanted to thank you for the amazing wealth of information you all have provided. We recently adopted a 10-week-old Pit Bull puppy and finding this site has been amazingly helpful! It's astonishing to realize all I have been doing wrong in the past. Bruno and Spencer are so handsome! My Maddy has been listening MUCH better only after a few days of this new calm way of training. Thanks again!
Erica
---
Hello,
I'm writing because I recently adopted a 5-month-old Golden Retriever. To be honest I was terrified of doing so since my cousin adopted a Labrador looking dog and he is a devil. The reason I was terrified was because I didn't want to have an uncontrollable dog with me. After thorough research and reading and watching videos and more, I came across your page. Having worked with horses and using Monty Robert's methods for natural horsemanship, I'm really impressed that you have dog related topics. I'm applying your methods on my dog and they are working like a charm. Now I realize that the problem with my cousin is that his family let the dog become the alpha in their "pack" (household) and that is why the animal is uncontrollable. With these few words I'm just trying to say thank you very much because my experience with my dog is a lot more fun now that I understand dogs better and how to handle an animal. That even body language wise a dog acts and reads different than us. You have made my experience unbelievable and something that looked like a challenge became instantly enjoyable, fun and very rewarding. I have already shared your page with my friends and family who own dogs and I'm sure that you will be great help for them as well.
Thank you very much!
Juan Jose
---
Hi there,
I just wanted to say thank you for putting this site together, its simply amazing! There is so much information that I have been reading for weeks now. You did a great job and its a huge job. I'm sure it's a labor of love.... So, yes thanks and bless you!
Danielle
Montreal, Canada
---
Hi,
This is 'THE' most informative website about dogs that I've ever come across my entire life. I was a novice in understanding dogs and had them almost all my life. After I read the articles here I feel I knew nothing and lost so many dogs cause of me. I always thought it was because of my dogs. I would highly recommend this to all dog owners/prospective owners. What a wonderful website. GrEat JOB.... AWESOME!!!!! Marvellous, fantastic... kudos, bravo.
I used the dog walk technique mentioned here and my dog is HEAPS better on leash now. He used to run and pull me all over the place, jump on me and kids and all, now he cool and calm and I love him even more. It gave me the confidence I so badly needed. Am now thinking of getting a German Shepherd and maybe also a Labrador.
Again I can't thank you enough for making this website.
Krishna
---
Thank you for the time and effort spent on providing all of this helpful information. I had a great walk with Louie, our Poodle cross this morning, thanks to your site.
David
---
Hi. Thank you for putting together your website. I have been surfing the Internet for quite a few years looking for dog related information. I owned a German Shepherd for 11 years, which I sadly had to put down a couple of months ago due to deteriorating health. I have since got myself another German Shepard that is now 8 weeks old.
In all of my years of looking at a lot of dog websites, I have never found any that compare to yours. Your website is a "one stop" site on dog info and your information makes so much sense. I see dog owners every day who have little control over their dogs, because they treat them like furry people instead of dogs. Dogs cannot think like humans, so to be successful living with our dogs we have to try to think like them, and your website gives excellent suggestions on how to do that.
I am already using what I've learned on your website on my 8-week-old Shepherd, and am making very positive progress.
Thanks,
Carl
---
Hi, I just wanted to send you an email to say THANK YOU for all of your great articles. We have been extremely challenged with our puppy and I can't tell you how helpful your information has been. We have an older dog of the same breed, but a completely different personality so we weren't really "ready" for what challenges lay in front of us. We have a trainer who has touched on some of these things, but your articles really put it all together for me. Your examples and stories are great and pointed out several things that we have been doing wrong (like making an "event" out of passing screaming babies or other dogs by stopping and 'sitting'). We still have a long way to go (especially with passing other dogs), but I see progress. Today we finished our first walk without the dog leading. It was a short walk of long duration, but we did it. Thank you!!!
Sarah
---
Hello! I'd like to share my success story with you. I'm so thankful to have found your website. We recently adopted a rescue dog who had insecurity problems in new situations and with new people, and who also had no training. Well, soon after adopting her I looked online to find if there was any way I could get her to become more comfortable in new situations and up came your website. I've been applying these training methods for a week and I've seen significant change. Not only is our dog more calm and relaxed (we're giving her more exercise) but she is comfortable around new people (for the most part) after working with her. It's amazing that you just have to be your dog's leader, control your emotions, enter doorways before them, teach them to heal, et cetera, and then they become more secure and happy. She's already learned sit, stay, down and is working on STAYING down for extended periods of time, as well as give paw. She is a breeze to teach and so smart- she just didn't seem like it before because I wasn't being a leader and she really didn't respect me. Now she's done jumping up on me and hasn't had any accidents in two days. The biggest thing I noticed was that her shaking- which the vet told us was just going on because she was nervous and was nothing medically related- is GONE. Just like that. She used to do it almost constantly and I've definitely noticed its absence, and its really good. Everything is going great and I can't wait to see what the future brings.

THANK YOU!
Caroline
---
I discovered your website when searching for help training my black Labrador puppy. I used your techniques for the first time yesterday (going through the door first, acting calmly when I went down in the morning, etc.) and she is a different dog - really calm and chilled and hardly any accidents. Also, she didn't make any fuss in her crate last night! The change is extraordinary - thank you! I'm looking forward to seeing how she is today.
Thanks for all the sensible advice and the helpful videos.
All the best,
Jacqueline
---
You truly helped us save our dog from being removed from the family. He and I had a bad, bad, bad fight the morning before where I STEPPED UP to this 80+ pound lab (stupid of me I know) to fully challenge him and I did not know what I was doing. He snapped, but nothing real bad, but I walked away and told my wife to find him a new home. I thought about it and decided to find out what I am doing wrong first.
Your site was one of the first ones I found and I went through it, and then went through it with my whole family so we can all be part of the solution and understand how our pack has to operate.
I have to thank you so much for your site. I have a 3 yr old black lab. He is a wonderful dog and is great with people... except for his friendly aggressiveness where he invades human space very badly. He also had been not too shy about letting me know he was boss and I that was doing something he did not like. I studied the information on your site and began to use the information immediately and I have to say it has helped sooo much.
We began seeing results within 24 hours by using the brisk attitude adjustment information and making him (or maybe us) see immediately that he is a dog and not a human. Aside from a couple minor annoyance growls/grunts from him, he is, in less than a week, a more relaxed dog and more aware of his position in the pack.
Your explanation of natural dog behavior and realizing that we have to think like them was what opened it up for me. I have been using my posture and mental projection (weird, but it works hahaha ) and with very few words been taking back leader role in MY pack (family lol) and it is working so fast and smoothly I am amazed.
Thank you for most likely saving us from mistakenly getting rid of our dog. Myself and my wife and 3 kids love him and did not want to lose him because of bad behavior.
Thank you,
Nathan and Family
---
Hello,
I just wanted to let you all know how much I appreciate the information on your website. I'm having issues with separation anxiety and housebreaking the Dachshund I rescued several weeks ago and your articles have provided a lot of insight. I was seriously (and unhappily) considering giving him up because I didn't know what to do with him, but after reading your website I feel like I have some tools to use on him. thank you very much!
Emily
---
Hi. I just wanted to say thank you for your great website. We read the articles extensively, before buying our English Staffordshire Bull Terrier. We wanted a companion pet for us and our kids, but we always thought poor dog behavior was one of those random, uncontrollable things. Then Cesar's show showed us it was possible to have a well behaved dog, and your site proved an excellent information source and guide to help make it happen. I've not owned dogs before, but we're enjoying the experience and feel confident and happy that she seems well balanced and tolerant of the kids. Together with the leadership skills from your website and the use of a halter collar, our kids also have effective leadership over our dog, which is nice to see. One of our kids is quite young (four), one has Down Syndrome (six), and one is slightly older (nine). They've all been able to grasp the concepts quite effectively. Our nine year old enjoyed reading the articles himself last year in the lead up to bringing home our pup. Thank you for all the effort you've gone to- I recommend your site highly.
Brian
---
Great website! I am NOT a dog person by any stretch of the imagination but I am often interested in proper techniques for training, proper treatment of a dog, etc. My friends have two medium-large dogs and it helps me understand why they act the way they often do.
I am surprised (and actually pleased) to see some stuff on this site that otherwise might be misconstrued, especially concerning dog behavior. In my opinion, a dog would respect me more when it did what I wanted, which would be to lie down and be quiet, and let me approach it if desired, instead of barking its head off and jumping all over me (and not letting ME greet MY friends first when I came over).
I was sure I was wrong because no one else seemed to feel this way. I even had a professional dog groomer tell me that when a dog jumped on you and licked your face, it was showing submission to you. I had a very hard time believing that (again, the "respect" issue). It turns out I'm right ... all over this site, it says that a dog that jumps all over you is showing dominance, not submission.
There were other items that really interested me - not treating your dog like a human, not allowing them to lay all over you, not allowing them to be the "leader" when you (or anyone) wants to leave the house. My friends have a collie and said, "She's a herding dog, so she stresses when people leave," and while that may be true, I am tired of walking on eggs to get away without her barking like it's the end of the world ... it is, believe it or not, comforting to know that it's not my fault.
Well, all that to say that this is a great site, and while I won't be getting a dog, I at least understand them a bit more, having perused your site. Keep up the good work!
Daphne
---
Hi! I wanted to thank you from the bottom of my heart for your website! You are a wonderful person to take the time you dedicate to this website (and outside of it) so that more dogs can be balanced and have forever homes.
My mom, dad, little brother and I have two dogs named Spike, a Miniature Schnauzer, and Cash, a Dalmatian and Miniature Pinscher mix; both are rescues. We have always loved them but boy were they misbehaved! Whining for meals, barking at very unimportant things (a leaf, for example), growling at cats or other animals they saw out the window, not responding to known commands, Cash had even marked in the house once or twice, and so much more! I was the only one that ever took them for walks and that was infrequently because it was SO unenjoyable with them constantly pulling. And as you can probably tell by their breeds, they would like to be pretty active.
Then last week I came across your website and excitedly shared it with my mom and dad right away. I had learned so much in just a few readings! For example, how dogs have an instinct to migrate, that they need a leader, how they communicate... I had a few pages from the website up and had my parents read it. We familiarized my little brother with the main important things (like how dogs should go out doorways after humans) as he is young and won't remember EVERYTHING. We began applying all the concepts.
The evening I had discovered your website my mom, dad and I, along with my little brother, went for an hour walk. My mom was holding Cash's leash while I had Spike. As always, they were pulling, used to leading us. But we blocked them with our bodies so they were walking behind us and after a while allowed them beside us. Only a few times did they pull! When they did we would just give a tug up and towards us and voila! After just under an hour they were seriously HEELING! Something they'd never done before.
We put into use many other things as well. We made the dogs wait while we walked in the gate to our yard, the same with going up the steps and in/out the door. We corrected the dogs correctly:) matching their intensity when they did something unwanted.
The huge thing is, just a week later it is hard to believe they are the same dogs! They no longer whine and very rarely bark. Dominance signs that we didn't even know were signs of dominance (refusing to move out of our way, for example) have vanished, they wait until we say "all right" to go through the door, ride nicely in the car, don't jump on guests or us, and yesterday we visited my aunt who has cats, a guinea pig and another dog, and they practically ignored them! They avoided eye contact and get this... Cash even completely left the room when the cats were being fed!! AMAZING! The changes have been unbelievable. For the first time ever, friends that visit our house are complimenting the dog's behavior.
Thanks again- your efforts are appreciated. We will be sharing these techniques with many people now, and living this lifestyle to have more mentally stable, happy dogs!
Trina
(Thank you for your feedback. :) When I replied back your email bounced)
---
I have very much enjoyed your web site with all your advice. I have a Standard Schnauzer, which is mostly well behaved. I take her to dog school twice a week. However I have learned new things from your advice which I will now use.
I believe the summary of your good advice is "dogs need a leader not a lover". I will from this minute onwards use your tips to rectify what I have been doing wrong with my dog. Thank you for your help.
Joan,
(Melbourne Australia)
---
Just got a Yorkie pup 9 months old. Had dogs in the past but I was to young to do any reading up. I love your site. After 2 days she is walking on a leash like a champ. She was scared to death at first. Taking so much of your info and applying it. Especially the little dog syndrome. I have a son 10 years old and a grandson 15 months old, plus 2 cats. Still working on the potty training but also walking her twice a day. I work from home so she gets a bit more time. Thanks for the great site. Love to see all the pics.
Rolanda
---
I'm so incredibly grateful to have found this website! By the tone of the site, I assume that the same person has written all of the content in the site and i can't say THANK YOU enough to whoever you are!
Your dedication to provide your knowledge on dog behavior and fulfilling their instinctual needs to achieve a peaceful and harmonious relationship with them has likely saved my dogs life. I'm so embarrassed to say that I didn't have this knowledge prior to getting our rescue dog.
I've learned SO MUCH about dog behavior, leadership and fulfilling the instinctual needs of our dog. You've given me hope that we can provide the proper environment for a well adjusted dog. I really wish learning this information was a REQUIREMENT for humans before the adopt or own a dog.
I can only imagine how many dogs lives would be saved if we as owners took the responsibility to understand the differences in behavior between dogs and ourselves and provided the necessary leadership to bridge that gap.
Every day I read a little more on your site and learn something new. I've started implementing my leadership role with our rescue dog and he's already made leaps and bounds of progress in his behavior. Yesterday I had a 25 minute conversation with my neighbor in the yard while my dog quietly sat / stood beside me. For me it was AMAZING (for a dog who was wildly out of control as little as a week earlier). Daily morning and evening walks combined with correction at the moment of outbursts, proper leadership, positive reinforcement and all of the other things that i've learned about on this site are truly to thank for the positive results that I've seen in our dog.
I SO wish i would have found this site 2 and 1/2 years ago when we got our (this one is our second) dog. We could have likely prevented a lot of bad behavior (especially biting me). I'm just so thankful that i found it!
Nancy
---
Just want to thank you for this website. It's extremely helpful! I have grown up with dogs (3 dogs, lived full lives). Just adopted a "rescue". She is more than I bargained for. At 2 years old she is out of control, but so so sweet and loving. After Googling various websites I stumbled upon yours. I found it extremely informative, and have read many sections. I will continue to read more. She has biting, jumping, aggression, separation anxiety issues. I read the articles last night. 24 hours after reading various correction methods for problem behaviors, my "alpha" girl is now realizing I am the alpha. Seriously - I am seeing an improvement in 24 hours. This confirms everything the articles state. She came into my home (10 days ago) and tested the family; secured the alpha position- until I tried appropriate methods to take alpha title away from her. Thank you, thank you, thank you. This gives me hope!
---
My complements to who ever wrote the "Temperament" section on your main page. This is a message every dog owner needs to understand, no matter the breed, and I have never seen it stated so clearly on the web before. I am a dog lover who has seen to many dogs pay the price because their owners did not understant this.
Robert
---
I found your blog "Raising a Puppy" about Bruno and Spencer to be extremely entertaining and informative. I spent days reading all of the articles about dog training and dog behavior up until I got my 9-week-old Chipin (Chihuahua Miniature Pinscher) puppy. Jax came from a household where he was extremely spoiled and has been a nightmare to have in the house, but there has been an obvious improvement in the past four days that I have had him. He waits for me to give a command before going through doors, he sits himself down and calms down in order to receive praise and attention, he waits for permission to eat his food, he stays put on command, he will easily "leave it", and we are working on heeling on a leash. I am still doing a lot of work with him (he growls at strangers, he snaps at me sometimes when I "bite" him, and he refuses to listen to or respect my boyfriend at all) but I am so happy with the improvements. Unfortunately I have yet to find a way to stop him from howling uncontrollably when I shut him up in his room or kennel and he is absolutely terrified of having a bath, but I am still extremely grateful for the knowledge that you have shared with me through this website and blog. As this is my first small dog, I would have surely fallen into the rut of Small Dog Syndrome very very quickly without this site!
Thank you again :)
Allison & Kevin, and Jax
---
Just want to say thanks for all the helpful info. I've learned so much from your website.
Dan
---
I am a Rhodesian (Born in Salisbury, Rhodesia - now known as Harare, Zimbabwe) and I have grown up around a lot of ridgebacks - they are unique and beautiful, I just wanted to say that I am impressed with your website and the accuracy of it. May the breed live long!!!
Nataleigh
---
I just want to say I love your blog! It's been my lifeline since we adopted our rescue puppy 3 months ago. There's been more anxiety and stress involved with our puppy than i expected. Seriously, your detailed writings have been such a comfort and such an education. It's hard to find others in my life who have gone thru this whole puppy experience in a way I want to emulate So thank you!
Lisa
---
Hi there,
Just got a one year old Boxer one week ago. He's never been taught to walk on a leash. After using your technique for the past 3 days he is actually walking next to me. Unbelievable what a quick learner he is. I just need to teach him not to jumb or go nuts when a dog walks by:) Anyway, I just want to thank you for this great website with great advice on how to be friends with your dog.
Cheers,
Christophe
What a wonderful website. I'm left having to read every single page, and I don't even own a dog!
Steve
---
I just wanted to say thank you for your site!!! I have a 8 month pit mix Boscoe he was the last one of his litter that was dropped at a pet store that does not sell puppy's, but they kept them a took care of them. I have a lab mix and boxer that he gets along great with and he loves my niece and nephew. They are great dogs!!! Your site is very informative and I will use all of what I have learned to help raise my dogs and inform others of the "Pitbull" breed.
Thanks again,
Nicole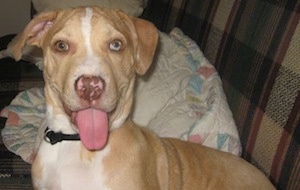 ---
Thank you so much for your website, and info on how to walk a dog.
I just tried it and for the first time ever she walked beside me.
HOORAY!
Thank you, it is now a pleasure to walk her, rather than an effort. Zena is a Golden Retriever, nearly 12 months old, and even though we had private training she kept pulling. It hurt me!!! I was about to give up. The interesting thing was the gentle kick!! That's what she responded to more than anything. Getting her behind me she relaxed, I relaxed, now we can both go for a walk and enjoy it!!
Thank you so much,
Happy Dog Days,
Sophie
---
Thank you so much for this great site! All of the advice about picking a breed, breed information, puppies, training, feeding, etc. has been the best I've found.
Keep up the great work!
JD
---
Hi -
I just wanted to drop I line to indicate my thanks for all the wonderful information on your website.
I've recently adopted an adult dog (3 years, Staffordshire Terrier x Boxer) and this information has helped me with gaining the confidence in being able to lead her. I now feel control when on the leash and have the ability to read her behaviours and know how and when to respond.
Thank you again!

Adrian
---
Your website is very helpful. Your tips are practical and based on realities. Thank you very much for imparting to us your very useful knowledge.
Jene
---
EXCELLENT website! We are currently in the process of rescuing a dog and though I've had many dogs in the past, I will be sure to put your info to good use to make this dog an extra happy pup!

THANK YOU!
Theresa
---
I just wanted to thank you for such an informative site. In less then a day my what I thought to be hyper 14 week old puppy has had a complete change in demeanor. I started using the proper way to walk a dog pack walk method. He accepted it very quickly and has calmed down and is like a totally different dog all in less than a day. It has shown me that I was actually stressing him because he wasn't sure who was in charge and now he is more sure and we are enjoying each other a ton more.
Thanks
Robin
---
I just wanted to say what a great site you have and how much I enjoyed reading your description of the Berger des Pyrenees. I've spent quite a bit of time with them in the Basque Country and found your comments right on target. This is definitely not the dog for the novice... or someone who doesn't have the patience, time or space to exercise them properly.
Roslyn
---
You've done a wonderful job putting this website together and you do an awesome job keeping it updated. Some day when I can afford to financially I plan to own a Miniature English Bulldog. This is my favorite site for keeping up with information concerning them. PLEASE keep up the awesome work.
Mike
---

The Dog Breed Info website is full of very helpful and educational information. I learn (or re-learn) something new everytime I visit.
Debra
---
THANK YOU for all this info. We are having fantastic results in just one day!
Kathy
---
Thank you for this informative website. I'm not a dog owner (can't provide what a dog needs), but I've long loved the animals and interact with them frequently. The information is fascinating and helpful.
Gloria
---
Hi there, I just wanted to message you to tell you how great your site is.
I got Little Angello (King Charles Spaniel) when he was 10 weeks. He was brilliant till he was about 14 weeks and then he just turned into this nightmare pup. I doubted myself and thought I wasn't ready or strong enough to raise a puppy and honestly I had thoughts about taking him back to the farm I got him from by 30 weeks.
Anyway I came across your site and I've learnt so much! He's not a naughty puppy, I was a naughty human! I don't work so I'm with him pretty much 24 hours a day and now I see all I was doing wrong.
I really have learnt so so much from your site and I have full confidence my puppy will be much more well behaved by next month.
I will certainly let you know how it all goes and thank you for installing the confidence back in me and giving me the tools to have the best relationship with my Angello.
Best regards,
Carrissa
Update: Today is day one of training him how it says on your site and I tell you it's such a massive improvement already. He has done all his wee's and poo's outside!!!!!!! AND I even had a car journey with him sitting nicely on his seat. Also I've been able to leave rooms without him going mad in his crate, it's fantastic!!!!
many thank,
Carrissa
---
I just want to express my appreciation and gratitude for this excellent, most educating website! It is by a good margin the best I have found so far. I learned a lot. Now I understand much better my experience with my dogs, especially with my toy dog. :) My best wishes for your work!
---
I just wanted to commend your website on being the best informative on dog breeds, care, and training I ever come across.
You are providing wonderful info & service to all pet lovers.
---
I just wanted to say thank you for such a wonderful and helpful website. Although I've had dogs as a kid and adult, I just got our first puppy ever. Without your website, I would have lost my sanity a week ago!
---
I just want to thank you for all the good, helpful information about dogs. I enjoy reading the dog breed info, but especially info on dog behavior, dog language and relationships with humans.
---
I have been familiar with your website for years now. I found your website when I was first interested in getting a pit bull. Not only is your website the absolute best when it comes to non biased and true information about dogs, but the advice you've placed on the website in the past few years and the connection with Cesar Millan is so wonderful I thank you so much!! I tell every dog person I know about this website---it is so helpful and true in the information given--and you have given such good information on pit bulls and other powerful breeds, it is great to educate the public that way. I love your website so much and I'm on it all the time--just wanted to say thank you for being correct and helping in such a wonderful way for all dog owners. You guys are the best and I wanted to say thank you from the bottom of my heart!! Good luck and keep it up! My pit bull/boxer and pit bull/rottweiler are exactly what your website says, with all Cesar's materials, good firm leadership and lots of long pack walks, they are perfect ambassadors for the breeds!! Thank you so much and keep it up. I will continue telling everyone I know about you and suggesting they look on your website for anyone interested in owning any dog.
---
I want to thank you for the information that you posted on being pack leader. It is good information. I just wish more people would realize dogs are dogs, not people. Dogs have their own psychology and people do need to understand that in order to have a well raised dog. Thank you!!
---
Thank you! I have been using "Cesar's Way" methods on dogs and horses since before the great man was even born. The way I see him work with dogs is nothing short of amazing. He is the Mozart of dog behavior. He has done more to help save misunderstood dog's lives than all the good folks in the gentle camp. All they do is throw up their hands and recommend euthanasia. I can lecture for an hour on where the reward only crowd goes wrong, but I would be preaching to the choir. I'll save it for a student. You guys get it. For that, I thank you, and also for publishing all the great pages on your website. I refer people to it from mine. Happy trails, friends.
---
Your website is so refreshing! Many (positive trainer) sites simply do not understand that you can't bribe a dog with behavioral issues. Besides rehabilitating dogs for a living (I specialize in aggression), I foster, rehabilitate, and rehome the tough cases and provide training, etc. for volunteers. I follow Cesar's philosophy and have 24 yrs experience as a certified trainer. Folks think I'm brilliant (I simply love what I do, and am very calm, assertive, persistent), because they clearly miss the simplicity of exercise, discipline, affection. I tell them anyone can learn to do what I do, and every dog and their human will benefit from practicing this philosophy.
---
Just wanted to thank you for your site- I have spent hours and hours devouring all the information available here. My husband and I are in the process of searching for our first dog. I have been caring for neighbors' and friends dogs all my life...both in my home and in theirs...and recently realized it is time to get my own dog as it's been emotionally rough giving the dogs back when their owners return from vacation! We are trying to get a rescue dog and already have been turned down by one shelter because we lack a fenced in yard and previous vet history. (Even though I work from home and will take our dog for multiple walk or runs each day.) I'm eager to train my dog to be a good citizen in our house and I want to thank you for providing this educational resource to help me choose a breed that will be a good match for our lifestyles as well as be prepared to train our dog. Blessings upon you and your family!!
---
I just wanted to say how much I'm enjoying reading your site. My boyfriend and I recently adopted a purebred puppy. Your site provided so much information even before we brought her home and I still have lots more to read. She's the cutest thing but she's my first dog so I'm terrified of doing it wrong. Reading your site helps and I'm now delighting in your weekly log of Bruno's upbringing. Thank you!
---
I've read and reread most of the articles on your site and I feel it has helped me immensely as far as what to expect and how to act when we pick up our puppy tomorrow. I can't wait. Friends of ours have a dog that runs all over their house, craps everywhere, and is just a pain so it kind of put us off of getting a puppy for a while. But after reading the stuff on this site though, I feel absolutely confident about our new puppy. Thanks a lot!!
---
Just wanted to let you know that this site has helped me with a couple of dogs that I rescued from a burned down foreclosed home. They were making me crazy-like no animal I have ever had! And I've had and trained all sorts. Thanks for the info - now I will be able to take into consideration the way their minds work and help them be better dogs.
---
I want to thank you for this website full of dog information that was terribly useful to me. I have experience in dealing with and helping train full grown dogs by their owners, but I have never raised a puppy nor was I told why certain commands and consequences work. I simply did as I was told. About two weeks ago, I adopted a 12 week old large breed dog. He is a doll and extremely intelligent. I have been looking up info on the net to better understand him and his needs as a member of the pack (which consists of humans, but we get out daily to socialize), and this is best I have found. I am grateful to you and just wanted to express my appreciation. Thank you so much!
---
Thank you for offering this free information. I have a low budget and this has been hugely helpful to me and my dog. She has been dominating me tremendously because I did not know how to handle a more dominant dog. We got her as a very fat one month old when her mother would no longer nurse her. You are helping me and my friend tremendously. I feel better as the leader and I love her more when she minds. My other dog is fighting me but I am making headway with her tremendous will. Thank you with all my heart.
---
I just wanted to thank you for a great website. Let's just say you have enlightened me and my family to a point of clear dog thinking. I have watched the DW and read many two of his books. It is refreshing to read someone else's works who mirror Cesar's Way and explain it in words that, at least I can absorb even better. Thank you again.
---
This is the best dog site I have ever come across. I appreciate the breed profiles, and how you have included the positive and negative aspects of the breed. I also appreciate the articles on dog behavior. I have not found a better source for information on dogs anywhere.
---
I would like to say I believe that your site should be a mandatory read prior to anyone owning a dog.
Very well done with a wealth of information. If every perspective dog owner would read your site, I'm convinced that dog shelters and rescues would not be as overwhelmed with so called problem animals.
I have owned dogs for over 30 years and I still learned new things from the site.
---
I just wanted to drop an e-mail to you and let you know that I truly enjoyed your "Raising a Puppy" series of posts. I loved reading about Bruno, and other happenings around the farm as well, though most definitely Bruno. Its also inspired me to do something similar. Thanks to your site I have a wealth of tips on raising our new pup. I will be following "Ceaser's Way" in raising the pup from the get go.
In any case, I wanted to say thank you again for the informative series on raising a puppy and I do hope we continue to get further updates on Bruno!
---
I came across your site while searching for something. I truly enjoyed your section on raising Bruno. Brought back many memories of my trials and tribulations of raising my dog from a puppy. I also learned some interesting tips as well. Regards.
---
I was overjoyed when I came across this site and found a "true understanding" of the American Pit Bull Terrier. My family has owned several dogs of this breed going all the way back to my great grandfather, and the experiences and love have been passed down through stories. My husband and I own 3 APBT's. I have personally experienced they way people and the media portray this breed with misjudgment and down right cruelty for a dog they do not understand themselves. I would like to thank this site for the honesty and proper research of the APBT!
---
The article titled "Small Dog Syndrome" by Sharon Maguire is great! My family and I had for years owned large dogs and loved them. Subsequent to their passing away we just couldn't decide whether to get another one or to try a smaller breed. So we did nothing. More recently we began thinking about a dog again and maybe going for a small dog. The information contained in the "Small Dog Syndrome" article is very helpful in helping our thinking about a smaller breed. Thanks!
---
I just had to tell you that your website is the best I have ever seen about Boxers. I love my Boxers and your site truly shows how wonderful and great these puppies and dogs are. I wouldn't ever have any other kind again. Thank you for sharing your love for Boxers!
---
I rarely contact site providers but, I felt I must pass along my Appreciation to the awesome web pages here! Keep Up The Good Fight against Ignorance and NO BSL should ever be needed !!!
---
I rehabilitate dogs and horses and train humans to understand them better. It has been a passion of mine for over 40 years. Both parents were of the same school as Cesar. When I saw him on TV I thought I was watching myself. I wasn't following him, but I study him because he has such extensive experience in the field. He is a Mozart of the art of humans and animals living together. I was pleased to stumble on your website and from the first article I read (A Dog Fight - Understanding your Pack) I knew you get it. In fact I really enjoy the quality of the way stuff is explained here. I plan to read everything you present. I know how much work it takes to keep a website current, not to mention work with the animals all day, so kudos to your group and thanks for making the effort. It has already helped me to become a better teacher.
---
I've been reading your site for several months and I would like to say thank you for all the helpful advice on behalf of me and my dog. We adopted our dog from a local rescue effort when he was only 9 weeks old and while he has many puppy moments understanding dog behavior and the proper way to correct him and establish a proper pack behavior has been a life savior. We recently went to a family gathering where there was around 30 people in and out as well as 4 other dogs, all toy breeds. Our dog was only a 6 month old puppy but twice their size. Thanks to pack walks and his understanding where he stands in the expanded pack he behaved, listened to even my 8 year old niece give him commands and was truly a good dog.
---
Hi there,
Your advice in "Raising a Puppy" about thinking like a big bear really made the difference in raising my pups. Just wanted to express my thanks and gratitude for your website. Nothing in life is free but good things do come around to reciprocate a good intention. regards
I just wanted to write and thank you so much for offering such helpful and sensible information free of charge. I recently adopted a 5-year-old dog from a local shelter. He had been neglected and abused by his former owners, and was very submissive and quiet for the first two months he was with me. I had read things about the need to establish dominance, but I didn't follow those suggestions with him, because he seemed so "broken" --as in, his spirit had been broken. Now, after 2 1/2 months, he has begun showing dominance behaviors and separation anxiety--and he has begun soiling in the house when I leave. When I first got him, he was so well-behaved we couldn't believe it. He never even barked. I know that I must have caused this change in his behavior by not treating him as a follower-dog but rather as a wounded baby. I am going to start using the techniques you suggested. I love him very much and want him to feel secure and safe. Your articles were in-depth enough that I finally feel I adequately understand pack behavior and canine needs. And I totally agree with what you say about needless euthanasia. These behavioral problems begin with us. When I was searching for the right dog, I saw so many abandoned animals whose owners could no longer"deal" with them and who would ultimately be euthanized. I have no doubt that if pet owners were more educated about the needs and traits of their animals, euthanasia would be much less common.
So, all that is to say, thank you very much for offering this valuable information to the public.
---
Thank you for putting together such an interesting and informative website. I am sure that you have brought a lot of relief to many dog owners and, even more importantly, to dogs themselves.
---
Hello,
I love your informative page. I just recently bought my new 2.5 month old male hybrid. I laughed out loud at all the similar traits this hybrid seems to have. My dog is a character and I love him to death. I have not been around a dog in two decades. Growing up, we had a dog that I cannot imagine life without. She passed away years ago and after that, as an adult, I only had cats. So a puppy is new to me and I am loving it. I am still trying to housebreak my dog, and I find that food is such a fantastic lure. My most difficult task has been finding a food that he consistently likes.
Well, thank you for your informative page.
---
I've been thinking about getting another dog, so I've been doing a lot of research, and found this site. Thanks so much for all the time and work that went into it. If and when I get a dog I know that I can find whatever I'm looking for here!
---
Hello,
I just wanted to thank you SO MUCH for the information posted here. I am getting a puppy in two days and wanted to start out on the right foot. If I had not found this site, I would be one of those boneheads walking with their dog out in front and all the other mistakes we make not knowing it is causing the dog more hardship. Thanks so much, I will be referring back to this site often, I'm sure!
---
I just wish to let you know that the information etc on your web page is the best I have discovered in years of web surfing, even though I cannot remember how I got onto your web site. I rediscovered it in my Favorites file.
---
We just wanted to thank you for all the information and knowledge you put into this site. It was such an eye opener. I love watching "The Dog Whisperer" and agree that he has so much knowledge to offer in the field of Canines. Thank you again for such a wonderful site :)
---
I just wanted to thank you for your website. I first came to it a few years back when we had bought a raffle ticket for a puppy and I realized--this is crazy. I'm not prepared to bring a dog into our home and I don't even know anything about the breed and if that's the kind of dog I would want! A Google search on the breed brought me to your site, and your different pages have been so informative. Based on your recommendations, we have been reading Cesar Millan's books and watching some of the videos of the shows, which are available from our library. Fortunately we did NOT win the raffle, which has given us more time to evaluate our readiness for a dog and which breeds we might be more interested in. Thank you so much for all you have put here--it has been so helpful.
---
Hi, I'm not an actual dog breeder or rescuer, just a dog lover. I just wanted to thank you for your website and keeping animal owners informed of the do's and don'ts when caring for dogs. Well, and all of your precious photos, too! I just recently graduated from a Veterinarian Assistant course, and was shocked to discover that after all that education, you would think that I would have a pretty good idea about how to walk and care for dogs. To be honest, though, I didn't fully understand the importance of leadership with dogs until I read your web page! While being quite disturbed at myself for JUST realizing this, I also think that it is extremely sad that the majority of dog owners do not know or care to know these very important facts about dogs and their behavior! I wish there were more ways to educate and stress the importance of these issues to people. Extensive research goes to understanding animals of the world, and yet, are own best friends are still so misunderstood. I'm interested in bringing this knowledge to the realization of everyone, I just wish I knew where to start. Thanks so much, again.
---
Thank you so much!! I learned so much from your site. Our family just got a puppy and I was amazed at the difference after reading your site how our puppy behavior changed for the best. Thanks for your dedication and sharing on how to have a great life with a dog.
---
Your site is quite good. I'll be referring potential adopters
---
I just read your information listed on Amstaffs and Pitbulls. I wanted to let you know that it brought me to tears. I was overjoyed. I had finally found some information on the breeds that did not stigmatize them. I have a 3 year old pit, who is exactly like you describe, loving, caring, obedient, and kind. She is perfect. Thank you for not falling for the media hype and for portraying these animals for what they truly are: amazing wonderful pets! There needs to be more sites like yours out there :)
---
Hi.
I wanted to thank you for this very informative and, in many ways, reassuring website. We recently added a dog to our family. For the first time today she displayed no separation anxiety when we went out without her. She has also learned to heel well, or maybe I should say we have learned to give her the right signals and give her her rightful place in the pack, without the burden of having to take care of all of us!! So thank you once again and keep up the good work.
---
Dear Sharon,
I want to THANK YOU for all the information and knowledge you share on your site. It is unbelievable!!!! I've been doing everything wrong when I had dogs as a kid and as a teen and now that I have a family of my own and am looking for a dog, guess what: I was getting ready to make the same mistakes!!! Thank God I came across your web-site. I think people should go to your site and take a look before bringing a new dog home and specially before giving their "bad dog" away. I will keep on telling people to come here for the rest of my life. Your simple tips changed my life as a dog owner forever and I can not say THANK YOU enough!!!! I have learned about dogs in 5 minutes more than my ENTIRE life!!! Thank you for presenting the information in such a funny way!!! We laughed so much at the Chihuahua, Doberman.... Chihuahua, Doberman... sitting on the lap comparison... and we laughed at picturing myself talking in my "to-a-human-baby", "high-pitched" voice to my dog when I come back home... WOW... how many mistakes... we should not be allowed to have a dog before taking a test!!!! Well, better later than never. Thank you from my entire family.
---
Just wanted to say the I truly enjoy your site. It is a great source of information. I recently rescued a puppy from a shelter and have been researching puppy training (which your site has a wealth of info on =). I hope Bruno is still doing well. I commend your hard work in documenting his growth and progress.
---
I love the story of Spencer. You show the care you chose in picking and training him. And he is adorable! I hope more stories of responsible pitbull ownership get out there so some of the myths of this remarkable and loyal breed are dispelled.
---
Hi!!
I started reading your website yesterday and i Just want to let you know it is a fantastic website with so much useful information!
I have a 19 week old puppy and today I took him for a walk and tried some of your info and it worked perfectly!
Thank you so much for sharing your knowledge :-)
---
Hello,
I've read through parts of your site and just thought I'd say in my opinion, this is an excellent site, very comprehensive and informative, without a doubt, the best canine information site I've found.
Thanks to Sharon Maguire and everybody else that's helped to put this site together; I will definitely be signing up and recommending your site to other dog owners I know.
Best Regards
---
I read your article on dog walking. The difference in my dogs behavior while we are out is night and day.
---
I just came across your site as I needed to find out more about a specific breed. I'm an aspiring Pack Leader Trainer and dog walker and was absolutely thrilled and impressed by the thoroughness of your site and the knowledge you make available to others. I have been using Cesar Millan's pack leader techniques with my own pack for years and rehabilitated several 'unfixable' dogs along the way.
Thank you so much for passing on your knowledge in such an accessible and comprehensive manner. I will be recommending your site to my clients and friends.
---
I just wanted to let you know that this seems to be an amazing site, and has already earned a spot in my frequently used bookmarks, even after only about a half hour of browsing. Keep up the good work, and thank you so much for such a well put together website!
---
I wanted to say how much I enjoyed reading your section on Natural Dogmanship. I am one of the "type" of horse trainers you mention i.e. I use the horses own language, behavior, and psychology to help resolve issues between horse and human. I have watched many of Caesar's programs and while there are certainly differences in terms of the prey/predator instinct there are many similarities too regarding the need for leadership and boundaries. Let us hope between us all we can continue to improve the harmony between animals and humans without the need for pain and violence! Best wishes
---
Just wanted to drop you a note and say: "Great website". I love the care and time you have put into this site, helping others to understand dog speak, dog behavior and how to properly care for their dog. Excellent work. Thanks for making the effort to share and the compassion to do so, it really comes through.
Have a great day and God Bless you +
---
Hello!
I just wanted to say thank you for providing such a great resource for understanding dogs and making them a part of the family. I stumbled on this website right about the same time I adopted a 5 month old puppy from the shelter. I have had dogs all my life and was fully aware and ready for the commitment I made (which includes taking him out on pack walks 2-3 times a day for a total of 5+ miles), but I was hazy on what techniques to use to train my dog, how to correct certain unwanted behaviors. I was concerned about (bolting, pulling on the leash), and show him what I expected of him. This website has done so much to show me what to do and how.
I found the stories of raising Bruno the Boxer and Spencer the Pitbull particularly helpful, because in addition to being entertaining they illustrated these techniques in a "real world" perspective and were also very candid. Everyone makes mistakes in training their dogs. Everyone. But those mistakes can be corrected.
I have had my puppy for about 3.5 weeks now and getting to know him has been marvelous. This is partly due to the fact that he is a very good dog. On the other hand, it is also due to the fact that using the techniques illustrated on this website, he heels beautifully on a leash, sits and waits to be invited through a doorway, and it is very easy to correct unwanted behaviors before they escalate. My puppy respects but does not fear me, and that makes us both very happy. I also take comfort in the fact that when there is a setback, and there inevitably will be (he's a puppy!), I will be able to use this resource to gain some insight on how to move past it.
I am firmly convinced that you, by offering this resource and maintaining it, have saved the lives of many dogs - either through encouraging people to adopt, or in helping people to understand their dog and learn how to train them. Please keep up the good work!!!
Thank You!
---
Hi there,
I wanted to send you a message to let you know that this site is AMAZING! You have done such a great job in compiling information that helps people to understand what it is that dogs need in order to lead happy and fulfilled "Dog Lives". I grew up with dogs, raised and showed them as a teenager. I recently lost a mixed breed terrier rescue dog and miss him terribly. I have been devouring all of the information you have provided so that I will give the next dog an even better life with the new tools I am learning!
Thank you so much~
Take care
---
I just wanted to thank you for having this website. i have read the entire thing. I am disgusted to see how i made my Dogs miserable by not understanding them in the past. I have a puppy and I have absorbed everything i read and will be sure to use the tips. Thank you so much.
---
Just wanted to tell you that this is a GREAT website! We just got a Pitbull puppy, and if my husband and I had not checked into this we would be having some bad behavior on our hands. But already from the beginning she's doing great and picking up potty training really quick along with a good "walk" behavior. Thanks!
---
Wow! This is an awesome site. I can't wait till I have time to go through it more thoroughly. It's nice to see some people who appreciate Cesar Millan. I see so many website's that are anti-Cesar. For the life of me, I can't figure out why. I guess they're just jealous. I volunteer at an animal shelter and use Cesar's techniques all the time. You absolutely have to be pack leader around shelter dogs or there will be nothing but chaos. Thanks for your website. I love it!
---
Just wanted to say thank you so much to Sharon Maguire for being an advocate for the well-being, enrichment and health and happiness of dogs!! Great articles!
---
Just a quick note to say what a great site you have! (I stumbled across it looking for one of those "dog selector" quizzes)
I thought the "Small Dog Syndrome" article by Sharon Maguire was absolutely EXCELLENT! :-)
I would love to get a small dog in another year or so after I retire . . . and thanks to your website, I now know I really need to study up on "dog psychology"! We well-meaning but uneducated people assume that dogs think like us (and vice-versa) but you are showing me how far off the mark we are!
I have saved your site under my favorites, and will be busy reading every word on it before I adopt a furry friend!
---
Just a note to say thanks for your wonderful website. I have three dogs and love them dearly. I'm a Deputy Sheriff and see my share of animal abuse and neglect. It makes me sick to my stomach. Dogs don't have a voice other than the people willing to step up to the plate. Again, thanks.
---
I love, love, love reading the "Raising a Puppy" articles. I would love to be able to contact the writer of these wonderful articles. She has spent a lot of time to document her days raising Bruno. I read these articles over and over for advice and entertainment. I actually wish they were in book form. Please pass this email to the writer of this wonderful log. She has done a great job, not only with her dogs but with helping other families with their dogs. Thanks so much!
Ps. love other articles too... great site!!
---
I have 4 toy dogs that were owning me, I put into practice the principles on your website and I own them now. They are no longer barking and treating me bad. Thanks for this website, its clear and simple. This website makes everything very clear. We (me and my dogs) can all live in peace now together.
---
Thank you, Thank you, Thank you, not only for changing your home page last month in support of animal cruelty month and "kill" shelters, but for the wonderful information on the pet overpopulation problem. What great information you have on there about owners not researching their breed, not committing to their animal and dumping them on us, the kill shelters. I know we, 'the kill shelters' are labeled as the villains, but we are NOT the problem and you drove that point home very well. Thank you Thank you Thank you! It did start my Monday morning off a little better, knowing I'm going into work to a PACK building today with all the owner surrenders we had last week and have to make some very tough decisions I don't want to make. It sucks!
---
Just wanted to say: great site! Thank you for your well researched and honest perception of pitbulls!
---
I would just like to say that this is always the first site I go to when I need to find out information about a particular dog breed. I linked to it on my website because I want anyone who goes to my site to see who I support. I am also a Dog Whisperer fan and have actually helped a couple of people with their dogs using similar techniques. I am working on building my main business right now, but the dog training is still a side business. Whenever I have a question about a dog breed or a particular question regarding pets, I always start with this site. Thank you for having so much information and for keeping it so easy to find. Please don't change the format.
One satisfied customer
---
I just wanted to give some feedback on "Raising a Puppy" with Bruno the Boxer-what a GREAT account of what it's like to live with a brand new puppy! I'm in the process of doing it myself right now. It is giving me the reassurance to keep going when I get discouraged. THANK YOU!!
---
To whom it may concern
Where should I start? Well, back in July, my family decided we were going to finally get a dog. I'm the type of person that actually gets a kick out of 'researching' anything and everything before I purchase. Well, I did some extensive searching to find the right dog for us. It didn't take long before I found your website, so my wife and I explored it. We needed a dog that was good with children, good guard dog, not a toy dog, didn't shed much, and my wife insisted that it could be a big time drooler. On your site is where we found out everything we needed to know to make a decision.
We're still learning news tips and techniques to raising her. I visit your website almost every single day!!
I'm not asking for anything in return. I just wanted to compliment you on a job well done!! I'm on the web a lot, but the dogbreedinfo.com is #1 on my Favorites list.
Thank you so much!!
---
We want to thank you for this wonderful website. One of our treasured rescued dogs was killed Saturday, we wanted another dog quickly. When we went to our county shelter Tuesday---there he was, waiting for us--his forever family. It was love at first sight. He's a beautiful yellow lab that had been returned to the shelter twice. He won't be going back. Your site has been so helpful in learning more about the breed. He fits the description of the labs to a tee. What a joy he is and what a handful. He's 1 1/2 years old with no manners but wants to please and is sure quick to learn. He's going to be a challenge, but one that we are more than willing to take on. Again, thank you.
---
I just wanted to say thank you. I don't know how often you hear that, but I hope it is more than you can stand rather than not enough. You are doing a wonderful job of educating the average puppy/dog owner, as well as prospective owners. You are doing something really great to cut down on unintentional irresponsibility. I have so much to say, but I hope I have said it all. Too few really care about these wonderful, intelligent companions. And too few foresee the end that could be very sad.
---
I just wanted to say what a great writer you have for your website on dogs, especially the one for the Spanish Mastiff. Very good say it like it is info, something all dog owner or wanna be dog owners should look at before getting their dogs. I was doing a little personal research on the 4 banned dogs in the United Kingdom and I don't know if it's the same person who wrote the 4 sites I saw (Dog Breed Info Center), but I thought it was so informative, right down to how and what kind of exercise the dog needs, the kind of owner and discipline, and if it drools and slobbers. It was enjoyable reading too. Keep up the good work.
---
I am very glad for your entire website as we seek to find the right dog for our family. We are finding a lot of terrific info that can help us make the right decision.
Thank you for providing this resource!
---
Bruno the Boxer - I would like to get a message to the person who is keeping us informed about Bruno. I can't tell you how much I have enjoyed reading this story about Bruno and the challenges and achievements the family has gone through since they got him. My husband and I got a Yellow Labrador Retriever at 8 weeks old to add to our household of 2 Black Labs. The puppy is 6 months old now and some of the things talked about regarding Bruno, we too have gone through and overcome. I'll keep watching for more updates. Kinda makes me want to add a 4th doggie to our family, but the hubby and the other 2 Black Labs say NO WAY.
---
I just wanted to thank you for your wonderful website. Based upon your thorough and honest information I decided that a Chihuahua was the breed for me and for the past 2 years I have been blessed with the most wonderful canine companion. He is so well socialized, thanks to your suggestions. He's a registered therapy dog and goes to doggy day care on a regular basis. People are constantly amazed at how calm and happy he is when we are out on the town. I always remember your website and how thankful I am that you are so honest about the temperament of each breed.
© Dog Breed Info Center ® All Rights Reserved