Rescue a Beago
Beago Puppies for Sale
Beago
(Beago Retriever)
Beagle / Golden Retriever Hybrid Dogs
The Beago is not a purebred dog. It is a cross between the Beagle and the Golden Retriever. The best way to determine the temperament of a mixed breed is to look up all breeds in the cross and know you can get any combination of any of the characteristics found in either breed. Not all of these designer hybrid dogs being bred are 50% purebred to 50% purebred. It is very common for breeders to breed multi-generation crosses.
Recognized Names:
American Canine Hybrid Club = Beago
Designer Dogs Kennel Club = Beago Retriever
International Designer Canine Registry® = Beago
Designer Breed Registry = Beago Retriever

"Bella is a Beago; her mom was a Beagle and her father was a Golden Retriever. I got her from a breeder when she was 10 weeks old. I feel she has the best qualities from both breeds. At 8 months old she weighed about 35 lbs. and my vet tells me she won't get much bigger. Bella has the shorthair coloring and ears of a Beagle, but has a longer muzzle and love for the water similar to a Golden Retriever. A few drawbacks would be she does tend to howl and dig if left alone. However, Bella is incredibly smart and was very easy to train. She is also excellent with children and very eager to please. Her calm demeanor and lovable temperament make her a wonderful companion."
ACHC = American Canine Hybrid Club
DDKC = Designer Dogs Kennel Club
DRA = Dog Registry of America, Inc.
IDCR = International Designer Canine Registry®
DBR = Designer Breed Registry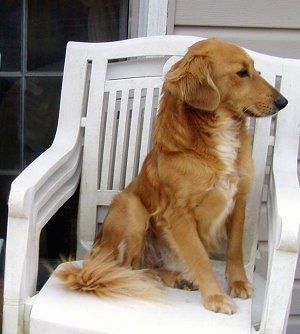 Jerrico the Beago (Golden Retriever / Beagle hybrid) at 3 years old—"Here is a picture I took of our Jerrico, a Golden Beagle, I guess, or maybe a Beagatreiver. He is three years old in this picture. His mom was a Golden Retriever and his dad was a Beagle. He looks mostly like a 25-pound Golden Retriever with silky ears, feathers on his legs and a full flag of a tail. I think he has the best of both breeds—Golden Retriever happy, but the Beagle makes him less hyper than some Goldens. He's not much of a barker or howler either. He is all-around friendly, mellow, and very, very good with all kids. Jerri is not a watchdog at all—he thinks the only reason anyone would come to his house is to play with him or bring him treats. Not the smartest dog we ever owned but certainly the most loving and easygoing."
________________________________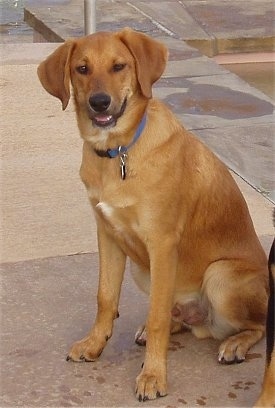 Tabor the Beago (Beagle / Golden Retriever mix) at 9 months old
Beago (Beagle / Golden Retriever mix) puppy at 13 weeks old—his owner says, "Tabor is great. He has nice long legs and big feet. He is real mellow and has a really, really playful side, too. We are having so much fun with him. His tail is long and turning black and when he barks he sounds loud, but no baying yet. He likes to chew and play and dig. He follows his nose all around like the hound that he is. His feet are webbed and thick and he likes to bounce up into the air. He is learning a lot; he sits and stays a little and gets down. We call him a Golden Reagle."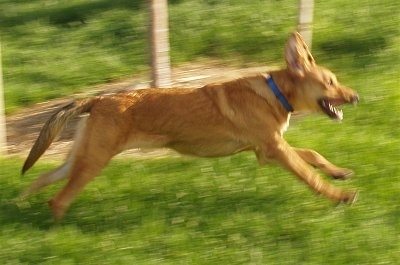 Tabor the Beago (Beagle / Golden Retriever mix) at 9 months old—Run, Tabor, Run!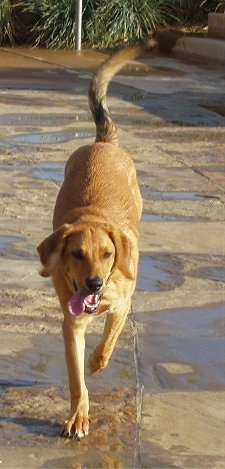 Tabor the Beago (Beagle / Golden Retriever mix) at 9 months old