Dogs Caught in the Act!
The following are pictures and stories of dogs caught in the act of doing deeds we fellow dog owners would have preferred them NOT to do. This section is sure to keep you laughing; after all, it was not YOUR Dog! Or was it? Despite these deeds, most of us still love our dogs. For those of you who just had a dog commit a no-no, look at these picture pages and don't feel so bad, it could have been worse! Do you have a photo(s) of your pet caught in the act of a no-no? Send it in! along with your story.
Wondering why dogs do these bad deeds? A destructive dog is not a spiteful dog. Most dogs that are destructive are bored and/or unhappy dogs. A wagging tail along with intense excitement does not mean a dog is happy; sometimes quite the opposite. When a dog is destructive it is usually a sign that there is something lacking in the dog's life, something that the canine animal needs which the humans around it are not providing—perhaps a lack of exercise, discipline or a general understanding between canine and human, creating boredom and frustration. Dogs need constant guidance and to be taught what is acceptable and what is not. Learn more: Understanding Dog Behavior.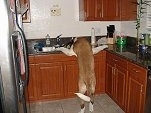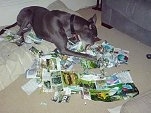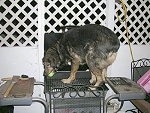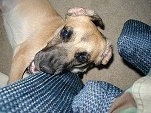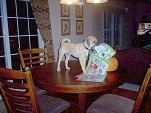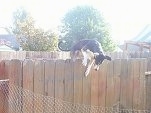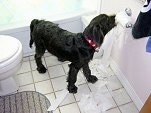 A dog that goes on daily pack walks is less likely to engage in any destructive tendencies. A dog's actions are a direct result of the humans around it.
Why does my dog do that? Learn what makes a dog tick and what you can do to turn your dog into a happy, well behaved, respectful canine.

Do you have a photo of your pet caught in the act of a no-no? Send it in!