List of Hybrid Dogs
(Desginer Dogs) (Boutique Dogs)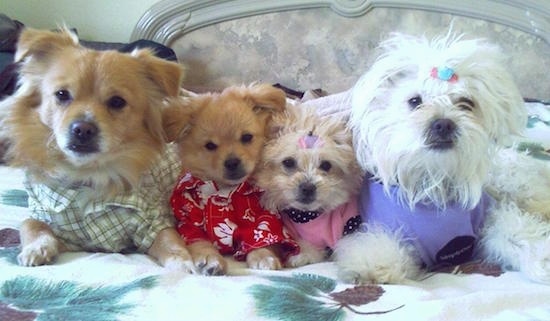 "PomaPoo Family-Left to right-Daddy Sysco at 1 year old, 13 week old puppies Kiki and Nala, Mama Honey at 1 year old."
The word "hybrid," when referring to genetics means, "the offspring of genetically dissimilar parents or stock, especially the offspring produced by breeding plants or animals of different varieties, species, or races." In general, the word means, "something of mixed origin or composition." Hybrid dogs, or designer dogs as some call them, are becoming quite popular. Below is a list of the most popular hybrid dogs. The best way to determine the traits of a mixed breed is to look up all breeds in the cross and know you can get any combination of any of the characteristics found in all breeds. The Dog Breed Info Center® does not attempt to interpret the temperaments of each individual hybrid mix because the differences in the dogs, even within the same litter, can vary greatly. If you do not feel the temperament of one of the purebreds in the mix is suited for your lifestyle, then that hybrid dog is not for you. Do not take a gamble that the puppy or dog will turn out like the other breed in the mix. Choosing a dog simply for its looks is a foolish way to choose a dog. Read the article on Designer Dogs for more info on these mixed breeds.
Please Note: A hybrid dog is not a BREED; it is a hybrid, which means it is a mix of more than one purebred dog.
Scientifically speaking, the term "hybrid" is incorrect as all dogs are a sub-species of wolf (Canis lupus familiaris) and as such, it is impossible to have a hybrid as they are two of the same species. Although technically incorrect, the term "hybrid" is the name which is predominantly used for these mixes and therefore it is the name we will also use when referring to them.