Doxiepoo
Dachshund / Poodle Hybrid Dogs
Information and Pictures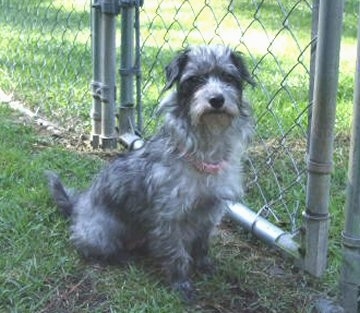 "This is my Doxiepoo, Juno. She is 1/2 Dachshund and 1/2 Poodle. I am sure because she has ACHC and DDKC papers. She is such a sweet dog and I love her like crazy! I've absolutely fallen in love with this hybrid. She is very well behaved, gets along with all other animals, and walks nicely on a leash. The only problem is that she was difficult to housebreak, which is common in Dachshunds. However, she respects me as pack leader and we have a very nice relationship."
Other Names
Dachshundpoo
Dachshunddoodle
Doodle
Doxiedoodle
Doxie Poo
Description
The Doxiepoo is not a purebred dog. It is a cross between the Dachshund and the Poodle. The best way to determine the temperament of a mixed breed is to look up all breeds in the cross and know you can get any combination of any of the characteristics found in either breed. Not all of these designer hybrid dogs being bred are 50% purebred to 50% purebred. It is very common for breeders to breed multi-generation crosses.
Recognition
ACHC = American Canine Hybrid Club
DBR = Designer Breed Registry
DDKC = Designer Dogs Kennel Club
DRA = Dog Registry of America, Inc.
IDCR = International Designer Canine Registry®
Recognized Names
American Canine Hybrid Club = Doodle
Designer Dogs Kennel Club = Doxie Poo
International Designer Canine Registry® = Doxiepoo (Doodle)
Designer Breed Registry = Doodle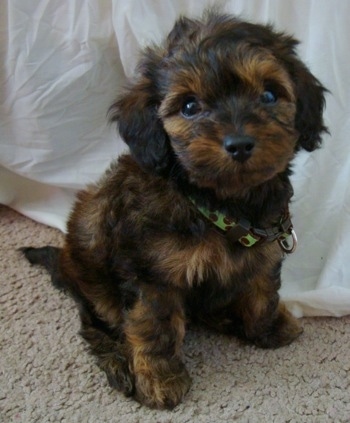 "Bubba the Doxie Poo at 6 weeks old—he is 1/2 teacup Poodle and 1/2 miniature longhaired Dachshund."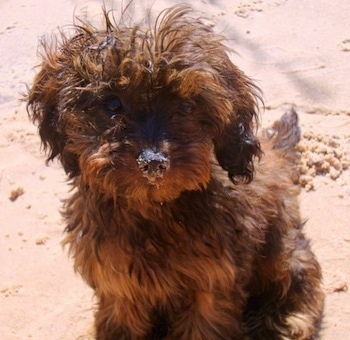 Bubba the Doxie Poo puppy at 3 months old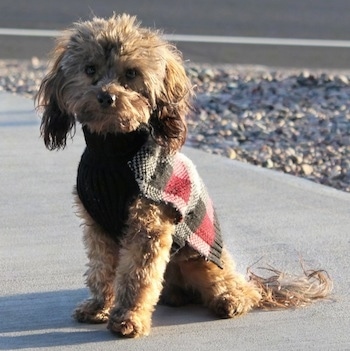 "Bubba is about 9 months old in this picture. He is just under 5 lbs. He loves swimming, digging in the sand, going on walks, and he is an absolute sweet, cuddly dog. He is great with other dogs, especially big ones. His "cousins" are Golden Retrievers and he loves them to pieces. He is very mellow, rarely barks and is an all-around great little addition!"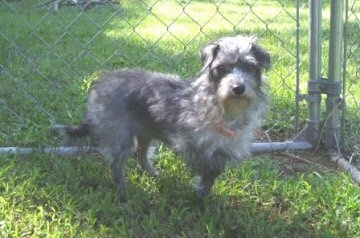 Juno the Doxiepoo (Dachshund / Poodle mix), registered with the ACHC and DDKC
"Meet Bear! The ferocious Dachshund / toy Poodle ;-). He is nothing but a sweet guy who wants to please. He loves to cuddle, but also likes to be independent when he's outdoors. He definitely has hound in him. His nose is always to the ground. When I go for my daily walks with him I take a leash for when we are in town, but other than that he walks by my side or within a 10-ft radius of me. He sleeps by himself in his kennel but loves to come into bed in the morning for an hour or so. Ah, also housetraining was quite easy with him, took about 5 weeks. In the picture attached he is around 4 months old. He looks just like he was when I got him at 8 weeks old. Not to mention - EVERYONE loves him. I have people asking me all the time where I got him and if they have more."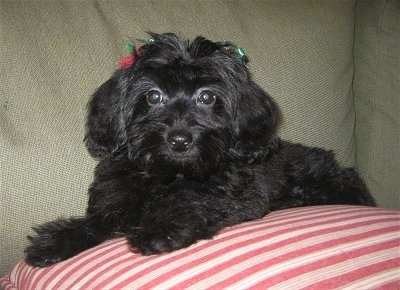 Toby the Doxiepoo puppy at 3 months old—"He is super sweet and very smart."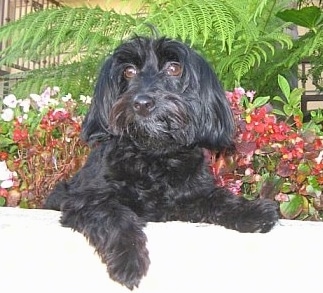 Toby the Doxiepoo at 3 years old—"Toby is wonderful! He is the quintessential lap dog and he LOVES to snuggle. His favorite thing to do is run on the beach. He is a bit needy and has some separation anxiety but we love him all the more!"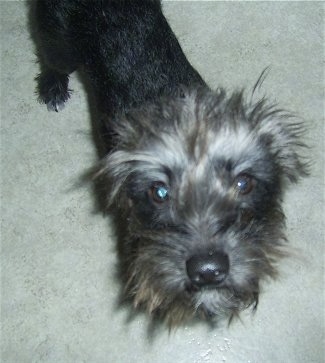 "This is Moeglee, our little Doxiepoo at 5 months old. His mom is a purebred mini Dachshund and his dad is a purebred standard Poodle."