List of Popular Poodle Mix Dog Breeds
(Hybrid Dogs) (Designer Dogs) (Poos) (Doodles)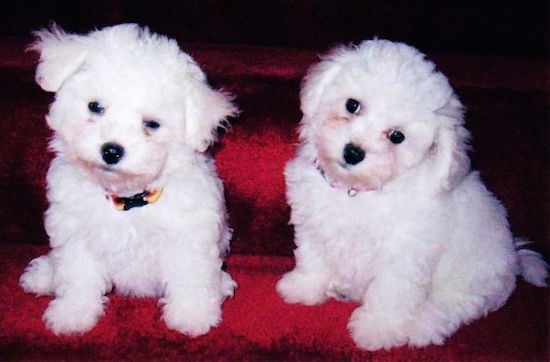 Bich-poos littermates, Zoey and Bonnie as puppies at 9 weeks old
People seem to have a fascination with Poodle mixed breeds. Why? Who knows; maybe because Poodles are very intelligent and do not shed. They tend to be hypoallergenic for most owners and are often a good choice for allergy sufferers. Keep in mind however, if you mix a Poodle with a dog that does shed the Poodle mix may shed, if it inherited the shedding trait from the non-Poodle parent. Many different Poodle mixes are emerging. And it's not just Poodle mixes, many different "designer" dogs (as the media has labeled them) are being bred. What is a "designer" dog, you ask?
Please Note: A hybrid dog is not a BREED; it is a hybrid, which means it is a mix of more than one purebred dog.
Scientifically speaking, the term "hybrid" is incorrect as all dogs are a sub-species of wolf (Canis lupus familiaris) and as such, it is impossible to have a hybrid as they are two of the same species. Although technically incorrect, the term "hybrid" is the name which is predominantly used for these mixes and therefore it is the name we will also use when referring to them.
Poodle x Affenpinscher mix = Affenpoo
Poodle x Afghan Hound mix = Pooghan
Poodle x Airedale Terrier mix = Airedoodle
Poodle x Akita mix = Aki-Poo
Poodle x Alaskan Malamute = Malamoodle
Poodle x American Eskimo Dog mix = Eskapoo
Poodle x American Rat Terrier mix = Rattle
Poodle x Australian Cattle Dog = Cattle Doodle
Poodle x Australian Shepherd mix = Aussiedoodle
Poodle x Australian Terrier mix = Terri-Poo
Poodle x Basset Hound mix = Bassetoodle
Poodle x Beagle mix = Poogle
Poodle x Bearded Collie mix = Beardoodle
Poodle x Beauceron mix = Beauceroodle
Poodle x Belgian Shepherd = Belgian Shepadoodle
Poodle x Belgian Malinois = Malinoodle
Poodle x Belgian Tervuren mix = Tervoodle
Poodle x Bernese Mountain Dog mix = Bernedoodle
Poodle x Bichon Frise mix = Bich-poo
Poodle x Bichon Frise x Poodle x Shih Tzu mix = Daisy Dog
Poodle x Black and Tan Coonhound mix = Black and Tan Coonoodle
Poodle x Black Russian Terrier mix = Russian Doodle Terrier
Poodle x Bluetick Coonhound = Bluetick Coonoodle
Poodle x Bolognese mix = Bolonoodle
Poodle x Border Collie mix = Bordoodle
Poodle x Boston Terrier mix = Bossi-Poo
Poodle x Bouvier des Flandres mix = Flandoodle
Poodle x Boxer mix = Boxerdoodle
Poodle x Briard mix = Bridoodle
Poodle x Brittany Spaniel mix = Brittnepoo
Poodle x Brussels Griffon mix = Broodle Griffon
Poodle x Cairn Terrier mix = Cairnoodle
Poodle x Canaan Dog mix = Candoodle
Poodle x Catahoula Leopard Dog mix = Pooahoula
Poodle x Cavalier King Charles Spaniel mix = Cavapoo
Poodle x Chesapeake Bay Retriever mix = Chesa-Poo
Poodle x Chihuahua mix = Chi-Poo
Poodle x Chinese Crested mix = Chinese Crestepoo
Poodle x Cock-A-Poo mix = Lacasapoo
Poodle x Cocker Spaniel mix = Cockapoo
Poodle x Cocker Spaniel x Golden Retriever mix = Miniature Golden Retriever
Poodle x Collie mix = Cadoodle
Poodle x Corgi mix = Corgipoo
Poodle x Coton de Tulear mix = Poo-Ton
Poodle x Dachshund mix = Doxiepoo
Poodle x Dalmatian mix = Dalmadoodle
Poodle Standard x Doberman Pinscher mix = Doodleman Pinscher
Poodle x English Bulldog mix = English Boodle
Poodle x English Coonhound = English Coonoodle
Poodle x English Springer Spaniel mix = Springerdoodle
Poodle x Fox Hound mix = Foxhoodle
Poodle x French Bulldog = French Boodle
Poodle Standard x German Shepherd mix = Shepadoodle
Poodle Standard x Giant Schnauzer mix = Giant Schnoodle
Poodle x Golden Retriever mix = Goldendoodle
Poodle x Golden Retriever / Cocker Spaniel / Poodle mix = Petite Goldendoodle
Poodle x Golden Retriever / Toy or Miniature Poodle mix = Miniature Goldendoodle
Poodle x Goldendoodle / Labradoodle mix = Double Doodle
Poodle x Gordon Setter mix = Gordondoodle
Poodle x Great Dane mix = Great Danoodle
Poodle x Great Pyrenees mix = Pyredoodle
Poodle x Havanese mix = Poovanese
Poodle x Heeler = Cattle Doodle
Poodle x Irish Setter mix = Irish Doodle
Poodle x Irish Terrier mix = Irish Troodle
Poodle x Irish Wolfhound mix = Irish Wolfoodle
Poodle x Italian Greyhound mix = Pootalian
Poodle x Jack Russell Terrier mix = Jack-A-Poo
Poodle x Japanese Chin mix = Poochin
Poodle x Keeshond = Keeshdoodle
Poodle x Labrador Retriever mix = Labradoodle
Poodle x Labrador Retriever / Cocker Spaniel / Poodle mix = Petite Labradoodle
Poodle x Labrador Retriever / Toy or Miniature Poodle mix = Miniature Labradoodle
Poodle x Lhasa Apso mix = Lhasapoo
Poodle x Malamute = Malamoodle
Poodle x Maltese mix = Malti-Poo
Poodle x Mastiff mix = Mastidoodle
Poodle Miniature x Miniature Australian Shepherd mix = Miniature Aussiedoodle
Poodle x Miniature Pinscher mix = Pinny-Poo
Poodle x Newfoundland mix = Newfypoo
Poodle Standard x Old English Sheepdog mix = Sheepadoodle
Poodle x Papillon mix = Papi-poo
Poodle x Patterdale Terrier = Patterpoo
Poodle x Pekingese mix = Pekepoo
Poodle x Pomeranian mix = Pomapoo
Poodle x Pug mix = Pugapoo
Poodle x Rat Terrier mix = Rattle
Poodle x Redbone Coonhound = Redbone Coonoodle
Poodle Standard x Rottweiler mix = Rottle
Poodle x Saint Bernard mix = Saint Berdoodle
Poodle x Samoyed mix = Sammypoo
Poodle x Schnauzer mix = Schnoodle
Poodle x Schipperke mix = Schipper-Poo
Poodle x Scottish Terrier mix = Scoodle
Poodle x Shar-Pei mix = Shar-Poo
Poodle x Sheltie mix = Sheltidoodle
Poodle x Shih Tzu mix = Shih-Poo
Poodle x Shiba Inu mix = Poo-Shi
Poodle x Siberian Husky mix = Siberpoo
Poodle x Silky Terrier mix = Poolky
Poodle x Skye Terrier mix = Skypoo
Poodle x Soft Coated Wheaten Terrier mix = Whoodle
Poodle x Standard Schnauzer mix = Standard Schnoodle
Poodle x Tibetan Terrier mix = Ttoodle
Poodle x Toy Fox Terrier mix = Foodle
Poodle x Treeing Walker Coonhound = Treeing Walker Coonoodle
Poodle x Weimaraner mix = Weimardoodle
Poodle x Welsh Terrier mix = Woodle
Poodle x Westie mix = Westiepoo
Poodle x Wirehaired Fox Terrier mix = Wire-Poo
Poodle x Yorkie mix = Yorkipoo