Scoodle
Scottish Terrier / Poodle Hybrid Dogs
Information and Pictures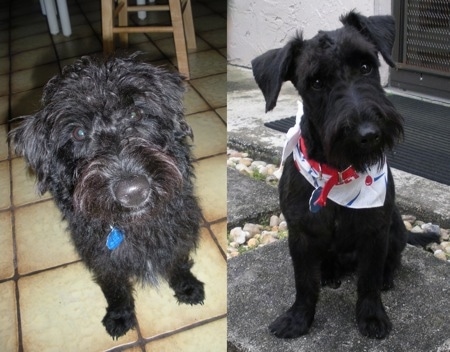 "These are before and after pictures of my Scoodle Riley at 8 months old. He just had his first cut, and I didn't know what he should look like, and the groomer had never seen a Scoodle, so we went with a kind of terrier look. I think he looks great. I took the pictures because I wanted to compare his look. He is a great dog, very calm and smart. He walks perfectly on a leash, learns quickly and is funny. I got him from a woman who rescues dogs, and she was looking for a home for my pup. He is great with my two grandchildren, one of whom is eight months old, the other nine years. He is very playful, yet gentle."
Other Names
Scottish Shoodle
Scottish Terrierpoo
Scottish Terrierdoodle
Description
The Schnoodle is not a purebred dog. It is a cross between the Schnauzer and the Poodle. The best way to determine the temperament of a mixed breed is to look up all breeds in the cross and know you can get any combination of any of the characteristics found in either breed. Not all of these designer hybrid dogs being bred are 50% purebred to 50% purebred. It is very common for breeders to breed multi-generation crosses.
Recognition
ACHC = American Canine Hybrid Club
DBR = Designer Breed Registry
DDKC = Designer Dogs Kennel Club
DRA = Dog Registry of America, Inc
IDCR = International Designer Canine Registry®
Recognized Names
American Canine Hybrid Club = Scoodle
Designer Breed Registry = Scottish Shoodle
Designer Dogs Kennel Club = Scottish Shoodle
International Designer Canine Registry® = Scoodle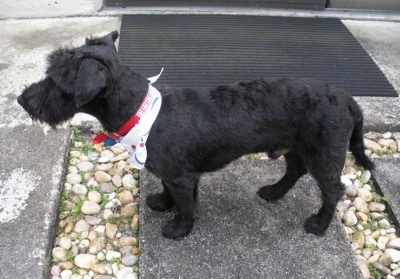 Riley the Scoodle at 8 months old with his coat groomed short—"I used several training tips by Cesar Millan, especially the "pack walk". When I first brought Riley home, I had a 14-year-old Pembroke Welsh Corgi living with us who is not friendly to other dogs at all. I was afraid I would have to buy him a muzzle to be sure he didn't bite my pup. The very first day, I had my son walk the older dog and I walked the Scoodle, and my daughter and baby girl all pack walked together. It was hard at first; the Corgi kept trying to bite the pup, but after about 20 minutes, he tolerated him and back at the house, he accepted him. By the second day they are friends (sort of). Everyone was shocked! My son hasn't been able to take his dog to a dog park or any social event in years because of his aggression."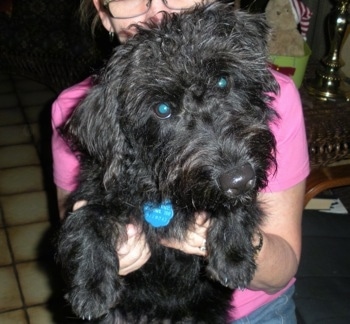 Riley the Scoodle at 8 months old with his coat grown out long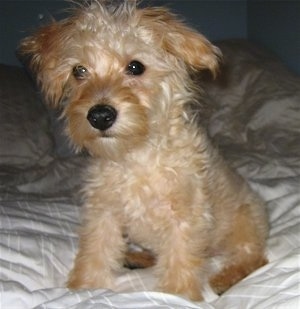 Toshiba at 7 months old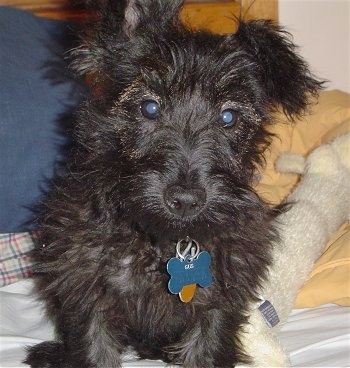 Gus the Scoodle (Poodle / Scottie mix breed dog) at 7 months old before his haircut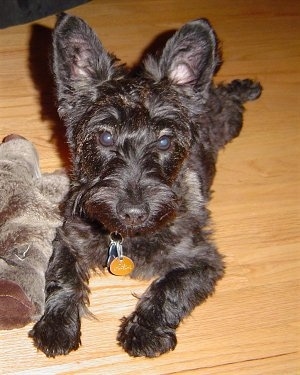 Gus the Scoodle (Poodle / Scottie mix breed dog) at 7 months old after his haircut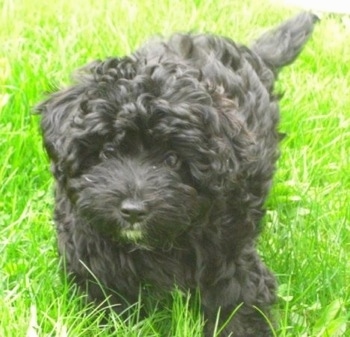 "This is Mischa (pronounced Mee-sha) the Scoodle puppy. She is 13 weeks old in this picture. Her mom was a Scottie and her dad was a Poodle, both about 20 lbs., so the best guess is that she will be about 15 lbs. full grown (she was in a litter of 10 puppies (!) and was one of the smaller ones). She came to us from a rescue in Louisiana. We are still learning her personality and teaching her the ropes of the routine. She seems very smart—sit, down and come were very quickly mastered. She is starting to show a bit of a stubborn streak on the leash (sitting down and staring at you if you want her to walk and she doesn't want to!), but we are working on it. She's an absolute sweetheart, though. Everyone she meets is a new friend. She climbs right up in their laps. She goes limp like a ragdoll when you hold her and loves to give kisses to your face and ears. She loves to have running fits and then collapse for a nap. Her fur is so incredibly soft and thick, but will require regular grooming. I read Cesar Millan's book, "How to Raise the Perfect Puppy," which was full of great advice. The best though was getting a $4 bully stick for her to chew on. It's been our saving grace. She loves it and it seems like it will last a long time. She has settled beautifully into our hearts and home, and we feel really lucky that she came into our lives!"
"This is Mischa after a bath, to show that she's as long as a soda bottle and as tall as a candy bar! She weighs about 5 lbs. in this picture."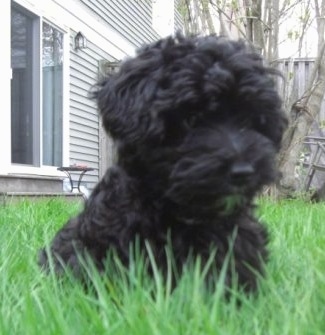 Mischa (pronounced Mee-sha) the Scoodle puppy at 13 weeks old
Mischa (pronounced Mee-sha) the Scoodle puppy at 13 weeks old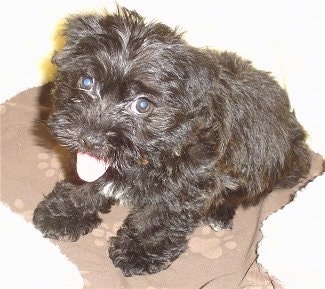 Penny Lane the 2-month-old Scoodle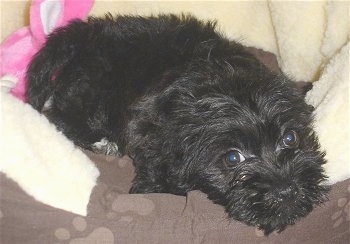 Penny Lane the 2-month-old Scoodle

Maggie, Poodle / Scottish Terrier mix