Rescue an Airedoodle
Airedoodle Puppies for Sale
Airedoodle
Airedale Terrier / Poodle Hybrid Dogs
The Airedoodle is not a purebred dog. It is a cross between the Airedale Terrier and the Poodle. The best way to determine the temperament of a mixed breed is to look up all breeds in the cross and know you can get any combination of any of the characteristics found in either breed. Not all of these designer hybrid dogs being bred are 50% purebred to 50% purebred. It is very common for breeders to breed multi-generation crosses.


"This is our family dog Penny. She is an Airedoodle. We rescued her from a shelter when she was 3 months old. She is 1 1/2 years old in this picture. She weighs 45 lbs and has very long legs. She reminds us of a reindeer. She also prances when she walks. She has an easy-going temperament and is very good with children and other dogs. If two other dogs are fighting, Penny will be the mediator and start barking. She will be submissive to more aggressive dogs. She is tame when grooming including nail clippings. She is a bit of a chameleon. When shaved down, she looks really skinny and more like a Poodle. When we let her hair grow out, she looks more like the terrier in her. Penny gets lots of exercise with daily walks in the neighborhood and trips to the dog park. She loves long walks in the forest. She also has a decent size yard and likes to race the neighbor dogs along the fence. I have read several of Cesar Millan's books and rented a bunch of his videos. I am a firm believer in his techniques, particularity showing the dog you are the leader and that she comes last in the pack after everyone in the family. I also believe in his idea that exercise makes the dogs behave better. I have noticed the difference when she doesn't get her walk. She is much happier and obedient when exercised. Penny is an avid hunter. It is hard to get her in the house at night because she hunts the mice and rabbits that come out. She will park herself in front of the window at dusk and wait for the rabbits to come out. She likes to play ball, but would prefer to hunt. Her worst habit is sometimes she excitedly pees when someone comes over. One of her funny quirks is she is a howler. She also will come to dance with you if she sees someone is dancing. She likes to swim, but doesn't like to be sprayed with water like the sprinkler."
ACHC = American Canine Hybrid Club
DDKC = Designer Dogs Kennel Club
DRA = Dog Registry of America, Inc.
IDCR = International Designer Canine Registry®
DBR = Designer Breed Registry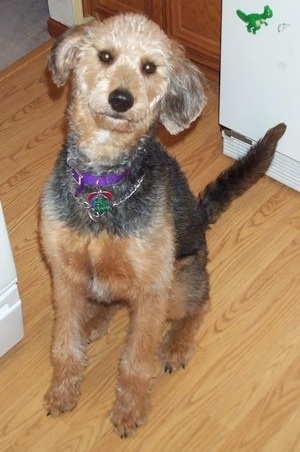 Penny the Airedoodle with her coat shaved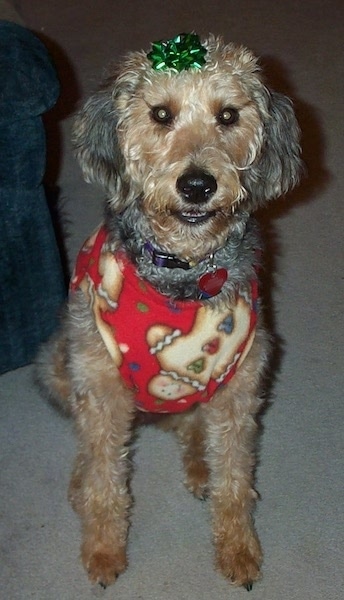 Penny the Airedoodle (Airedale Terrier / Poodle hybrid) ready for the holidays!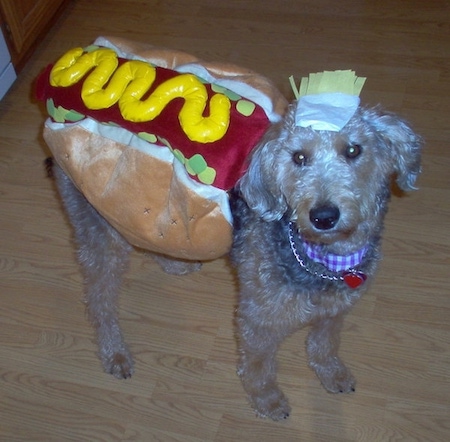 Penny the Airedoodle (Airedale Terrier / Poodle hybrid) ready for Halloween—Trick-or-Treat!
__________________________________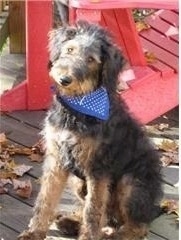 "Meet our lovely friend, Willy the Airedoodle puppy at about 4 months old. He's an easy-going fellow and loves everybody, dogs and people alike. His all-time favourite is our Bearded Collie, Molly. They spend hours chasing each other around the yard and love to play mouth hockey. Willy is a snuggle-bum and loves to cuddle up in bed with his people. He's not quite up on his manners yet and puts his front paws on the kitchen counter to see if he can score any leftovers. He loves to romp through the woods and can be trusted to come back off-leash. He's such a wonderful little boy that we're thinking of getting another one."
| | | | | | | |
| --- | --- | --- | --- | --- | --- | --- |
| | | | You may also be interested in... | | | |