Goldendoodle
Golden Retriever / Poodle Hybrid Dogs
Information and Pictures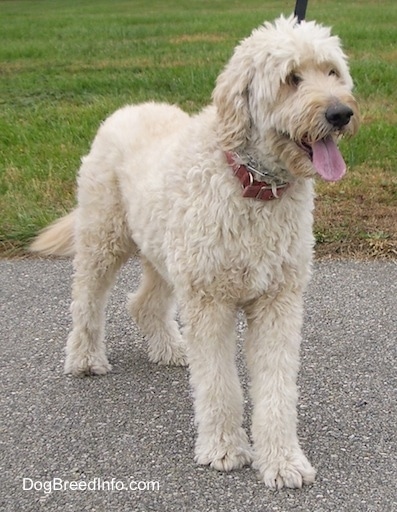 Macaroni the Goldendoodle at 7 years old
Other Names
Groodle
Curly Golden
Curly Retriever
Goldenoodle
Goldenpoo
Pronunciation

Description
The Goldendoodle is not a purebred dog. It is a cross between the Golden Retriever and the Poodle. The best way to determine the temperament of a mixed breed is to look up all breeds in the cross and know you can get any combination of any of the characteristics found in either breed. Not all of these designer hybrid dogs being bred are 50% purebred to 50% purebred. It is very common for breeders to breed multi-generation crosses.
Goldendoodle Types
There are a few different ways breeders are producing Goldendoodles.
F1 = 50% Golden Retriever and 50% Poodle. This is Golden to Poodle cross; this is first generation, resulting in healthier offspring. Hair type can be smooth like a Golden, or wavy/shaggy or occasionally a wiry look like an Irish Wolfhound (but with a softer feel), they can shed or not shed, pups in the same litter can vary.
F1-B = 25% Golden Retriever and 75% Poodle (F1 Goldendoodle and Poodle cross). This is Goldendoodle bred back to Poodle.
F2 = F1 Goldendoodle and F1 Goldendoodle cross. With this combination you get the same percentage of Golden and Poodle mix as you would with an F1 Goldendoodle.
F3 = F2 Goldendoodle and F2 Goldendoodle cross.
Multi-generation = F3 or higher generation Goldendoodle and F3 or higher generation Goldendoodle cross.
Recognition
ACHC = American Canine Hybrid Club
DBR = Designer Breed Registry
DDKC = Designer Dogs Kennel Club
DRA = Dog Registry of America, Inc.
IDCR = International Designer Canine Registry®
Goldendoodle Sizes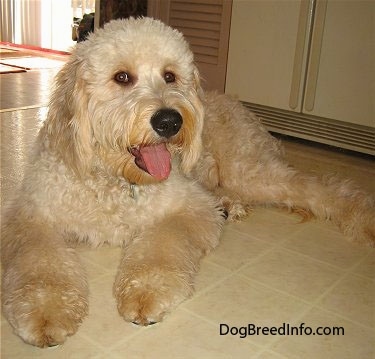 Bailey the Goldendoodle at 9 months old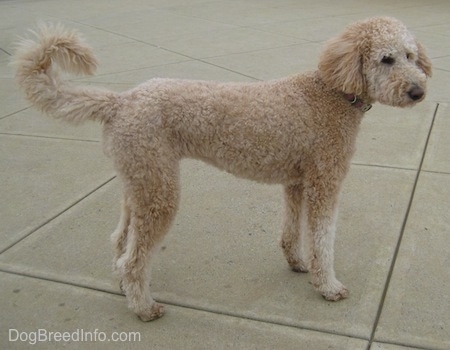 Topaz the Goldendoodle at 3 years old with a Poodle coat type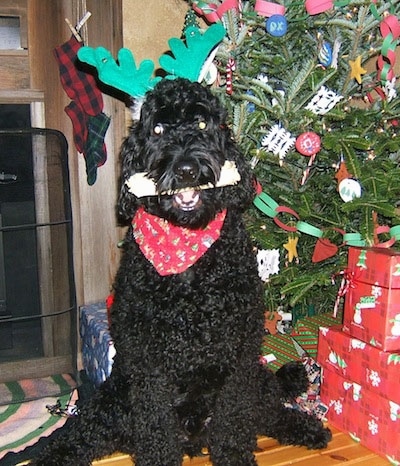 "I took this photo of Amos, our black Goldendoodle two days before Christmas. He is the favorite dog by all who know him. He is such a loving and pleasing dog, he loves to snuggle on the couch and occasionally when the mood strikes play ball. Everywhere we go he must go too. We live on nearly two acres of land so he gets plenty of exercise. He loves to play dress up and wears all types of clothing. He is absolutely wonderful with our kids and allows them to do whatever they want to him."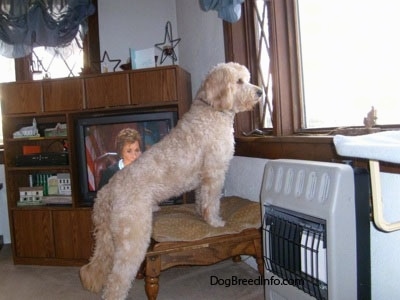 Bailey the Goldendoodle looking out the window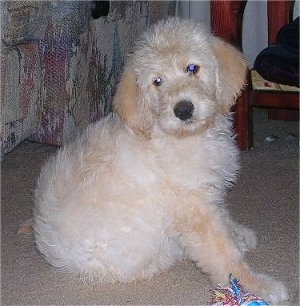 Goldendoodle puppy, photo courtesy of Ayers Pampered Pets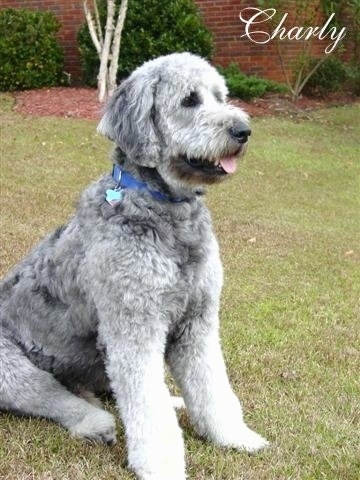 Charly, a silver-frosted English Goldendoodle at 1 year and 4 months, bred by Aspen Kennels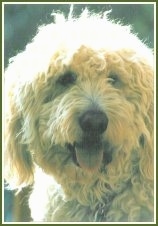 Photo courtesy of Timshell Farm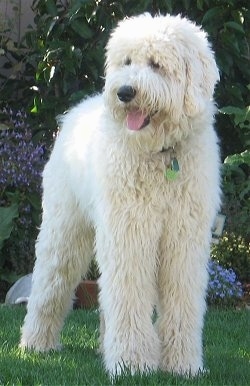 "This is our adorable little boy Deek Dexter Doodle. He is an ultra-cream Goldendoodle. He is pure joy. He is 10 months in this picture and stands around 24 inches high from the ground to the top of the shoulders, and weighs about 65 lbs. The Goldendoodle is a Golden Retriever / Standard Poodle cross, but being an F1b generation, he is a backcross so his dad was the actual Goldendoodle and his mom was a Standard Poodle, thus being non-shedding and non-allergenic. We got him from Cream of the Crop Goldendoodles & Poodles. Doodles are fun-loving and very curious. He loves to get his morning snuggles from Mommy and Daddy and then go for his big run. There is never a dull moment around the house. He is so adorable. He is also a very good boat dog. He loves the beaches and finding sticks. He loves the rain. He is a very good runner and plays well with all his toys. He is very gentle and not aggressive at all. We love our Deekdawg!!"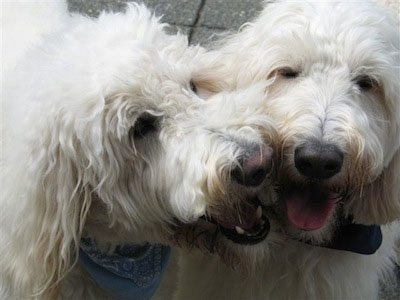 "Deek Dexter Doodle at 4 years old and his brother Finnigan!! They are the sweetest guys. They love each other and play well together. They are very photogenic, too. We could not have asked for a better dog breed than the Doodle. They are so much fun!!"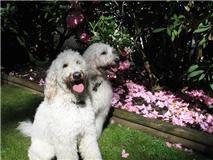 Goldendoodles—Deek Dexter Doodle with brother Finnigan
Goldendoodles—Deek Dexter Doodle with brother Finnigan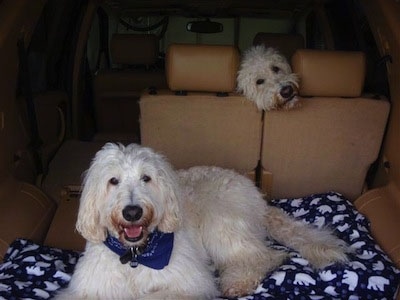 Goldendoodles—Deek Dexter Doodle with brother Finnigan in the car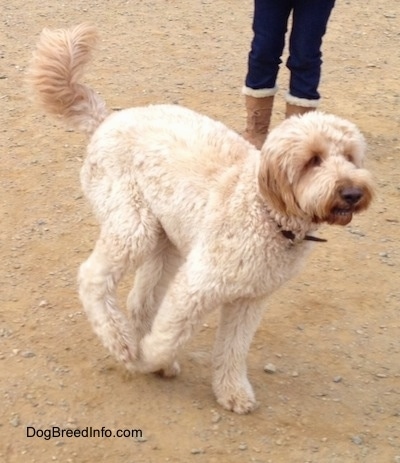 Adult Goldendoodle on the run