Peek-a-poo
Pekingese / Poodle Hybrid Dogs
Information and Pictures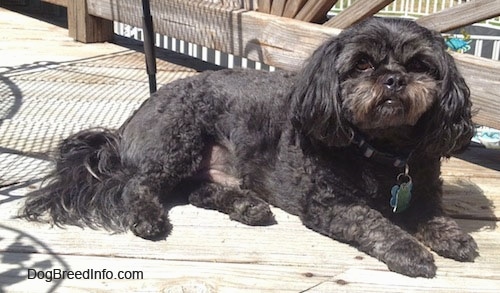 Guido the Peek-a-poo at 3 years old
Other Names
Pekepoo
Peke-A-Poo
Peke a Poo
PeekaPoo
Pekapoo
Peka-poo
Description
The Peek-a-poo is not a purebred dog. It is a cross between the Pekingese and the Poodle. The best way to determine the temperament of a mixed breed is to look up all breeds in the cross and know you can get any combination of any of the characteristics found in either breed. Not all of these designer hybrid dogs being bred are 50% purebred to 50% purebred. It is very common for breeders to breed multi-generation crosses.
Recognition
ACHC = American Canine Hybrid Club
DDKC = Designer Dogs Kennel Club
DRA = Dog Registry of America, Inc.
IDCR = International Designer Canine Registry®
DBR = Designer Breed Registry
Recognized Names
American Canine Hybrid Club = Peke-A-Poo
Designer Dogs Kennel Club = Peke-A-Poo
International Designer Canine Registry® = Peekapoo
Designer Breed Registry = Peke a Poo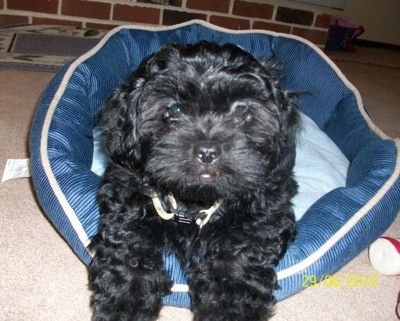 Guido the Peek-a-poo puppy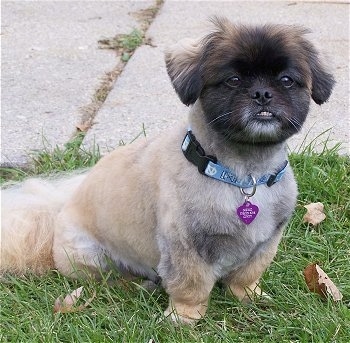 "This is my dog, a Pekingese and Poodle mix. His name is Gizmo and he's 8 years old in this picture. I like his hair kept short so he goes to the same hairdresser (since he was a baby) every 4 weeks in the summer months and 6 weeks in the winter months. When he was younger going there, the hairdresser's daughter used to read him a book after she got out of school to keep him from whining until I picked him up. He is a momma's boy! He follows me everywhere. My family gets upset with him (as well as others) because they'll say something to him or try to get him to do something and he doesn't acknowledge them or even look their way; they don't exist. When I take him for walks (which he knows he's going when I say the word) he has to hang on to his leash in his mouth. You always know when he's tired because he goes right to bed—that either being his kennel in the family room or in his own bed in my bedroom. Sometimes I think he's part cat because when we go on a trip he climbs up my neck and lies there between my neck and the seat. He is the best dog. Everyone wants him. I bring him into work and he stays right by my side. He stays in my office until I go out and then he'll follow me wherever I go, just like glue. Although, every time I take him in people are always telling me he needs braces because of his under-bite. I tell them that's how he gets the girls. Anywhere I take him people offer me money to buy him. He is so well behaved. I took him to the mall to get his picture taken with Santa Claus and he ended up being on the front page of the Lansing State Journal. He loves to have his picture taken."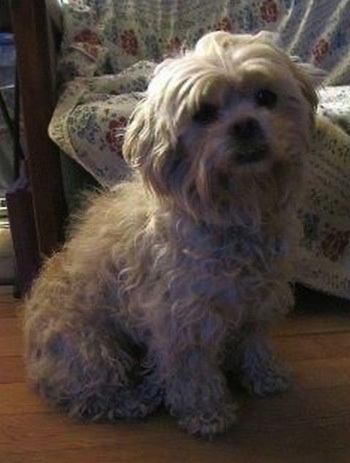 "This is Lucky when we got him... I thought he was a light brown dog."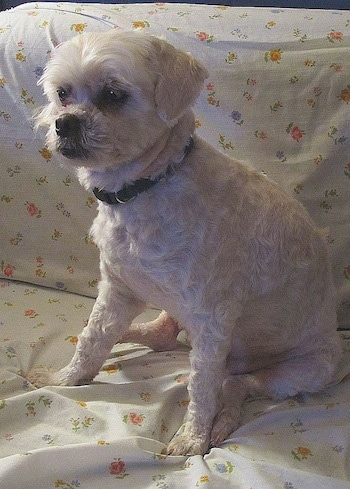 "This is Lucky after TWO baths and a close shave at the groomer, to get rid of all the dirt, fleas and matted hair. He actually turned out to be a cute little white dog!"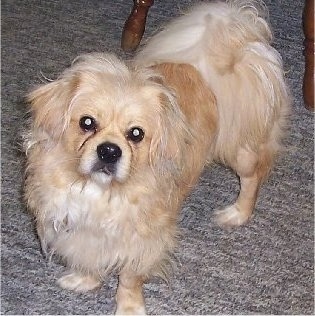 Tobey the Peek-a-poo at 1 ½ years old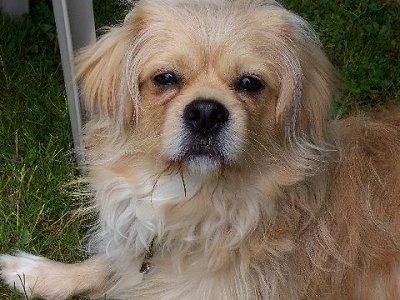 Tobey the Peek-a-poo at 1 ½ years old
Queenie the Peek-a-Poo at 2 years old—"She is playful, loves her walks and has retained the aristocratic carriage and coloring of her Pekingese parent. You already have many pictures of Peek-a-Poos, but as you can see from Queenie's picture, they all are different; one of the advantages of the hybrid. She was bred in a private home in Denver, CO."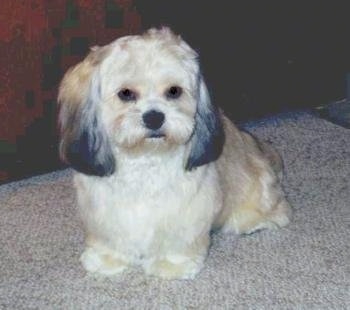 Koby the Pekeapoo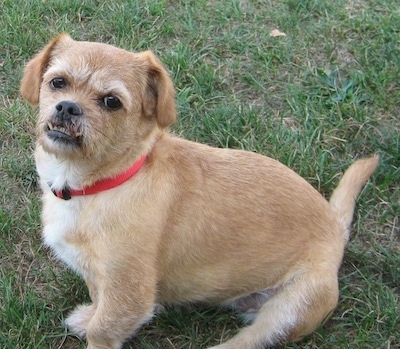 "This is our 10-year-old Pekepoo, Maggie. My mother rescued her as a pup. Maggie went to my brother's after mom passed away. Later, after my sister-in-law passed away, my brother was downsizing (he had 4 Poodles and Maggie) I brought her home with me. She is such a sweetheart, very even tempered, loves my grandkids. She has never shown aggression toward anyone. Does well other dogs with her size and even our Lab / Shepherd mix and friend's large Golden Retriever. She has a major under-bite but she's such a cutie. This picture was taken while we were camping which she really loves, and jumps at the chance to go for a car ride."
A Pekepoo Story
Hi! My name is Kayla. I wanted to share my story with you since so little is known about this mixed breed. My family adopted our Pekepoo Buttons when I was 4 years old. She was not an attractive animal. She had a hernia, her teeth stuck out from her bottom jaw, her back legs were taller than her front legs which gave her the look of a race car, the hair on the front of her body was straight and it was curly on her back half. I thought she was BEAUTIFUL!
She was affectionate and extremely patient with my brother (7 years) and me. We dressed her up in doll clothes and jewelry. She enjoyed the attention and wagged her Pekingese tail at an amazing rate of speed. She liked rides on the bicycle and in the car. She was also partial to spaghetti, caramel, peanut butter and ice cream!
Buttons was a friendly little thing. She traveled up and down the west coast on family vacations. She got along well with other animals, cats included. We were in awe of her intelligence. We took to spelling words like B-A-T-H, C-A-R, I-C-E C-R-E-A-M.
The thing that sticks out the most in my mind is the night she saved my brother's life. My brother suffered from juvenile diabetes. My mother got up in the middle of the night each night to check on my brother and me. Buttons would make the rounds with her. One night, my mother was feeling especially tired and slept through the alarm. Buttons woke up and made the rounds without her. My mom was awakened by Buttons jumping up and down on the bed frantically. She was not allowed on the bed, so it was especially shocking to my mom. Buttons jumped down from the bed and ran to my brother's bedroom, barking and running back to my mom. My mother got up and ran to my brother. He lay prone in bed, sweaty, in shock. An ambulance was called. My mother administered a glucose shot and put sugar in his mouth to bring him back to life. He was rushed to the hospital just in the nick of time. Without Buttons' devotion and quick action, my brother would likely have slipped into a coma and died that morning. Buttons saved his life.
Later in life, Buttons developed arthritis in her hips. It was a painful thing to watch, and after many years of joy and laughter, she died at 15. We will never forget her.