Peek-a-poo Pictures
Pekingese / Poodle Hybrid Dogs
Page 3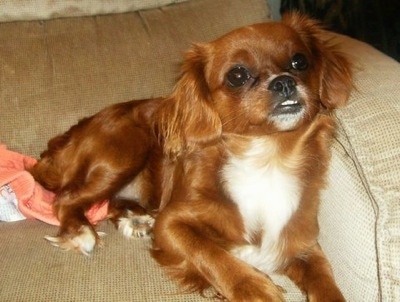 "This is my Peke-A-Poo Emma Jayne at 1 1/2 years old. She is our princess."
Other Names
Pekepoo
Peke-A-Poo
Peke a Poo
PeekaPoo
Pekapoo
Peka-poo
Pekeapoo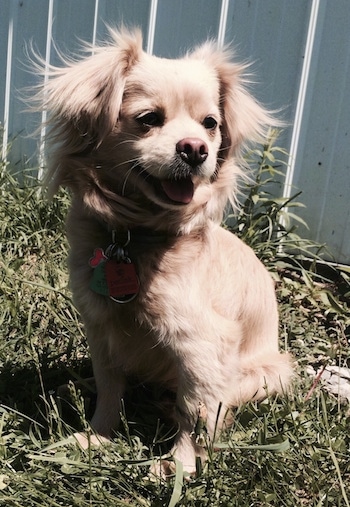 Yoshia the Peekapoo at 2 years old—"Yoshia is my first dog ever. She behaves so well! I watched the Cesar Millan show to give me an idea about how to train my dog. I was successful and she is the best dog ever! She knows stay, sit, come, bathroom, lay, stand up, no, and etc. She is the smartest dog I ever had :)"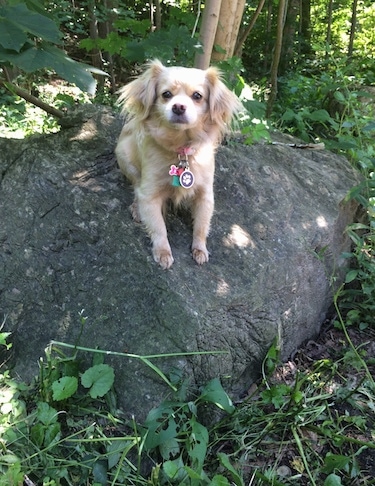 Yoshia the Peekapoo at 2 years old up on a rock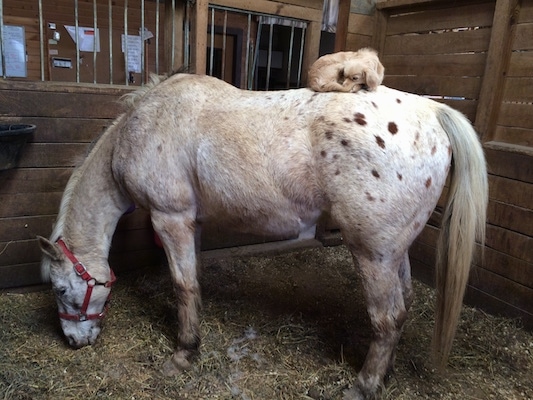 Yoshia the Peekapoo at 2 years old sleeping on a horse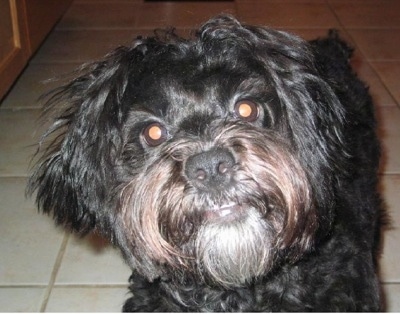 "This is my adorable Peke-A-Poo, wonderful Petey Elvis."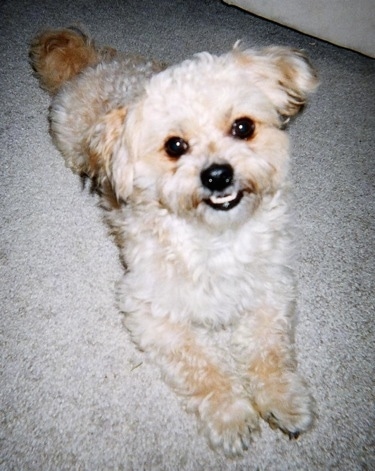 "This is my picture of 2-year-old Jasper the Peka-poo. I got him from an ad in the paper. He likes dressing up in outfits and playing fetch with his stuffed toys. He also likes going for rides in the hubby's semi-truck. He really understands what the words "Food, Hungry and Dish" mean. He'll get excited and run to his food bowl. He gets a fur-cut every 3 or so months. He gets really fluffy!"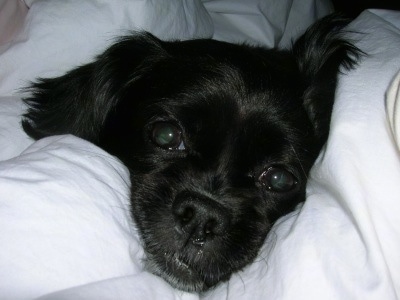 "This is Niki. She is a 10-year-old PeekaPoo. Everyone who meets her thinks she is a puppy because she is full of energy. She is so friendly and is constantly giving kisses."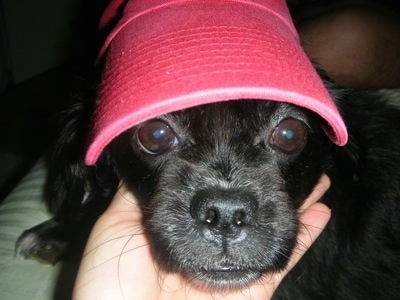 Niki the PeekaPoo at 10 years old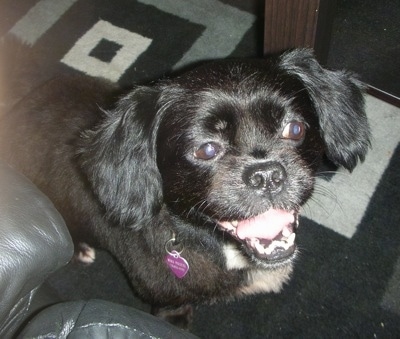 Niki the PeekaPoo at 10 years old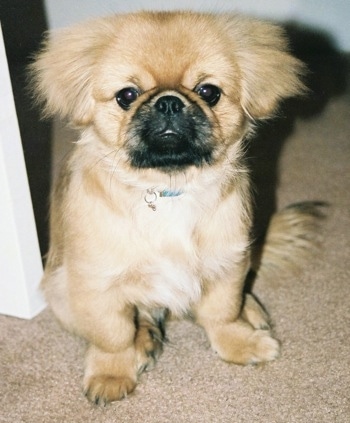 "This is little Mac, a second-generation Peekapoo. He is 6 months old in this picture. He was the runt in the litter. Both his mom and dad are Peekapoos; his mom looks like a Peekapoo but dad looks more Pekingese. He is very playful but at the same time he is very laid back. He loves other dogs and people. He is a loyal dog and a great companion."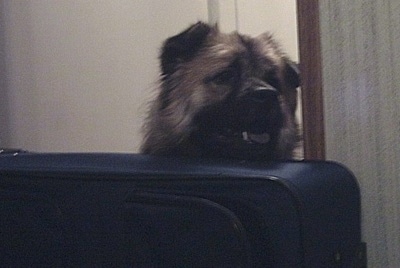 "Here is a picture of my Peekapoo Bear at 1 year old. Fully grown just a little bigger than the suitcase. Energetic and full of life."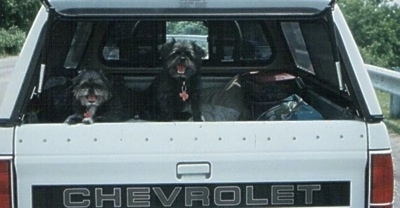 "Socks and Pistol were born December 13, 1992. I don't have any recent pictures of Pistol because he is grouchy and won't sit still for a picture anymore. Both of them have been all over the United States and Canada. They rode with us when we drove a truck."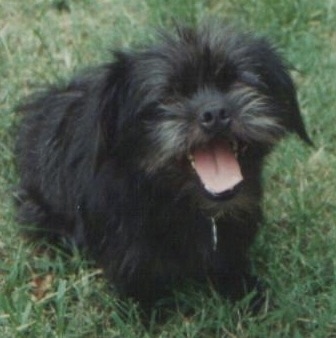 Pistol the Peekepoo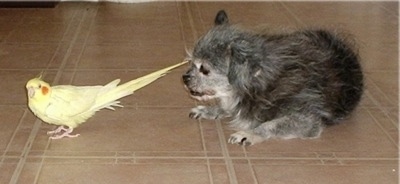 Socks the Peekepoo hanging out with a cockatoo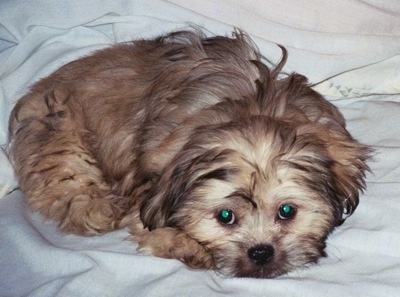 "This is Elphie, my sweet Pekepoo as a puppy at 3 months old. Her mother is a purebred Pekingese and her father is an apricot Poodle."
"Elphie, my Pekepoo at 5 months old had her face shaved to help stop eye discharge."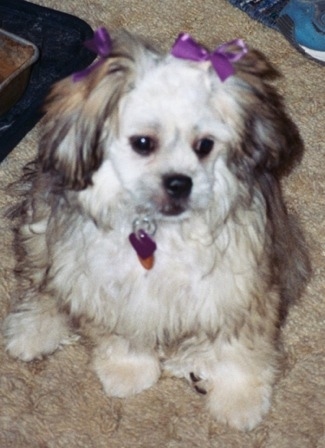 Elphie, my Pekepoo at 5 months old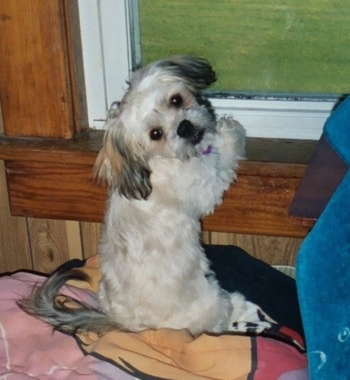 "The last picture was taken when she was 6 months old and had just had her first puppy cut. She's full of energy and bosses the other dogs around but she is a beautiful dog with a great temperament and personality."
"This is my precious Peke-a-Poo puppy at 7 weeks of age. Her name is CoCo Chanel. She is the sweetest, smartest puppy that I have ever encountered."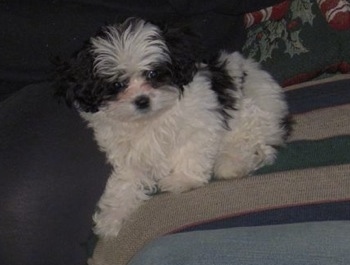 "Muffin is 11 weeks old in this picture and we have had her for 1 week now. Her mom is Pekingese and her dad is Peke-A-poo like Muffin is. She was purchased because I needed company and someone that needed me and she has put a smile on our faces each day and made us so happy. She has proven to be very intelligent and loving."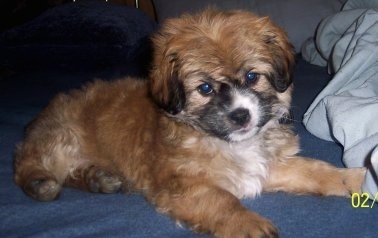 "This is our 4-month-old Peekapoo puppy Buster. :)"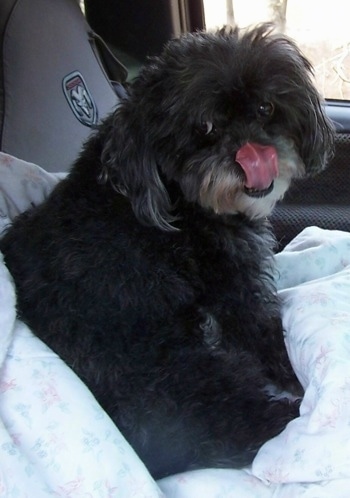 "This is my little girl Mia. We called per Peeney because she was so much smaller than the rest of our "crew"—five other dogs, all between 50 and 90 lbs.! She ruled the roost and was aptly named "the Boss."

"She passed away after successfully battling a brain tumor for three weeks short of two years! She was 100% herself the whole time, never slowed down or was ill at all.

"We are dying inside without her and seeing her photo out there for all to enjoy would be a very great tribute. She went to work with her daddy. She loved riding in his forklift. She made the guys on the job share their lunch with her (meat only, please!). We used to say, "Peeney's on Atkins," but it was really because she hated anything but meat! She was particularly fond of Jenny Craig turkey burgers."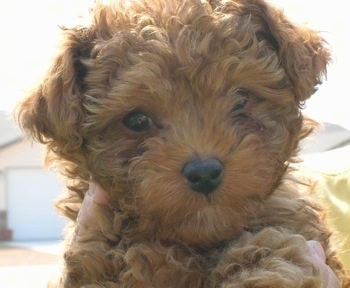 "This is our 8-week-old Pekepoo Pookie Bear (also known as the Pookmiester, Pookster, Pookarama, and just plain Pook—although he doesn't yet know his name). He is absolutely adorable. At 2 pounds, he most commonly identifies people by their feet. He is a way cool puppy!"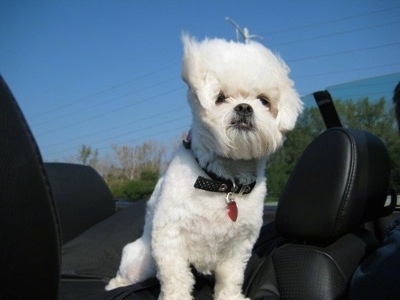 Tinkerbell the Peek-a-poo at 2 years old
"This is Romeo, my Peek-a-Poo at 3 years old (half Pekingese, half Toy Poodle), and his FAVORITE toy! He is very clever and knows how to get his way. He was easy to train and knows the commands: stay, sit, roll-over and lie down. He is very low maintenance and barely sheds when groomed regularly. His tail was very short when we got him at 6 weeks old, and I have never had it cut! He loves to run outside and chase birds; he actually thinks that he can catch them and he runs very fast to try and do so. His fur is amazingly soft and surprisingly stays clean very well! He does have an under-bite, which is typical for his hybrid, but it only shows when his lips are dry. So, I will tell him "fix your teeth" and he will lick his lips to moisturize them and cover his under-bite up."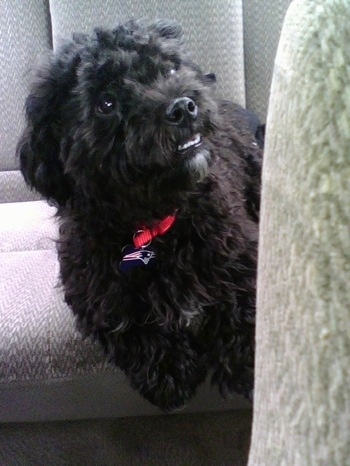 "This is my Pekingese / Poodle mix Gizmo at 7 months old. He is the smartest and the most well-behaved dog. He stays by my side everywhere I go and when I'm not there and you say my name he starts jumping to the door waiting for me to get home. He is a miracle dog. When he was just 13 weeks he was scratched in the eye by a cat. The scratch was so deep it punctured the lens. The doctors told me he was definitely going to lose his eye if I didn't get this 4,000-dollar surgery. I couldn't afford it so I treated it with medication 4 times a day for about a week, and going to the vet every other day to check for any improvement. Long story short, he pulled through and his eye healed back to normal. I have 4 other dogs all purebred and my Peekapoo Gizmo is the smartest one out of them all."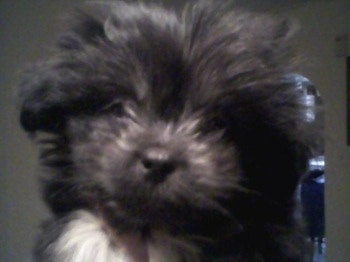 "This is my 12-week-old Peekapoo puppy Ms. Kitty. She is a handful but so very worth it. She has a wonderful personality and is very bright. She can already dance pretty and play fetch. Ms. Kitty is puppy-pad trained. She is currently working on potty training to the outdoors. She has rapidly become the center of our family. Ms. Kitty is a great family dog. She loves us all as well as we love her."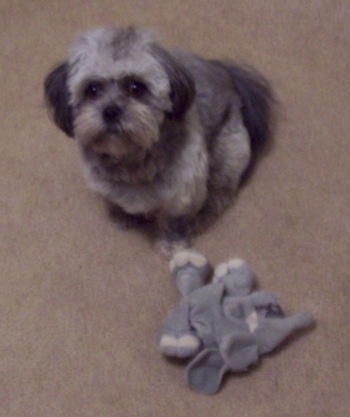 "This is Amaya the Peke-a-poo. She is a well-balanced dog but can be easily distracted. She is very affectionate, playful and gets along well with other dogs/is very social. She is the hit of the neighborhood with the kids. She graduated puppy class at Oscar's Pet Resort and we look forward to many happy years with her =)"