Rescue a Poovanese
Poovanese Puppies for Sale
Poovanese
(Havapoo) (Island Mini Doodle)
Havanese / Poodle Hybrid Dogs
The Poovanese is not a purebred dog. It is a cross between the Havanese and the Poodle. The best way to determine the temperament of a mixed breed is to look up all breeds in the cross and know you can get any combination of any of the characteristics found in either breed. Not all of these designer hybrid dogs being bred are 50% purebred to 50% purebred. It is very common for breeders to breed multi-generation crosses.
Recognized Names:
American Canine Hybrid Club = Poovanese
Designer Dogs Kennel Club = Poovanese
International Designer Canine Registry® = Havapoo (Poovanese)
Designer Breed Registry = Poovanese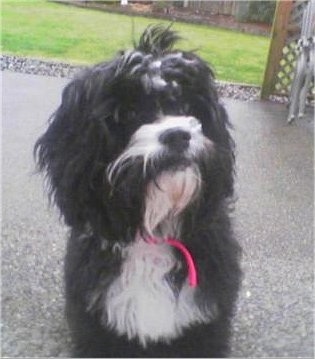 Lulu the Havanese / Poodle mix (Poovanese)
ACHC = American Canine Hybrid Club
DDKC = Designer Dogs Kennel Club
DRA = Dog Registry of America, Inc.
IDCR = International Designer Canine Registry®
DBR = Designer Breed Registry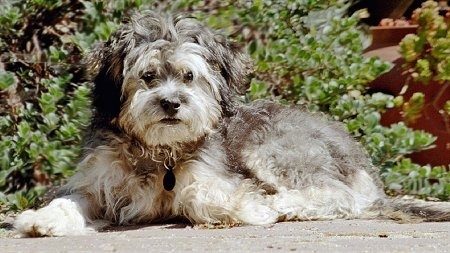 Cappuccino the Poovanese (Havanese / Poodle hybrid) at 1 year old—her owners call her a "Havanoodle," a name they coined before learning about the name Poovanese. Her owners say, "I bought my puppy Cappuccino two years ago. Father is Biscuit, a champagne Havanese; mother is a black Mini Poodle. Cappi is a wonderful pet: smart, outgoing and sweet—not needy, but friendly to a fault. Her coat changed from black and tan as a puppy (pic below) to grey and cream. She submits to regular grooming with grace, although she doesn't like it."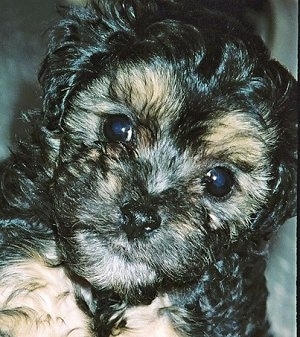 Cappuccino the Poovanese (Havanese / Poodle hybrid) as a young puppy
Small Dogs vs. Medium and Large Dogs