Cockapoo
Cocker Spaniel / Poodle Hybrid Dogs
Information and Pictures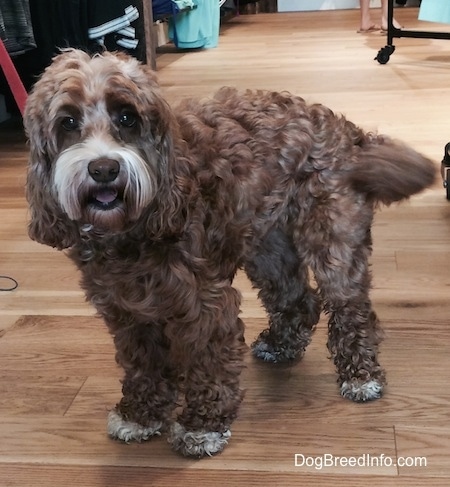 Matty the Cockapoo (Cocker Spaniel / Poodle mix) at 2 1/2 years old—"More and more places are allowing dogs to enter and enjoy a typical day of errands with their owner as opposed to staying at home all day….snoozing. Matty had a great time and a lot of mental stimulation shopping at Athleta."
Other Names
American Cockapoo
Cockadoodle
Cockerdoodle
Cockerpoo
Cock-A-Poo
Cock A Poo
Spoodle
Description
The Cockapoo is not a purebred dog. It is a cross between the Cocker Spaniel and the Poodle. The best way to determine the temperament of a mixed breed is to look up all breeds in the cross and know you can get any combination of any of the characteristics found in either breed. Not all of these designer hybrid dogs being bred are 50% purebred to 50% purebred. It is very common for breeders to breed multi-generation crosses. Note: some Cockapoo clubs are working toward making the Cockapoo a purebred dog by multi-generation crossing, while other breeders are sticking to the basic Poodle / Cocker mix, stating they wish to preserve the heterosis effect in the hybrid mix. Ask the breeder you contact which type of Cockapoo they are breeding.
Height, Weight
Weight: Teacup Toy - under 6 pounds (3 kg.) grown weight
Toy - under 12 pounds (5 kg.)
Miniature/Mini - 13 to 18 pounds ( 5.5 - 8 kg.)
Maxi - over 19 pounds. (9 kg.)
Height: 14-15 inches (35-38 cm.)
Life Expectancy
Average of 16 years
Litter Size
About 4 to 6 puppies
Recognition
ACC = American Cockapoo Club
ACHC = American Canine Hybrid Club
CCA = Cockapoo Club of America
CCGB = Cockapoo Club of GB
DDKC = Designer Dogs Kennel Club
DRA = Dog Registry of America, Inc.
IDCR = International Designer Canine Registry®
DBR = Designer Breed Registry
NACR = North American Cockapoo Registry
Recognized Names
American Canine Hybrid Club = Cock-A-Poo
Designer Breed Registry = Cock A Poo
Designer Dogs Kennel Club = Cock-A-Poo
International Designer Canine Registry® = Cockapoo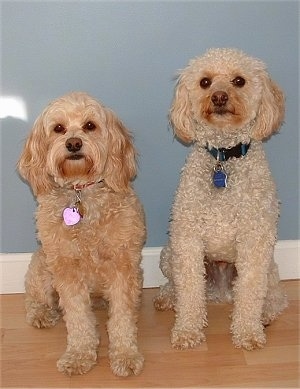 "Mocha, shown here at 2 ½ years is a female Cockapoo with a slightly wavy coat. Scooby, shown here at 1 ½ years old is a male with curly hair. They are bright, affectionate and love people. Both were rescues and have grown into well-behaved, social and much loved pets."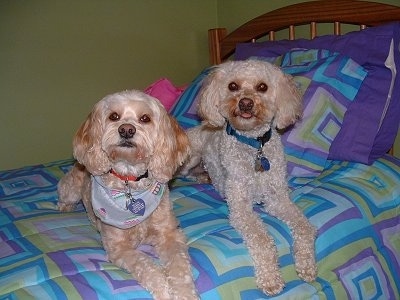 Mocha, shown here at 2 ½ years is a female Cockapoo with a slightly wavy coat. Scooby, shown here at 1 ½ years old is a male with curly hair.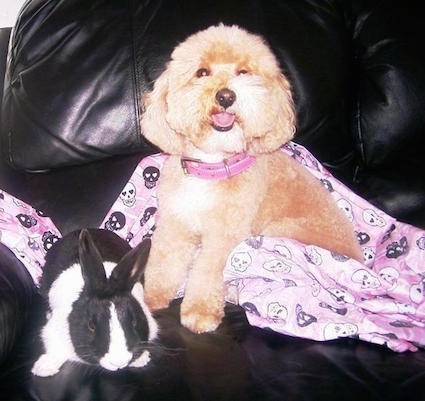 Cinda the Cockapoo at 13-years-old with her rabbit friend—"Cinda is lovely! She just turned 13 and although she doesn't like puppies (hates them, actually), she gets along swell with our rabbit! She also gets along with her Boxer friend Stoney. She loves anything that squeaks (and killing it), and she has very low tolerance for heat, but equally low tolerance for chilliness. She loves being dressed up and loves cuddling as well!"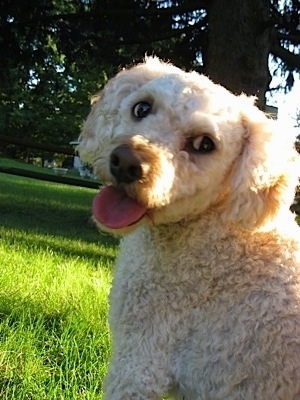 "This is Emily, my Cockapoo at 3 years old. She is wonderful, very obedient. She loves the cats and other dogs in the family, and the kids, ages 9 and 4 years. Her coat is a little rough. I keep it short. She enjoys walks and car rides. She loves to watch the kids play on the playground nearby. She is a good watchdog and alerts me to any noise not recognizable to her. I watch the Dog Whisperer, read his book and have followed his method of the pack leader. It has worked with all my dogs including the Mini Poodle and Sheltie. The best technique I learned was the claiming ownership over items. My dogs are not possessive over any items and will relinquish any item I wish them to. The cats are another story! We are a happy "calm submissive" household."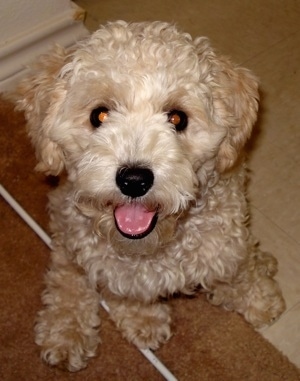 "Oliver is a Cockapoo (2nd generation). In this photo he is 7 months old. He is very playful and loves everyone he meets. He is extremely smart and loves to play with rope toys. I walk him about 2-3 times a day. He is the best dog I have ever had."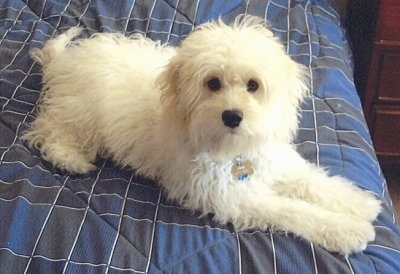 Chewy is a cross between an American Cocker Spaniel and a chocolate Standard Poodle. He's 5 ½ months old and already 20 inches tall (from top of head to floor) and weighs approximately 25 pounds. He started out white, but as his adult coat starts coming in he's developing this apricot tint.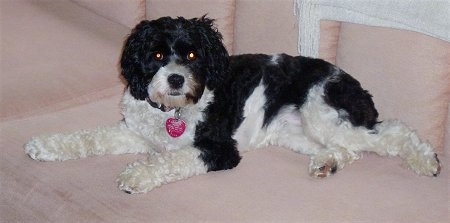 Minnie the black and white Cockapoo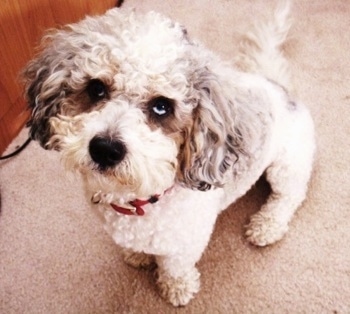 "This is Bubba, my blue-eyed Cockapoo, a 2-year-old Miniature Poodle / American Cocker Spaniel mix, and my 5th dog. He is truly a wonderful creature, and extremely intelligent. He knows a variety of tricks and learns things on his own. For example, he has learned how to open the sliding screen door by pushing his nose in the crack, and can open all the doors inside the house if they are left slightly ajar. Bubba is just so wonderful, pleasant and loves everyone."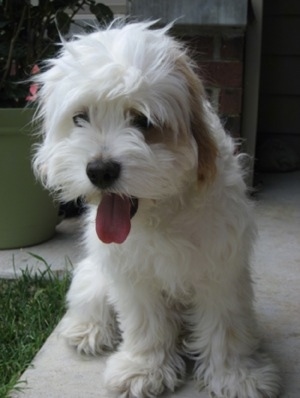 "Waffles is a wonderful dog. He is a mix between a Cocker Spaniel and a Poodle. He doesn't bark (which is great if you live in an apartment) and he only sheds a little. We were hoping for a completely non-shedding dog, but he has so many other good qualities we will take a few hairs here and there."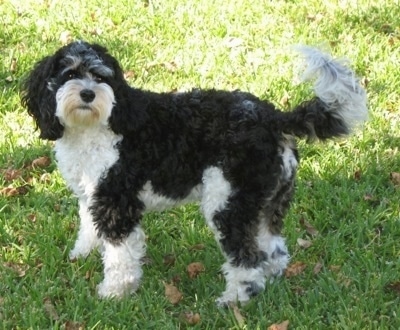 "This is Sedona, a tricolor 2nd generation Cockapoo at age 2 years. She is the best dog we've ever had and incredibly smart. We have to be careful and try to stay one step ahead of her as she learns things so quickly, including how to get what she wants. She is very gentle, soft and affectionate. She's a little shy so socialization at an early age is very important. She started to try to become dominant and fearful of strangers and children until we started taking tips from Cesar Millan to make sure our rules were very consistent and she gets a good amount of controlled walking, which she loves. The Cockapoo coat, when curly like hers, can be very high maintenance. It requires constant care and is easier if kept shorter. We didn't notice it to be a big deal until her adult hair started to come in. Ears need to be checked frequently as well because of ear infections—we've found cleaning them once a week keeps her ears healthy. Housebreaking was a snap but she does submissively urinate when really excited. If we keep things calm she seems to do well and seems to be growing out of it with gentle understanding. Although there are some things that the owner has to work on, it is well worth it for such a smart and loving pet. We absolutely love her!"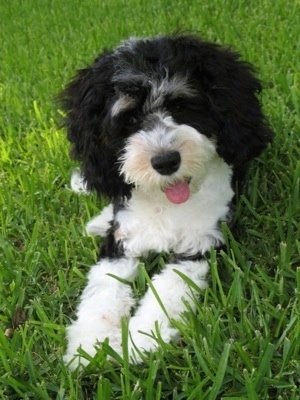 Sedona, a tricolor 2nd generation Cockapoo at 4 months old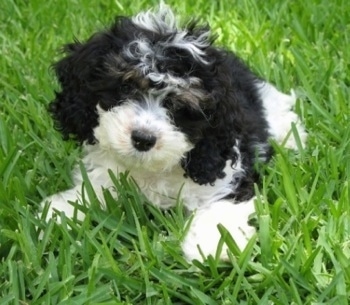 Sedona, a tricolor 2nd generation Cockapoo at 11 weeks old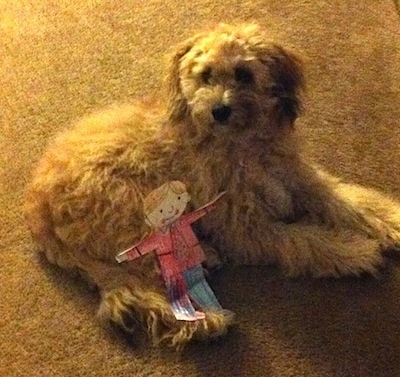 Peanut the Cockapoo at 8 months old—"Peanut is a very loving dog. He loves people very much and absolutely loves to play with socks! He is potty trained and knows a couple of tricks! He is our best friend!! This is Peanut and Flat Stanley."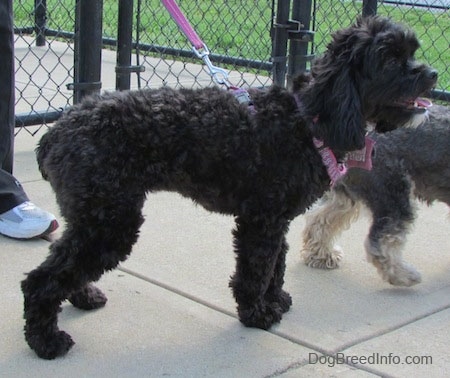 Milly the black Cockapoo at 14 months old at the dog park
Milly the black Cockapoo at 14 months old at the dog park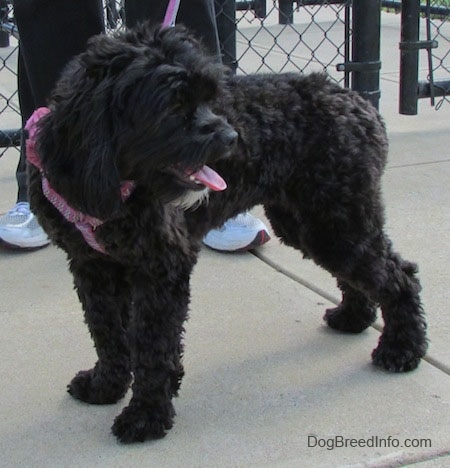 Milly the black Cockapoo at 14 months old at the dog park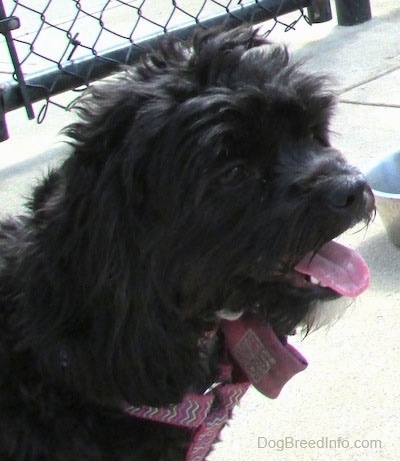 Milly the black Cockapoo at 14 months old at the dog park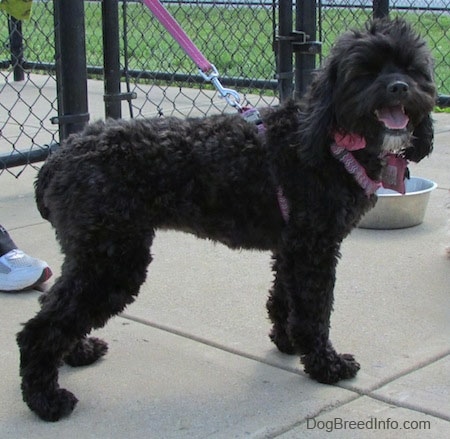 Milly the black Cockapoo at 14 months old at the dog park