Rescue a Petite Labradoodle
Rescue a Miniature Labradoodle
Rescue a Standard Labradoodle

Petite Labradoodle Puppies for Sale
Miniature Labradoodle Puppies for Sale
Labradoodle Puppies for Sale


Petite Labradoodle
Labrador Retriever / Toy or Miniature Poodle / Cocker Spaniel Hybrid Dogs
The Petite Labradoodle is not a purebred dog. It is a cross between the Labrador Retriever, Poodle (Toy, Miniature or small Standard) and the Cocker Spaniel. Breeders are producing a much smaller Labradoodle (Petite Labradoodle) by first downsizing the adult, breeding female Labrador Retriever. Breeders accomplish this by crossing the Labrador Retriever with a Cocker Spaniel. The puppies that come from this cross-breeding are called Spanadors. The Spanador is bred with a Miniature, Toy or small Standard Poodle (either by natural breeding or surgical / artificial insemination). The Petite Labradoodle puppies are ½ Poodle, ¼ Labrador Retriever and ¼ Cocker. The Petite Labradoodles will be smaller dogs when grown because of the downsizing of the mother dog. The goal for the adult weight for most breeders is 15 to 25 lbs. This is said to be the Australian Blend of downsizing them. The best way to determine the temperament of a mixed breed is to look up all breeds in the cross and know you can get any combination of any of the characteristics found in any of the breeds. Not all of these designer hybrid dogs being bred are 50% purebred to 50% purebred. It is very common for breeders to breed multi-generation crosses.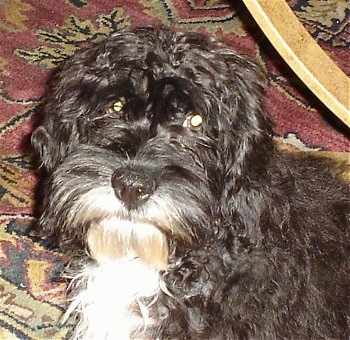 "Otto, a chocolate male Petite Labradoodle at about 6 months old—as an adult he should be 20 to 25 lbs. and about 12 to 14 inches from the ground to the highest point of the shoulder." Photo courtesy of Burr Oak Dood Ranch
DRA = Dog Registry of America, Inc.
"Otto a chocolate male Petite Labradoodle at about 6 months old" photo courtesy of Burr Oak Dood Ranch

"Harli and Kenzie, Petite Labradoodle littermate sisters—Harli has a black w/white wavy coat and Kenzie has a red/sable short fleece coat. Low to non-shed coats. Adult weight of 15 to 20 lbs." Photo courtesy of Burr Oak Dood Ranch

Harli and Kenzie, Petite Labradoodle littermate sisters, photo courtesy of Burr Oak Dood Ranch

Harli and Kenzie, Petite Labradoodle littermate sisters at about 6 months old—"As adults they should reach15 to 20 lbs." Photo courtesy of Burr Oak Dood Ranch

"Brody, a chocolate male Petite Labradoodle with a white chest at about 6 months old—as an adult he should be 20 to 25 lbs. and about 12 to 14 inches from the ground to the highest point of the shoulder." Photo courtesy of Burr Oak Dood Ranch

"Brody, a Chocolate male Petite Labradoodle with a white chest" photo courtesy of Burr Oak Dood Ranch
Labrador Retriever Hybrid Dogs
Small Dogs vs. Medium and Large Dogs