Labrador Retriever
Information and Pictures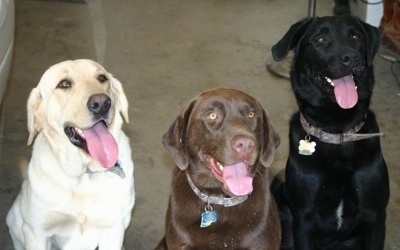 "Othello (black 19-month-old Lab) and Hamlet (chocolate 17-month-old Lab) live in the city with mom, but they love to drive out to the country and visit their cousin Jake (yellow 20-month-old Lab). They are all avid swimmers, but when the water isn't available they like the cool concrete during the hot summer months."
Other Names
Black Labrador Retriever
Yellow Labrador Retriever
Chocolate Labrador Retriever
Silver Labrador Retriever
Lab
Pronunciation
LAB-ruh-dor ree-TREE-vur

Description
There are two types of Labradors, the English Labrador and the American Labrador. The English bred Lab comes from English bred stock. Its general appearance is different than the American bred Lab. The English bred Labs are heavier, thicker and blockier. The American bred Lab comes from American bred stock and is tall and lanky. The double coat is smooth and does not have any waves. Coat colors come in solid black, yellow or chocolate. There is also said to be a rare silver or gray color that is referred to by the AKC as a shade of chocolate. This color is controversial and some claim it is a Weimaraner cross, while others say it is a true mutation. The head of the Labrador is broad with a moderate stop. The nose is thick, black on black and yellow dogs and brown on chocolate dogs. The nose color often fades and is not considered a fault in the show ring. The teeth should meet in a scissors or level bite. The muzzle is fairly wide. The neck is proportionately wide and powerful. The body is slightly longer than tall. The short, hard coat is easy to care for and water-resistant. The medium-sized eyes are set well apart. Eye color should be brown in yellow and black dogs and hazel or brown in chocolate dogs. Some Labs can also have green or greenish-yellow eyes. In silver dogs the eye color is usually gray. The eye rims are black in yellow and black dogs and brown in chocolate dogs. The ears are medium in size, hanging down and pendant in shape. The otter tail is thick at the base, gradually tapering towards the tip. It is completely covered with short hair, with no feathering. The feet are strong and compact with webbed feet which aid the dog in swimming.
Temperament
One of the most popular breeds in the USA, the Labrador Retriever is loyal, loving, affectionate and patient, making a great family dog. Highly intelligent, good-natured, very willing and eager to please, it is among the top choices for service dog work. Labs love to play, especially in water, never wanting to pass up the opportunity for a good swim. These lively dogs have an excellent, reliable temperament and are friendly, superb with children and equable with other dogs. They crave human leadership and need to feel as though they are part of the family. Labs are easily trained. Some may be reserved with strangers unless very well socialized, preferably while they are still puppies. Adult Labs are very strong; train them while they are puppies to heel on the leash, and not to bolt out doorways and gateways before the humans. These dogs are watchdogs, not guard dogs, although some have been known to guard. They can become destructive if the humans are not 100% pack leader and/or if they do not receive enough mental and physical exercise, and left too much to their own devices. Show lines are generally heavier and easier going than field lines. Field lines tend to be very energetic and will easily become high strung without enough exercise. Labs bred from English lines (English Labs) are more calm and laid back than Labradors bred from American lines. English Labs mature quicker than the American type.
Height, Weight
Height: Males 22 - 24 inches (56 - 61cm) Females 21 - 23 inches (53 - 58 cm)
Weight: Males 60 - 75 pounds (27 - 34 kg) Females 55 - 70 pounds (25 - 32 kg)
Some males can grow to 100 pounds (45 kg) or more.
Health Problems
Prone to hip and elbow dysplasia, PRA, mast cell tumors and eye disorders.
Living Conditions
Labrador Retrievers will do okay in an apartment if sufficiently exercised. They are moderately active indoors and will do best with at least an average-sized yard.
Exercise
Labrador Retrievers are energetic dogs, delighted to work and play hard. They need to be taken on a daily, brisk, long walk, jog or run alongside you when you bicycle. While out on the walk the dog must be made to heel beside or behind the person holding the lead, as in a dog's mind the leader leads the way, and that leader needs to be the human. They will be in their glory if you give them a job to do. Gain weight easily, do not over feed.
Life Expectancy
About 10-12 years
Litter Size
About 5 to 10 puppies
Grooming
The smooth, short-haired, double coat is easy to groom. Comb and brush regularly with a firm, bristle brush, paying attention to the undercoat. Bathe or dry shampoo only when necessary. These dogs are average shedders.
Origin
Once known as the "St John's Dogs," the Labrador Retriever is one of the most popular breeds in the United States. The Lab is native to Newfoundland, where it worked side by side with fishermen catching fish that came loose from the lines and trained to jump into the icy waters to help pull in the nets. Specimens were brought to England in the 1800s by English ships coming from Labrador. The breed was crossed with setters, spaniels and other types of retrievers to improve its instincts as a hunter. The Labrador is highly trainable and is not only popular as a family companion but also excels in: hunting, tracking, retrieving, watchdog, police work, narcotics detection, guide for the blind, service dog for the disabled, search and rescue, sledding, carting, agility, field trial competitor and competitive obedience.
Group
Gun Dog, AKC Sporting
Recognition
ACA = American Canine Association Inc.
ACR = American Canine Registry
AKC = American Kennel Club
ANKC = Australian National Kennel Club
APRI = American Pet Registry, Inc.
CCR = Canadian Canine Registry
CKC = Canadian Kennel Club
CKC = Continental Kennel Club
DRA = Dog Registry of America, Inc.
FCI = Fédération Cynologique Internationale
KCGB = Kennel Club of Great Britain
NAPR = North American Purebred Registry, Inc.
NKC = National Kennel Club
NZKC = New Zealand Kennel Club
UKC = United Kennel Club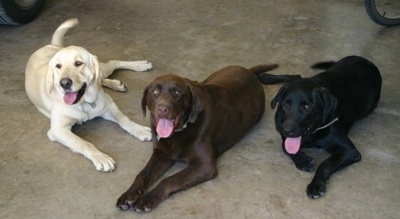 Jake the 20-month-old yellow Lab, Hamlet the 17-month-old chocolate Lab and Othello the 19-month-old black Lab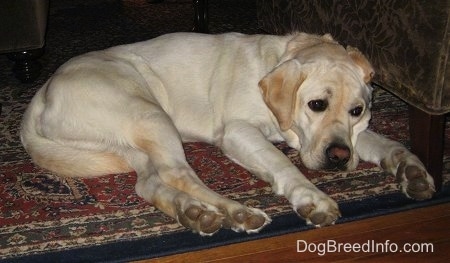 Henry the yellow English Labrador Retriever at 1 year and 9 months, bred by Wintergate Labradors (See more of Henry)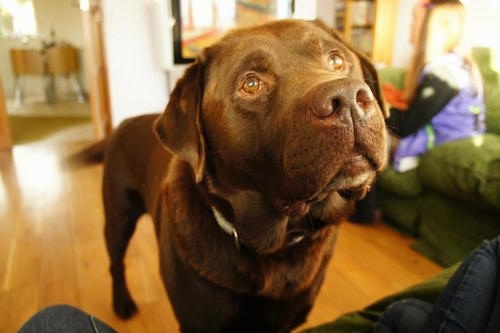 Bernie the chocolate Labrador Retriever at 6 years old— "Bernie still believes in his heart that he is a lap dog."
Caesar the black Labrador Retriever at 11 months old— "Love you Caesuuuu!"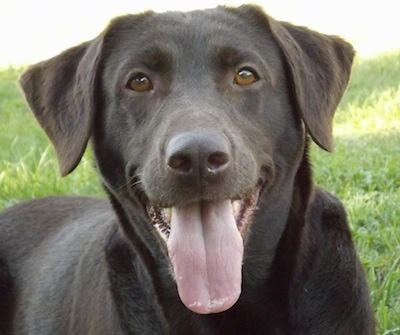 Maggie May the chocolate Labrador Retriever at 4 years old—"This is my Valentine Puppy, Maggie May. She was born in 2010 on February 14, Valentine's Day, which is funny because she is a chocolate labby:) I got Maggie in the spring of 2010. She was 4 1/2 months old. And totally crazy. For the first few months I had her, I had a tough-love relationship with her. Because she was pretty much out of control, along with being a very dominate puppy, I had to make sure from the beginning that she knew that I was the pack boss. As she got older she also showed some signs of aggression to dogs and people outside of our pack (family). I did not mind the aggression very much, as people don't expect Labs to be aggressive and that was good security thing to me, but I had to make sure that she knew that when I said "Stop it", "No", or "Knock it off", she would immediately cease her barking and/or growling. Maggie took to training like a pro. She loved to "work", as I called it. Her attention and focus on me was, and still is, out of this world. When she is playing with her doggie friends, I can call her out and she will practically fly to me, completely forgetting the other dogs and instead focusing on me. Her focus on me was so great that she was off leash trustworthy in nearly any situation by 11 months. Now at almost 5 years old, she is perfect. It takes a lot to get a dog close to perfection, and Maggie is as close to it as a dog can get in my opinion. Maggie has 3 canine siblings: Sugar, a 14 year old Labrador/Golden Retriever mix, is her best friend. Angus (3 year old mix breed) and Tippy (1 year old Pit Bull/Corgi) are her partners in crime. I call them The Three Hoods."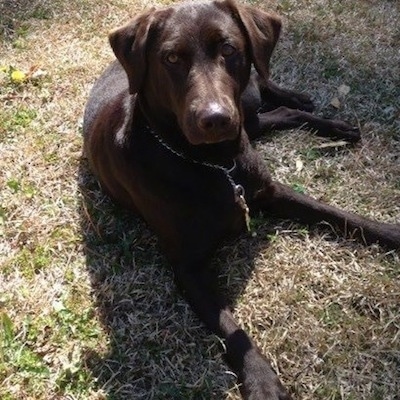 Maggie May the chocolate Labrador Retriever at 4 years old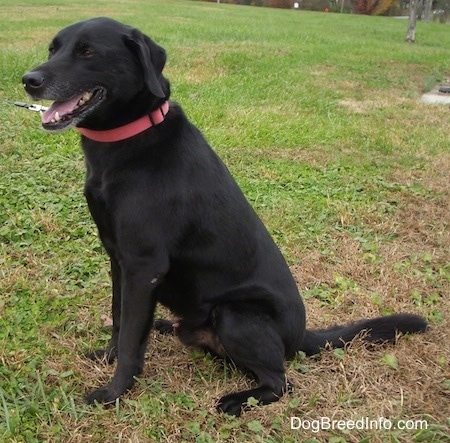 Sonny the black Labrador Retriever at 8 years old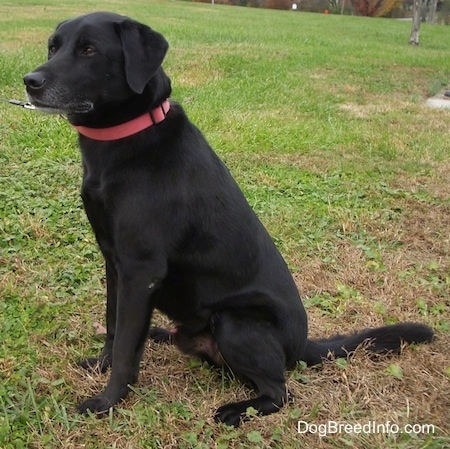 Sonny the black Labrador Retriever at 8 years old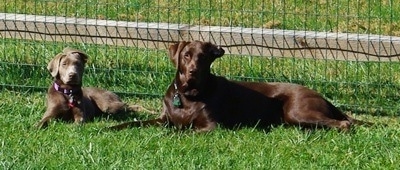 "Mocha (90 lbs.), our 2-year-old female chocolate Lab and Gracie (23 lbs.), our 4-month-old female silver Lab—I have never seen two dogs more alike, they are truly best friends. I had heard people say if you have a good dog and you get a puppy, the older one will play a big part in training the new pup; I now know that is true. They are a huge part of our family and we couldn't imagine life without them."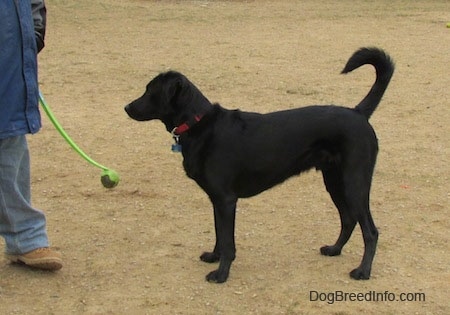 This is Oscar the black American Labrador Retriever at 2 years old. He is waiting for his owner to throw him the ball. Notice how his tail is up. That indicates that he is in an excited state of mind. Oscar gets a lot of excited physical exercise playing ball. This type of exercise tires out the body, but keeps the mind in high excitement mode. A pack walk is also needed to exercise and calm the mind.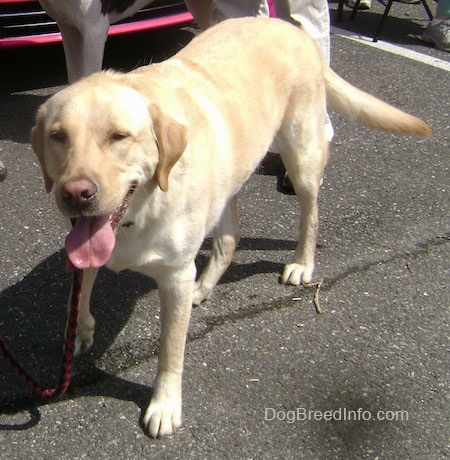 Adult rescue yellow Labrador Retriever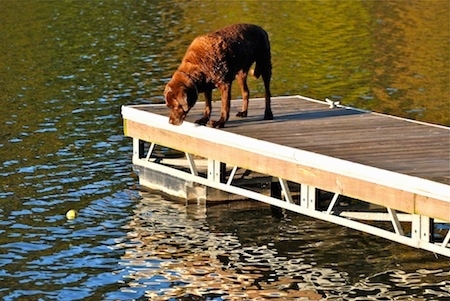 Zeke the chocolate Labrador Retriever at 13 years old—"Friend to all. Never met a stranger. Possibly one of the most traveled dogs in the US (or in the top 1%). Miss him dearly."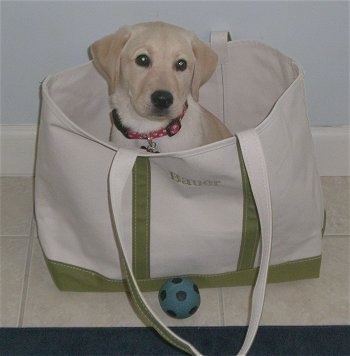 "This is my puppy Bauer at 3 months old. He is a purebred yellow Labrador Retriever from Heather Hollow Farm Labradors in Hardwick, VT. He likes to sleep a lot and play tug-of-war. He also likes to dig up the yard which mommy and daddy aren't too happy about :-). He loves walks and playing with other dogs. He's a very smart pup and learns very fast. He's practically potty trained—we use the ring the bell on the door system—and he sleeps through the night. He LOVES his crate and will go in by himself when he needs some alone time. He also likes to cuddle on your lap, which could pose a problem when he's 80 lbs. one day :-)"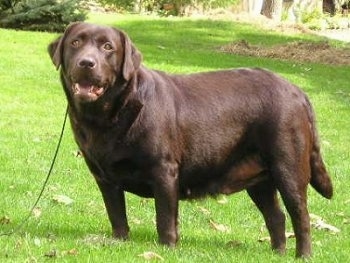 Chocolate English Labrador Retriever—Photo courtesy of Endless Mt. Labradors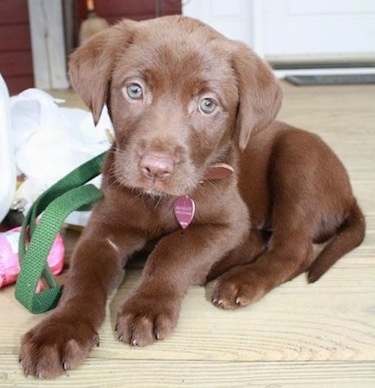 "Molly Girl at 2 months—Molly is every bit chocolate Lab, but with none of the horror stories I was warned of! She is not super high energy, probably due in part to the daily exercise I make sure she gets. She is eager to please and extremely loyal. She greets everyone with a wag of the tail and loves to be loved on! As with any dog, consistency is important when training, and thanks to that, and dog parks, Molly is the perfect dog:)"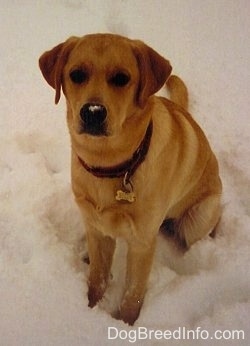 Seamus Hickey the yellow Lab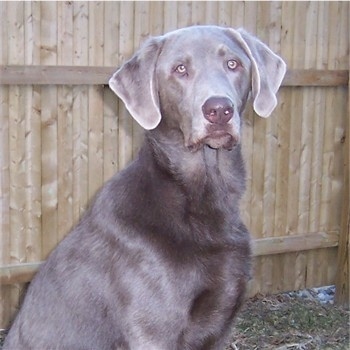 Ripley the silver Labrador Retriever at 11 months old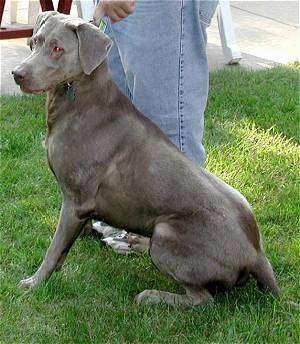 Silver Labrador Retriever, photo courtesy of Crist Culo Kennels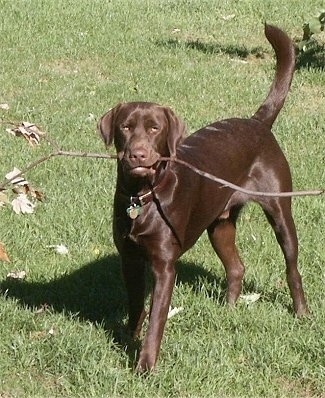 Tai the chocolate Lab at 1 year old with a long stick in his mouth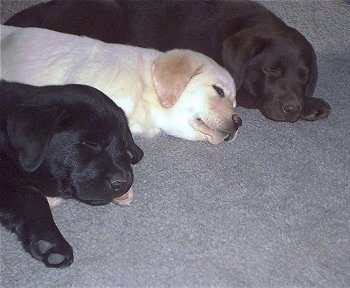 Three adorable puppies showing the three Labrador colors, front to back, black, yellow and chocolate, photo courtesy of Mirage Labrador Retrievers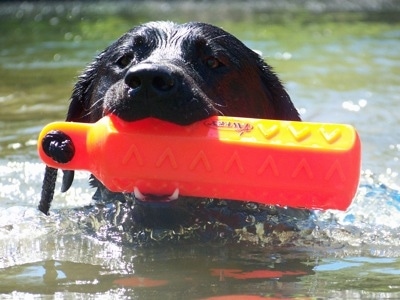 "This is our newly adopted black Lab named Dozer. He is one and a half years old in this picture and we adopted him from the pound. Like most Labs he loves the water (as you can see in the picture); in fact, he loves it a little too much. We need to work with him on not obsessing over the water so much, but he is so eager to please that it shouldn't be too hard. We take him on two walks a day with him carrying a doggy backpack, one being a three-mile walk with at least a half hour of swimming. I watch the Dog Whisperer all the time so I know that with following his methods and with Dozer being so eager to please that whatever issues he has we will be able to improve them."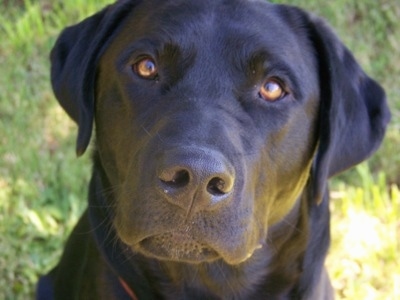 Dozer the black Labrador Retriever at 1 1/2 years old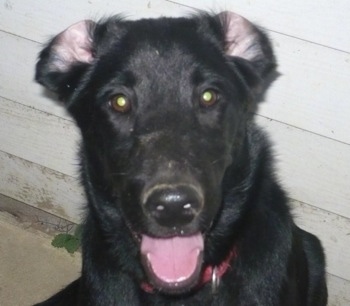 "This is Bruno (his ears are folded back because he just got done with a big run). He is one of our three dogs. Bruno gets to play daily with a Great Dane and a Lab mix that we also have. I wanted to share some information with you about Bruno because we believe that he has a very special personality."
"We watch The Dog Whisperer frequently, and we know what he means when he says to pick the pup out of the litter that is the most laid back. Most people go and pick out a dog based on their playful attitude because if a pup runs up to them they think the pup "chose them" when really it is just probably going to be a more challenging, hyper pup. We know this information now, but we did not know it when we went to get Bruno (or when we picked out our first two dogs), however he was the last male puppy left so we did not have a choice. I asked my husband why he thought Bruno was the last male left out of the litter and we later realized it was probably because he did not come leaping and bounding up to the other callers. The people that owned the pups had to go pick him up and bring him to us because he just sat at a distance observing the activity. When we first brought him home he went and sat in the corner all by himself after allowing the other dogs to greet him. We thought it was because he was so young and he was in a new environment. As the weeks passed Bruno was easily housetrained, never chewed anything up, and never "got in our face" for attention as the other dogs that we have liked to do. To this day if he wants attention he will just come and lie at our feet or sit by our side calmly. If we do not acknowledge his presence he will go lie by the door. When we took Bruno for his first set of shots, the vet said that he was extremely calm for a Lab puppy and said that he "was 1 in 100." Bruno will be 1 year old in January and we still have one of the best behaved dogs in the world with him."
"Every day all three of our dogs get walked (with the exception of extremely cold days here in PA). We also have a fenced-in yard where they do all the free playing they want to do. Bruno's balanced energy has been a blessing to the entire family. Bruno is a true testimony to Cesar's method of picking the most laid-back puppy in the litter."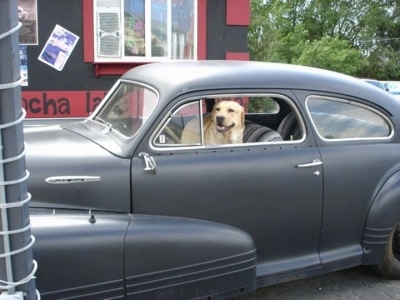 "Cappy is a 17-month-old purebred Labrador Retriever. Cappy is an all-around great companion and fun dog. His favorite activities include car rides, swimming, fetch, meeting new people and playing with his big sister, a black Lab."
"Cappy doing what he loves…visiting a local coffee shop where he got to sit in the owner's hot rod. Cappy loves the coffee shop but I think it's partially due to him getting a biscuit when he frequents the shop."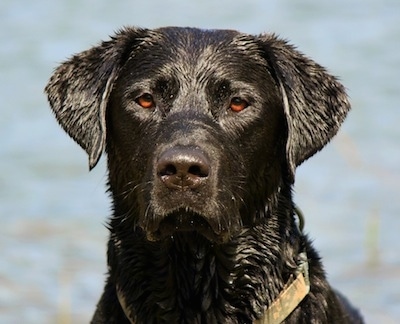 Dozer the Labrador Retriever at 3 years old—"Dozer is my best friend, he goes everywhere with me. Some of his favorite places to go are anywhere he can swim, dog park, hiking, the beach, doggy day care, swimming, DockDogs, swimming, and in case I didn't mention it, swimming. As I just mentioned Dozer and I love competing in DockDogs. His farthest jump is 17ft and we are working on Speed Retrieve. We are also going to start Agility and Flyball classes soon; both of us are super excited about that. Dozer also loves learning new tricks some of his favorites are sit handsomely (that's where he sits up) circle, How was your day (he will bark saying it's been real rough), Play dead, hold it (he will hold just about anything in his mouth), and crawl (just to name a few). I love my doggy soul mate."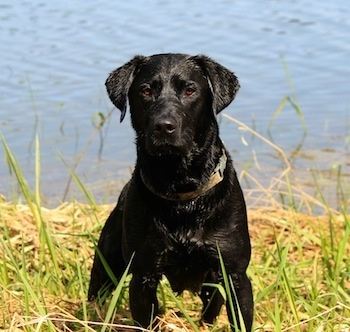 Dozer the Labrador Retriever at 3 years old all wet after a swim in the water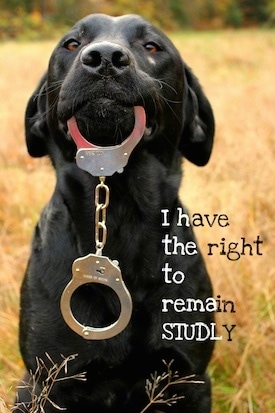 Dozer the Labrador Retriever at 3 years old with handcuffs in his mouth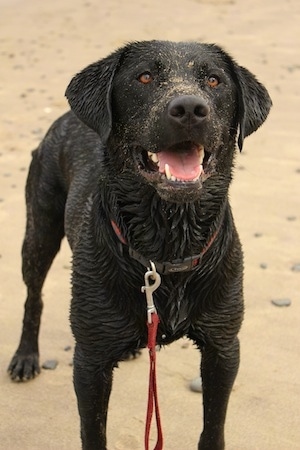 Dozer the black Labrador Retriever at 3 years old all wet and sandy at the beach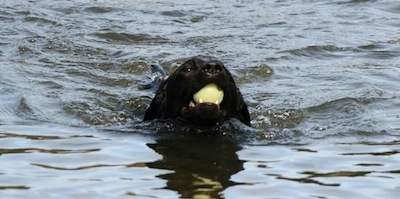 Dozer the Labrador Retriever at 3 years old retrieving his ball from the water