Labrador Retriever Pictures
Page 1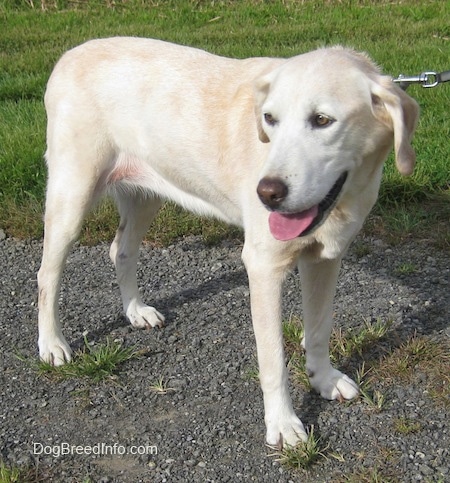 Sadie the yellow Labrador Retriever at 14 1/2 years old— "When Sadie started to age her face and muzzle turned from yellow to white. That is common in older dogs. However what makes Sadie unique is her body also started turning. Notice the yellow patches vs. the white patches. Sadie used to be all yellow."
Other Names
Black Labrador Retriever
Yellow Labrador Retriever
Chocolate Labrador Retriever
Silver Labrador Retriever
Lab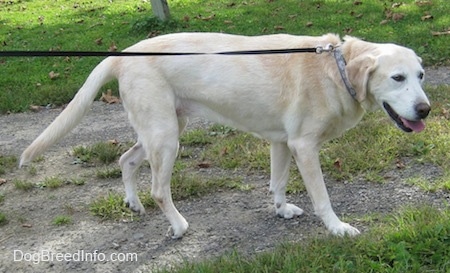 Sadie the yellow Labrador Retriever at 14 1/2 years old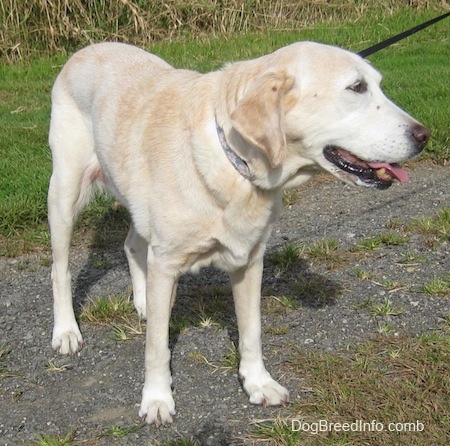 Sadie the yellow Labrador Retriever at 14 1/2 years old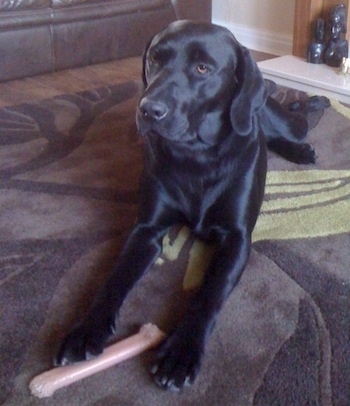 Maximus the black Labrador Retriever at 10 months old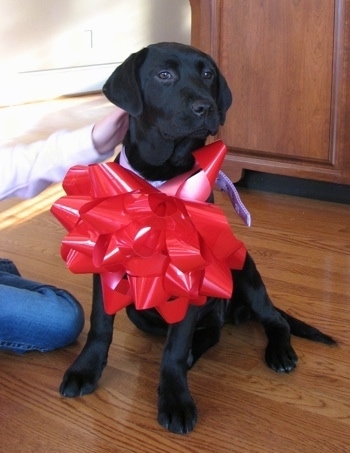 Bailey the black Labrador Retriever puppy at 4 months old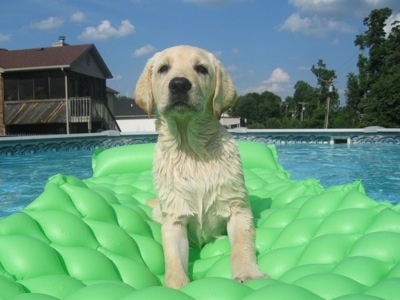 Cody the yellow Lab at 12 weeks
"Cody is my handsome 4-month-old yellow Labrador Retriever. I had dogs all my life until my beloved Golden Irish Emmy died 2 years ago. I was working on obtaining my Master's degree at the time and knew that besides not being ready for another companion just yet, I didn't have adequate time to devote to another dog. I started biting at the chomp a few months before finishing school and could hardly wait to find my new best friend. I think I was more looking forward to getting a new dog than graduating! Cody was my graduation present to myself and came home on May 12, 2009, at 10 weeks of age.

"The float photo was taken when he was 12 weeks old and the life vest photo was when he was 14 weeks. Even as a water-loving breed, Lab puppies still need to learn how to swim, and for his safety, I got him a life vest for swimming in deeper waters such as lakes and rivers. He loves playing in shallow water and is quickly learning to love the pool. He can't stand for me to be in it without him!

"Cody is such a joy. He has a very calm temperament and trains easily. From the first day I had him he sat for treats without command and was totally housebroken within 2 weeks. He already retrieves the newspaper from the mailbox and drops it in my hand on command every morning. Pretty good, I think! He goes to Puppy Kindergarten every week to learn good manners and be socialized. He will become a certified therapy dog and enrich the lives of others, just as he has mine.

"I have watched "Dog Whisperer" and have used several of his techniques in training Cody. I think the most important thing I've learned is the need to be "pack leader." I'm convinced that this is the basis of having a well-trained, happy and secure dog. Another thing I have put into practice is generating the kind of energy I want Cody to have. He will react to situations based on the vibes he receives from me, so I must be diligent in projecting the correct energy. I have never put this much work into training a dog before, but I already see the rewards of my efforts.

"Cody is growing so fast that he barely resembles a puppy anymore. Sometimes it seems sad that he is no longer that small little fur ball, but it is so much fun to see him grow and watch him develop. It is especially nice to see those razor puppy teeth falling out! I look forward to enjoying many more years of companionship with him!"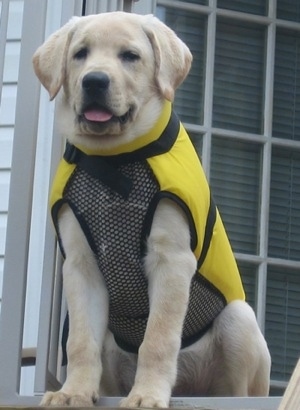 Cody the yellow Lab at 14 weeks old wearing his life vest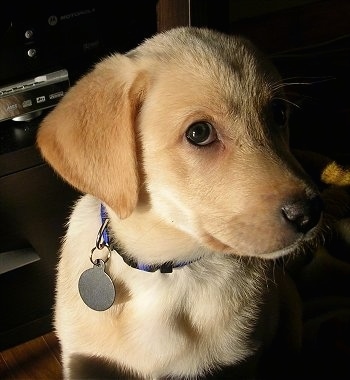 Logan the yellow Lab puppy at 2½ months old—"Logan is a purebred yellow Lab. He is growing rapidly, and his paws are big, therefore the vet says he will be a huge dog! Logan is a pup who wants to play all day and sleep at night. Whenever he greets people, he gets excited and loves to get belly rubs. He is very good with the children, and doesn't like to sleep alone. He needs to be at your feet or by your side. Logan likes to jump around like a rabbit, especially when socializing with other dogs. He is very good at it. We have not mastered the art of retrieving yet, well...he does like to fetch, but he keeps running with the ball or toy. He likes to keep it. In all the pics I am sending, he is sitting pretty for me, but I think Logan likes to have his picture taken, he is such a ham! Logan makes us smile every day."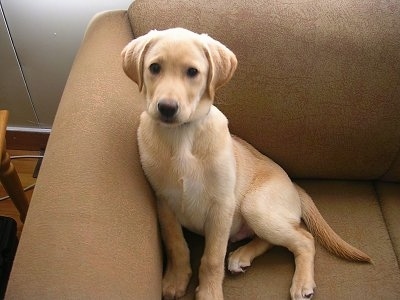 Logan the yellow Lab puppy at 3½ months old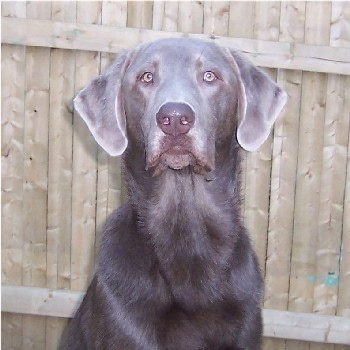 Ripley the silver Labrador Retriever at 11 months old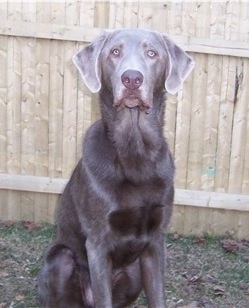 Ripley the silver Labrador Retriever at 11 months old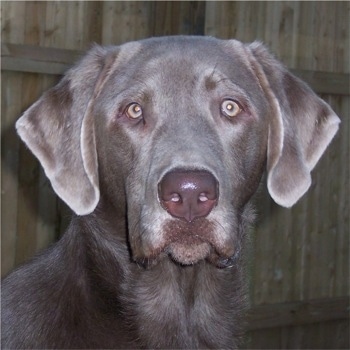 Ripley the silver Labrador Retriever at 11 months old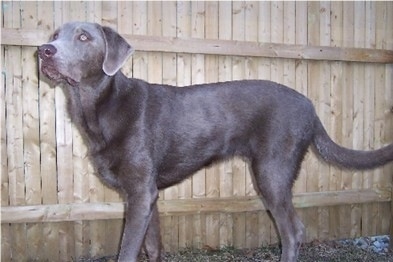 Ripley the silver Labrador Retriever at 11 months old
Amos the 12-year-old Lab basting in the sunlight that is peering through the window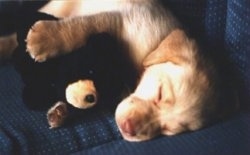 Lolly as a puppy. Good night, Lolly.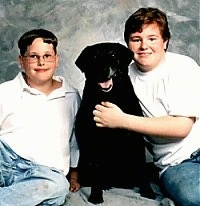 This is Mindy. She is 11+ years old. She is sitting with her brothers Steven, age 12 and David, age 15.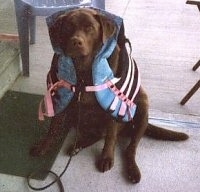 This is Jake! He is 115 pounds (52 kg) and loves to swim!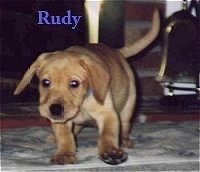 As an adorable pup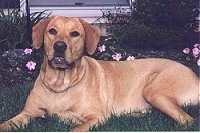 Rudy the Lab at two years old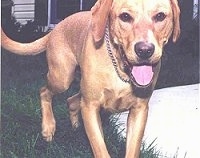 Happy Rudy!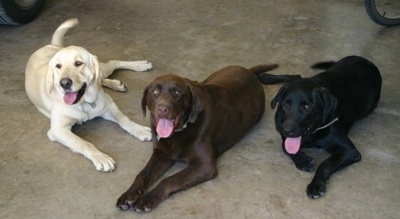 Jake the 20-month-old yellow Lab, Hamlet the 17-month-old chocolate Lab and Othello the 19-month-old black Lab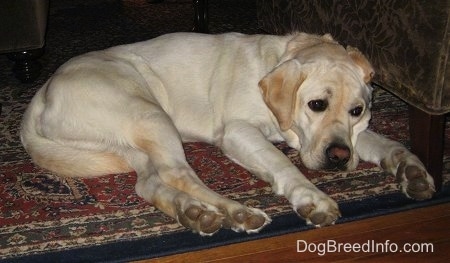 Henry the yellow English Labrador Retriever at 1 year and 9 months, bred by Wintergate Labradors (See more of Henry)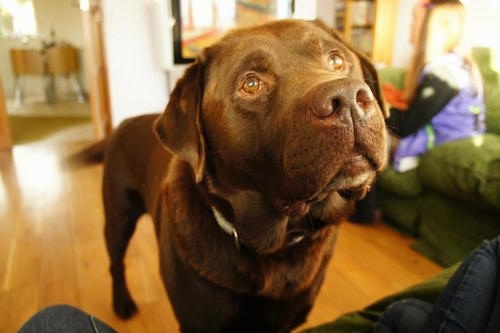 Bernie the chocolate Labrador Retriever at 6 years old— "Bernie still believes in his heart that he is a lap dog."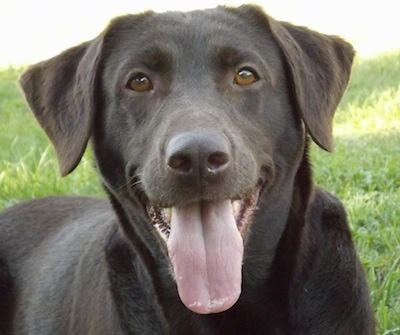 Maggie May the chocolate Labrador Retriever at 4 years old—"This is my Valentine Puppy, Maggie May. She was born in 2010 on February 14, Valentine's Day, which is funny because she is a chocolate labby:) I got Maggie in the spring of 2010. She was 4 1/2 months old. And totally crazy. For the first few months I had her, I had a tough-love relationship with her. Because she was pretty much out of control, along with being a very dominate puppy, I had to make sure from the beginning that she knew that I was the pack boss. As she got older she also showed some signs of aggression to dogs and people outside of our pack (family). I did not mind the aggression very much, as people don't expect Labs to be aggressive and that was good security thing to me, but I had to make sure that she knew that when I said "Stop it", "No", or "Knock it off", she would immediately cease her barking and/or growling. Maggie took to training like a pro. She loved to "work", as I called it. Her attention and focus on me was, and still is, out of this world. When she is playing with her doggie friends, I can call her out and she will practically fly to me, completely forgetting the other dogs and instead focusing on me. Her focus on me was so great that she was off leash trustworthy in nearly any situation by 11 months. Now at almost 5 years old, she is perfect. It takes a lot to get a dog close to perfection, and Maggie is as close to it as a dog can get in my opinion. Maggie has 3 canine siblings: Sugar, a 14 year old Labrador/Golden Retriever mix, is her best friend. Angus (3 year old mix breed) and Tippy (1 year old Pit Bull/Corgi) are her partners in crime. I call them The Three Hoods."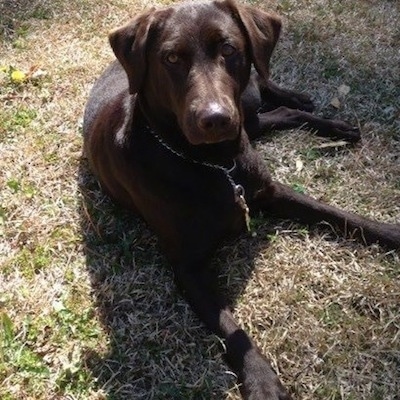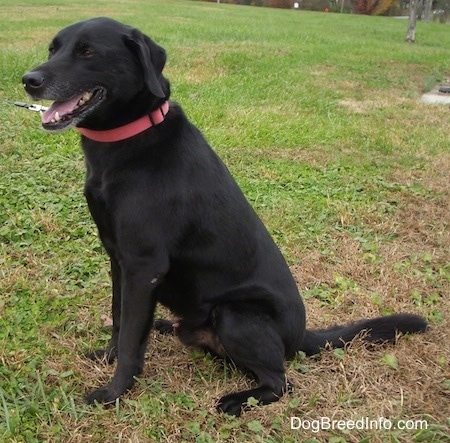 Sonny the black Labrador Retriever at 8 years old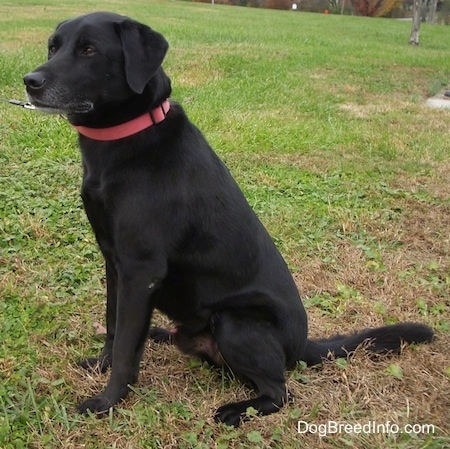 Sonny the black Labrador Retriever at 8 years old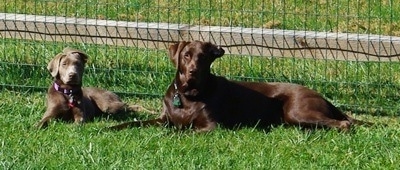 "Mocha (90 lbs.), our 2-year-old female chocolate Lab and Gracie (23 lbs.), our 4-month-old female silver Lab—I have never seen two dogs more alike, they are truly best friends. I had heard people say if you have a good dog and you get a puppy, the older one will play a big part in training the new pup; I now know that is true. They are a huge part of our family and we couldn't imagine life without them."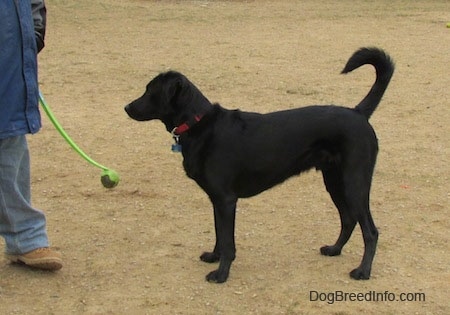 This is Oscar the black American Labrador Retriever at 2 years old. He is waiting for his owner to throw him the ball. Notice how his tail is up. That indicates that he is in an excited state of mind. Oscar gets a lot of excited physical exercise playing ball. This type of exercise tires out the body, but keeps the mind in high excitement mode. A pack walk is also needed to exercise and calm the mind.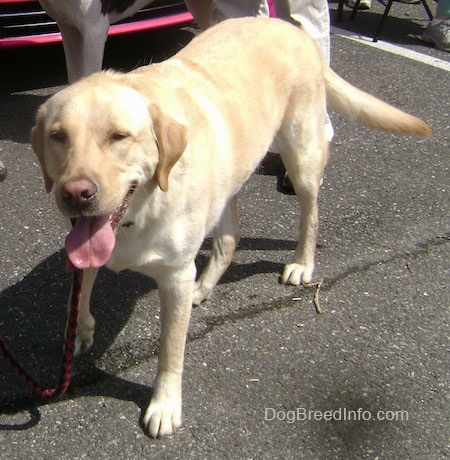 Adult rescue yellow Labrador Retriever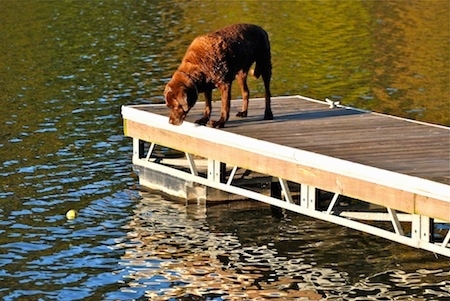 Zeke the chocolate Labrador Retriever at 13 years old—"Friend to all. Never met a stranger. Possibly one of the most traveled dogs in the US (or in the top 1%). Miss him dearly."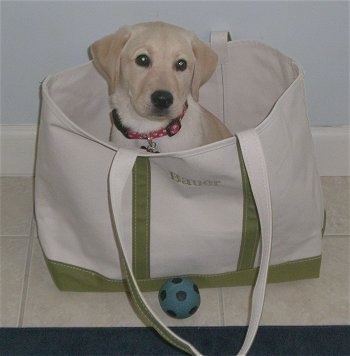 "This is my puppy Bauer at 3 months old. He is a purebred yellow Labrador Retriever from Heather Hollow Farm Labradors in Hardwick, VT. He likes to sleep a lot and play tug-of-war. He also likes to dig up the yard which mommy and daddy aren't too happy about :-). He loves walks and playing with other dogs. He's a very smart pup and learns very fast. He's practically potty trained—we use the ring the bell on the door system—and he sleeps through the night. He LOVES his crate and will go in by himself when he needs some alone time. He also likes to cuddle on your lap, which could pose a problem when he's 80 lbs. one day :-)"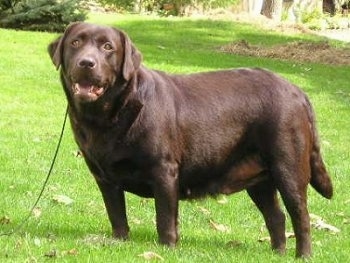 Photo courtesy of Endless Mt. Labradors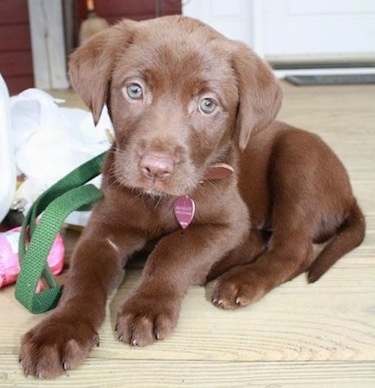 "Molly Girl at 2 months—Molly is every bit chocolate Lab, but with none of the horror stories I was warned of! She is not super high energy, probably due in part to the daily exercise I make sure she gets. She is eager to please and extremely loyal. She greets everyone with a wag of the tail and loves to be loved on! As with any dog, consistency is important when training, and thanks to that, and dog parks, Molly is the perfect dog:)"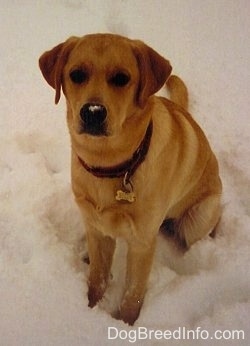 Seamus Hickey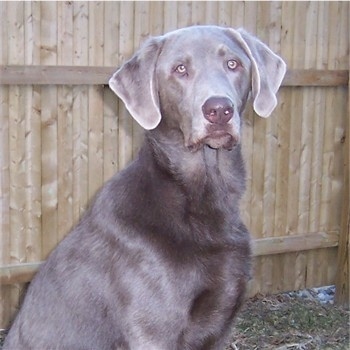 Ripley the silver Labrador Retriever at 11 months old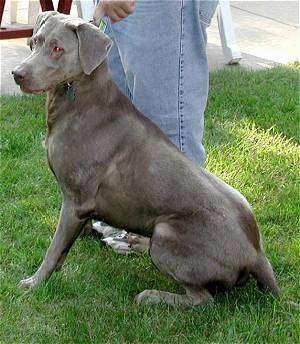 Silver Labrador Retriever, photo courtesy of Crist Culo Kennels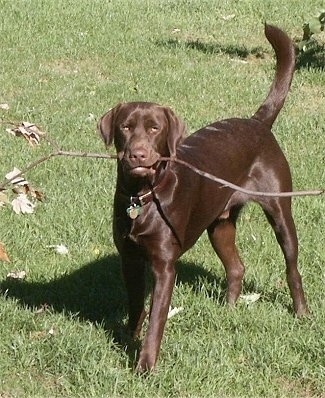 Tai the chocolate Lab at 1 year old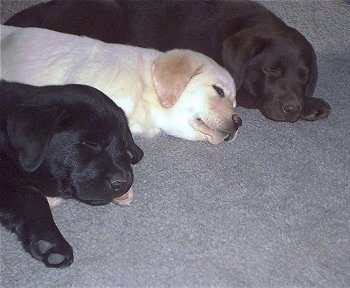 Three adorable puppies showing the three Labrador colors, photo courtesy of Mirage Labrador Retrievers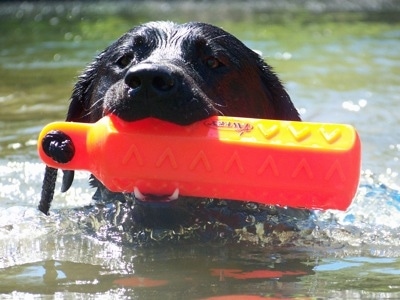 "This is our newly adopted black Lab named Dozer. He is one and a half years old in this picture and we adopted him from the pound. Like most Labs he loves the water (as you can see in the picture); in fact, he loves it a little too much. We need to work with him on not obsessing over the water so much, but he is so eager to please that it shouldn't be too hard. We take him on two walks a day with him carrying a doggy backpack, one being a three-mile walk with at least a half hour of swimming. I watch the Dog Whisperer all the time so I know that with following his methods and with Dozer being so eager to please that whatever issues he has we will be able to improve them."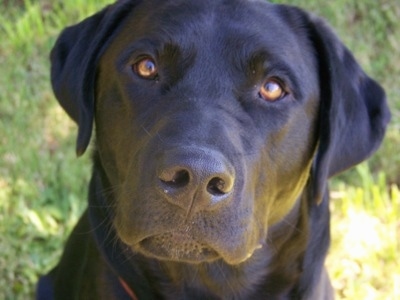 Dozer the black Labrador Retriever at 1 1/2 years old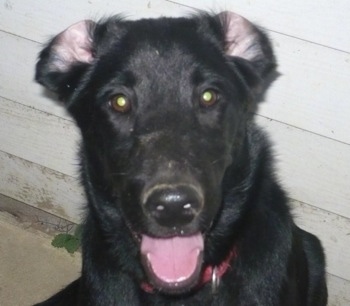 "This is Bruno (his ears are folded back because he just got done with a big run). He is one of our three dogs. Bruno gets to play daily with a Great Dane and a Lab mix that we also have. I wanted to share some information with you about Bruno because we believe that he has a very special personality."
"We watch The Dog Whisperer frequently, and we know what he means when he says to pick the pup out of the litter that is the most laid back. Most people go and pick out a dog based on their playful attitude because if a pup runs up to them they think the pup "chose them" when really it is just probably going to be a more challenging, hyper pup. We know this information now, but we did not know it when we went to get Bruno (or when we picked out our first two dogs), however he was the last male puppy left so we did not have a choice. I asked my husband why he thought Bruno was the last male left out of the litter and we later realized it was probably because he did not come leaping and bounding up to the other callers. The people that owned the pups had to go pick him up and bring him to us because he just sat at a distance observing the activity. When we first brought him home he went and sat in the corner all by himself after allowing the other dogs to greet him. We thought it was because he was so young and he was in a new environment. As the weeks passed Bruno was easily housetrained, never chewed anything up, and never "got in our face" for attention as the other dogs that we have liked to do. To this day if he wants attention he will just come and lie at our feet or sit by our side calmly. If we do not acknowledge his presence he will go lie by the door. When we took Bruno for his first set of shots, the vet said that he was extremely calm for a Lab puppy and said that he "was 1 in 100." Bruno will be 1 year old in January and we still have one of the best behaved dogs in the world with him."
"Every day all three of our dogs get walked (with the exception of extremely cold days here in PA). We also have a fenced-in yard where they do all the free playing they want to do. Bruno's balanced energy has been a blessing to the entire family. Bruno is a true testimony to Cesar's method of picking the most laid-back puppy in the litter."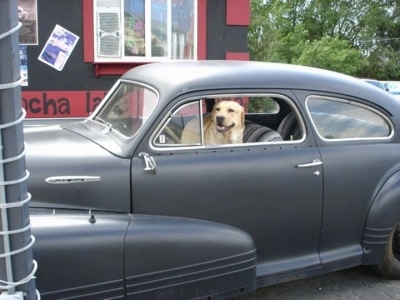 "Cappy is a 17-month-old purebred Labrador Retriever. Cappy is an all-around great companion and fun dog. His favorite activities include car rides, swimming, fetch, meeting new people and playing with his big sister, a black Lab."
"Seen below is Cappy doing what he loves…visiting a local coffee shop where he got to sit in the owner's hot rod. Cappy loves the coffee shop but I think it's partially due to him getting a biscuit when he frequents the shop."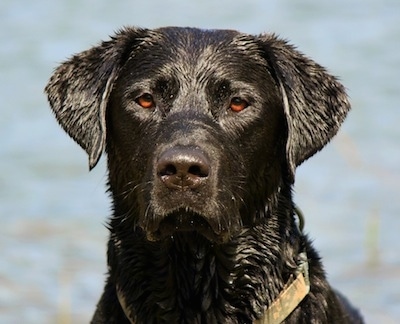 Dozer the Labrador Retriever at 3 years old—"Dozer is my best friend, he goes everywhere with me. Some of his favorite places to go are anywhere he can swim, dog park, hiking, the beach, doggy day care, swimming, DockDogs, swimming, and in case I didn't mention it, swimming. As I just mentioned Dozer and I love competing in DockDogs. His farthest jump is 17ft and we are working on Speed Retrieve. We are also going to start Agility and Flyball classes soon; both of us are super excited about that. Dozer also loves learning new tricks some of his favorites are sit handsomely (that's where he sits up) circle, How was your day (he will bark saying it's been real rough), Play dead, hold it (he will hold just about anything in his mouth), and crawl (just to name a few). I love my doggy soul mate."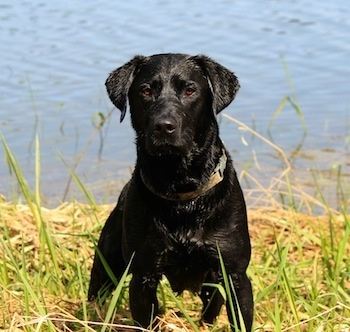 Dozer the Labrador Retriever at 3 years old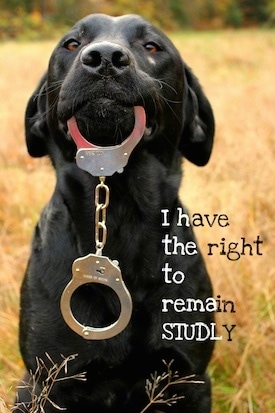 Dozer the Labrador Retriever at 3 years old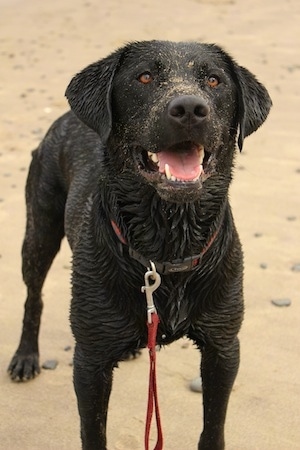 Dozer the Labrador Retriever at 3 years old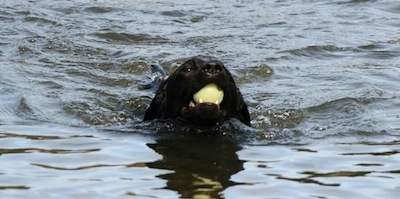 Dozer the Labrador Retriever at 3 years old