Labrador Retriever Pictures
Page 1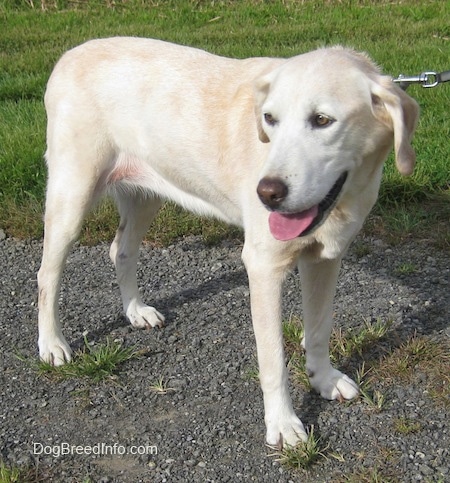 Sadie the yellow Labrador Retriever at 14 1/2 years old— "When Sadie started to age her face and muzzle turned from yellow to white. That is common in older dogs. However what makes Sadie unique is her body also started turning. Notice the yellow patches vs. the white patches. Sadie used to be all yellow."
Other Names
Black Labrador Retriever
Yellow Labrador Retriever
Chocolate Labrador Retriever
Silver Labrador Retriever
Lab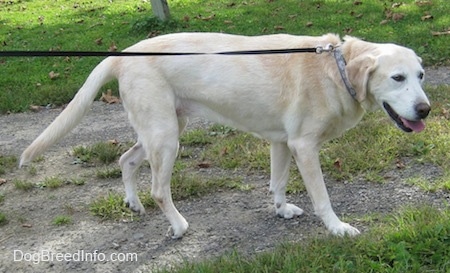 Sadie the yellow Labrador Retriever at 14 1/2 years old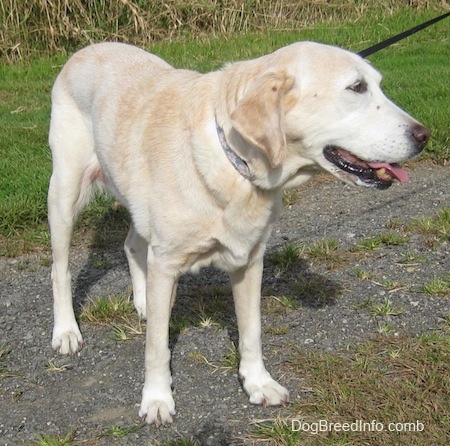 Sadie the yellow Labrador Retriever at 14 1/2 years old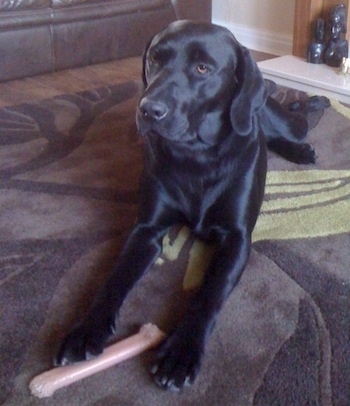 Maximus the black Labrador Retriever at 10 months old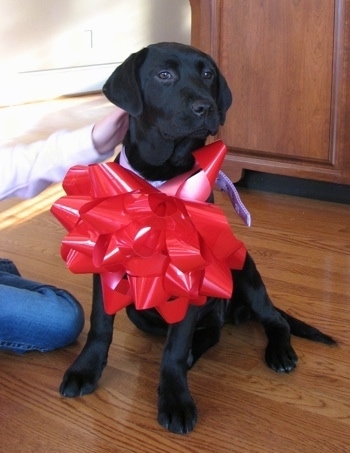 Bailey the black Labrador Retriever puppy at 4 months old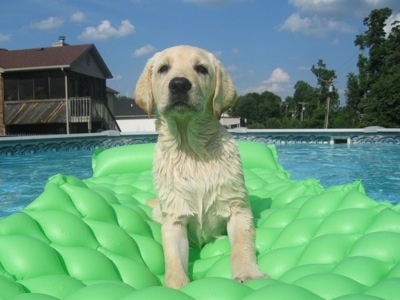 Cody the yellow Lab at 12 weeks
"Cody is my handsome 4-month-old yellow Labrador Retriever. I had dogs all my life until my beloved Golden Irish Emmy died 2 years ago. I was working on obtaining my Master's degree at the time and knew that besides not being ready for another companion just yet, I didn't have adequate time to devote to another dog. I started biting at the chomp a few months before finishing school and could hardly wait to find my new best friend. I think I was more looking forward to getting a new dog than graduating! Cody was my graduation present to myself and came home on May 12, 2009, at 10 weeks of age.

"The float photo was taken when he was 12 weeks old and the life vest photo was when he was 14 weeks. Even as a water-loving breed, Lab puppies still need to learn how to swim, and for his safety, I got him a life vest for swimming in deeper waters such as lakes and rivers. He loves playing in shallow water and is quickly learning to love the pool. He can't stand for me to be in it without him!

"Cody is such a joy. He has a very calm temperament and trains easily. From the first day I had him he sat for treats without command and was totally housebroken within 2 weeks. He already retrieves the newspaper from the mailbox and drops it in my hand on command every morning. Pretty good, I think! He goes to Puppy Kindergarten every week to learn good manners and be socialized. He will become a certified therapy dog and enrich the lives of others, just as he has mine.

"I have watched "Dog Whisperer" and have used several of his techniques in training Cody. I think the most important thing I've learned is the need to be "pack leader." I'm convinced that this is the basis of having a well-trained, happy and secure dog. Another thing I have put into practice is generating the kind of energy I want Cody to have. He will react to situations based on the vibes he receives from me, so I must be diligent in projecting the correct energy. I have never put this much work into training a dog before, but I already see the rewards of my efforts.

"Cody is growing so fast that he barely resembles a puppy anymore. Sometimes it seems sad that he is no longer that small little fur ball, but it is so much fun to see him grow and watch him develop. It is especially nice to see those razor puppy teeth falling out! I look forward to enjoying many more years of companionship with him!"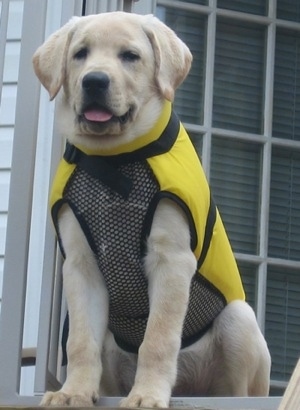 Cody the yellow Lab at 14 weeks old wearing his life vest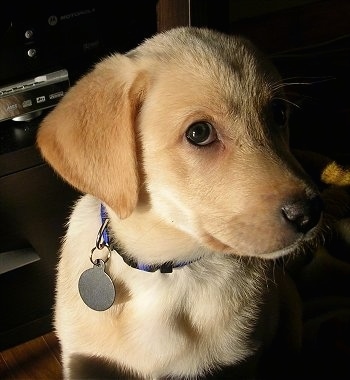 Logan the yellow Lab puppy at 2½ months old—"Logan is a purebred yellow Lab. He is growing rapidly, and his paws are big, therefore the vet says he will be a huge dog! Logan is a pup who wants to play all day and sleep at night. Whenever he greets people, he gets excited and loves to get belly rubs. He is very good with the children, and doesn't like to sleep alone. He needs to be at your feet or by your side. Logan likes to jump around like a rabbit, especially when socializing with other dogs. He is very good at it. We have not mastered the art of retrieving yet, well...he does like to fetch, but he keeps running with the ball or toy. He likes to keep it. In all the pics I am sending, he is sitting pretty for me, but I think Logan likes to have his picture taken, he is such a ham! Logan makes us smile every day."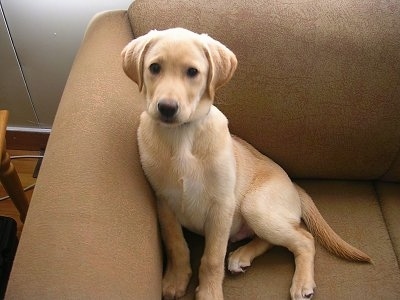 Logan the yellow Lab puppy at 3½ months old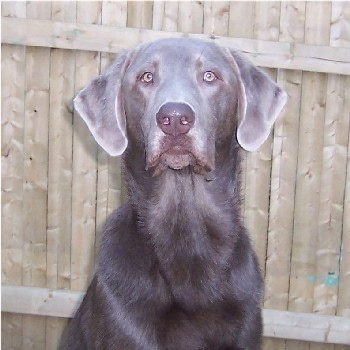 Ripley the silver Labrador Retriever at 11 months old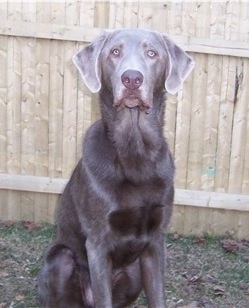 Ripley the silver Labrador Retriever at 11 months old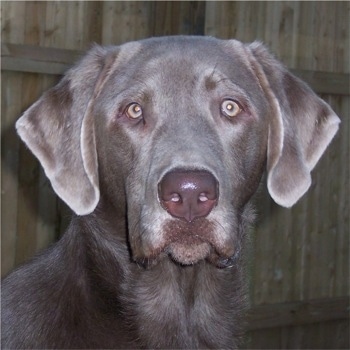 Ripley the silver Labrador Retriever at 11 months old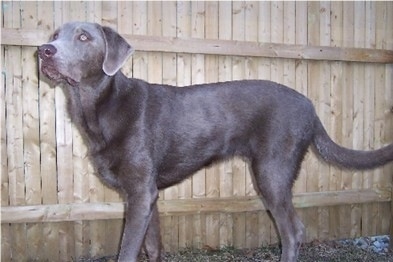 Ripley the silver Labrador Retriever at 11 months old
Amos the 12-year-old Lab basting in the sunlight that is peering through the window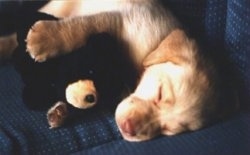 Lolly as a puppy. Good night, Lolly.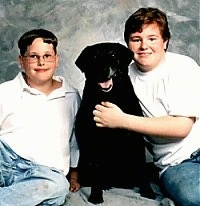 This is Mindy. She is 11+ years old. She is sitting with her brothers Steven, age 12 and David, age 15.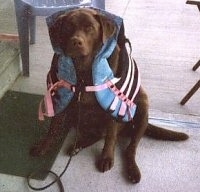 This is Jake! He is 115 pounds (52 kg) and loves to swim!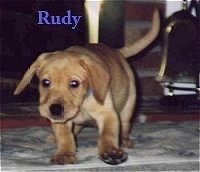 As an adorable pup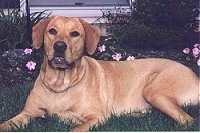 Rudy the Lab at two years old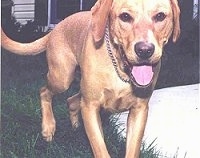 Happy Rudy!