Kemmer Stock Mountain Curs
(Mountain Cur) (KSMC) (KSMCs) (Kemmer Stock Curs)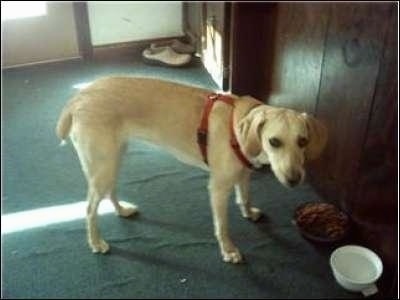 "This is my purebred Kemmer Stock Mountain Cur named Silver Bear Daizey Mae."
Originally part of a breed called "Original Mountain Curs," it is said that Mountain Curs date back to European hunting dogs brought to Tennessee by settlers in the 19th century. Kemmer Stock Mountain Curs are a line of squirrel dogs known for their excellent hunting abilities, started by a man named Robert Kemmer from Tennessee, USA. He established the Kemmer Stock Mountain Cur Breeders Association to breed and work for the betterment and preservation of the Kemmer Cur. "Cur" means crossbreed in the vocabulary of the American Kennel Club, and therefore cannot be recognized by the AKC. However, in 1957 the United Kennel Club recognized the Mountain Cur and Robert Kemmer's stock was registered in 1991. These Kemmer lines have since gone into many different breeds. The Kemmer association will register a litter with whitepapers if the litter has more than 75 percent of the Kemmer Stock lines and will register the litter with green papers if the dogs have less than 75 percent of the Kemmer Stock lines in them. It was decided by the attending members of the Kemmer Stock Breeder's Association that Kemmer Stock dogs that are not white-papered cannot hunt in the Kemmer Stock World Hunt.
American Squirrel Dog (photo needed)
Cajun Squirrel Dog (photo needed)
Camus Cur (photo needed)
Canadian Cur (photo needed)
Henderson Cur (photo needed)
Mullins' Feist (photo needed)
Treeing Farm Shepherd (photo needed)