Golden Labrador Pictures
(Golden Lab) (Golden Labrador Retriever) (Goldador) (Goldador Retriever)
Golden Retriever / Labrador Retriever Hybrid Dogs
Page 1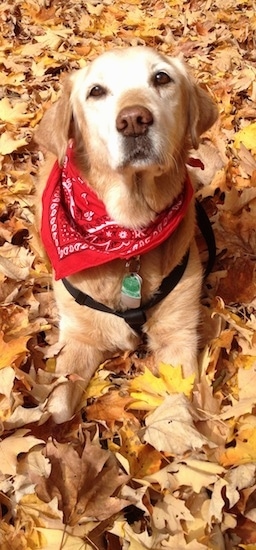 Sugar Baby the Labrador Retriever / Golden Retriever mix at 14 years old—"This is my best friend. Sugar is by far the best dog I've ever had the pleasure of knowing. She is perfectly balanced. She's always been low energy, even as a puppy. But bring out a tennis ball and she is a different dog. When she was younger, she could chase that ball forever. I would have to put the balls up in a tree to get her calm down after play time. Every time we would go outside she would go sit under her "ball tree", looking from me to the tree as if she was saying "Please Mom, can we play?". I could never say no. When she was 9, I received a birthday puppy: a little Yorkshire Terrier / Chihuahua cross (Chorkie) whom I named Kodiak Bear. The two of them were best friends. A few months after Kodi came into our lives, I got a little 4 month old purebred crazy chocolate Lab named Maggie. The three dogs all bonded deeply with each other. In November 2011,when Sugar was 11, Kodi 2 and Maggie 1 1/2, my grandmother and I rescued a pregnant Dachshund mix, which is how I got my big boy, Angus the the Labrador Retriever / Dachshund / Northern-sled dog type mix. The following May, in 2012, I lost my sweet Kodi from CHF (congestive heart failure) due to a heart murmur which he was born with. He was 2 months away from his 3rd birthday. I was devastated for a long time after Kodi's passing,as well as the loss of my great-aunt just 2 weeks before Kodi died. My 3 remaining dogs helped me get through pain of loosing Kodi and my aunt. In 2013, another canine in need came to my attention. Tippy Bug, a 10 week old Pit Bull / Corgi cross. Later that year I ended up adopting her as well, as she had bonded with my pack and I did not have the heart to separate them. Sugar has been by my side for 14 years of my life. She's been my shoulder to cry on when sad times came, my ray of sunshine on cloudy days. She's been a friend to hang out with, to go on walks with and play ball or just to sit and watch the sun set. Sugar may just be a dog, but she's my dog and that's all that matters to me."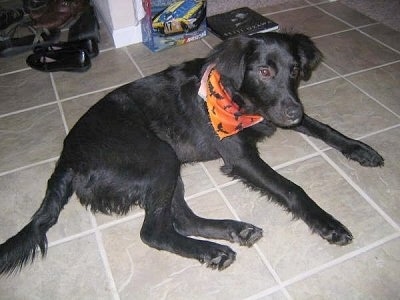 Oscar Meyer the black Labrador / Golden Retriever mix (Golden Labrador) at about 1 year old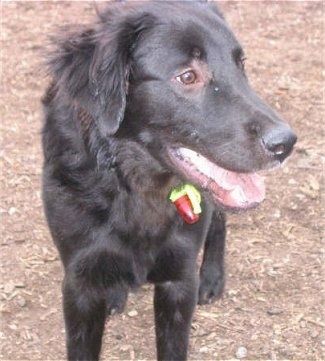 Oscar Meyer the black Labrador / Golden Retriever mix (Golden Labrador) at about 1 year old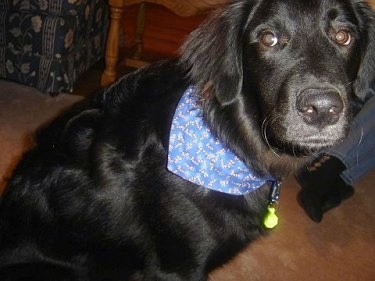 Oscar Meyer the black Labrador / Golden Retriever mix (Golden Labrador) at about 1 year old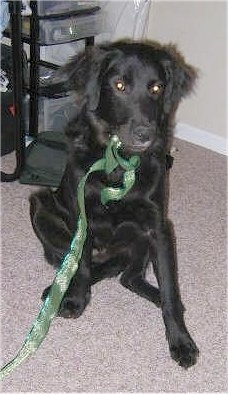 Oscar Meyer the black Labrador / Golden Retriever mix (Golden Labrador) at about 1 year old with a green ribbon on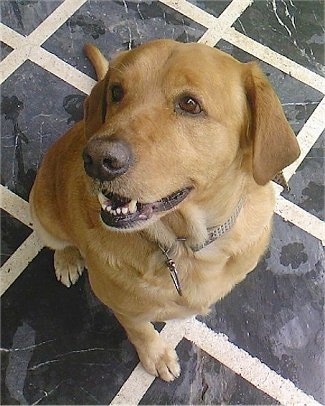 Leo the Golden Labrador living in Pakistan—"He is 6 years old, and is very playful and friendly. He can jump very, very high. I have taught him how to sit, lie down, play dead, shake hands, jump, come here and stay. Right now I am teaching him to play piano. He is very pure. I bought him from an Army dog breeder. He thinks he is a guard dog and would hurt even a fly…which he does! He loves to play catch (though he still hasn't learnt to give it back) and hide and seek! He loves biscuits, chocolates, carrots and ice cream but he hates bananas because they get stuck in his teeth!"
Hurley the F1b Golden Lab hybrid puppy at 8 weeks old (Golden Retriever/ Labrador Retriever hybrid)—"He is absolutely adorable. He is 75% Golden Retriever and 25% yellow Lab; his dad is an AKC-registered red Golden Retriever (beautiful) and his mom is a 50/50 light yellow Golden/Lab hybrid. Hurley loves to go swimming, has boundless energy, and is very friendly, loving and SMART! He's a great puppy."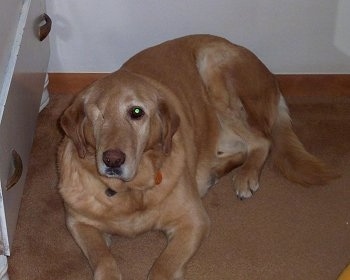 Lab / Golden mix Jack aka One-eyed Jack was born this way so the vet stitched it up.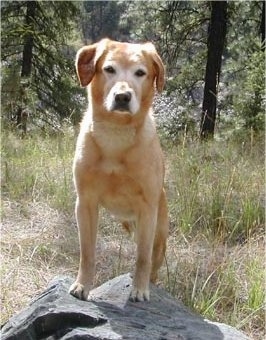 Reichelt's Better Believe It CGC aka Savannah, photo courtesy of the Reichelts in WA
"Savannah is a 7-year-old female. Her UKC LP name is Reichelt's Better Believe It CGC. She competes in UKC (she has a limited privilege #) obedience and she also does agility. She does extremely well in both. And one other special thing about her—she only has 3 legs. She gets around wonderfully. Savannah was one of the puppies that were abandoned at an adoption agency's door one morning. A few years ago she sadly lost her right rear leg to an injury, but that has not stopped her tenacious attitude to do whatever pleases her owner. She has a UKC limited privilege number, and competes in obedience. She is hoping to achieve her U-OTCH. She has many admirable qualities—anywhere from her intent focus or her incredible working attitude. She does agility as well, though in actual competition she is only allowed to do tunnelers with NADAC, because of her missing leg. It is a real shame that she is considered "lame," and is not allowed to do hunting retriever trials, because she would excel in them for sure. She is an excellent retriever, is very soft mouthed and marks very well. She can do what any other dog can do, with only her three legs. She's got true heart and soul, and is extremely intelligent. Photo courtesy of the Reichelts in WA."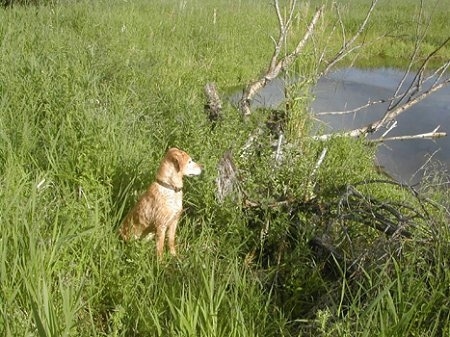 Reichelt's Better Believe It CGC aka Savannah on the hill looking over at the lake—photo courtesy of the Reichelts in WA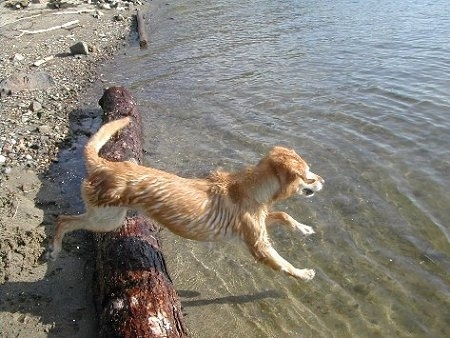 Reichelt's Better Believe It CGC aka Savannah jumping into the water—photo courtesy of the Reichelts in WA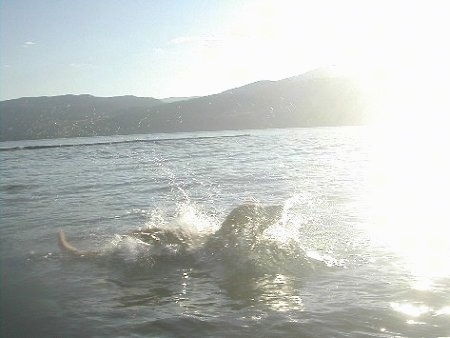 Reichelt's Better Believe It CGC aka Savannah swimming in the water—photo courtesy of the Reichelts in WA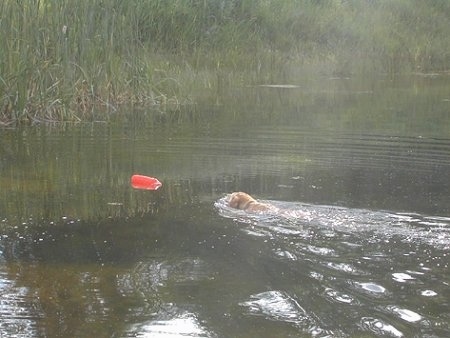 Reichelt's Better Believe It CGC aka Savannah retrieving her floating toy—photo courtesy of the Reichelts in WA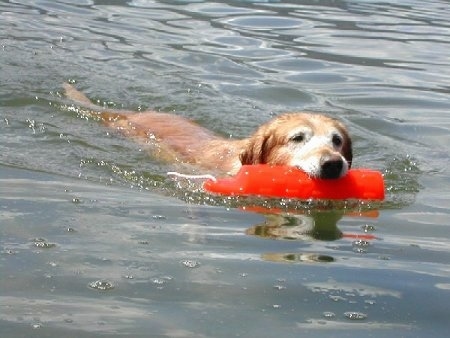 Reichelt's Better Believe It CGC aka Savannah swimming back with her floating toy—photo courtesy of the Reichelts in WA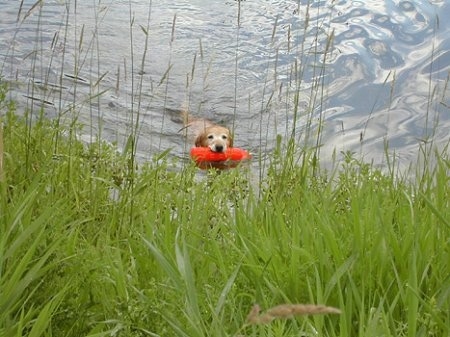 Reichelt's Better Believe It CGC aka Savannah swimming back with her floating toy—photo courtesy of the Reichelts in WA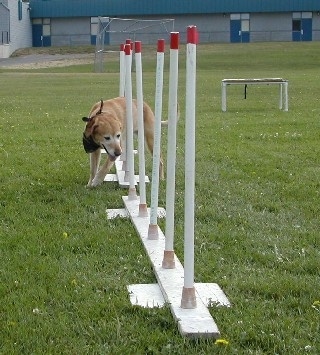 Reichelt's Better Believe It CGC aka Savannah weaving through the agility poles—photo courtesy of the Reichelts in WA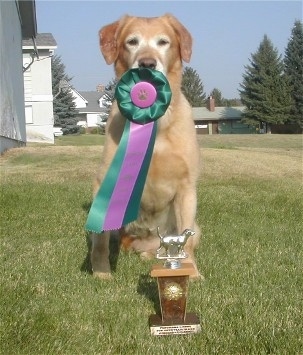 Reichelt's Better Believe It CGC aka Savannah winning a prize—photo courtesy of the Reichelts in WA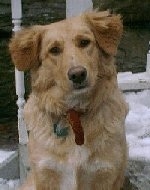 Lady Belle the Golden Retriever / Lab mix (Golden Labrador)