Rescue a Golden Labrador
Golden Labrador Puppies for Sale
Golden Labrador
(Golden Lab) (Golden Labrador Retriever) (Goldador) (Goldador Retriever)
Golden Retriever / Labrador Retriever Hybrid Dogs
The Golden Labrador is not a purebred dog. It is a cross between the Golden Retriever and the Labrador Retriever. The best way to determine the temperament of a mixed breed is to look up all breeds in the cross and know you can get any combination of any of the characteristics found in either breed. Not all of these designer hybrid dogs being bred are 50% purebred to 50% purebred. It is very common for breeders to breed multi-generation crosses.
Recognized Names:
American Canine Hybrid Club = Golden Labrador
Designer Dogs Kennel Club = Golden Labrador Retriever
International Designer Canine Registry® = Goldador Retriever
Designer Breed Registry = Golden Labrador Retriever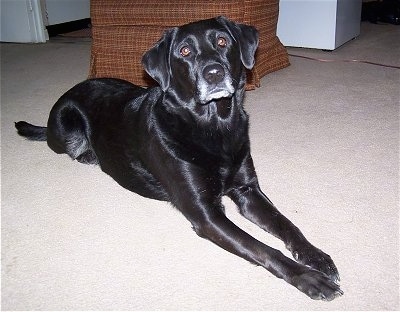 Hanna the black Lab / Golden Retriever hybrid (Golden Lab) at 4½ years old
ACHC = American Canine Hybrid Club
DDKC = Designer Dogs Kennel Club
DRA = Dog Registry of America, Inc.
IDCR = International Designer Canine Registry®
DBR = Designer Breed Registry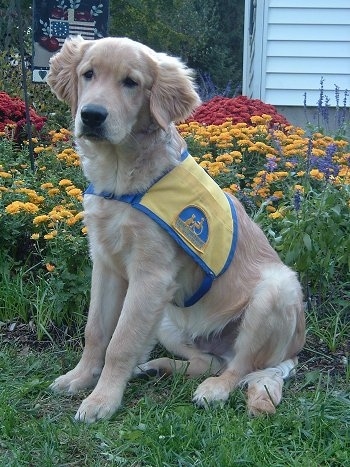 This dog is being trained to be a service dog through Canine Companions for Independence. He is a gorgeous Labrador / Golden Retriever mix (Golden Labrador).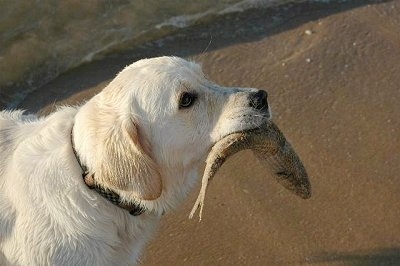 Nearly 2-year-old Danish origin Labrador x Golden Smorre with Dutch owners on beach in Portugal—after catching the fish and showing us how clever he is, he ate it all!
Oscar Meyer the black Labrador / Golden Retriever mix (Golden Labrador) at about 1 year old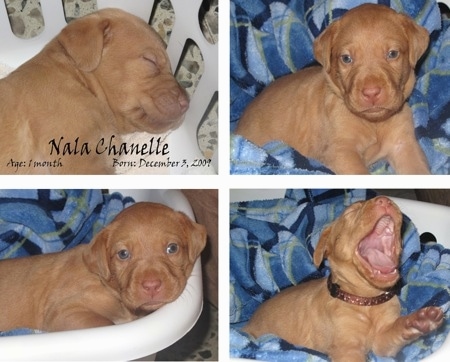 "Nala Chanelle is a Golden Labrador Retriever from Puerto Rico, shown here as a 2-month-old puppy. She has lovely blue eyes and a killer smooth golden tone on her fur (not yellow). Nala is very playful but also very demanding (Top Dog trait? hehehe). She has already seen her vet for general checkup and parasite deworming at 1 month. (She only had 2 young eggs, medicine was administered and on 2nd visit (6 weeks), she was all clear). That 1-month general health assessment went great! Doctor found her in super great shape and her 6-week-old first vaccination went very well also. She was fed on Royal Canin Puppy 33 up until now. She just started Pedigree Puppy. This transition helped her well. She favors tennis balls, a teething rope with two plastic balls, and a teething plastic lifesaver as her toys, but also likes to call for attention and be petted and played with. (She shows a very happy tail and active jumping/running with human playful interaction). We started the "Sit" and "Down" commands yesterday with the information on your page and we were amazed!!!! (For now, I showed her I am Top Dog and she behaved better!!! This is incredible and powerful stuff!!! hahaha). Loud barking and calling for attention are still issues at hand, but we will not be disappointed easily and we will keep training and interacting in a more knowledgeable and effective way each time."
__________________________________________________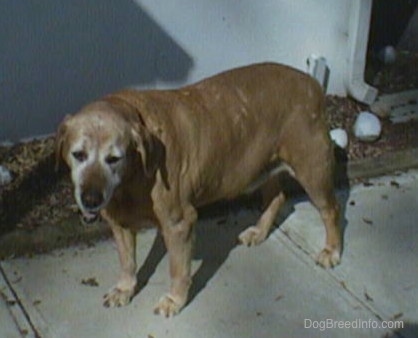 Spike the Golden Retriever / Lab mix at 11 years old
Labrador Retriever Hybrid Dogs