Chorkie
Chihuahua / Yorkshire Terrier Hybrid Dogs
Information and Pictures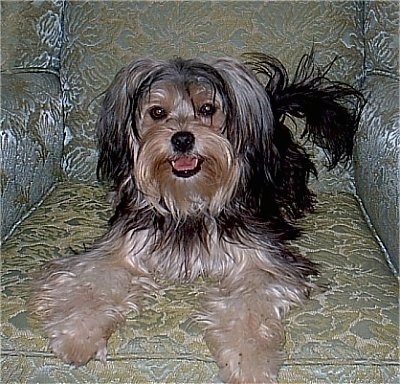 Dixie the Chihuahua / Yorkie cross (Chorkie) with her coat groomed long, sitting up on the chair.
Other Names
Chiyorkie
York Chi
Yorkie-Chi
Yorkchi
Yorkiechi
Description
The Chorkie is not a purebred dog. It is a cross between the Chihuahua and the Yorkshire Terrier. The best way to determine the temperament of a mixed breed is to look up all breeds in the cross and know you can get any combination of any of the characteristics found in either breed. Not all of these designer hybrid dogs being bred are 50% purebred to 50% purebred. It is very common for breeders to breed multi-generation crosses.
Recognition
ACHC = American Canine Hybrid Club
DBR = Designer Breed Registry
DDKC = Designer Dogs Kennel Club
DRA = Dog Registry of America, Inc.
IDCR = International Designer Canine Registry®
Recognized Names
American Canine Hybrid Club = Chorkie
Designer Breed Registry = Chorkie
Designer Dogs Kennel Club = Chorkie
International Designer Canine Registry® = Chorkie (York Chi)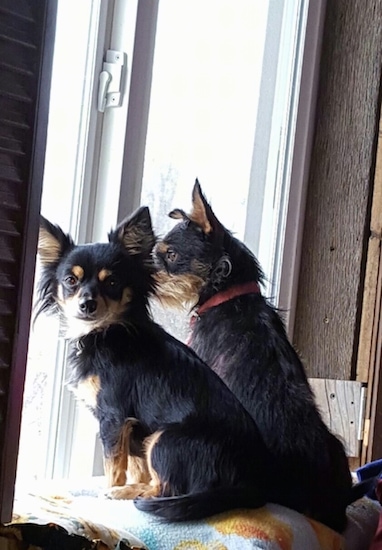 Monkey and Snickerdoodle the Chorkies at 1 1/2 years old at the window—"My girls are sisters. As you look at the pictures one (Monkey) looks more Chihuahua and Snickerdoodle looks more Yorkie. They are both black with red markings. There dad (not pictured) is a purebred red Chihuahua and mom (not pictured) is a purebred Yorkie. My girls love to sit in the window and watch traffic, birds, flies, horses and cows. They don't care for tractors and 4-wheelers. All three of them are loving and want to in mommy's lap."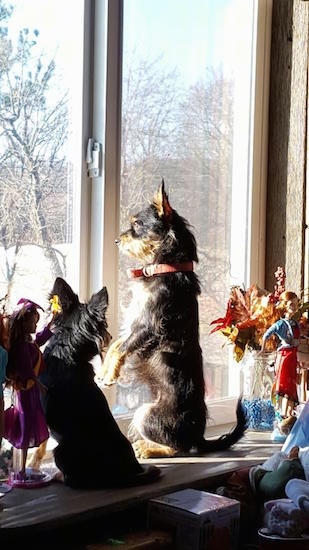 Monkey and Snickerdoodle the Chorkies at 1 1/2 years old at the window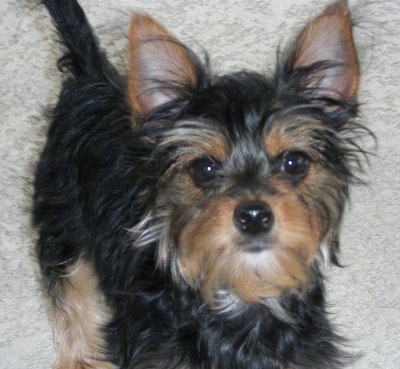 Little Heidi the Chorkie at 6 months old—"Six months ago we lost our 4-year-old beloved Heidi to a liver issue. In the end we found out that it was one of her shots that caused liver failure. We did everything to save her but there was nothing we could do. We were brokenhearted and felt a big void in our lives. Then 3 weeks ago, out of nowhere, a friend of a friend said their parents had a Yorkie mix puppy they had to get rid of. They lived in a condo and she was just too much for them to handle and she could not be a lap dog as they expected. We gave it thought for a week or two, and then my wife emailed the people about her and asked for a photo. To our amazement, she looked like Heidi's twin with the exceptions of the feathers and a little white in her coat plus she had a tail. My wife and I cried and said we had to go take a look at her. Within minutes after arriving she was ours. We named her Little Heidi after the Heidi we had lost. As a puppy she already had so many of the mannerisms of beloved Heidi we could not believe it. It was like a miracle, this couldn't be happening but it was. How can something like this happen, what are the chances? Overjoyed, we took her home and she instantly became buds with our other Yorkie Zoey. They play like two ferrets, running and having fun until their tongues hang out. Zoey really missed Heidi and slinked around the house always looking at us like she was saying, "Where's Heidi?" She has helped fill that void in our hearts and is a wonderful addition to our family. While we still love and miss Heidi very much, Little Heidi is helping us move forward and we are so glad that we have her. Now the sad part: we took her in to get her spayed yesterday and in their preliminary test before surgery they found a high liver enzyme count indicating liver issues. We could not believe what we were hearing; this cannot be happening, but it is. The vet who cared for Heidi said they could not do the spaying until the numbers are lower and that they sometimes see this in puppies so not to get too alarmed yet. That is easier said than done and we are worried sick that we could lose her. We are praying that it is something minor and the meds they put her on will take care of it. She is a wonderful puppy, smart, learning tricks after showing her only a few times and already potty trained. We love her so much and can't stand the thought of losing her. Hopefully it will not require expensive surgery to fix any issues; we can't afford that being recently retired. I think you can see by her photos what a happy little puppy she is, so full of life. She makes you smile just looking at her. We welcome your prayers for Little Heidi.
Update: "Fortunately everything turned out great with her and we are so thankful and thrilled. The liver issue was partly attributed to her being a puppy, however the vet said to keep her on a liver friendly dog food and that will help keep her healthy. Apparently there is copper in many dog foods which doesn't bother most dogs but it seems to elevate her enzyme levels. She is our precious little girl and we love her to pieces. Of course we spoil her but she is one of the smartest dogs we have ever owned. She knows about every trick you can imagine and if I show her a new one she remembers it right away. I could go on and on about all the things she does to brighten our days, everyday. Being retired she is my shadow and is with me constantly. She loves the pool and is in it with us almost every day. She dives and swims like a little child and just loves the water. We hope that she will be with us for a very long time because it would be hard to imagine being without her. She brightens our day and offers so much love to my wife and I and we thank God that she is with us."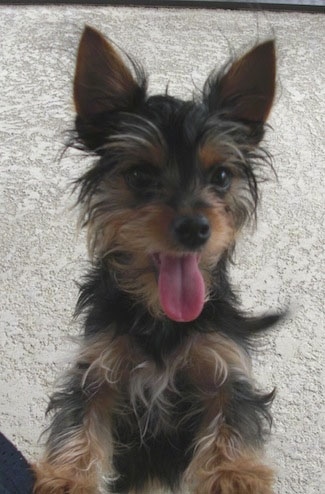 Little Heidi the Chorkie as a puppy at 6 months old jumping up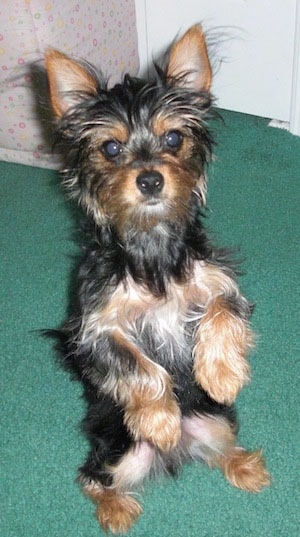 Little Heidi the Chorkie as a puppy at 6 months old standing up on her hind legs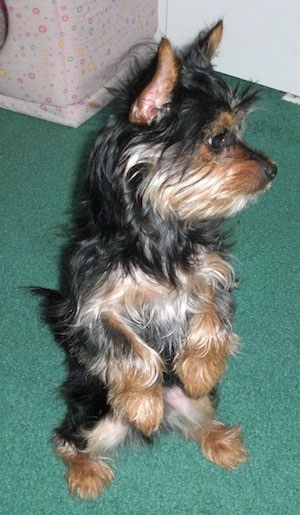 Little Heidi the Chorkie as a puppy at 6 months old standing up on her hind legs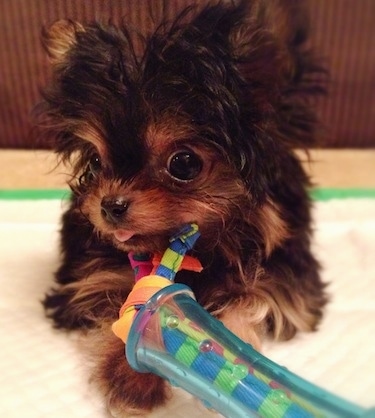 Wren the Chorkie at 9 months old—"We adopted Christmas "Wren" on Christmas Day. At the time she was only 15 ounces and had been to the emergency room twice for hyperglycemic shock. We spent three months bottle feeding and syringe feeding to bring up her weight and help her gain confidence and stamina. Today she is a super healthy, happy young lady who lights up the room no matter where we go."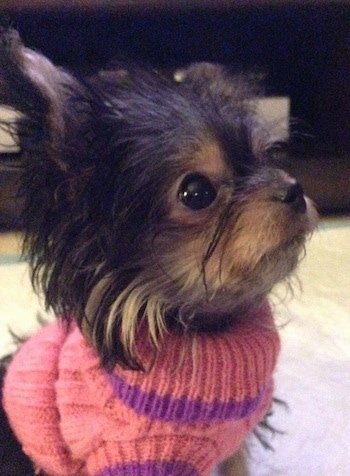 Wren the Chorkie at 9 months old wearing a little sweater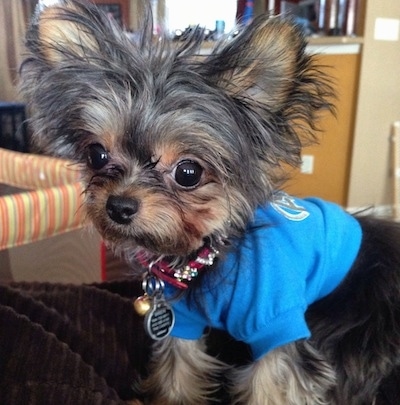 Wren the Chorkie at 9 months old wearing a blue shirt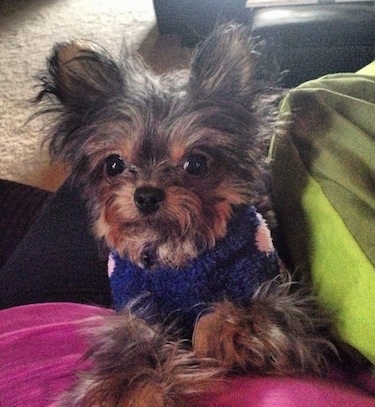 Wren the Chorkie (Chihuahua / Yorkie) at 9 months old wearing a blue shirt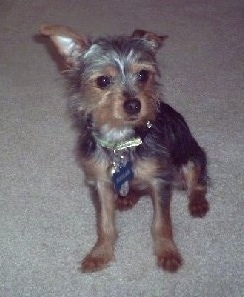 "I contacted you a few weeks ago regarding my Chorkie, Kodiak Bear aka 'Kodi'. Anyway, I told you that he was getting out of control, growling when we pick him up, jumping, and occasionally nipping as he jumps. I also told you that he'd bitten me and nearly bitten my sister. You responded saying that Kodi had Small Dog Syndrome for sure. Reading the page on your site confirmed it for me. For the past few weeks, I have been working with Kodi, and he has improved wonderfully! He's learning fast! I continue to take Kodiak and his doggie sisters, Sugar Baby, Maggie May, and Fuji on walks whenever we can. Kodi has been spoiled from birth, and that could have caused his problems. Thanks to you, we have been able to reverse Kodi's bad behavior. Thank you SO much! And I hope that Bruno continues to progress wonderfully."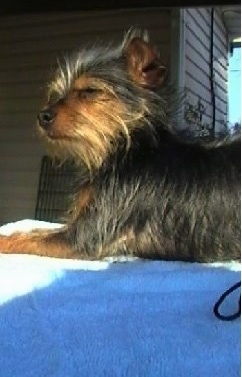 "Kodiak Bear aka "Kodi" the Chorkie. *Update: Kodi is getting better behaved every day. I believe that he is more relaxed now that I've taken control and have made it clear to him, as well to his canine sisters, that I AM the Pack Leader. Kodi goes on at least one pack walk a day with his sisters and they all walk nicely by my side. Because Kodi and my Poodle Fuji appear to be the most dominant of the four dogs, they walk at the back, with my two large-breed dogs, 11-year-old Sugar (Lab mix) and 20-month-old Maggie (pure Lab), in front of them. They all halt or sit when I stop to rest.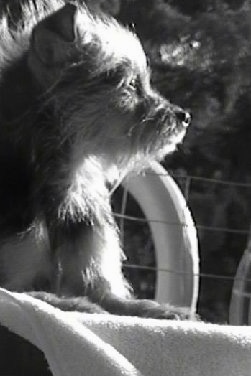 "Kodi is the best little dog I've ever had, despite his dominating behaviors. I try to watch Caesar as much as I can and his techniques have worked beautifully on my pack. Kodi will continue to improve, and I will be able to improve as a confident pack leader.
Update "Sadly, Kodi had to be euthanized on May 18, 2012. He had been healthy and happy up until the 16th of May. On the night of the 16th, he began coughing and was lethargic. Because he had been born with a heart murmur we thought coughing was a normal thing for him and thinking nothing of it, I gave him his 2.5 mg of enalipril and we went to bed. He slept well that night. The next morning (May 17th) when we got up he couldn't breathe. My mother and I rushed him to his vet. They took x-rays and when we saw the pictures we were astonished. His heart was 3 times the normal size (5.2 lbs) and was pushing on his trachea, which was causing his breathing problems. His vet wanted to keep him for the day and I reluctantly agreed. Later when I went to pick him up he seemed normal, just tired. He slept well that night and I thought that he would be fine and we could put this mess behind us. Morning came (May 18th) and I carried him outside to do his business. I had set him down on the grass and walked back to shut the door so that the cats wouldn't run out. That's when it happened; as I was turning around, Kodi collapsed and went into a seizure. Crying and screaming for my parents, I scooped Kodi up and ran inside. My dad came and took him from me as I was about to drop him and I got a towel to wrap around Kodi's body. Dad sat with Kodi on the couch and was holding his head. He knew how to care for a seizing dog as he used to have a Miniature Schnauzer who was prone to seizures. By this time Kodi had calmed and was coming out of the seizure. I had called my grandmother and she was going to drive Kodi and I to his vet.
"Once at the vet Kodi went down hill. The moment I set him on the exam table he went into another seizure and the vet techs rushed him to the back. Once they had him stabilized his veterinarian asked me to come to the back to hold him, because he had been looking at the door and whining for me. I sat with him for close to an hour. All that time he was seizure free and seemed to be normal, but his oxygen level was dropping. His vet asked me to carry him outside with her to see if he needed to potty. We weren't even outside when Kodi began seizuring again. That's when I realized that he wouldn't be coming home with me. As I sat and loved on him for the last time my grandmother had called my parents and they, along with my brother and sister, were on their way to say good-bye.
"Kodi passed peacefully in my arms. Right before he left he looked up and kissed my nose as if to say "it's okay, momma, I'm ready." And at 12:37pm on May 18, 2012 my baby crossed the Rainbow Bridge. Kodi's heart is now whole and he no longer hurts. He can run without stopping and can chase all the cats and squirrels as he wants (I never could stop him from that).
"Kodiak was buried with his favorite blanket and toy. His ID tag is on my necklace now, so I always have him with me in a way.
Until we meet again, sweet boy, I love you always."
~Kodiak Bear~
July 8, 2009 - May 18, 2012
"These are my Chorkies, Pixie at 1 year old, and Gracie at 8 weeks. Pixie is the sweetest dog I have ever known; although she has never been a mother she is a great mom. This hybrid dog is great because they are playful and loving. When it's time to play we have a "ball," but when it is time to rest or go to bed they want to snuggle as close to me as they can. Gracie is a lot of fun but she is still little and going thru that puppy stuff. What I think is interesting and should be noted is the difference in the way they look. If you are interested in this hybrid pay close attention cause you may not get what you want. Pixie looks more like a Yorkie. When she was a puppy she had fluffy long hair, but Gracie is more like a longhair Chihuahua which is fine with me as I keep Pixie cut like a Schnauzer. Overall this is a great hybrid, but if you own one you will have to be responsible and consistent in training or you will be sorry."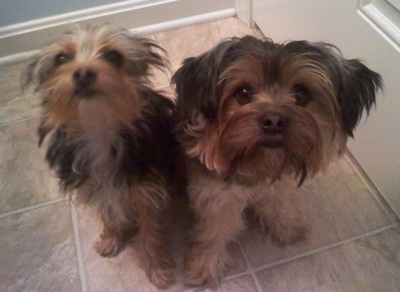 Chorkies (Chihuahua / Yorkie hybrids) Gracie at 9 months old and Pixie at 22 months old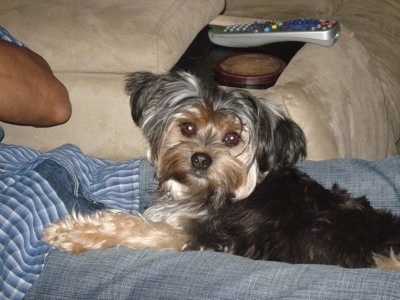 Pixie the Chorkie at 1 year old laying on his owners lap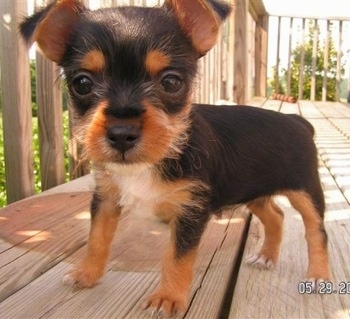 Gracie the Chorkie puppy at 8 weeks old out on the deck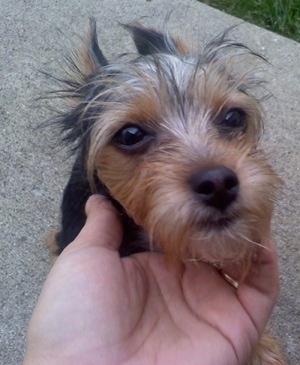 Gracie the Chorkie (Chihuahua / Yorkie) at 7 months old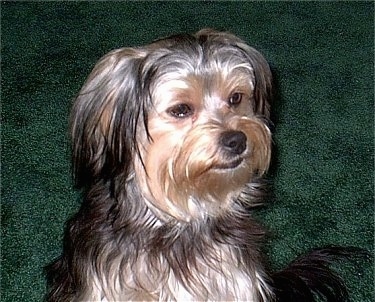 Dixie the Chihuahua / Yorkie cross (Chorkie)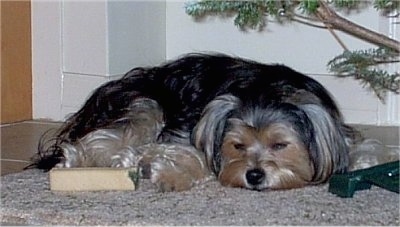 Dixie the Chihuahua / Yorkie cross (Chorkie)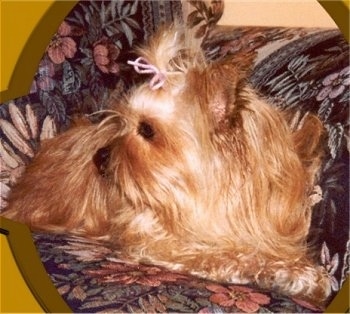 "Tiffany the 6–year-old Chorkie, which we have been calling a Yorkiehuahua. We purchased her from a breeder who crossed a Yorkie male with a Chihuahua female. Tiff is a very solid energetic dog with a sweet personality. Extremely loyal to the "mom." Long, very soft strawberry blonde fur, about 10 lbs."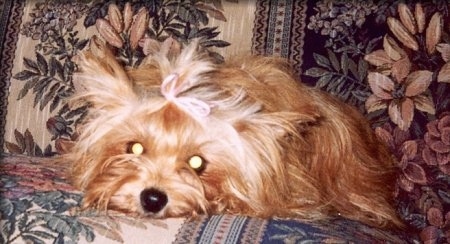 Tiffany the 6-year-old Chorkie laying on the couch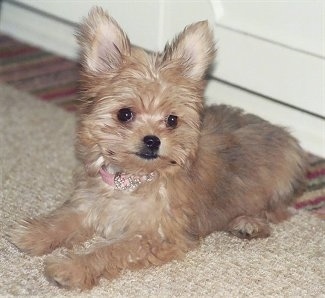 Ellie the Chorkie puppy at 5 months old (Yorkie dad and longhair Chihuahua mom)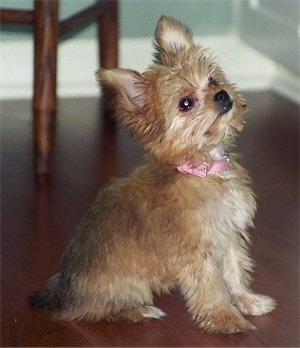 Ellie the Chorkie puppy at 5 months old (Yorkie dad and longhair Chihuahua mom)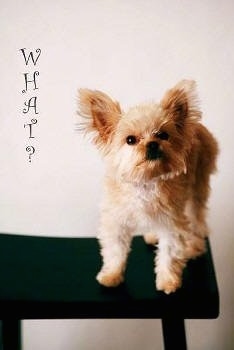 Ellie the Chorkie at 11 months old—"She is 4 lbs. grown and very, very loved. She is a light gold color. Her mom is a long-coat chocolate Chihuahua and her daddy is a silver Yorkie."
Ellie the Chorkie at 11 months old (Yorkie dad and longhair Chihuahua mom)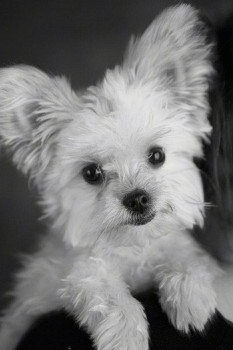 Ellie the Chorkie at 11 months old (Yorkie dad and longhair Chihuahua mom)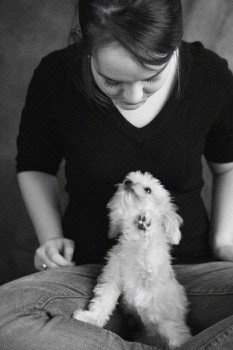 Ellie the Chorkie at 11 months old with her paw in the air (Yorkie dad and longhair Chihuahua mom)