Cavachon
Cavalier King Charles Spaniel / Bichon Frise Hybrid Dogs
Information and Pictures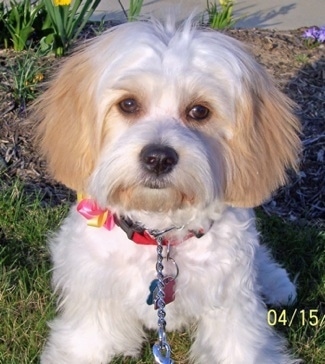 Bella the Cavachon shown here at 6 months old—"We rescued our little fur-baby from a shelter where she was the product of a puppy mill in transit to a pet store in CA. She and her brother had bronchitis and would not have survived the trip from OH. It was like adopting a child—the application process, references and interviews took about 2 weeks to complete before we were chosen to adopt. Bella is now a healthy, happy member of our family—she is the joy of my day.
"We had her attend both puppy kindergarten and basic training to learn some manners and she was housebroken at about 8 months old. She loves her rawhide bones and chasing her laser pointer like a nut job! She's so funny when she sleeps—she lies on her back in her crate and adjusts herself so her back legs are up in the air tucked into the wire of the crate to hold them up! She loves to walk with me every day—usually 3 to 4 miles at a time...and she keeps up with me wonderfully! She doesn't shed much—just a bit, and gets groomed about every 8 weeks with an occasional bath at home in between clippings. She HATES having her nails clipped. She is very obedient (for the most part) and is such a sociable little girl—she loves to meet everybody, 2-legged or 4-legged! No yipp-yapp either—quiet for the most part unless we ask her to speak or we tease her with a bone. She loves to 'sniff-out' treats—we hide them and watch her follow her nose...she ALWAYS finds it.
"We also listen to Cesar Milan books on tape—he certainly has an interesting take on training. We have tried to incorporate some of his methods into our current training routine. We try to make sure that whatever 2-legger is with her is always the pack leader. Sometimes we fail at this, but we are getting better."
Other Names
Bichalier
Cavashon
Description
The Cavachon is not a purebred dog. It is a cross between the Cavalier King Charles Spaniel and the Bichon Frise. The best way to determine the temperament of a mixed breed is to look up all breeds in the cross and know you can get any combination of any of the characteristics found in either breed. Not all of these designer hybrid dogs being bred are 50% purebred to 50% purebred. It is very common for breeders to breed multi-generation crosses.
Recognition
ACA = American Canine Association Inc.
ACHC = American Canine Hybrid Club
DDKC = Designer Dogs Kennel Club
DRA = Dog Registry of America, Inc.
IDCR = International Designer Canine Registry®
Recognized Names
ACA = American Canine Association Inc. = Cavashon
ACHC = American Canine Hybrid Club = Cavachon
DDKC = Designer Dogs Kennel Club = Cavachon
IDCR = International Designer Canine Registry® = Cavachon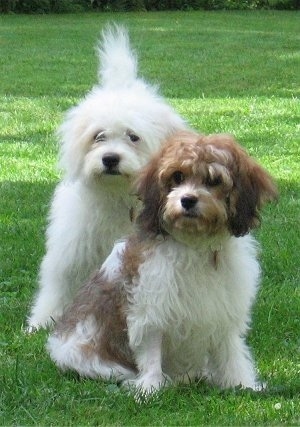 Cavachons Abby (back) at 5 months and Emma (front) at 4 months old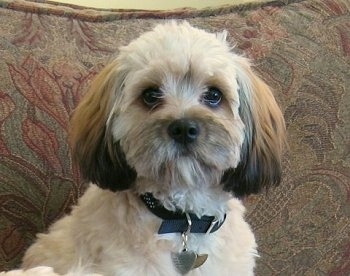 Daisy the Cavachon at 10 months old, weighing 19 pounds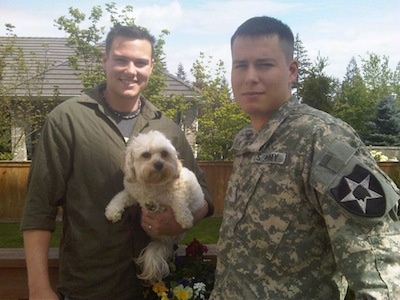 "Riley the Cavachon at about 4 years old—Riley came to us in the first half of 2007. My wife Karen had cancer and was facing chemo, radiation and surgery. She decided she wanted a dog. I was much against the idea since I was the one who would be walking the dog, taking it to the groomers, etc. Well, she saw Riley in the pet store in our town and decided he was going to be her dog. I said, "No." She said, "It's me or the dog." I said, "Yes."
"Karen died in September 2009 and I consider Riley to be my last gift from her. He has been a tremendous source of comfort and joy for me. I have never bonded with an animal as I have with Riley. He travels with me to work often and is loved by my co-workers and our clients.
"I consider Riley the perfect dog, combining the best of the Bichon Frise and the temperament of the Cavalier King Charles Spaniel. He is quiet and loving without being needy. At 19 lbs. and with hypo-allergenic hair he is easy to have in the house. I take him to the groomer for his spa treatment every 7 to 8 weeks. Riley is a great dog and wonderful companion."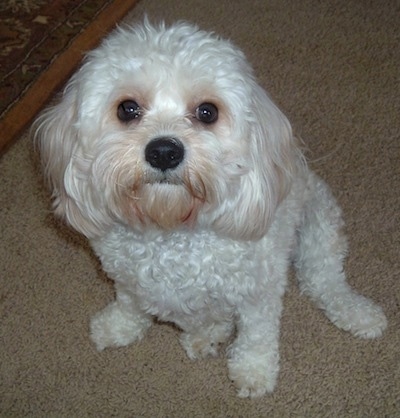 Riley the Cavachon at about 4 years old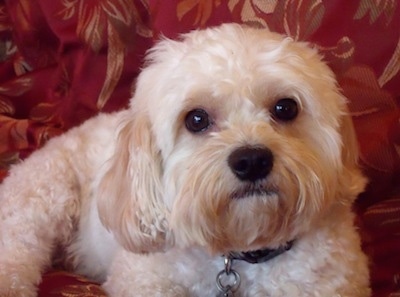 Riley the Cavachon at about 4 years old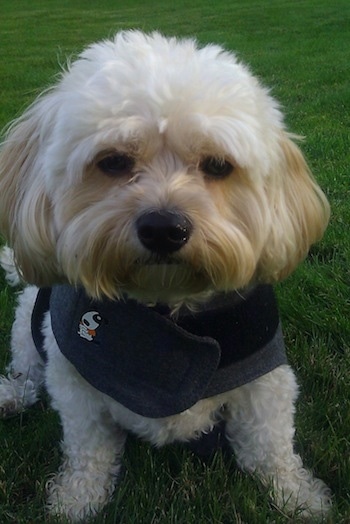 Riley the Cavachon at about 4 years old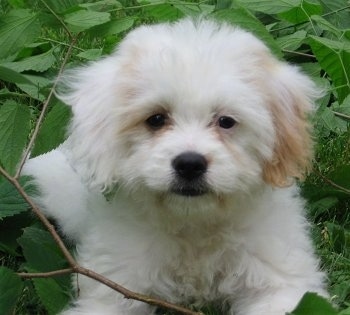 Abby the Cavachon (Cavalier / Bichon mix breed puppy) at 12 weeks old
Emma the Cavachon (Cavalier / Bichon mix breed puppy) at 4 months old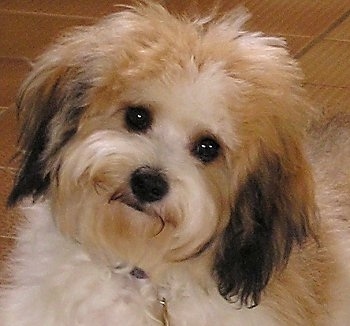 Photo courtesy of Timshell Farm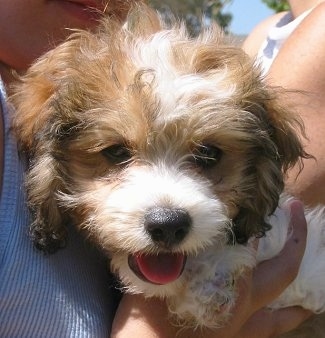 Cavachon puppy, photo courtesy of Timshell Farm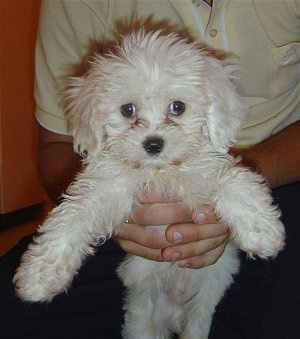 Maximus the 6-month-old Cavachon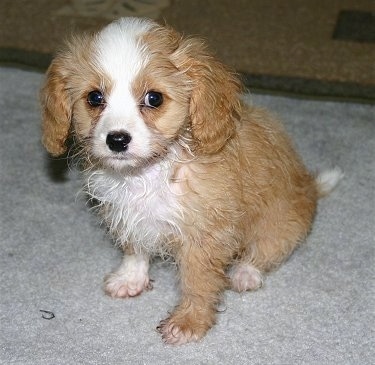 Sammy the Cavachon puppy at about 2 months old (Cavalier King Charles Spaniel / Bichon Frise mix)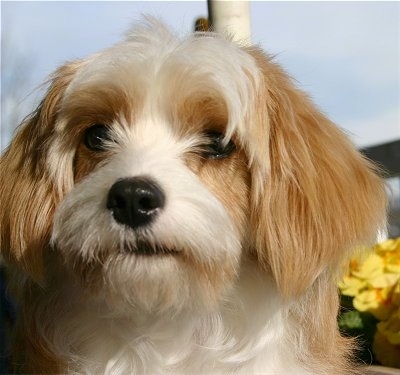 Sammy the Cavachon at 12 months old (Cavalier King Charles Spaniel / Bichon Frise mix)