Miniboz
Boston Terrier / Miniature Schnauzer Hybrid Dogs
Information and Pictures
"We rescued our dog Weezer from a local shelter. We were told he was a Boston Terrier / Schnauzer mix. I did not know there was more than one in the world. He is the best dog EVER! In this photo his coat is fairly short for the warm weather, but it does get a little longer. He has a wiry brindle coat, weighs about 21 lbs., lots of energy, super smart, and loves people and other dogs. We love him!"
Other Names
Mini Bos
Description
The Miniboz is not a purebred dog. It is a cross between the Boston Terrier and the Miniature Schnauzer. The best way to determine the temperament of a mixed breed is to look up all breeds in the cross and know you can get any combination of any of the characteristics found in either breed. Not all of these designer hybrid dogs being bred are 50% purebred to 50% purebred. It is very common for breeders to breed multi-generation crosses.
Recognition
ACHC = American Canine Hybrid Club
DBR = Designer Breed Registry
DDKC = Designer Dogs Kennel Club
DRA = Dog Registry of America, Inc.
IDCR = International Designer Canine Registry
Recognized Names
American Canine Hybrid Club = Miniboz
Designer Breed Registry = Min. Boston Pinscher or Mini Bos
Designer Dogs Kennel Club = Miniboz
IDCR = International Designer Canine Registry = Miniboz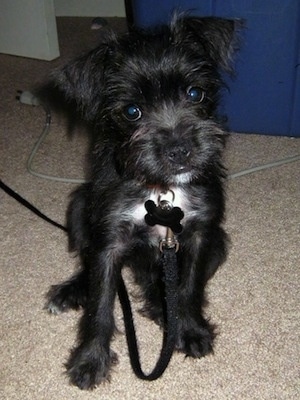 "Bauzer the Miniboz is an absolutely wonderful dog. She is incredibly smart—at 10 weeks (her age at the time the enclosed picture was taken), she already knew all of the basic commands (sit, down, come, stay, off, drop it, leave it, look at me) and learned to ring bells on the door when she needs to go outside to piddle. She's extremely friendly with people and dogs alike, and is especially popular with people (everyone in the apartment complex and local Petco knows her by name).
"She is eager to please and loves to curl up with her pack leaders. She gets a lot of walks every day—probably around an hour total over the course of 3 to 4 walks. Each day, she goes through "Bauzerker" mode for 5 to 30 minutes, where she likes to run around the apartment as fast as she can, grabbing toys along the way. It's cute and non-destructive, though not always desirable if you're trying to relax at the time.
"Bauzer is left alone in a crate sometimes during the day, even when we're around, to help her with separation anxiety (she had it when we got her, but doesn't usually whine at all when we leave anymore). Now at 13 weeks, she's perfectly fine in a crate all night long for 8 hours, rarely ever whining to let us know she has to go potty.
"As for barking, she does it very rarely. Her bark is not at all squeaky. In fact, she sounds like a much bigger dog than she is (currently 8 pounds), with a deeper, throatier bark similar to a mastiff breed. If she barks at all during the course of the day, it's only during playtime.
"Bauzer is a very balanced dog. My wife and I have both watched almost all of the Dog Whisperer series, and I've read all of his books. We apply Exercise, Discipline, and Affection in that order. It has allowed us to integrate this strong-willed little pup into our pack without any issues, and has led her to become almost perfect!
"Food and treats: We feed Bauzer dry food only. She is currently getting an organic dry food and loves it. Her treats are also usually her normal kibble, especially during training, to keep nutrition consistent. Sometimes, she'll get one of a couple special types of treats that are equally nutritious, and on heartworm medication day she gets wet food wrapped around the meds. She gets no scraps from the table, and therefore never begs.
"Quirks! All dogs have them. Her main little quirk now is that she gets carsick. If we feed her within an hour of driving and drive on the terrible Massachusetts backroads, she gets sick to her stomach and sometimes throws up. We're trying to take her a little every day or two to help her get used to it. She also loves socks and shoes and is very persistent about it (she's never destroyed anything, but we don't want to encourage it), so we've taken to putting both beyond her reach.
"All in all, Bauzer is honestly the best dog I've ever come across at this age. She's still a puppy, yet is a better, more balanced dog than almost any we meet in our walks or at the local pet stores. She's already been through puppy training, and was the best-in-class (and was even used as the example for other dogs by the trainer!)."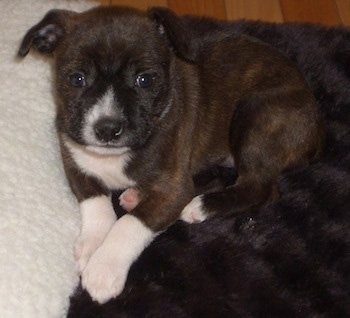 Sammi the Miniboz as a puppy at 8 weeks old— "Sammi is very smart and playful. Just finding her bark; still scares her when she does. All in all, a very cute little girl, and pretty well behaved for 8 weeks."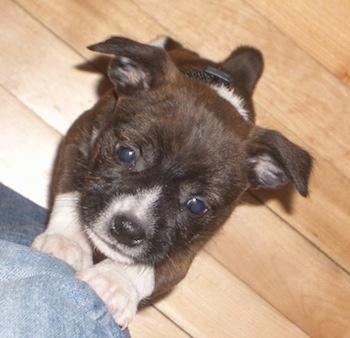 Sammi the Miniboz as a puppy at 8 weeks old jumping up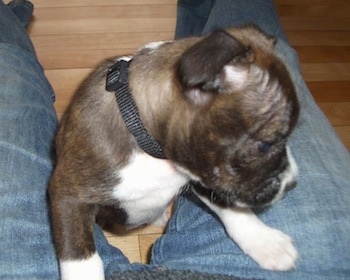 Sammi the Miniboz as a puppy at 8 weeks old on a lap
Samson the Boston Terrier / Miniature Schnauzer mix (Miniboz)—hHer father was a Miniature Schnauzer and her mother a Boston Terrier. She is now approaching mid-life, and is aging well. Samson has the coat of a Mini Schnauzer. She is shown here with a short haircut. Her owner says,"She is a wonderful member of our family; good tempered, always active (except when relaxing), friendly with everyone and very intelligent."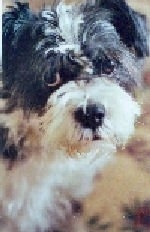 Samson the Boston Terrier / Miniature Schnauzer mix (Miniboz)



Samson the Boston Terrier / Miniature Schnauzer mix (Miniboz)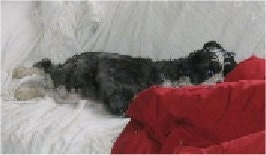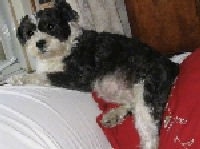 Samson the Boston Terrier / Miniature Schnauzer mix (Miniboz)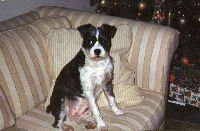 Samson the Boston Terrier / Miniature Schnauzer mix (Miniboz)