Dalmatian Heeler
Dalmatian / Australian Cattle Dog Hybrid Dogs
Information and Pictures
Pepper the Dalmatian Heeler—"Pepper's mom is an Australian Cattle Dog (Blue Heeler) and his dad is a Dalmatian. He is loyal and a good watchdog; and, very attentive and sensitive to his master's feelings. He travels well and "eats" the air and other cars passing by. He loves the beach and "eats" the waves as they break. He swims in the pool, plays fetch, digs holes, chases birds and squirrels. He loves (and herds) children, smaller dogs and cats. He is alert, active and energetic."
Description
The Dalmatian Heeler is not a purebred dog. It is a cross between the Dalmatian and the Australian Cattle Dog. The best way to determine the temperament of a mixed breed is to look up all breeds in the cross and know you can get any combination of any of the characteristics found in either breed. Not all of these designer hybrid dogs being bred are 50% purebred to 50% purebred. It is very common for breeders to breed multi-generation crosses.
Note: the Australian Cattle Dog is also called Australian Heeler, Hall's Heeler, Queensland Heeler, Blue Heeler, Red Heeler, Australian Cattledog and Australischer Treibhund.
Recognition
DRA = Dog Registry of America, Inc.
Pepper the Dalmatian Heeler going for a ride in the car
Pepper the Dalmatian Heeler
Pepper the Dalmatian Heeler
Pepper the Dalmatian Heeler with his Himalayan cat brother named Fluffy
Pepper the Dalmatian Heeler giving Ava kisses
Pepper the Dalmatian Heeler
Pepper the Dalmatian Heeler at the beach
Pepper the Dalmatian Heeler at the beach
Pepper the Dalmatian Heeler at the beach
Pepper the Dalmatian Heeler as a puppy at 10 weeks old weighing 14 pounds (left) and as an adult at 11 months old weighing 40 pounds (right)
Pepper the Dalmatian Heeler as a 4-month-old pupppy at his puppy training school graduation
Pepper the Dalmatian Heeler as a puppy at 10 weeks old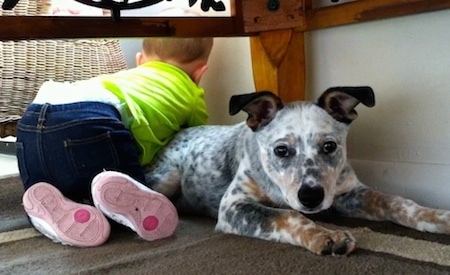 Pepper the Dalmatian Heeler as a puppy hanging out with Ava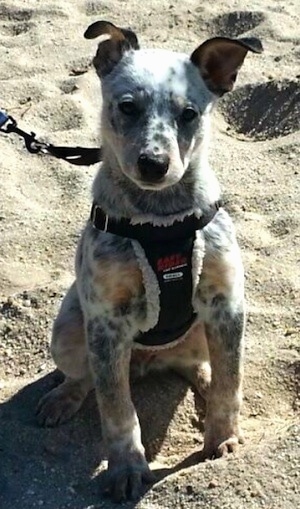 Pepper the Dalmatian Heeler as a puppy at the beach
Pepper the Dalmatian Heeler as a puppy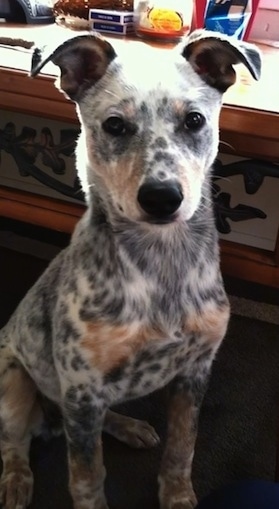 Pepper the Dalmatian Heeler as a puppy