Weiler Dane
Great Dane / Rottweiler Hybrid Dogs
Information and Pictures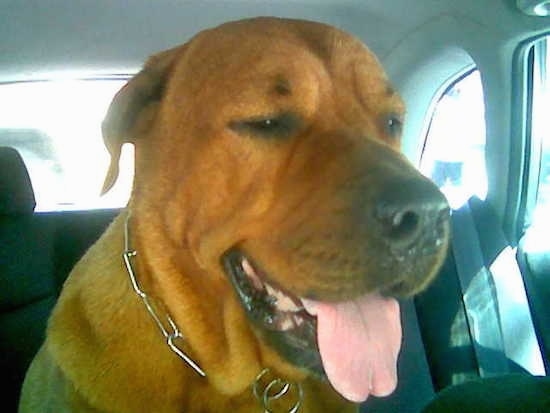 Bojo the Weiler Dane at 7 years old weighing 150 pounds (68kg)—"Bojo likes eating, sleeping, drinking gallons of water, getting total attention, being completely spoiled and loafing in the car. She does not like getting her ears cleaned, her nails trimmed and visits to the vet. She is very possessive of her master (me) and her home and property. She dislikes anyone, including my wife, touching or chatting for too long with me. Bojo sleeps on our bed beside us. She is supremely loyal and intelligent. She seems to understand everything that happens around her and anticipates most of our moves. She is at my side 24-7. The most wonderful friend one could ever have! Her diet consists of several snacks and one large meal of mix of red rice, pumpkin, soya, anchovies, herrings, chicken, chicken liver, greens and desiccated coconut. We give her marrow bones once a month, but we do not give her beef. She gets lots of water. We supplement her with fish oil, a multi vitamin, calcium , iron, nutricoat liquid and an olive oil massages. Her exercise consists of playing with our daughter."
Other Names
Great Rottie
Great Rottweiler Dane
Rottie Dane
Description
The Weiler Dane is not a purebred dog. It is a cross between the Great Dane and the Rottweiler. The best way to determine the temperament of a mixed breed is to look up all breeds in the cross and know you can get any combination of any of the characteristics found in either breed. Not all of these designer hybrid dogs being bred are 50% purebred to 50% purebred. It is very common for breeders to breed multi-generation crosses.
Recognition
DRA = Dog Registry of America, Inc.