Cairanian
Cairn Terrier / Pomeranian Hybrid Dogs
Information and Pictures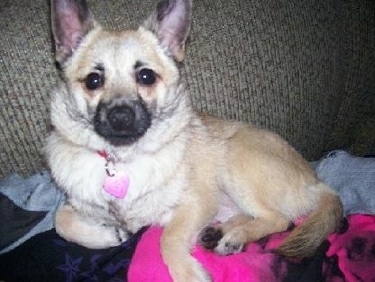 "This is Sasha! She is a Cairn Terrier / Pomeranian mix. She is 8 months old and weighs 5.6 lbs. When I got her she was grey brindle and looked like a tiny wolf. Now she is fawn brindle and looks like a tiny German Shepard. She is very sweet and well mannered. She loves her big sister (Rat Terrier mix) and they play and tease each other mercilessly! She is great with my boys, but would caution having this type of dog with young children because of her size. She doesn't like going potty outside, but uses her mat religiously! I think she would litter train very easily. She responds VERY well to gentle discipline and instruction. She draws a lot of attention wherever we go!"
Description
The Cairanian is not a purebred dog. It is a cross between the Cairn Terrier and the Pomeranian. The best way to determine the temperament of a mixed breed is to look up all breeds in the cross and know youcan get any combination of any of the characteristics found in either breed. Not all of these designer hybrid dogs being bred are 50% purebred to 50% purebred. It is very common for breeders to breed multi-generation crosses.
Recognition
ACHC = American Canine Hybrid Club
DDKC = Designer Dogs Kennel Club
DRA = Dog Registry of America, Inc.
IDCR = International Designer Canine Registry®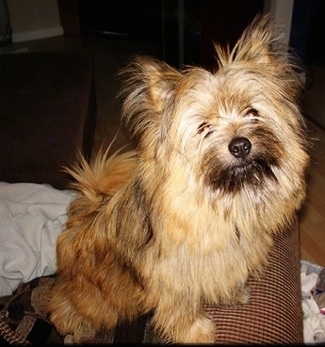 "This is Geist, my Cairn Terrier / Pomeranian cross at one year old. Geist is a bundle of fur and energy who was born to a brindle Cairn Terrier mother, and a sable Pomeranian father. A lot can be said about this hybrid. They are highly spirited, very cute and energetic, highly intelligent, and easy to train, friendly and affectionate, and very good with supervised young children, as this hybrid can be small (Geist is only 8 lbs.). This hybrid requires regular exercise and grooming. Geist has the top and outer coat of a Cairn Terrier and the fuzzy undercoat of a Pomeranian. That being said, he sheds twice a year and his fur grows rather quickly! Even as a puppy, he had a lot of energy to burn. Geist was adopted when he was 6 months old and was litter box trained, he chirped instead of barking. Geist gets his walk at least three times daily. You can definitely tell the cross in him. He has the face and paws of a Cairn and the poofiness and back end of a Pom. He reminds me of a little Griffon in heart and mind."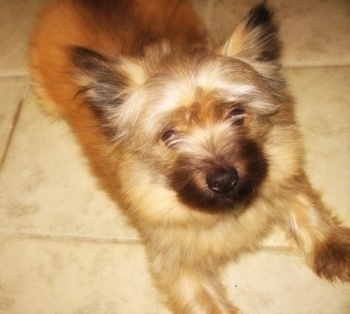 Geist the Caranian hybrid dog (Cairn Terrier x Pomeranian mix)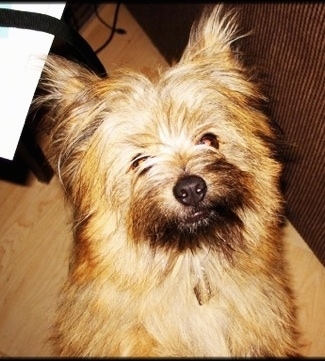 Geist the Caranian hybrid dog (Cairn Terrier x Pomeranian mix)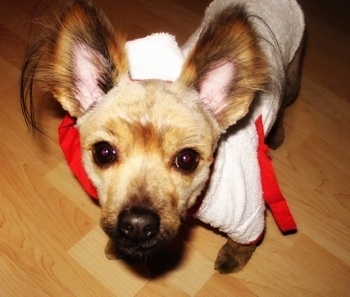 Geist the Caranian hybrid dog (Cairn Terrier x Pomeranian mix)—"This is him after visiting the groomer; as you can see he is quite fluffy!"