Rescue a Bugg
Bugg Puppies for Sale
Bugg
(Buggs) (Bug)
Pug / Boston Terrier Hybrid Dogs
The Bugg is not a purebred dog. It is a cross between the Pug and the Boston Terrier. The best way to determine the temperament of a mixed breed is to look up all breeds in the cross and know you can get any combination of any of the characteristics found in either breed. Not all of these designer hybrid dogs being bred are 50% purebred to 50% purebred. It is very common for breeders to breed multi-generation crosses.
Recognized Names:
American Canine Hybrid Club = Buggs
Designer Dogs Kennel Club = Buggs
International Designer Canine Registry® = Bugg
Designer Breed Registry = Buggs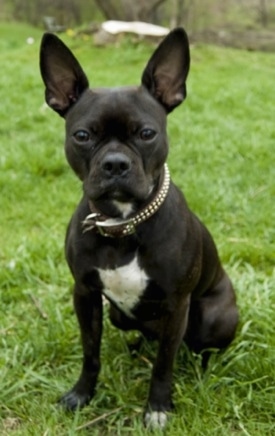 "This is our fabulous Lucie, our Bugg at 3 years old. This is a picture I took in a park in Laval, Canada. We instantly fell in love with this 20-pound athlete 2 and a half years ago. I just said athlete because this dog can jump up 4 feet high. I also teach her to play dead, high five, dance and speak. Very intelligent dog, for sure. She is perfect for children, even if I play rough with her, she completely switches her playing ways when children are around."
ACHC = American Canine Hybrid Club
DDKC = Designer Dogs Kennel Club
DRA = Dog Registry of America, Inc.
IDCR = International Designer Canine Registry®
DBR = Designer Breed Registry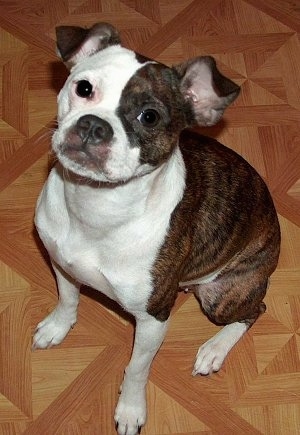 Nicky the Bugg (Boston Terrier / Pug hybrid) at 1 ½ years old takes more after her mother (the Boston Terrier) than her dad (the pug). "She doesn't know she is a dog. She is my daughter's best friend."
_______________________________________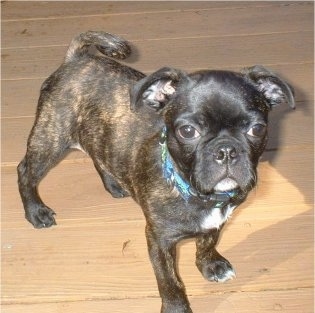 Harley the Bugg (Boston Terrier / Pug mix) puppy
_______________________________________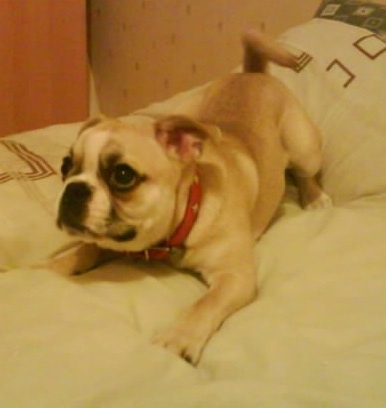 "This is my lovely Bugg Dolly at 6 months old. She is very energetic and very sweet natured."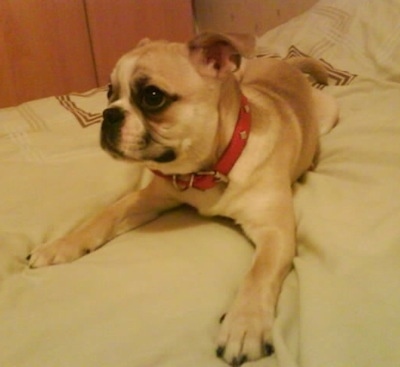 Dolly the Bugg at 6 months old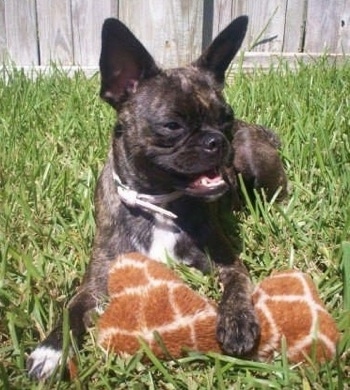 "Bailey the Bugg at 1 year and 4 months old is full of energy as always. She still loves undies and the outdoors. This is her playing in the yard with one of her favorite toys. Her favorites are the ones with loud squeakers in them."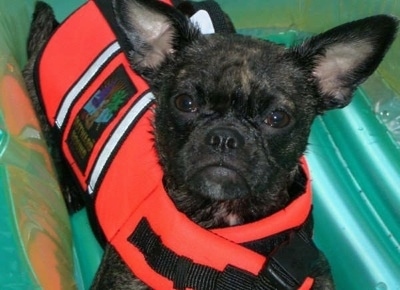 "Bailey the Bugg at 1 year and 4 months old around the pool. This is her in her boat with her life jacket on. She doesn't like the water very much, other than just sitting on the steps. However, she has taken up floating around the pool in her boat."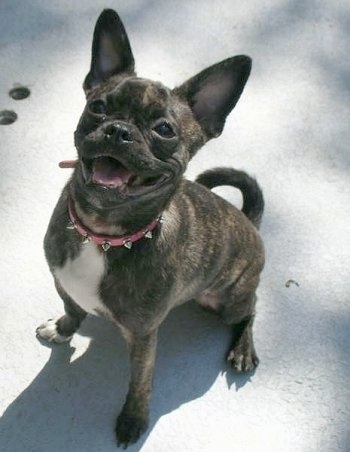 "This is Bailey. She is a Bugg. She is about 8 months old now. Her temperament is well-rounded. She is a bit high-strung, but remember, she is still a puppy. Plus I love that she keeps me on my toes. I love her to death. Just a great personality and a great companion."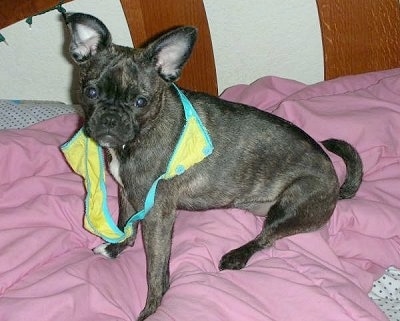 Bailey is about 8 months old and weighs 11 pounds in this picture. She was the runt of her litter. She loves to chew on panties...doesn't matter what kind...she's a little undies stealer."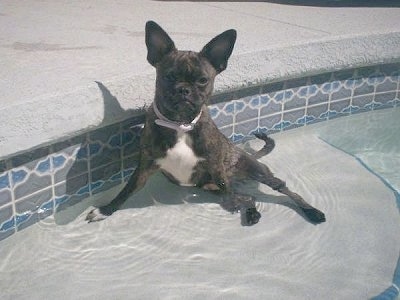 "She also likes to sit on the first step of our pool to relax. She is still unsure about swimming but is more than willing to take a dip to cool off."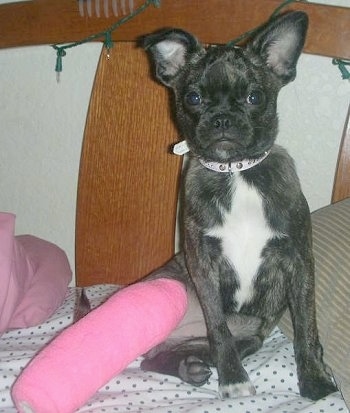 "Bailey also unfortunately broke her leg in two places when she was about 4 months old. Due to her spunky personality and a love for life she was back to her original self in no time."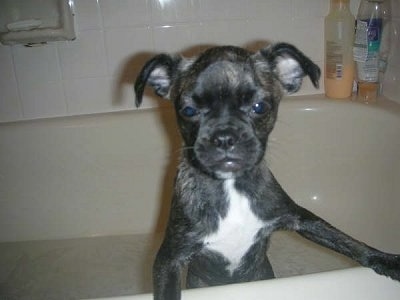 Bailey the Bugg (Boston Terrier / Pug hybrid) getting a bath and waiting OUT of the tub!
_______________________________________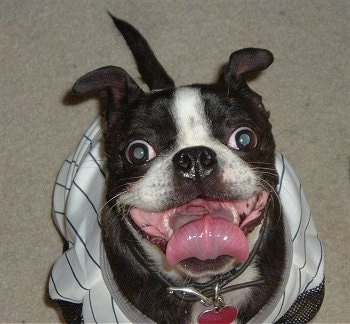 Barnaby the 3-year-old Bugg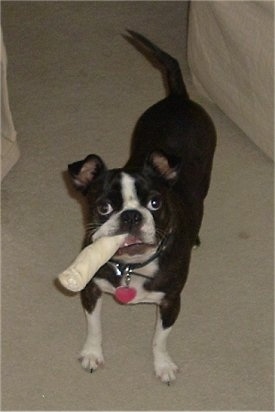 Barnaby the 3-year-old Bugg
Small Dogs vs. Medium and Large Dogs