Rescue a Sheprador
Sheprador Puppies for Sale
Australian Sheprador
(Sheprador)
Australian Shepherd / Labrador Retriever Hybrid Dogs
The Australian Sheprador is not a purebred dog. It is a cross between the Australian Shepherd and the Labrador Retriever. The best way to determine the temperament of a mixed breed is to look up all breeds in the cross and know you can get any combination of any of the characteristics found in either breed. Not all of these designer hybrid dogs being bred are 50% purebred to 50% purebred. It is very common for breeders to breed multi-generation crosses.
Recognized Names:
American Canine Hybrid Club = Sheprador
Designer Dogs Kennel Club = Sheprador
International Designer Canine Registry® = Australian Sheprador
Designer Breed Registry = Sheprador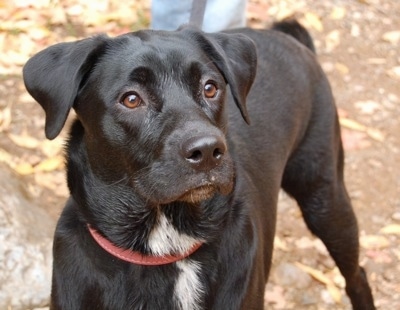 "Jovie the Lab / Australian Shepherd mix at 9 months lives with my husband and me in our apartment and is a very mellow dog at home, but loves to swim and hike and run whenever she gets the chance. She does have a knack for finding mud! She is not a very good retriever; she gets bored after 2 or 3 throws, but she does have the Aussie's instincts. One day we were at my parents' house, and they have an older Schnauzer / Pug mix named Pugsly. I saw the two of them in a corner of the yard, and Jovie was lying down just staring at Pugsly. Then Pugsly would try to move and she would jump up and head him off. Pugsly did not look like he was having much fun sitting there in the corner, but Jovie was having a ball."
"I've read what the author of this site says about the proper way to walk a dog. Jovie has a strong neck and can pull very hard. We started making her stay while we go out or in the door first, and we make her heel right beside us. We would stop as soon as she started to pull and make her come back to our side. My husband would always insist that she heeled perfectly when he walked her, but she would still always try to pull some when I would walk her. Then I read what you said about putting the collar/chain higher up on the neck. Just with that little change, I have absolute control; no more pulling. It was amazing!"
ACHC = American Canine Hybrid Club
DDKC = Designer Dogs Kennel Club
DRA = Dog Registry of America, Inc.
IDCR = International Designer Canine Registry®
DBR = Designer Breed Registry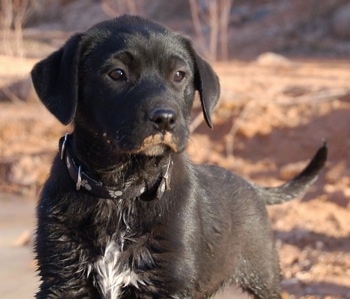 Jovie the Lab / Australian Shepherd (Sheprador) mix as a 6-week-old puppy
__________________________________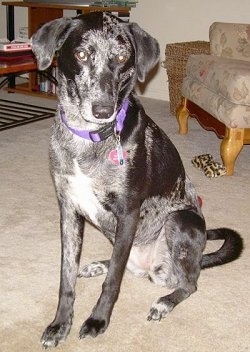 Bailey the Australian Sheprador (Australian Shepherd / black Labrador mix) at 4½ years old—"Bailey's sweet nature is apparent in her eyes."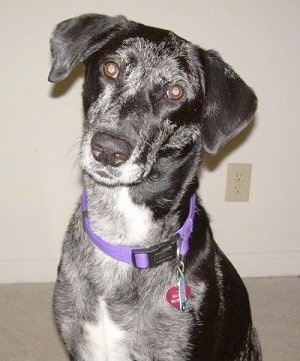 Bailey the Australian Sheprador (Australian Shepherd / black Labrador mix) at 4½ years old
__________________________________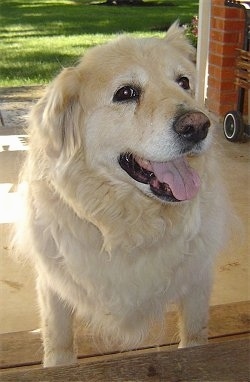 Lardo the Australian Sheprador—"His mom was a black shaggy Australian Shepherd and his dad was a yellow Lab. He inherited his mom's hair length and intelligence. He inherited his dad's hair color and face. He was very smart and loyal. Very mellow during his golden years. He was 13.5 years when he died."
"This is my wonderful best friend Beaux (I am his owner)! He is an Australian Shepherd / Labrador mix. Beaux is almost 11 months old and still a big puppy that loves to play. He is very loving, loyal and I think he got the best of both breeds!"
__________________________________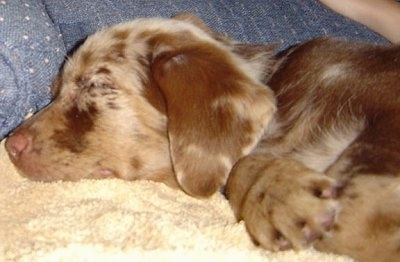 Kenya the Australian Sheprador (Aussie / Lab hybrid) at 4 months old, weighing 15 pounds—"She is very playful and almost too smart."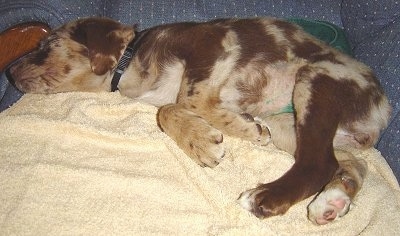 Kenya the Australian Sheprador (Aussie / Lab hybrid) at 4 months old, weighing 15 pounds
Labrador Retriever Hybrid Dogs