Spangold Retriever
English Springer Spaniel / Golden Retriever Hybrid Dogs
The Spangold Retriever is not a purebred dog. It is a cross between the English Springer Spaniel and the Golden Retriever. The best way to determine the temperament of a mixed breed is to look up all breeds in the cross and know you can get any combination of any of the characteristics found in either breed. Not all of these designer hybrid dogs being bred are 50% purebred to 50% purebred. It is very common for breeders to breed multi-generation crosses.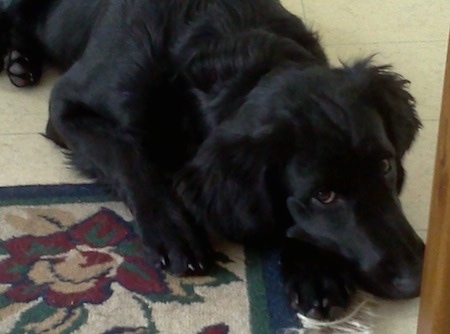 Tucker the Spangold Retriever at 1 year old—"Tucker is a very loyal, extremely intelligent, beautiful animal. I have had him since he was 12 weeks old. He's now a healthy, agile, fun boy being one years old. He is the first to answer the door to greet my guests. He stays by my side at all times and loves to be off leash in my non-fenced yard. He loves to swim and play with other dogs. He walks like he's a show dog with pride and extreme confidence. He's a quick learner when it comes to learning new things and absolutely loves agility and the beaches!!!"
ACHC = American Canine Hybrid Club
DRA = Dog Registry of America, Inc.
IDCR = International Designer Canine Registry®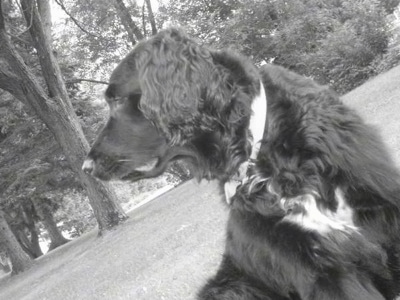 "This is my dog Blaze at 7 years old. His father was a Golden Retriever and his mother was an English Springer Spaniel. He is very sweet and works to please. He loves kids and knows when to be gentle. He loves playing, vegetables, cuddling, water and taking walks. I would recommend this hybrid get AT LEAST two hours a day of exercise. Gentle, aims to please, he learns extremely quick and will fetch you your shoes to go out and play."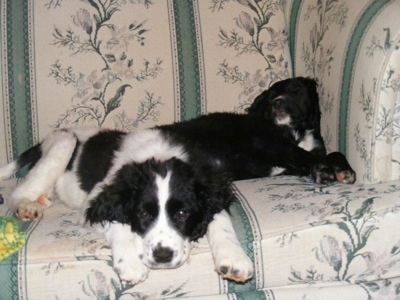 Scamper and his littermate sister Pepper at about 4 months old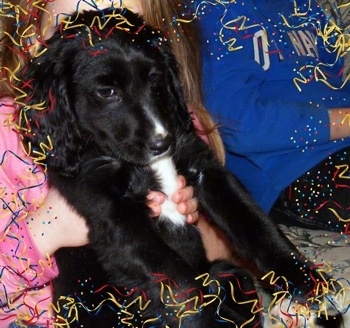 Pepper the Spangold Retriever puppy at about 4 months old—"She is a contrast to Scamper's playful, outgoing temperament, being very shy and quiet, submissive to just the right degree. Very gentle and affectionate. She tends to follow her brother's lead a lot. She really has the look of a retriever, except for her black fur!"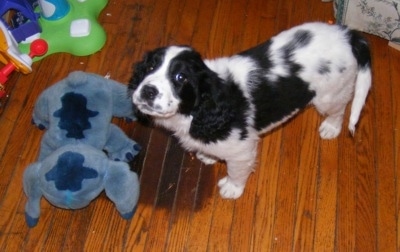 Scamper the Spangold Retriever puppy at about 4 months old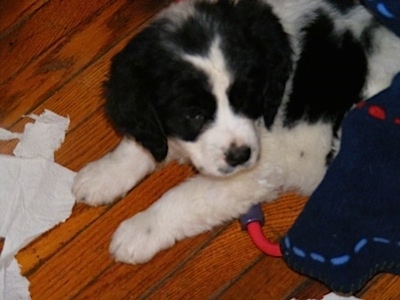 "This is Scamper, a 10-week-old Spangold Retriever puppy. His mom was a purebred Golden Retriever and his dad was an English Springer Spaniel. He is very playful, but not too high energy, easy to train and eager to learn. Very outgoing and always wants to be where the action is! Took to the crate right away with no apprehension!"