Old Deerhound Sheepdog
Old English Sheepdog / Scottish Deerhound Hybrid Dogs
Information and Pictures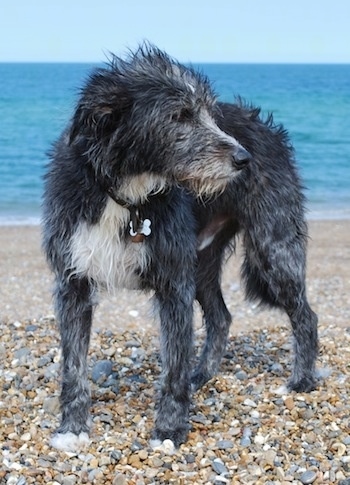 "Mac the Old English Sheepdog / Deerhound hybrid dog at 6 years old—he is a very gentle dog, sleeps a lot and doesn't bark very much except when someone comes to the door. Good with children, cats and other dogs. He enjoys swimming and playing ball games very much. He only needs 30 minutes of exercise, which does include 'sprinting' for a tennis ball for some of that then he'll rest most of the day. He's a great dog and everyone loves him. A lot of people think he's a small Irish Wolfhound."
Description
The Old Deerhound Sheepdog is not a purebred dog. It is a cross between Old English Sheepdog and the Scottish Deerhound. The best way to determine the temperament of a mixed breed is to look up all breeds in the cross and know you can get any combination of any of the characteristics found in either breed. Not all of these designer hybrid dogs being bred are 50% purebred to 50% purebred. It is very common for breeders to breed multi-generation crosses.
Recognition
DRA = Dog Registry of America, Inc.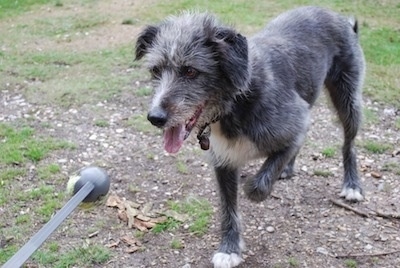 Mac the Old English Sheepdog / Deerhound mix breed dog at 6 years old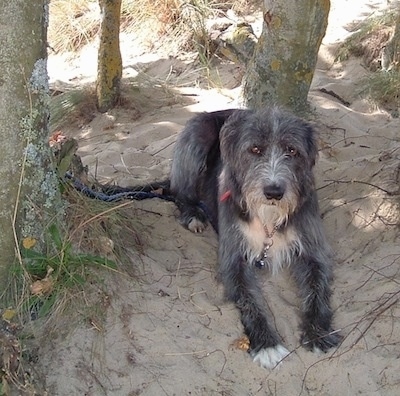 Mac the Old English Sheepdog / Deerhound mix breed dog at 6 years old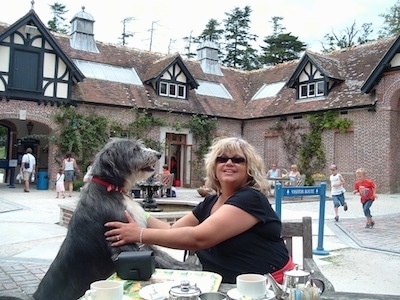 Mac the Old English Sheepdog / Deerhound mix breed dog at 6 years old