American Bull-Aussie
American Bulldog / Australian Shepherd Hybrid Dogs
Information and Pictures
The American Bull-Aussie is not a purebred dog. It is a cross between the American Bulldog and the Australian Shepherd. The best way to determine the temperament of a mixed breed is to look up allbreeds in the cross and know you can get any combination of any of the characteristics found in either breed. Not all of these designer hybrid dogs being bred are 50% purebred to 50% purebred. It is very common for breeders to breed multi-generation crosses.
"I found him as a dumped out stray in a park. He was approximately 5 months old by his teeth. He had a lot of serious behavior problems. Over the past three years he has overcome many of them. We are still working on a few. He doesn't like strangers. He is very OCD about some things like fire and light. He will not go into a closed crate; it has to be open wire. He has anxiety when riding in the car; this has improved with work and I am still working on it as we like to take him in the car with us to the park and fishing. He loves trout fishing. He seems to enjoy it as much as we do."

"However, he will walk at the park on a leash in the heel position and is very well behaved when passing bikes, other runners and walkers. He doesn't jump or pull on the leash. When I stop to talk to people he just sits and waits, partly because he really doesn't want attention from other people and partly because he is trained to do so. When, after introductions, other people pet him he is well mannered unless they encourage bad behavior. Some people get him too excited and end up with him in their lap. He has good house manners and can be left home alone with my other pets, cats and dogs loose in the house. He gets along well with my other pets. However, he doesn't like strange animals to come into our yard. He is very protective of family and pets that belong here."

"He has shown aggression when people move too fast toward us or do strange behaviors when they are here at the house. He is better with strangers when he is not on the home territory. I feel he is still a bit off-balance because of whatever happened to him in the first five months of his life before he was thrown out. Our first few months were interesting to say the least and we worked with his behaviors. I did not need to own a third dog but I felt that if he was in the wrong hands his life would be worse or may even come to an end. I have always said I know why they threw him out. He is a dog that needs an experienced dog owner."

"He loves us and we love him despite his nuttiness. My poor old Spinone and Yorkie just have to deal with him. I will say that he learned quickly that I would not tolerate him responding to the Yorkies sassy attacks and he just ignores her now. She is totally brainless and he accepts that."
"I still have problems getting him to understand that he is young and strong and my 14-year-old Spinone is fragile and weak. He just bumps into her by accident when he forgets himself. I just try to use routines in the day that prevent him from knocking her down by separation during his excited times. I always make him last at meals and when going out to bathroom; this really helps."
"We got an Oriental kitten when he was about 1 year old and I think the kitten's breeder about had a heart attack when I sent her pictures of him with this 1-pound kitten in his mouth as they played. He can be so gentle it is amazing. He and the first kitten are best buds and sleep together often. We got a second kitten from the breeder and he is really good with both cats which are indoors with him. We have 2 feral cats outside and he understands they are ours and is good with them. I have an older indoor cat who hates everyone and everything except me and he just avoids her. He is not good with stray cats that come into our yard. He will chase them but if they leave the yard he doesn't follow any further. Stray dogs—it is interesting, our neighbor has a Pug and Pomeranian and he is scared of them if they come into our yard. He wants in the house and away from them. Go figure. They are loud, agressive and obnoxious little dogs."
DRA = Dog Registry of America, Inc.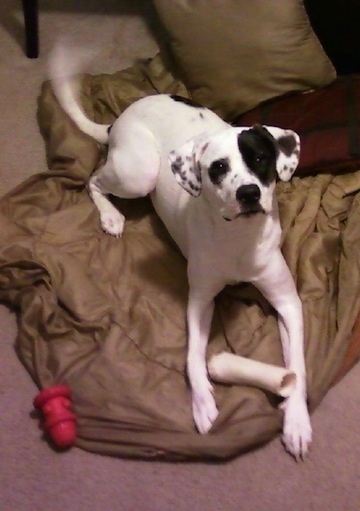 Jynx the American Bull-Aussie hybrid dog at 16 months old (American Bulldog / Australian Shepherd mix)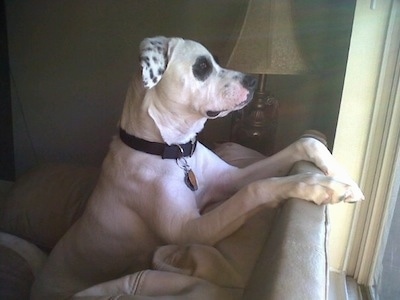 Jynx the American Bull-Aussie hybrid dog at 16 months old (American Bulldog / Australian Shepherd mix)
Jynx the American Bull-Aussie hybrid dog at 9 weeks old (American Bulldog / Australian Shepherd mix); her mother is a purebred American Bulldog weighing approximately 60 lbs. named Bella and her father is a purebred Australian Shepherd weighing approximately 50 lbs, name unknown.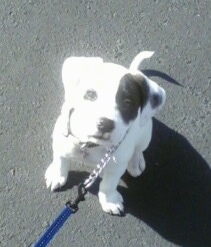 Jynx the American Bull-Aussie hybrid dog at 9 weeks old (American Bulldog / Australian Shepherd mix)—"Jynx at 9 weeks weighs 11 lbs. She is happy, healthy and very playful. She has already learned to come when called, sit and to lie down, she walks well on a leash and stays to my immediate right side. For such a young puppy I feel she is doing wonderful. She is given no less than 1-mile walks thru the week and when the weekends allow for it she is taken on a 3-mile hike thru the local park's nature trails. She is timid and very cautious of strangers but amazingly loving towards them once they kneel to her level."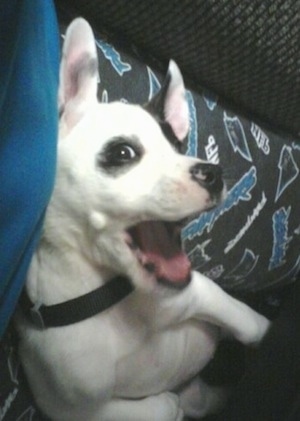 Jynx the American Bull-Aussie hybrid dog at 9 weeks old (American Bulldog / Australian Shepherd mix)—"When she yawns she makes a "meow" sound like a cat—she is often socialized with the neighbors' cats but does not spend much time with them I am not certain where the "meow" came from but you can see it in one of the attached photos! She watches Ceasar daily and sits attentively throughout the whole show! We have experienced, like most puppies, a chewing stage—Ceasar's advice to continue to provide a chewable alternative with positive reinforcement has helped a great deal."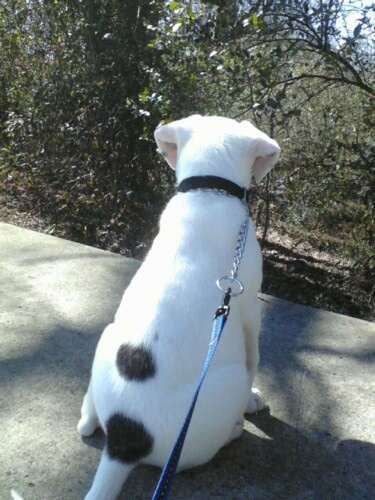 Jynx the American Bull-Aussie hybrid dog at 9 weeks old (American Bulldog / Australian Shepherd mix)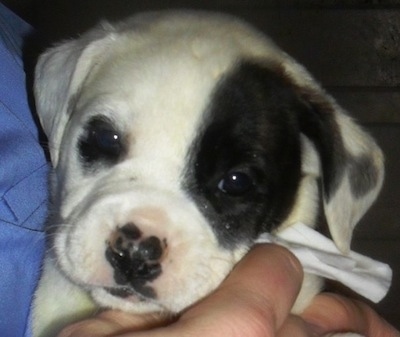 Jynx the American Bull-Aussie hybrid dog at 9 weeks old (American Bulldog / Australian Shepherd mix)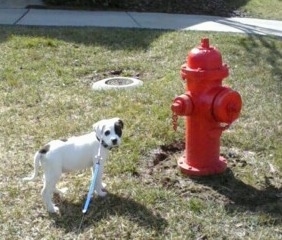 Jynx the American Bull-Aussie hybrid dog at 9 weeks old (American Bulldog / Australian Shepherd mix)