King Wheaten
Cavalier King Charles Spaniel / Soft Coated Wheaten Terrier Hybrid Dogs
Information and Pictures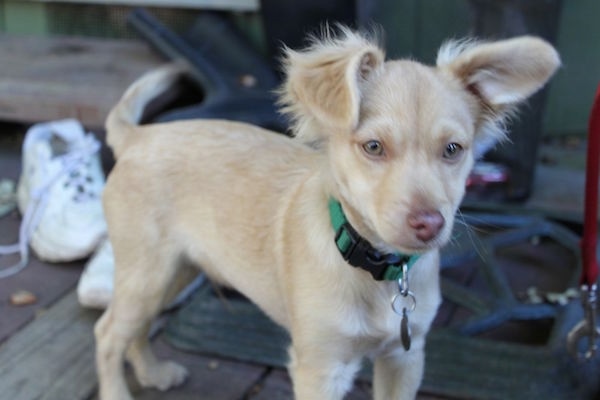 Elijah the King Wheaten as a puppy at 5 months old—"Elijah is a wonderful gentle King Wheaten pup, a mix between a Wheaten and Cavalier King Charles. His red toned tan coat is silky soft, ears are erect and his eyes are hazel / green. His is playful and terrier dominant but can calm down quickly and curl in your lap. At five months, he was 7.63 pounds. (3.4 kg) We expect him to weigh about 12-15 pounds (5-7 kg) when full grown. His overall proportions are similar to a full size Shepherd but in a small package. His litter mates were more Cavalier King Charles like in appearance and his mother was a soft curly red coat Wheaten Terrier and very gentle natured."
Other Names
King Wheaton
Cavalier Wheaten
Description
The King Wheaten is not a purebred dog. It is a cross between the Cavalier King Charles Spaniel and the Soft Coated Wheaten Terrier. The best way to determine the temperament of a mixed breed is to look up all breeds in the cross and know you can get any combination of any of the characteristics found in either breed. Not all of these designer hybrid dogs being bred are 50% purebred to 50% purebred. It is very common for breeders to breed multi-generation crosses.
Recognition
DRA = Dog Registry of America, Inc.
IDCR = International Designer Canine Registry®