Lab Pei
Labrador Retriever / Shar-Pei Hybrid Dogs
Information and Pictures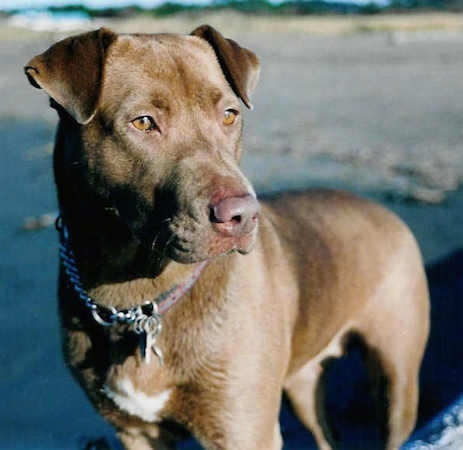 Brooklyn the Labrador Retriever / Chinese Shar Pei-"Brooklyn was rescued from a breeding situation. She was tied to a stake in a rural area, and was chronically pregnant and producing puppies. She was out in the weather 24/7/365, and was in rough physical shape. When rescued, she was about 2 years old based on her vet exam. On July 7th we will celebrate 10 years together. Brooklyn is too intelligent for her own good, very sweet, inquisitive, loyal, and loving. I truly believe her mission on earth is to give love and healing. After having her for 2 years I began training her for therapy dog work. She took to it immediately. She has always had an affinity for those injured, ill, or disabled. Our travels have taken us to local hospitals, skilled nursing facilities, assisted living, and patients at home on hospice. She has been my partner at work for the last 6 years, with the last 2 years coming to the office with me. She was my "administrative assistant." She has also been my partner as we foster cats from our local rescue, and has raised 1 stray of her own. They are very close. I feel she exemplifies both the best traits of the Lab and Shar Pei. This picture is Brooklyn at the beach when she was about 3 years old."
Description
The Lab Pei is not a purebred dog. It is a cross between the Labrador Retriever and the Shar-Pei. The best way to determine the temperament of a mixed breed is to look up all breeds in the cross and know you can get any combination of any of the characteristics found in either breed. Not all of these designer hybrid dogs being bred are 50% purebred to 50% purebred. It is very common for breeders to breed multi-generation crosses.
Recognition
DRA = Dog Registry of America, Inc.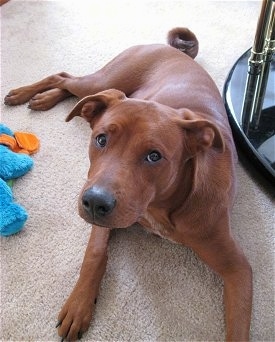 Koda the Lab / Shar-Pei mix at 6 months old—"This is my dog Koda at 6 months old. I found him in the street at about 6 weeks old. He was flea infested and had worms so I took him to the vet that day. He is now healthy and happy. He is extremely active, loves to chew everything and has to sleep in the bed with me. I can't go anywhere without him or he whines. I think he is so adorable! He has a curled tail with black on the tip and some dark spots on his tongue, his ears are floppy and he has some white on his chest. At first he hated the bath but now he is learning to love the water and swims at the beach!"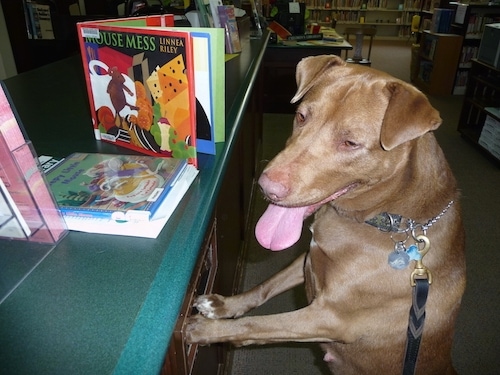 "Brooklyn the Lab Pei at the library. We had children read to her. Her favorite books are about rodents."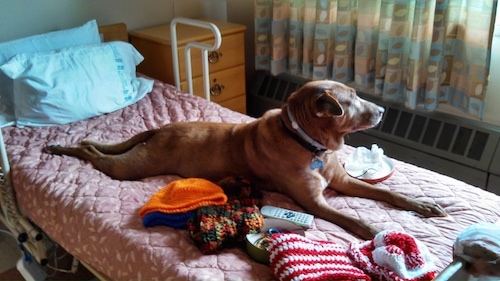 "Brooklyn the Lab Pei at the care center/rehab. We have been visiting here for 7 years. She is 12 years old in this photo."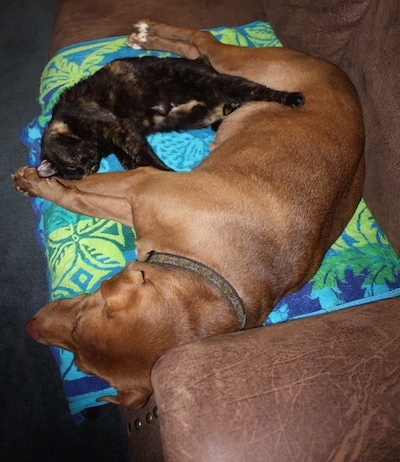 "Brooklyn the Lab Pei is seen here with her cat Stella. We found Stella behind the post office in town, about 4 weeks old according to the vet, her mom had been killed. Brooklyn nurtured and cared for her, and continues to do so."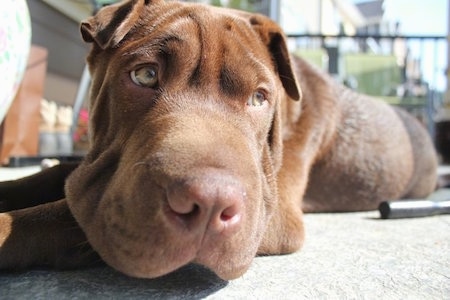 Dexter the Shar Pei / Chocolate Labrador Retriever mix at 1 year old-"Dexter is full of energy, but can relax and hang out when needed. He loves to jump and play in the water. He is wary of strangers but once he knows you, he loves you."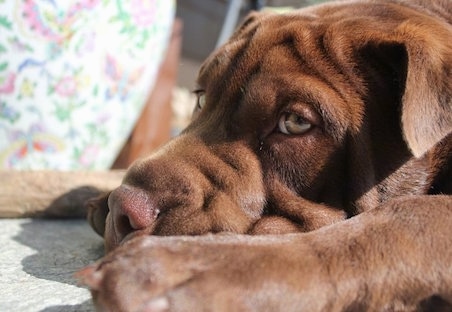 Dexter the Shar Pei / Chocolate Labrador Retriever mix at 1 year old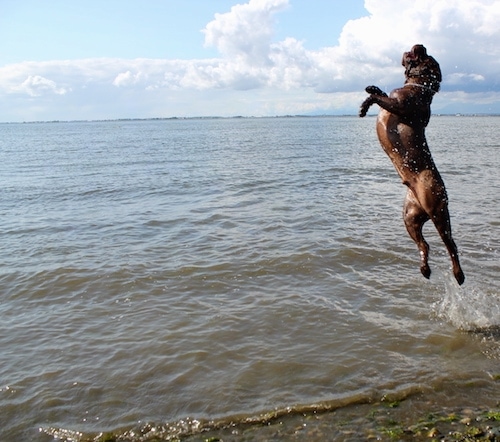 Dexter the Shar Pei / Chocolate Labrador Retriever mix at 1 year old jumping and playing in the water.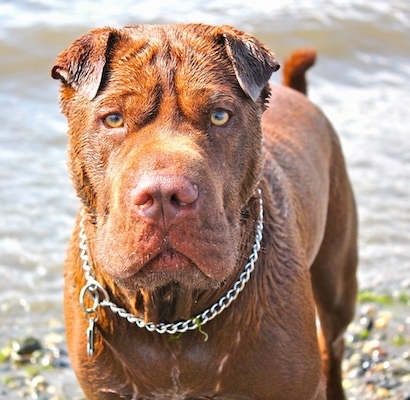 Dexter the Shar Pei / Chocolate Labrador Retriever mix at 1 year old playing in the water.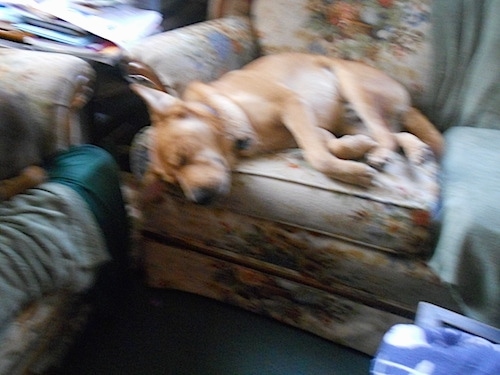 Lucas the Labrador Retriever / Shar Pei mix at 4 years old sleeping on the couch.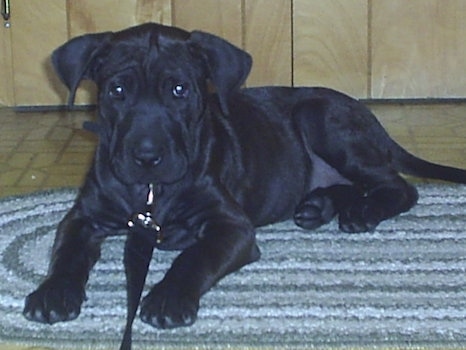 Lucy the Lab / Shar Pei mix as a puppy at 3 months old-"This is our dog Lucy. She is a black Lab / Shar Pei mix. We didn't really know what to expect with this hybrid, because there are few out there. She has turned out to be a terrific little dog. The puppyhood was difficult, and she displayed typical Lab behaviors. Lucy would chew on everything and everyone! Now that she has passed the one-year mark she is really coming along. Lucy is extremely friendly, loves children and other dogs, and rarely barks. She is loyal, but not jealous, and is very smart. She responds well to both verbal and hand commands, and is a great exercise partner. One negative, though she has the great Shar Pei wrinkles and short hair, she does shed quite a bit. I wish that more people knew about this great hybrid! We feel very lucky."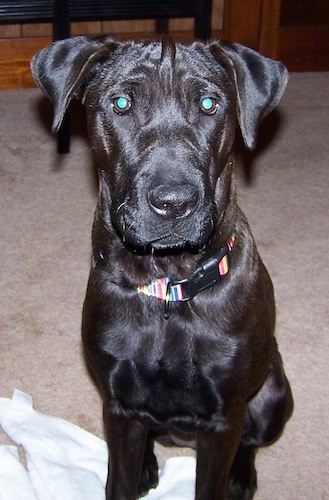 Lucy the Lab / Shar Pei mix as a puppy at 7 months old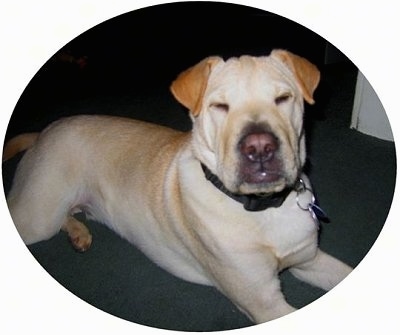 "Cooter is a Shar-Pei / Yellow Lab mix. We got him from the local animal shelter when he was 8 weeks old. He was housebroken in less than 2 weeks. He is one of the smartest dogs I have ever encountered, and very affectionate. His only problem is he is extremely skittish. Since he has never been mistreated here, I can only assume it is just his nature. But I am still very glad we chose him. We have 19 grandchildren, so it was very important that whatever we got, it had to be good with them. He has both been great with all from 20 years, right down to newborns."