Alusky
Alaskan Malamute / Siberian Husky Hybrid Dogs
Information and Pictures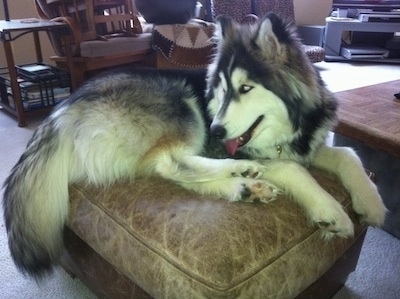 "We bought Nikki from the same breeder as our previous dog Cosmo. Cosmo was 155 pounds of pure joy. We were devastated when he got sick, did everything we could to save him. He passed July of 2011. Nikki's breeder says he is a low-content wolfdog. mom being a 100% wholly Husky and dad being a wolf / Malamute. We picked up Nikki last August, and the breeder discounted his price to $1,000. We gladly paid it, thinking that we were getting a low-content wolfdog. Cosmo was a dream animal and there was no hesitation. Shortly after bringing Nikki home I proudly posted his pictures on the wolfdog Facebook sites I had stumbled upon. I was blown away that the experienced wolfdog owners phenotyped and stated that Nikki was a beautiful dog and there was no wolf. I posted pictures of Cosmo as well, again a beautiful dog. I have educated myself and others on misrepresentation. I am not sorry I have this animal; he is perfect for my family. He is healthy, gorgeous, and super smart. We have started taking him to outdoor fairs and farmer's markets. Every time someone asks if he is wolf, we tell them no and try to educate on wolfdogs. So, here is Nikki, my stunning designer dog."
Other Names
Husky Malamute
Description
The Alusky is not a purebred dog. It is a cross between the Alaskan Malamute and the Siberian Husky. The best way to determine the temperament of a mixed breed is to look up all breeds in the cross and know you can get any combination of any of the characteristics found in either breed. Not all of these designer hybrid dogs being bred are 50% purebred to 50% purebred. It is very common for breeders to breed multi-generation crosses.
Recognition
ACHC = American Canine Hybrid Club
DBR = Designer Breed Registry
DDKC = Designer Dogs Kennel Club
DRA = Dog Registry of America, Inc.
IDCR = International Designer Canine Registry®
Lucius the Husky / Malamute mix at 5 years old—"This is my dog Lucius. The name Lucius means light. He is five and a half years old in these pictures. He is bi-eyed with one blue eye and one brown eye. He has been neutered and is very very well mannered."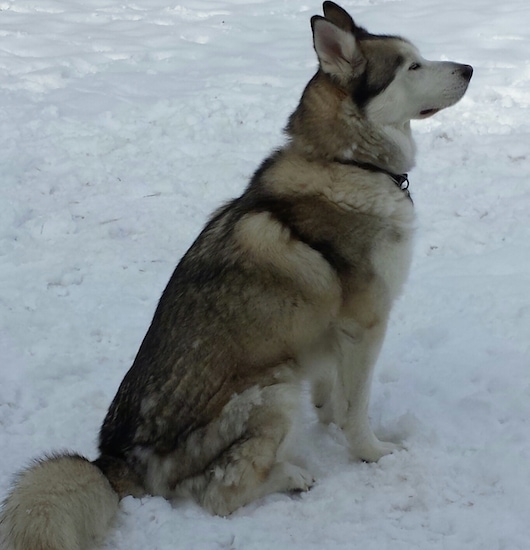 Lucius the Husky / Malamute mix at 5 years old sitting in the snow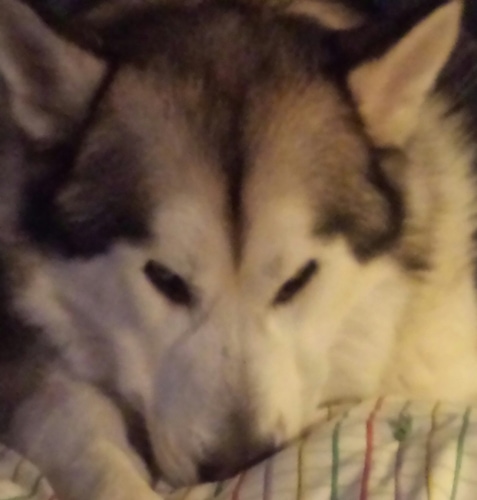 Lucius the Husky / Malamute mix at 5 years old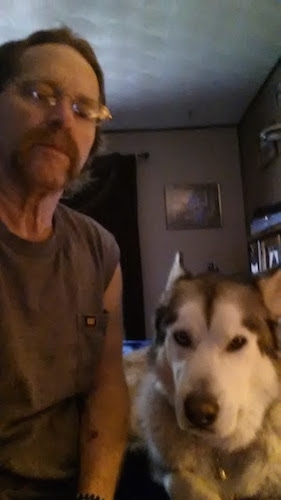 Lucius the Husky / Malamute mix at 5 years old with his owner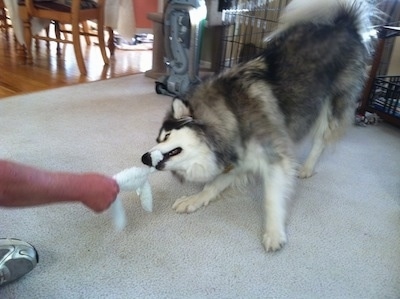 Nikki the Husky / Malamute mix at 11 months old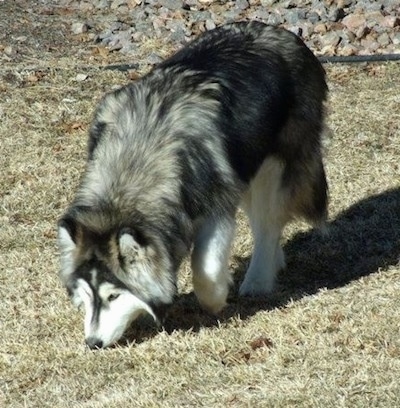 Nikki the Husky / Malamute mix at 11 months old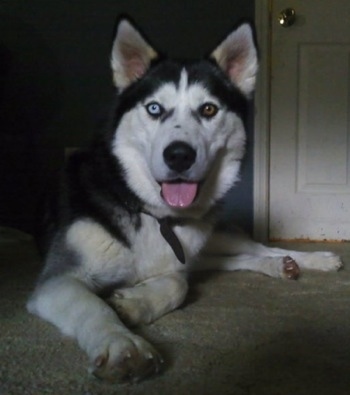 "This is our Siberian Husky / Alaskan Malamute mix we recently adopted from a shelter. She is a little over a year old, born September 22, 2008. Her name is Sierra and she is so sweet. She only has howled when we play a video of other dogs howling. She is very laid back for her age. And her eyes captivate everyone who sees her. I took these photos as she listened to some sounds. She is also extremely good with our other dogs and even cats."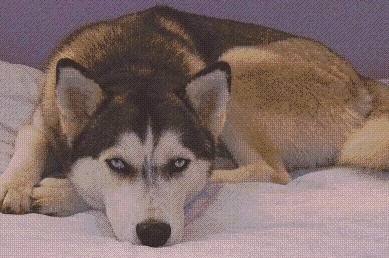 Nixon the Alusky (Alaskan Malamute x Siberian Husky) after an exhausting trail full of adventure and excitement!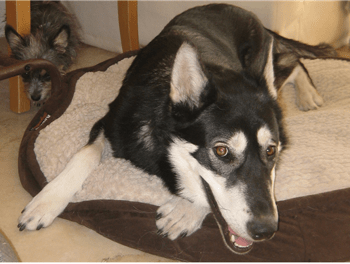 "This is our Alusky (Alaskan Malamute crossed with a Siberian Husky). His name is Captain and he weighed 70 lbs. at 12 months old. Captain looks like a sled dog. He used to have one very blue eye as a puppy. He was one of 13 puppies in a litter our neighbors had."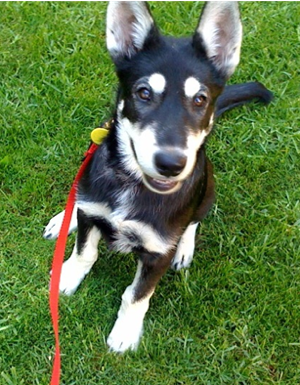 Captain the Alusky (Alaskan Malamute crossed with a Siberian Husky) as a puppy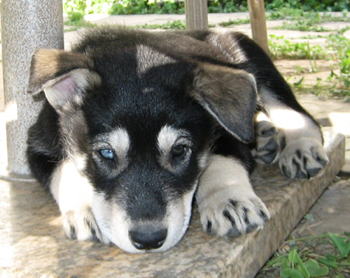 Captain the Alusky (Alaskan Malamute crossed with a Siberian Husky) as a young puppy showing his one blue eye, which later turned brown.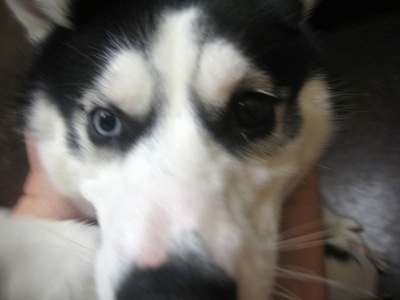 "I got Matika when she was just eight weeks old from a friend who breeds them. The mother is pure sable Alaskan Malamute, and father is purebred Siberian Husky, black and white. She is still bi-eyed, and has a sweet temperament, unless another animal tries to take "her" food. She loves to play with other dogs and cats, and is trying to figure out my daughter's gerbil in a ball, lol."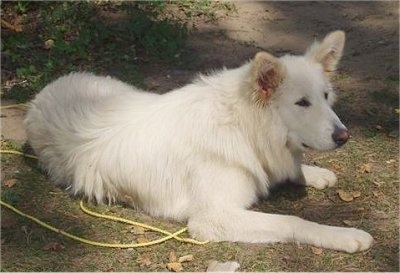 Sheeba the pure white Alusky (Alaskan Malamute x Siberian Husky mix) at 18 months old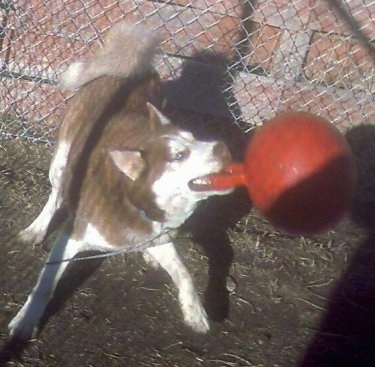 "This is Avalanche the Alusky we adopted from the animal shelter. He is about 5 years old in this picture."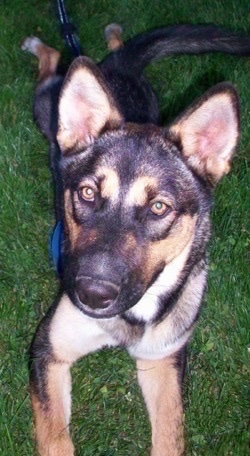 "We have recently adopted Tundra who is about 6 months of age and is an Alaskan Husky / Malamute mix. She is a very loving, quiet, but very outgoing dog who loves people (especially children). We adopted her from a family who could no longer keep her and didn't have a yard she could play in. She is very smart but stubborn and can be quite the chewer when left alone! We take her to the park with our other dog at least 3 or 4 times a week and just let them run. She loves to run! I feel she is pretty balanced but as she is still a puppy and has not quite had the proper training or environment until now I know she will soon be very well balanced. My husband and I watch Cesar Millan a lot and I feel that his philosophies are very effective. We used to be very stressed about the things our dogs do and now because we are more calm and relaxed, so are our dogs. I also feel that being the pack leader is the most important lesson anyone who has a dog can learn."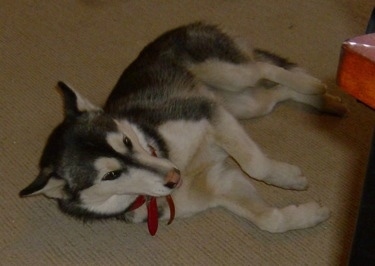 Mya the Alaskan Malamute / Siberian Husky hybrid dog (Alusky)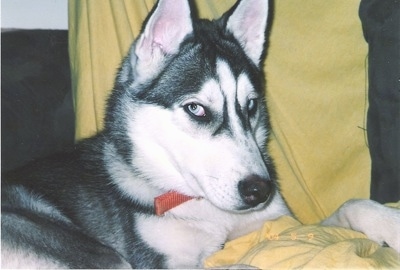 "This is Floyd. I rescued him from an abusive home at 5 months old. He is quite the different pup from when I first got him and unbelievably loyal!!"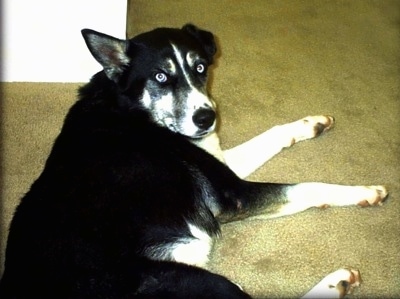 "This is Moose the Malamute / Husky mix that we rescued from an Arizona shelter, shown here at 5 years old."