Toy Foxie Doxie
Toy Fox Terrier / Dachshund Hybrid Dogs
Information and Pictures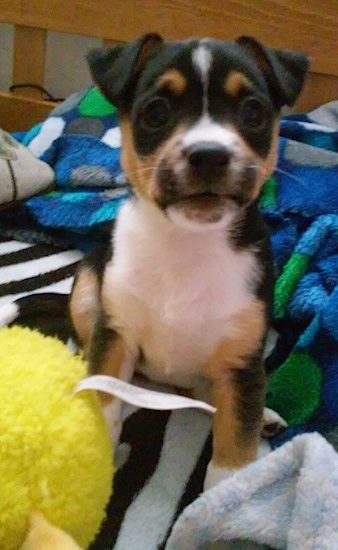 Mamas the Foxie Doxie as a puppy at 6 weeks old—"I got this beautiful little girl when she was 3 weeks old. Her mom could no longer care for her so the people that owned her mother gave her to me early. I started feeding her puppy milk. She is a very feisty pup. She has attitude to say the least. She knows who she likes and who she doesn't. Once she's made her mind up its not changing for anything... I love my girl."
Other Names
Toy Foxi Doxi
Description
The Toy Foxie Doxie is not a purebred dog. It is a cross between the Dachshund and the Toy Fox Terrier. The best way to determine the temperament of a mixed breed is to look up all breeds in the cross and know you can get any combination of any of the characteristics found in either breed. Not all of these designer hybrid dogs being bred are 50% purebred to 50% purebred. It is very common for breeders to breed multi-generation crosses.
Recognition
DRA = Dog Registry of America, Inc.