Malti-Pin
Miniature Pinscher / Maltese Hybrid Dogs
Information and Pictures
Tucker the Malti-Pin (Min Pin / Maltese hybrid) at 4 months old— "Tucker definitely has the face and eyes of a Maltese, but the body shape and legs of a Min Pin. He is a very good dog who listens and responds well to people. He is very affectionate and loving. He loves to play fetch, and also juggle his ball around the floor between his paws. When we first got Tucker, his hair was all wiry…like old man hair. We didn't know how it would turn out! It was white in color with a brown stripe down his back. As he grew a little older, he shed the white wiry hair, and now has a little bit thicker coat that is a mix of golden brown and white."
Other Names
Maltese-Pin
Malti Pin
Maltipin
Description
The Malti-Pin is not a purebred dog. It is a cross between the Miniature Pinscher and the Maltese. The best way to determine the temperament of a mixed breed is to look up all breeds in the cross and know you can get any combination of any of the characteristics found in either breed. Not all of these designer hybrid dogs being bred are 50% purebred to 50% purebred. It is very common for breeders to breed multi-generation crosses.
Recognition
ACHC = American Canine Hybrid Club
DBR = Designer Breed Registry
DDKC = Designer Dogs Kennel Club
DRA = Dog Registry of America, Inc.
IDCR = International Designer Canine Registry®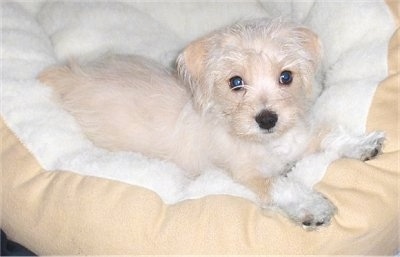 Tucker the Malti-Pin (Min Pin / Maltese mix) as a puppy at 11 weeks old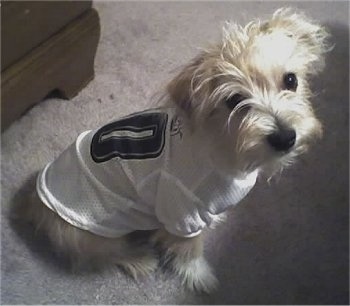 Tucker the Malti-Pin (Min Pin / Maltese mix) at 5 months old sporting his Eagles jersey— "Go Eagles!"