Description
The Sharberian Husky is not a purebred dog. It is a cross between the Chinese Shar-Pei and the Siberian Husky. The best way to determine the temperament of a mixed breed is to look up all breeds in the cross and know you can get any combination of any of the characteristics found in either breed. Not all of these designer hybrid dogs being bred are 50% purebred to 50% purebred. It is very common for breeders to breed multi-generation crosses.
Recognition
ACHC = American Canine Hybrid Club
DRA = Dog Registry of America, Inc.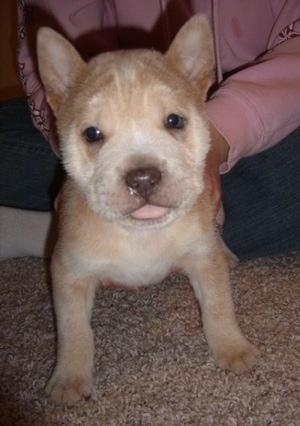 Inuki the Sharberian Husky puppy hybrid at 2 months old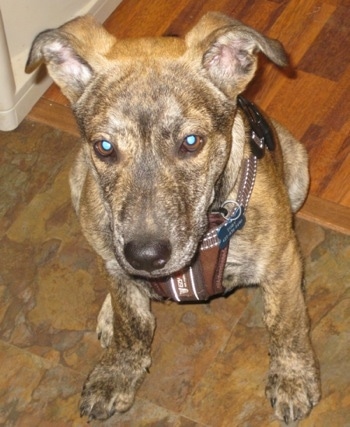 "This is Toby at 2 months old. This is about 3 days after we got him from foster care. Toby and his siblings were dropped off at a shelter one day by a guy who said he couldn't care for them, said the pups were about 4 weeks old, and their mother was a full-breed Husky. He wasn't willing to venture a guess on the father, since the pups all looked so different, and there was a lot of property with SO many dogs! Toby was the runt of the litter, so he went to foster care. We adopted him at about 10 weeks old. He was such a sweet guy, reminded us a lot of our Husky / Shepherd mix, and was so quirky and funny. He had the funny little "talking" that the husky does, the happy-go-lucky type of personality, and when his tail wags, his whole body moves! (I call him Squiggles when he is happy!) We were very curious about his markings; the vet thought maybe he was part Boxer? I finally sent in for a DNA test through Bio Pet Labs, and they sent back a certificate saying 75% Siberian Husky and 20 % Shar-Pei! That never even crossed our minds! But, now that we know, we see it.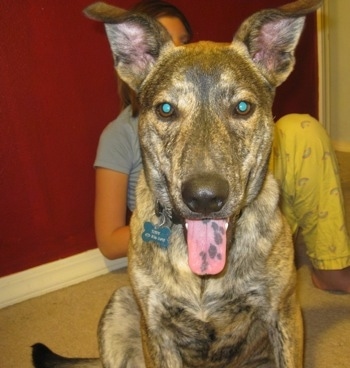 "He doesn't seem to care about other animals around him. He is very loyal to me when I walk him. He will do ANYTHING for a treat and LOVES love and praise! He seems SO smart; he can follow direction if it suits him, he KNOWS what he needs to be doing, pretty easy to train, but he is also very stubborn. He was about 100% housetrained by about 15 weeks old! He is very eager to please!

"Toby is really an unusual looking boy, as he has the long Husky face, and the Shar Pei build, and the brindle coloring. We do not have small children, we have teenagers, and he adores them! He loves cuddling and loves nap time! He has not been around any small children, but has been approached by other dogs and has done very well."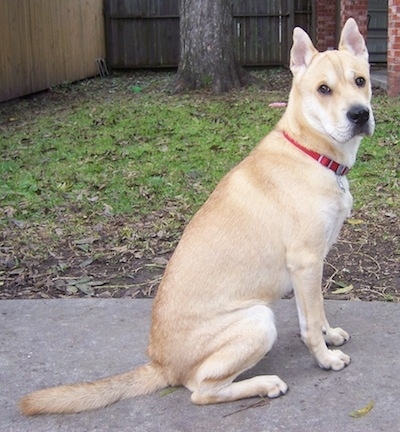 "Ozzy is a registered Sharberian Husky shown here at 6 months old, weighing 40 pounds. He has a very loving and sweet personality. Ozzy needs lots of exercise and loves running around outside pouncing like a cat on toys and playing fetch. He loves eating fruits and vegetables such as carrots, apples, blueberries and raw potato (I have yet to find something he won't eat!) Ozzy was basically potty trained when we brought him home. Just a few accidents, minor scolding, and has been perfect ever since. He is very smart, and has already learned to sit, lie down and come (for treats). He is extremely stubborn, but is getting better as he gets older."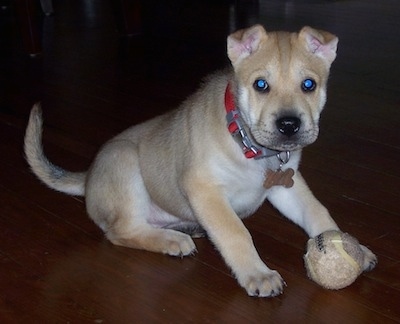 Ozzy the Sharberian Husky (Chinese Shar-Pei / Siberian Husky mix breed dog) as a puppy at about 2-3 months old