Rescue a Lhasalier
Lhasalier Puppies for Sale
Lhasalier
(Lhasalier Spaniel)
Cavalier King Charles Spaniel / Lhasa Apso Hybrid Dogs
The Lhasalier is not a purebred dog. It is a cross between the Cavalier King Charles Spaniel and the Lhasa Apso. The best way to determine the temperament of a mixed breed is to look up all breeds in the cross and know you can get any combination of any of the characteristics found in either breed. Not all of these designer hybrid dogs being bred are 50% purebred to 50% purebred. It is very common for breeders to breed multi-generation crosses.
Recognized Names:
American Canine Hybrid Club = Lhasalier
Designer Dogs Kennel Club = Lhasalier
IDCR = International Designer Canine Registry® = Lhasalier
Designer Breed Registry = Lhasalier Spaniel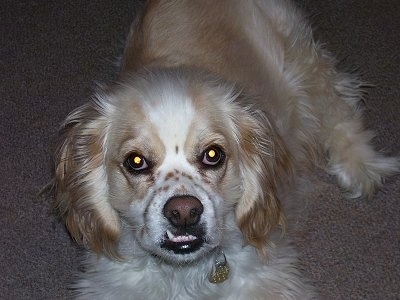 Belle the Lhasalier (Cavalier King Charles / Lhasa Apso mix) at approximately 1 year old—her owner says, "We adopted her when she was about four months old. She is a very excitable dog that is always into something. She is very playful and very curious. While easy to train, she will also be very sneaky. She loves cats and other dogs, but as her breed still has spaniel mix I would not recommend her as a pet for small children. She is a very jealous breed and others I have read about say the same. She would do very well in a house with no children or older children. She would make a great companion for the elderly as she has her quiet moments. She is a cuddle bug and loves to be covered up in a blanket in your lap and stroked. Grooming isn't an issue if you brush them at least three times a week. She not only loves water and doesn't mind bath time, she absolutely loves the snow! She weighs about 45 pounds and stands about 18 inches."
ACHC = American Canine Hybrid Club
DDKC = Designer Dogs Kennel Club
DRA = Dog Registry of America, Inc.
IDCR = International Designer Canine Registry®
DBR = Designer Breed Registry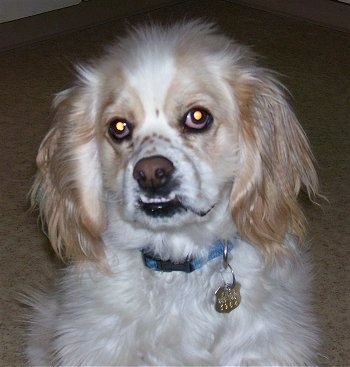 Belle the Lhasalier (Cavalier King Charles / Lhasa Apso mix) at approximately 1 year old
Small Dogs vs. Medium and Large Dogs