French Bull Tzu
French Bulldog / Shih Tzu Hybrid Dogs
Information and Pictures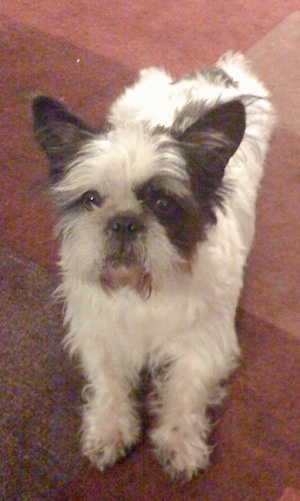 "This is Yoji, my French Bulldog / Shih Tzu mix. The first picture is her at 8 weeks. In the second one, she's around 3 years old. She's a funny, playful, sweet and smart dog. I found her through a Shih Tzu breeder in Tacoma, WA, who was advertising a litter of "Fuzzy Frenchies." I was seeking a French Bulldog pup at the time, and was curious, so I called. It was love at first sight. I'm not sure if the litter was an accident or intentional, but it has proven to be a beautiful combination of traits. Her mama was a purebred French Bulldog weighing in at about 17 pounds. She had the typical Frenchie birthing difficulties, and required cesarean to deliver her 3 pups. Yoji's brother apparently looks nearly identical to her, because his owners saw me walking her one day, and they stopped me and asked why I had their dog. They really took a double-take at her, and we finally figured out that they were littermates. Yoji is now about 22 pounds and 4 years old. She's a very happy, healthy girl. Just the best dog ever!"
Description
The French Bull Tzu is not a purebred dog. It is a cross between the French Bulldog and the Shih Tzu. The best way to determine the temperament of a mixed breed is to look up all breeds in the cross and know you can get any combination of any of the characteristics found in either breed. Not all of these designer hybrid dogs being bred are 50% purebred to 50% purebred. It is very common for breeders to breed multi-generation crosses.
Recognition
DRA = Dog Registry of America, Inc.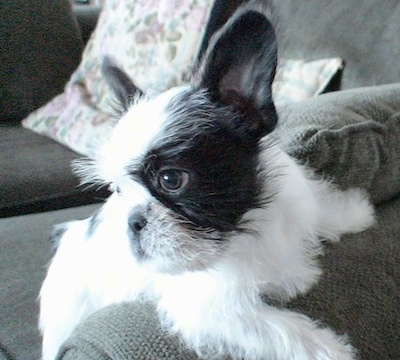 Yoji the French Bulldog / Shih Tzu mix (French Bull Tzu)