Kerry Wheaten
Kerry Blue Terrier / Soft Coated Wheaten Terrier Hybrid Dogs
Information and Pictures
"Caramel (car-a-mel) the female Kerry Wheaten puppy at 8 months old—she is a very loving and willing/wanting-to-please puppy. We think that she thinks she is more human than canine. She is a graduate of puppy training and still remembers most of her commands. She loves apples, carrots, cheese and bananas for her treats. She also loves eggs, especially scrambled. She likes to sit on the back of the couch (like a cat) and look out at the world. She is all wheaten when it comes to greetin' humans. She loves to talk to us especially when we come home from work or school; it almost sounds like 'where were you?' She is a very intelligent puppy; she rings her bell when it is time to go do her business."
Description
The Kerry Wheaten is not a purebred dog. It is a cross between the Kerry Blue Terrier and the Soft Coated Wheaten Terrier. The best way to determine the temperament of a mixed breed is to look up all breeds in the cross and know you can get any combination of any of the characteristics found in either breed. Not all of these designer hybrid dogs being bred are 50% purebred to 50% purebred. It is very common for breeders to breed multi-generation crosses.
Recognition
ACHC = American Canine Hybrid Club
DBR = Designer Breed Registry
DDKC = Designer Dogs Kennel Club
DRA = Dog Registry of America, Inc.
IDCR = International Designer Canine Registry®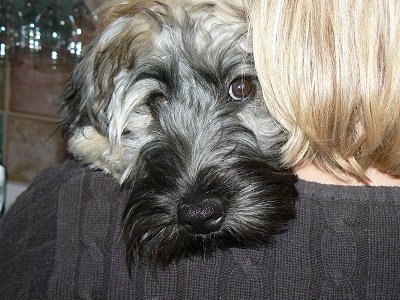 Caramel the Kerry Blue Terrier / Soft Coated Wheaten Terrie Hybrid (Kerry Wheaten) at 8 months old