Wire Chiwoxy
Chihuahua / Wire Fox Terrier Hybrid Dogs
Information and Pictures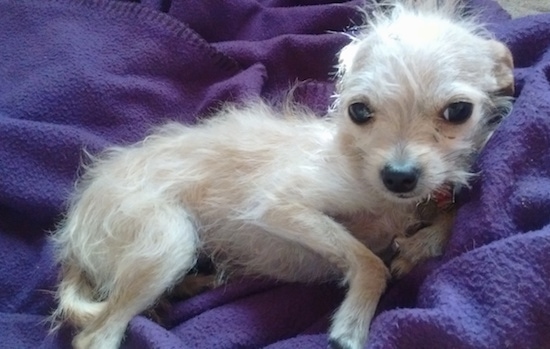 "This is Lucy at one year old. When I first met her, my mother had brought her home from a friend who had an unwanted litter. The mother is a purebred Chihuahua and the father is a Wire Fox Terrier. At first, she was extremely shy. She would stay under my mother's bed and would only come out for food or a bathroom break. Eventually I gained her trust and took her home where I live on 3 acres. She immediately became an energetic fire ball. She loves to rough house play with the neighbors chorkie. She is extremely loyal and protective of me, my husband and kids. She will follow me everywhere and I can let her outside to play by herself and when I open the door and yell her name, she always comes running back home. Half of the time she's running around burning energy and the other half of the time, she's cuddling next to me, watching TV. She used to have this bad habit of running in the car when we would get ready to go somewhere but it only took me two times to train her to "stay" when we would leave. It was very easy to potty train her as well. She lets you know when she wants to go outside. I couldn't have asked for a better dog. I had no idea of her breed but now I'm in love and want another!"
Other Names
Wire Fox Chi
Wire Chisoxy
Wire Chitoxy
Description
The Wire Chiwoxy is not a purebred dog. It is a cross between the Chihuahua and the Wire Fox Terrier. The best way to determine the temperament of a mixed breed is to look up all breeds in the cross and know you can get any combination of any of the characteristics found in either breed. Not all of these designer hybrid dogs being bred are 50% purebred to 50% purebred. It is very common for breeders to breed multi-generation crosses.
Recognition
DRA = Dog Registry of America, Inc.
IDCR = International Designer Canine Registry®