Catahoula Bulldog
Louisiana Catahoula Leopard Dog / American Bulldog Hybrid Dogs
Information and Pictures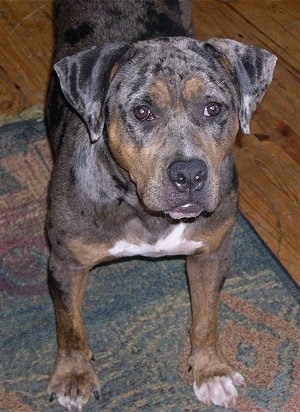 "Lexi, my female Catahoula Bulldog at 15 months old is a lover, obsessed with the ball, and loves to swim and fetch. She is a little shy around new people, and must have some time to get used to them before letting anyone pet her, but she is never aggressive about it. She is also extremely energetic, and can be a chewer when she doesn't get all the energy out. She is extremely smart, and picks up on things in record time."
Other Names
Catahoula Bulldogge
American Mastahoula
Description
The Catahoula Bulldog is not a purebred dog. It is a cross between the Louisiana Catahoula Leopard Dog and the American Bulldog. The best way to determine the temperament of a mixed breed is to look up all breeds in the cross and know you can get any combination of any of the characteristics found in either breed. Not all of these designer hybrid dogs being bred are 50% purebred to 50% purebred. It is very common for breeders to breed multi-generation crosses.
The Catahoula Bulldog has tight skin and a very short, smooth coat. In most cases the Catahoula does not have an undercoat but may develop one if it is living in a seasonal or colder climate. Ears come in rose type or button over and are sometimes cropped for a noble look. Eye color can come in brown, ice blue, gold, emerald green or a combination of all of these. Coats come in a wide variety of colors from merle to pure white.
Temperament
The Catahoula Bulldog tends to be a laid-back dog but can be alert when necessary. Very intelligent and easy to train, they are loyal and love to be around their family. This dog loves to please and should be taught what is expected of them early on. They are very tolerant of children. The Catahoula Bulldog tends to use their ears in a very expressive manner, as if they are talking with them. Makes a great watch or guard dog. They are sometimes used to hunt and tree game.
Height, Weight
Height: 24 - 26 inches (61 - 66 cm)
Weight: 75 - 100 pounds (34 - 46 kg)
Health Problems
--
Living Conditions
Will do ok in an apartment if sufficiently exercised.
Exercise
The Catahoula Bulldog needs to be taken on a daily walk.
Life Expectancy
About 10-14 years.
Litter Size
About 5 to 10 puppies
Grooming
Grooming needs are minimal. They should have a bath a couple of times of year (unless they get into something and get filthy) and a good brushing once a week. The nails should be trimmed regularly and the teeth kept clean. This breed is an average to light constant shedder. When nervous or stressed, they have a tendency to shed more, especially when you are petting them.
Origin
The Catahoula Bulldog hybrid had been around for over 100 years and is now often bred Catahoula Bulldog to Catahoula Bulldog. It is a very old American dog used in the South. There have not been any good records kept on them. The name Catahoula comes from an Indian word meaning "clear water."
Group
--
Recognition
ACA = American Canine Association Inc.
DRA = Dog Registry of America, Inc.
IDCR = International Designer Canine Registry®
Lexi the female Catahoula Bulldog at 15 months old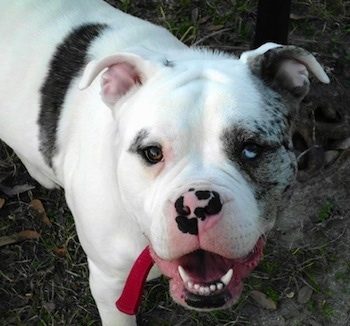 "This is Colt. He is a 9-month-old Catahoula Bulldog. He loves to play...anything! He is really laid back, especially for a male puppy! He does great around the kids and our other dogs, even the neighborhood dogs! He loves his little sidekick Ryver, who is an American Bulldog and even though there is a 5 month difference in age they act like TWINS!"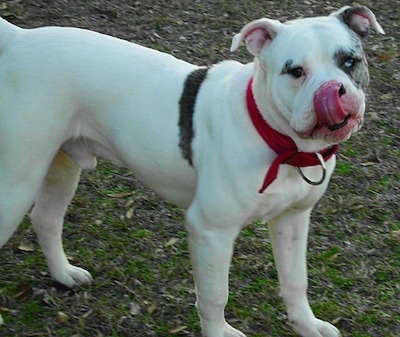 Colt the Catahoula Bulldog at 9 months old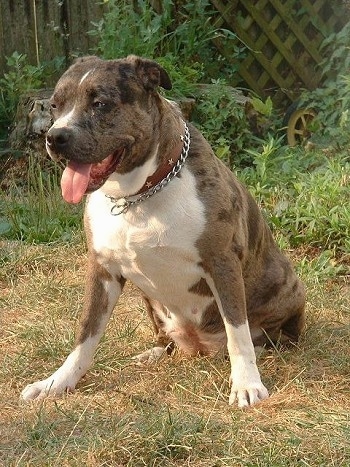 75-lb. female Catahoula Bulldog named Delta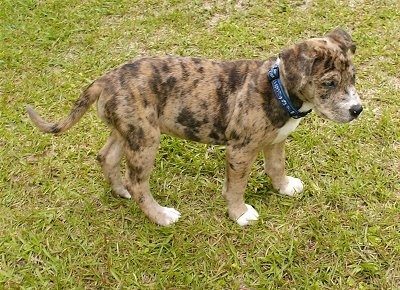 "Tinkerbelle, a Catahoula Bulldog puppy is a merle with Irish spotting and a blue eye and a green eye! She was from our last litter and she is a doll!"Photo courtesy of Wilsons Kennels
"This is my 1-and-a-half-year-old hunting buddy Reese. He is a Catahoula Bulldog with the most unique colors I have seen in them. It is hard to tell from the picture, but he is the color of peanut butter and chocolate all mixed up, with a dark chocolate stripe down his back, and dark chocolate face and legs (hence the name Reese), and 3/4 tipped ears. He can play in the yard and be very watchful of my daughters at the same time, but friendly to "invited" guests as well. He is also a very aggressive hog hunter who gets down and dirty as one of the best catch dogs I know, that can also trail the hog."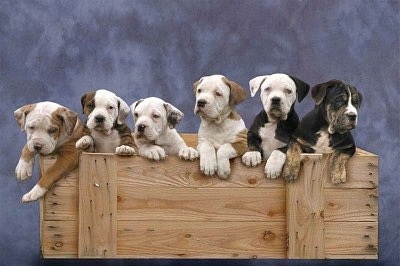 Litter of Catahoula Bulldog Puppies—"The Catahoula Bulldog is a recognized cross between the Louisiana Catahoula Leopard Dog and the American Bulldog. It is a very old American dog used in the South for working, hunting and family/property protection as well as being a devoted companion. Our dogs are registered through the Animal Research Foundation (ARF), the oldest all-breed registry. Puppies can come in a wide range of coloring from merle to white with eyes being brown, green, ice blue, gold, or a combination of these. Not only are these dogs excellent all-around dogs, but they are truly beautiful to look at with their rainbow of coloring." Courtesy of Waller's Freedom Kennels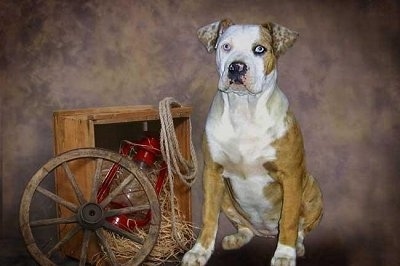 Catahoula Bulldog, Photo courtesy of Waller's Freedom Kennels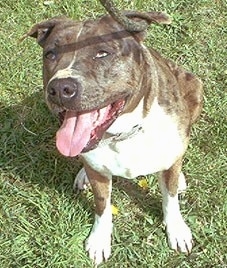 Delta the Catahoula Bulldog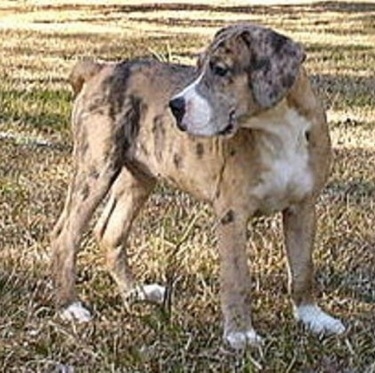 "This is a beautiful example of an F1 Catahoula Bulldog. This is Wilson's Shugah. She is a wonderful dog, full of fun! She loves kids and playing with other dogs. She especially loves puppies. She is very motherly, and will clean the puppies and take care of them, even though they are not hers! She is the Bomb!" Photo courtesy of Wilson's Kennels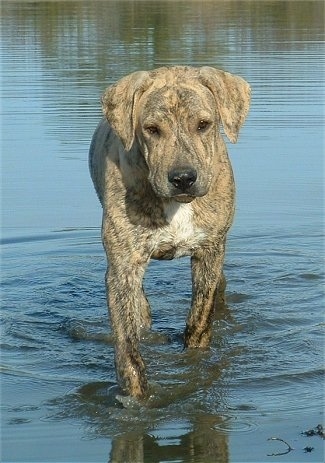 El Capitan's Oakey the Catahoula Bulldog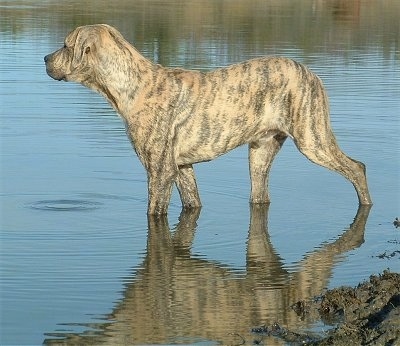 El Capitan's Oakey the Catahoula Bulldog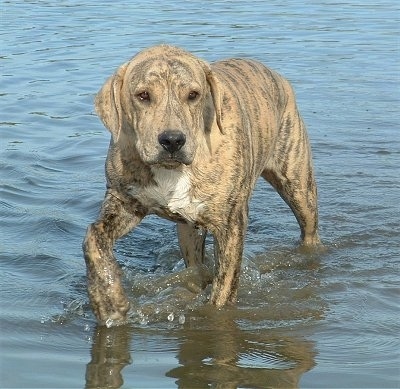 El Capitan's Oakey the Catahoula Bulldog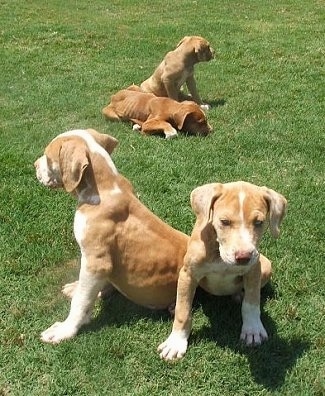 "9-week-old merle Catahoula Bulldog puppies from our March 2007 litter—most of these pups have blue/green cracked glass eyes."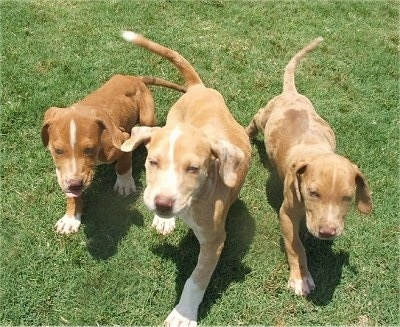 9-week-old merle Catahoula Bulldog puppies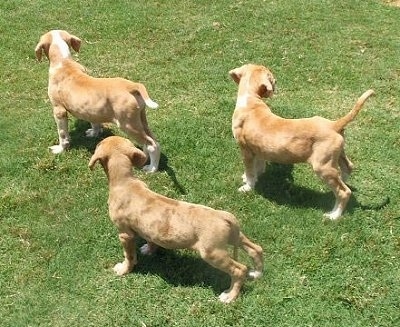 9-week-old merle Catahoula Bulldog puppies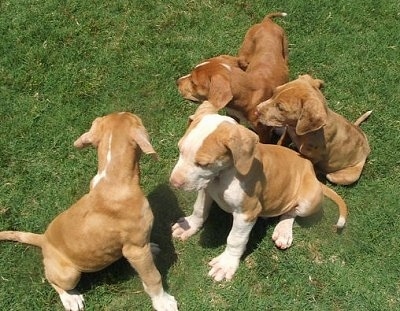 A litter of 9-week-old merle Catahoula Bulldog puppies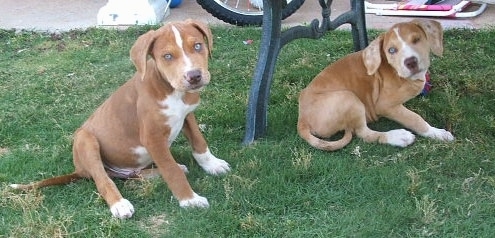 9-week-old merle Catahoula Bulldog puppies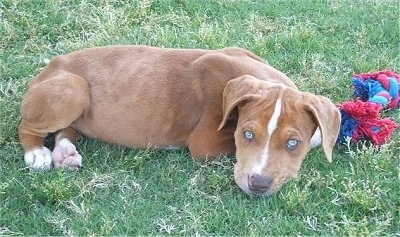 9-week-old merle Catahoula Bulldog puppy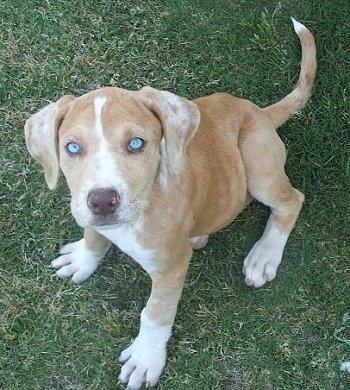 9-week-old merle Catahoula Bulldog puppy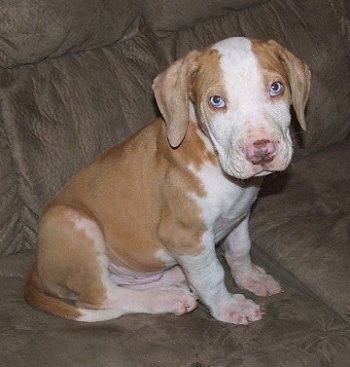 9-week-old merle Catahoula Bulldog puppy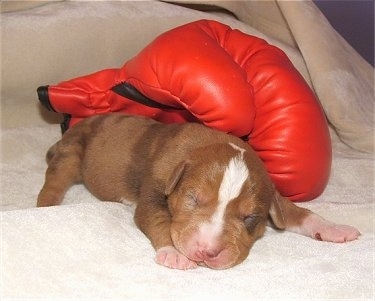 4-day-old merle Catahoula Bulldog puppy
4-day-old merle Catahoula Bulldog puppy