ACHC = American Canine Hybrid Club
DRA = Dog Registry of America, Inc.
IDCR = International Designer Canine Registry®

Borat the Bo-Chi (Boston Huahua)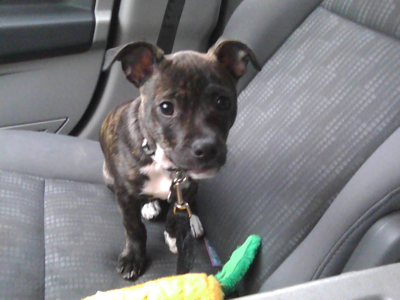 "Borat is a Bo-Chi and was given to my fiancé and me by a friend who was going to give him up for adoption. He was 14 weeks old at the time. He is 10.6 lbs. now and is expected to be between 15-20 lbs. full grown. He is a very well-behaved puppy, very playful and is very intelligent. He has taken to housetraining rather quickly, with accidents few and far between. He is extremely affectionate and loves to be cuddled. He is great around small children, other dogs and strangers. He has not been introduced to cats so we don't know how that would go. He has already proved himself a good watchdog and is very alert to people outside our apartment door; he alerts us but does not bark excessively."
_____________________________________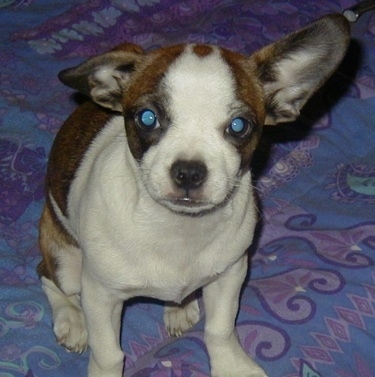 Baby Girl, a Boston Huahua hybrid (Boston Terrier / Chihuahua mix) at 2 years old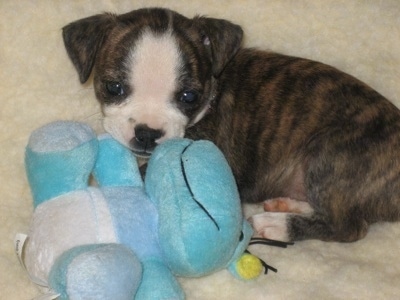 She-ra the Boston Huahua puppy at 7 weeks old (Boston Terrier / Chihuahua Hybrid)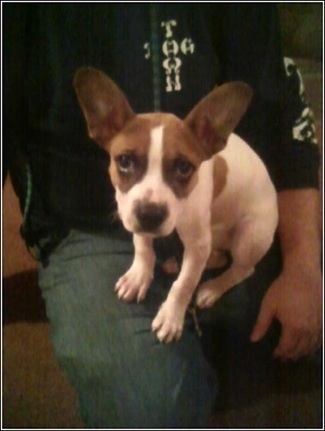 "This is a picture of Leo. He is a three-month-old Boston Terrier Chihuahua mix. The father is the Boston. His temperament is very laid back, alert, loyal (he loves me to death). So far he seems to be exceptionally intelligent. He seems a little more Boston in temperament. He rarely barks. Maybe 1 bark to let me know someone's at the door. He loves other dogs and is fine around other animals. He doesn't like to be left alone but he's still learning. I have had him for two weeks and I'm finding it rather easy to train him. He is so sweet and loving. Many people have asked me where to get a dog like him. He weighs about 10 lbs. now and is about 14 inches long without his tail. To be honest I have been amazed how well he behaves and he's just a puppy. He's a fantastic companion. He'll go anywhere with you and loves the car. Even when other dogs bark at him he stays quiet."
_____________________________________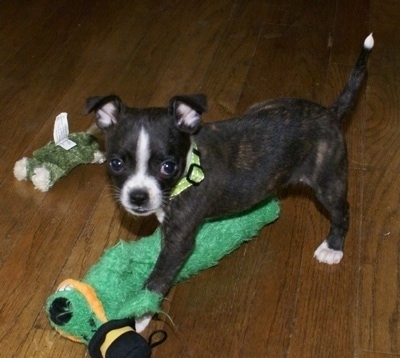 Bo the Boston Huahua hybrid puppy (Boston Terrier and Chihuahua)—"At one year old he is very loving and smart. He is thoughtful; he will put a toy in the bed with the cat, and then get one for himself to play with. He is full of energy, but if you want to sit all day, he will stay by your side. Bo is a funny little guy who fits right into our lives. He is such a good dog. We love him very much."
Small Dogs vs. Medium and Large Dogs