Rescue a Doxie Scot
Doxie Scot Puppies for Sale
Doxie Scot
(Doxie Scott)
Dachshund / Scottie Hybrid Dogs
The Doxie Scot is not a purebred dog. It is a cross between the Dachshund and the Scottish Terrier. The best way to determine the temperament of a mixed breed is to look up all breeds in the cross and know you can get any combination of any of the characteristics found in either breed. Not all of these designer hybrid dogs being bred are 50% purebred to 50% purebred. It is very common for breeders to breed multi-generation crosses.
Recognized Names:
American Canine Hybrid Club = Doxie Scot
Designer Dogs Kennel Club = Doxie Scott
International Designer Canine Registry® = Doxie Scott
Designer Breed Registry = Doxie Scott

Scruffy the Doxie Scott at 2 years old—"Scruffy is a fun loving dog. He enjoys playing with his toys. On spring and summer days he will dig holes under a tree to keep cool. His best friend is a 2 year old St. Bernard. Scruffy is very timid towards new people until he gets to know the strangers. He is very attached to one person (me) and does not really listen to other people of the household. When I leave the house and he is kept inside he will sit at the door until I come back. He loves to sit by windows so he is able to watch the happens of outside."
ACHC = American Canine Hybrid Club
DDKC = Designer Dogs Kennel Club
DRA = Dog Registry of America, Inc.
IDCR = International Designer Canine Registry®
DBR = Designer Breed Registry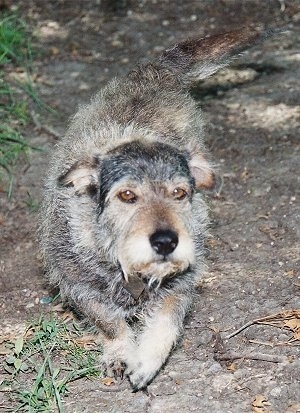 Trixie the Scottish Terrier and Dachshund mix—"She loves to run and play, especially in the summer and dig a spot under trees to sit in the shade when it gets too hot."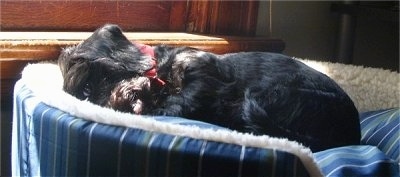 Bailey the Doxie Scot (Dachshund / Scottish Terrier hybrid) at 3 years old
Small Dogs vs. Medium and Large Dogs