Brussalier
Brussels Griffon / Cavalier King Charles Spaniel Hybrid Dog
Information and Pictures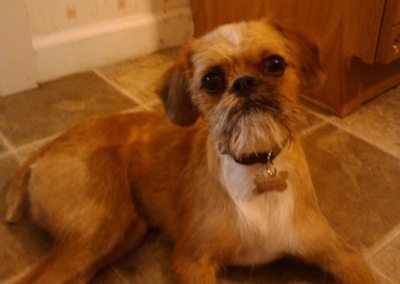 "Here is a picture I took of my dog Charlie. His mother was a Brussels Griffon and father a Cavalier King Charles. This photo was taken at 8 months old. Charlie is an extremely well-behaved dog. While the family is off to work and school he has free-run of the house, and never chewed on anything or made any messes. He has a lot of energy and loves to play fetch. He's very smart and learns tricks quickly. He learned to sit, lie down, and stand up in 1 day. He is best friends with our cat, and is very excited by other animals. He acts like a tough guy to big dogs but is the first to back down. He can be intimidated by things bigger than him but is brave and curious. Seeing him run is the funniest thing I have ever seen, almost rabbit-like. Charlie loves people and will follow the leader, but takes to being left alone very well. This is our first dog and can't imagine a better one."
Description
The Brussalier is not a purebred dog. It is a cross between the Brussels Griffon and the Cavalier King Charles Spaniel. The best way to determine the temperament of a mixed breed is to look up all breeds in the cross and know you can get any combination of any of the characteristics found in either breed. Not all of these designer hybrid dogs being bred are 50% purebred to 50% purebred. It is very common for breeders to breed multi-generation crosses.
Recognition
ACHC = American Canine Hybrid Club
DRA = Dog Registry of America, Inc.