Rescue a Cock-A-Chon
Cock-A-Chon Puppies for Sale
Cock-A-Chon
(Bichon Spaniel)
Bichon Frise / Cocker Spaniel Hybrid Dogs
The Cock-A-Chon is not a purebred dog. It is a cross between the Bichon Frise and the American Cocker Spaniel. The best way to determine the temperament of a mixed breed is to look up all breeds in the cross and know you can get any combination of any of the characteristics found in either breed. Not all of these designer hybrid dogs being bred are 50% purebred to 50% purebred. It is very common for breeders to breed multi-generation crosses.
Recognized Names:
American Canine Hybrid Club = Cock-A-Chon
Designer Dogs Kennel Club = Bichon Spaniel
International Designer Canine Registry® = Cockachon
Designer Breed Registry = Bichon Spaniel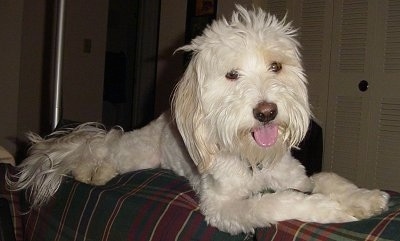 Ollie the Bichon/Cocker mix (Cock-A-Chon) at 3 years old, lying in his favorite spot on the back of the couch! He is a skinny boy and can balance quite comfortably there!
a href="https://www.breederinfocenter.com/awpcp/browse-categories/255/cock-a-chon/">Find a Cock-A-Chon Breeder
Place an Ad
ACHC = American Canine Hybrid Club
DDKC = Designer Dogs Kennel Club
DRA = Dog Registry of America, Inc.
IDCR = International Designer Canine Registry®
DBR = Designer Breed Registry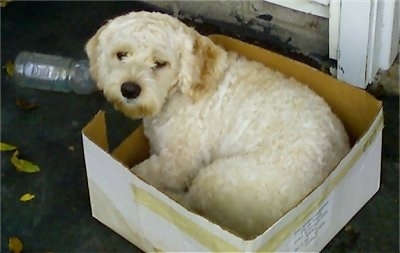 "Rosco, a Bichon Frise and Cocker Spaniel mix (Cock-A-Chon) at 19 months old, sleeping in a box. Worn out from playing with one of his favorite toys, an empty pop bottle. He looks forward to his nightly walks. He KNOWS when it's 9 p.m. He loves to sleep in the bathtub when it's hot outside. He's very protective when a stranger comes around."
__________________________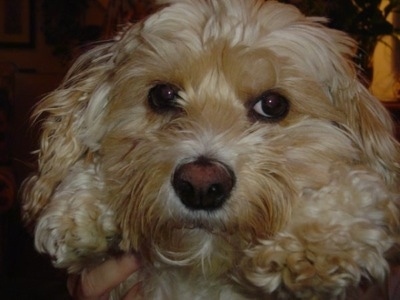 "This is Ginger. She is our Bichon / Cocker mix who is 13 years old. She is not only beautiful, she is smart, loving and her favorite pastime is cuddling!

"Ginger was born near Toronto, Canada. She is 20 pounds and she doesn't shed. Her hair is soft and wavy and she is checked by the vet at least once a year. We bathe and groom her ourselves and she doesn't seem to mind at all.

"Ginger needs to be walked daily, as do all dogs. She happily sniffs and greets our neighbours. All my friends and neighbours tell me how sweet and friendly she is. Ginger loves children, adults and other dogs! Ginger lives with two other dogs as well, purebred Bichons, whom she loves!

"I'd like to say that a Bichon / Cocker mix makes a wonderful family pet and our Ginger has been a blessing to our family for the past 13 years!"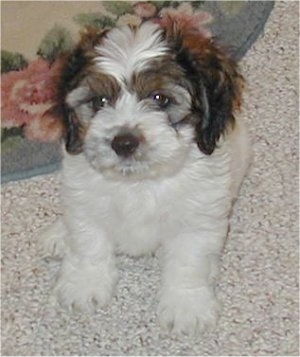 Toby the 8-week-old Cock-a-Chon (Bichon / Cocker hybrid) weighing 4 pounds—"He's full of energy and is doing well with his housetraining. We just love this little boy!"

Toby grew up! "He's grown to 25 lbs. and still full of energy! Toby was very easy to housetrain and takes all his business outside! lol He loves his stuffed animals that make their characteristic noise. His favorite toy is his stuffed reindeer that we call "moosey!" Toby loved to eat baby candy canes over the Christmas holiday season. We just love this little guy!"

Toby the Cock-a-Chon (Bichon / Cocker hybrid) all grown up
__________________________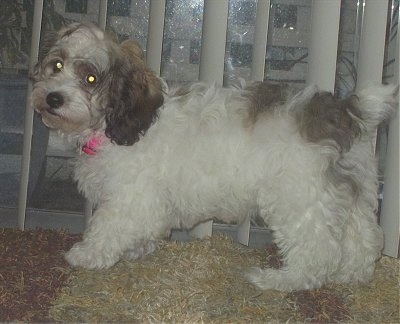 Katie the Cock-A-Chon (Bichon Frise / Cocker Spaniel hybrid) at 4 months old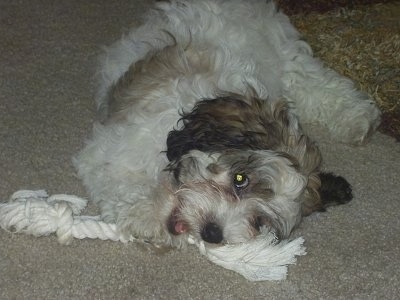 Katie the Cock-A-Chon (Bichon Frise / Cocker Spaniel hybrid) at 4 months old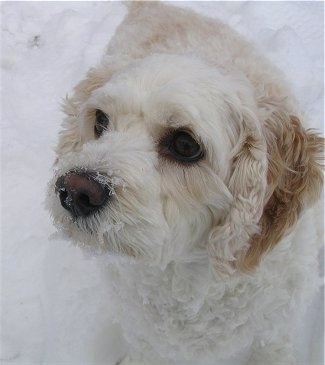 Bailey the Cock-A-Chon (Bichon Frise / Cocker Spaniel hybrid) at 3½ years old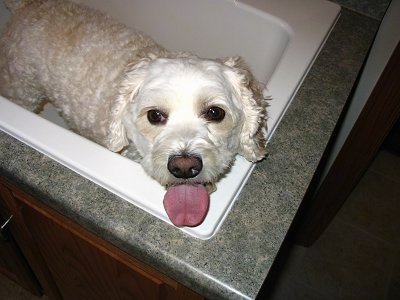 Bailey the Cock-A-Chon (Bichon Frise / Cocker Spaniel hybrid) at 3½ years old
Small Dogs vs. Medium and Large Dogs