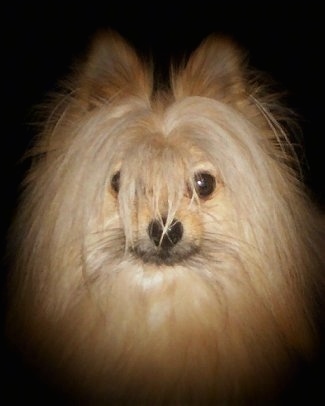 Tazz the Pomeranian / Maltese mix (Maltipom) at 1 year old
_____________________________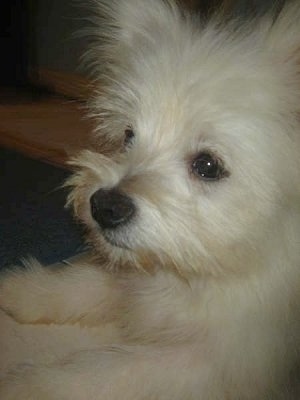 Mulan the Pomeranian / Maltese mix (Maltipom) hybrid at 6 months old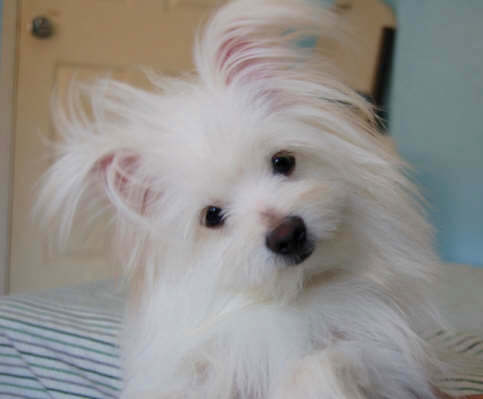 Mulan the Pomeranian / Maltese mix (Maltipom) all grown up at 1 year old
_____________________________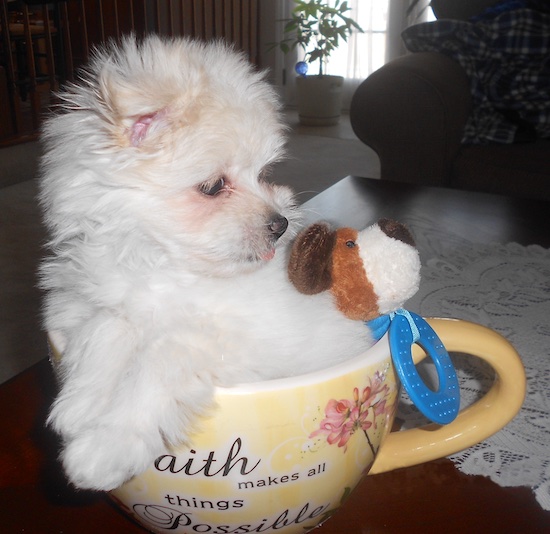 Gunner the Maltipom as a puppy at 9 weeks old—"Gunner is a very active puppy. He is a first generation Maltese / Pomeranian mix. He is all white with a bit of apricot around his eyes and ears. He is kennel trained and does very well when he has to be left at home for short periods of time. Gunner can be very feisty at times, but within 24 hours of bringing him home he already displayed that he is a very smart boy. He learned to sit and lay on command. He is already 98% wee-wee pad trained and also is learning to go potty outdoors. We use treats and praise as rewards. Gunner is active, playful and full of energy. He has met and played well with our young grandchildren and our grand-puppy, too! We delayed introducing him to the family for a week because he initially displayed a lot of mouthing and aggressive nipping of feet and hands. We tried all the recommendations online: yelping when he bit, time-outs from playing, loud "No's," but he seemed to think everything was a part of the game. He would become more aggressive. Finally, after talking with an obedience trainer, we opted for stern "No's" along with a coffee can full of stones being shaken at the same time. Within 24 hours we saw a dramatic drop in the nipping and a gaining of understanding of what we mean by "No!" This appears to be an area we still need to address from time to time, but we are confident in a successful outcome. We love our puppy and look forward to many years of happy companionship."
_____________________________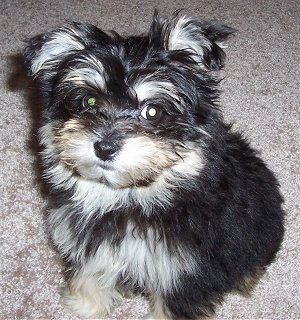 Mya the Maltese / Pomeranian hybrid (Maltipom) at 2 months old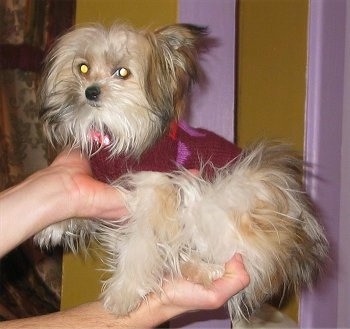 Princess the Pomeranian / Maltese mix (Maltipom) at 6 months old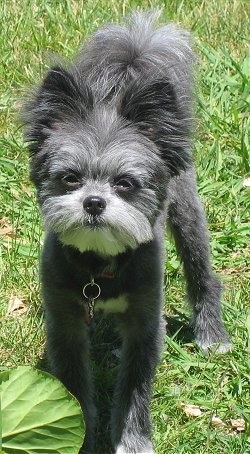 Tyson the Maltipom (Pomeranian / Maltese mix) at 9 months old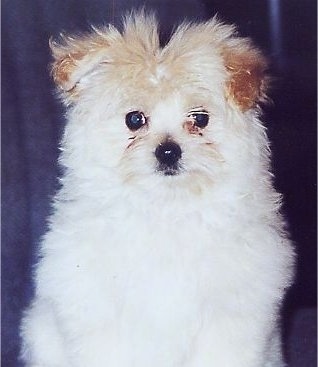 Angel the Pomeranian / Maltese mix (Maltipom) at 5 months old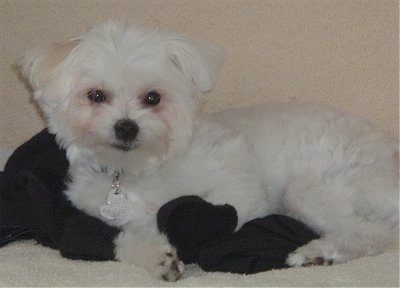 Howie the Maltipom puppy at 9 months old—his father was a Maltese and his mother was a Pom. He weighs a little over 7 lbs. in this photo.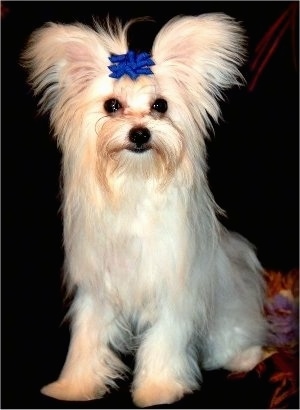 Nikki the male Maltipom at 1 year old—his mother is a Pom and father is a Maltese. He is 4 lbs. full grown. Photo courtesy of Tenderlovingpuppies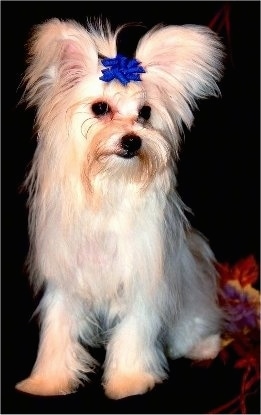 Nikki the male Maltipom at 1 year old (Pom / Maltese hybrid), photo courtesy of Tenderlovingpuppies
Small Dogs vs. Medium and Large Dogs