Bosapso
Boston Terrier / Lhasa Apso Hybrid Dogs
Information and Pictures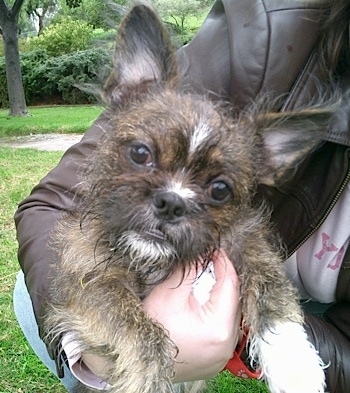 "Sophie the Bosapso at one year old—we got her when she was eight weeks old, and when we got her, her ears were down. One went half way up and all the way up, and the other one went all the way up shortly after. Her ears grew before anything else did, which added a bit to her odd appearance. We found her at a pet store and fell in love. We actually saw her brother first, but he was taken. I was so scared that she would end up without a home, I didn't sleep. I thought no one would want her because she's so unusual looking. When we got her, that night she followed me into the kitchen; I cleared my throat and she stepped back out. I told her to sit and she sat. I cocked my head and she did, too. She's extremely smart and we have to spell almost everything. Sophie has been very healthy, no eye problems. Personality wise, she's part guard dog, which I assume she gets from the Lhasa part, and part goof, which I know she gets from the Boston side. She totally cuddles, yet barks when anyone is at the door. She sleeps with her head on the pillow, snores, and will make you cuddle, whether you want to or not. After a while, you don't mind. She does constantly lick, though. She also will jump on my son just to lick him. I use some gestures, what I call sign language, with her, and she totally gets it. She a huge part of our family and we adore her. Getting her was one of the best decisions I have ever made."
Other Names
Boston Apso
Description
The Bosapso is not a purebred dog. It is a cross between the Boston Terrier and the Lhasa Apso. The best way to determine the temperament of a mixed breed is to look up all breeds in the cross and know you can get any combination of any of the characteristics found in either breed. Not all of these designer hybrid dogs being bred are 50% purebred to 50% purebred. It is very common for breeders to breed multi-generation crosses.
Recognition
ACHC = American Canine Hybrid Club
DBR = Designer Breed Registry
DDKC = Designer Dogs Kennel Club
DRA = Dog Registry of America, Inc.
IDCR = International Designer Canine Registry®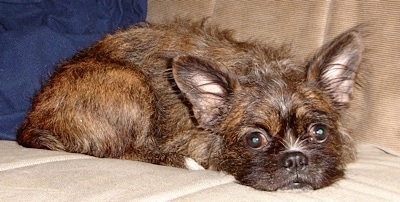 Sophie the Bosapso (Boston Terrier / Lhasa Apso mix breed dog) at one year old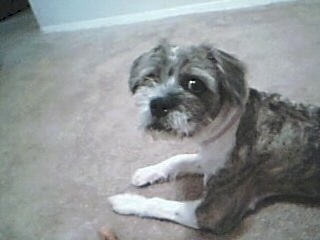 "Chloe is a Lhasa Apso and Boston Terrier mix. We got Chloe when she was 7 weeks old. Chloe is extremely playful and friendly. She has many markings that are similar to the Boston Terrier, for example the short muzzle, perky ears and bubble eyes. She is white in color covering her chest, some of her muzzle, around her neck, halfway up her forelegs and rear legs, and some white between her eyes. She does have a long tail with white at the tip, which I didn't think either breed that she is mixed with had a long tail. Chloe is very stubborn!! She knows the rules around the house, but will "test" us just to see if she can get away with it. She does things on her own time when she wants to do it! Chloe knows how to fetch and is very active. There are some days where she runs numerous laps around the house like a "crazy dog!!!!""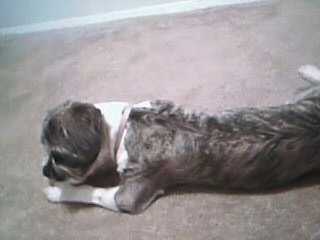 Chloe the Bosapso (Boston Terrier / Lhasa Apso mix breed dog) at 7 months old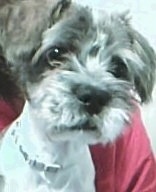 Chloe the Bosapso (Boston Terrier / Lhasa Apso mix breed dog) at 7 months old