Pembroke Cocker Corgi
Pembroke Welsh Corgi / American Cocker Spaniel Hybrid Dogs
Information and Pictures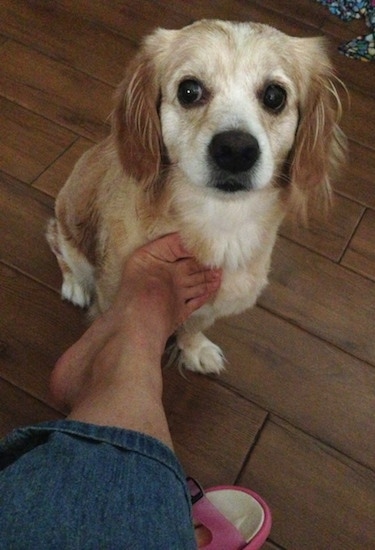 Bob (The Dog) a Cocker Spaniel / Corgi mix at 11 years old—"Born in China (Chongqing), has had all inoculations from day 1, but obviously required when brought into the UK. Can be a stubborn old bugger. A bit like my father, but a very loving and protective friend. I myself lived and worked in China for many years and simply couldn't leave him on my return to the UK. He is part of the family!!"
Other Names
--
Description
The Pembroke Cocker Corgi is not a purebred dog. It is a cross between the Pembroke Welsh Corgi and the American Cocker Spaniel. The best way to determine the temperament of a mixed breed is to look up all breeds in the cross and know you can get any combination of any of the characteristics found in either breed. Not all of these designer hybrid dogs being bred are 50% purebred to 50% purebred. It is very common for breeders to breed multi-generation crosses.
Recognition
DRA = Dog Registry of America, Inc.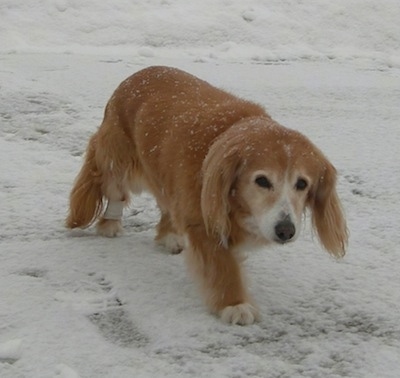 "This is my dog. She is a mix between a Cocker Spaniel and a Pembroke Welsh Corgi. People find her extremely adorable due to her size, features and temperament. In the picture she is 16 years old, yet she always has a puppy-like face. Her features are mostly Corgi, yet she also has a tail and longer ears. She is very energetic like a Corgi, although now less so because of her age, loves playing, runs extremely fast and enjoys the outdoors. She loves getting attention and when indoors she likes to rest and sleep. Very smart, communicative and loves company."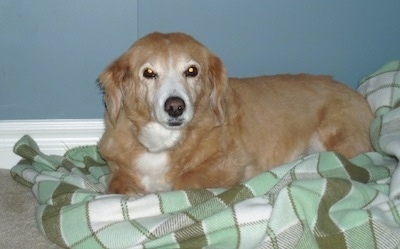 Cocker Spaniel / Pembroke Welsh Corgi mix at 16 years old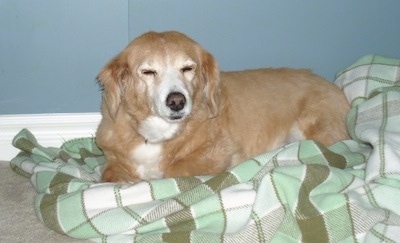 Cocker Spaniel / Pembroke Welsh Corgi mix at 16 years old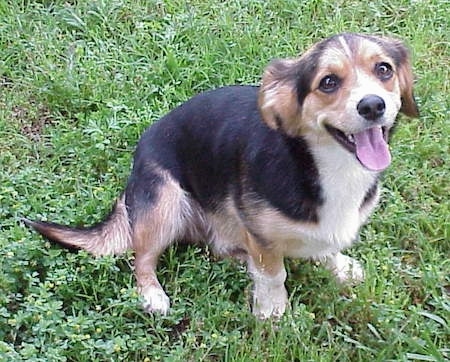 Eddie is a Cocker Spaniel / Pembrook Welch Corgi mix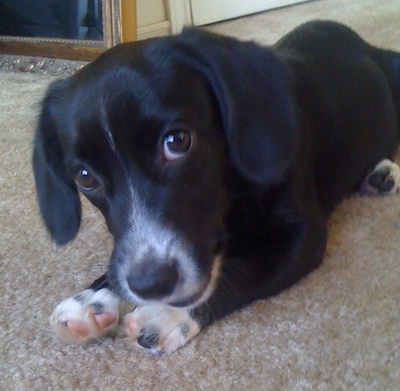 Oreo the Pembroke Cocker Corgi as a puppy at 4 months old—"Oreo (named for her white stripe center and outer black appearance which looks tinted red in the sun light) is a year old. Her birth was an "oopsie," the neighbors dog got loose. Her father was a purebred American Cocker Spaniel and her mother was a purebred Pembroke Welsh Corgi (some of her siblings retained the red color from the Corgi and so where red and white instead of black and white). She is such a lively dog and will play for hours, even if it is waaaay past bed time. She is such a loyal companion automatically coming when called, no training needed. She is quite the runner, especially when a tennis ball is involved, sometimes out running the swiftest of dogs. But her most favorite ball is a soccer ball, she goes crazy for them, sometimes whining at such a high pitch you wouldn't think a dog would be able to make. Oreo is the cutest thing, catching the attention of everyone she comes into contact with. She is my soul mate and I would be lost with out her, the best combination of traits (appearance, fur quality, health, etc) and personality you could ever ask for in a dog."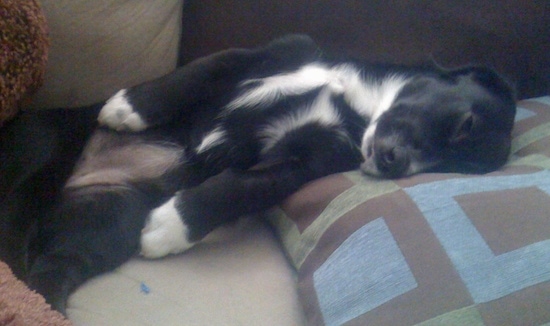 Oreo the Pembroke Cocker Corgi as a puppy at 6 months old