ACHC = American Canine Hybrid Club
DDKC = Designer Dogs Kennel Club
PCA = Pomchi Club of America
DRA = Dog Registry of America, Inc.
IDCR = International Designer Canine Registry®
DBR = Designer Breed Registry
Cameo the Pomchi at 18 months old—"Meet Cameo, my Pomchi (Pomeranian/Chihuahua mix). She is 1 1/2 years old in this picture, just waking from a nap and still looking a bit drowsy. Cameo is a delightful, friendly little dog with a fox-like face that usually makes her look like she's smiling. I think she is! She has a comical personality and always leaves me with a smile on my face. Camee loves her squeaky stuffy toys and also enjoys playing with her brother dog Tug the Jug . She is a sweetheart and a treasured member of our family."
_______________________________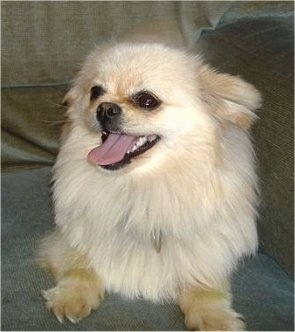 Jessy is a 2-year-old Pomchi cross.
_______________________________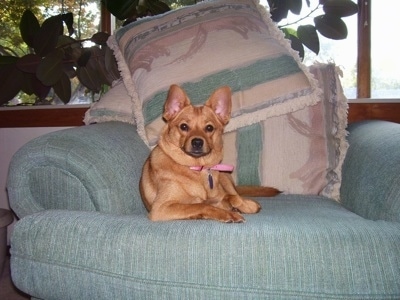 "This is Gracie, my Pomchi at 1 year old. Her mother is Pomeranian and father Chihuahua. She is a sweet, affectionate and energetic girl with amazing intelligence. She knows each of her 30 plus toys by name, as well as many common household items and places. She performs tricks including patty-cake, roll over, and play dead, among many others. She would make the perfect service dog. She likes walking at the park every day, playing in the snow piles, and going for rides, playing tug-of-war and playing with other dogs. When we walk at the park she gets a great deal of attention from other folks who want to know what kind of dog she is and are impressed by how cute she is. The most common comment I get is that she looks like a fox. (The pictures, unfortunately, do not do justice to how cute she is.) I have used many of Cesar Millan's techniques and they work perfectly. Gracie is a strong-willed girl and I can't imagine how she would behave had I not used his techniques, as well as the advice from the "Puppies for Dummies" book. (She is my first dog so I didn't have the benefit of prior experience.) In summary, I consider her to be one of the greatest blessings in my life. I didn't know you could love a dog as much as I love her. She is my constant companion and I wouldn't have it any other way."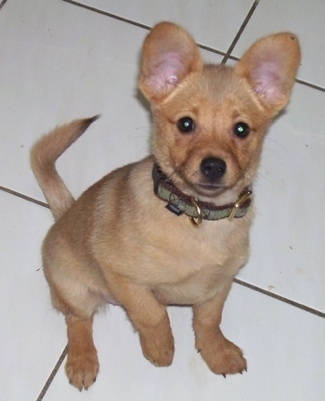 "This is Gracie, my PomChi puppy at about 6 months old. Her mother is Pomeranian and father Chihuahua."

_______________________________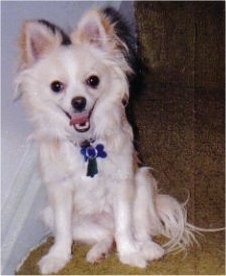 Taco at 2 years
_______________________________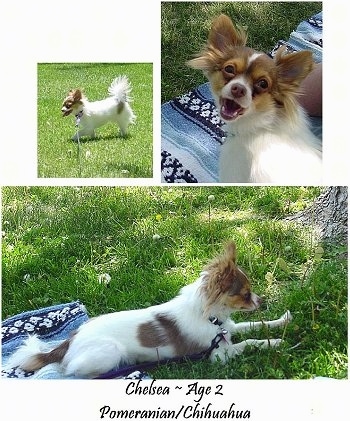 _______________________________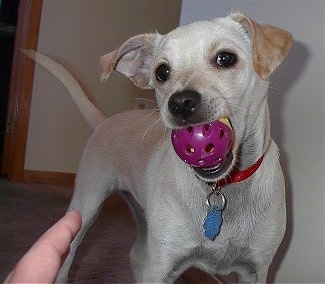 Timbit the Pomchi at 7 months old
_______________________________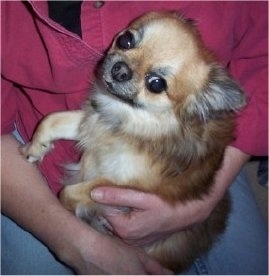 This is Micki; both of his parents are Pom / Chi mixes. He was the runt of the litter, weighing in at 1/3 of a pound on the vet's scale at 5 weeks old. At 2 years old he weighs 6.1 pounds. He doesn't bark or yap (just snorts when excited) and is the sweetest, most loving dog I have ever known!
_______________________________
"Timbit is a Pomeranian / Chihuahua cross. We adopted Timbit from the Petland rescue center when he was 6 months old. His previous owners broke up and neither wanted the responsibility of raising a dog so they took the little guy back. When we saw Timbit it was love at first sight. He is now 1 year, 10 months old (his birthday is August 16th) and weighs in at 8 pounds.
"Timbit is a very fast learner—he was housetrained in approximately one week (though he was already 6 months old when we adopted him). He learns tricks quickly and loves playing as well as his discipline training. I am sure he would consider his speed to be his best asset. He may be small but he has outrun German Shepherds on a few occasions. We usually take Timbit for a walk once every other day and a good run in the backyard daily. He enjoys walking but really loves to run at top-speed.
"Timbit growls at strangers and other dogs but settles down very quickly once he understands that we are unhappy with that behaviour. He is especially well behaved around babies and small children and lets them pet him and chase him around.
"Cesar Millan has had a great impact on our relationship with our dog. Watching the Dog Whisperer, and reading "Be the Pack Leader" has really given us insight into why dogs behave the way that they do and how to change negative or unwanted behaviour. Before watching the Dog Whisperer and reading Cesar's book Timbit was a very anxious, dominant dog. We have used Cesar's strategies to let Timbit know that he is not the pack leader, and his aggressive behaviour has drastically abated."
_______________________________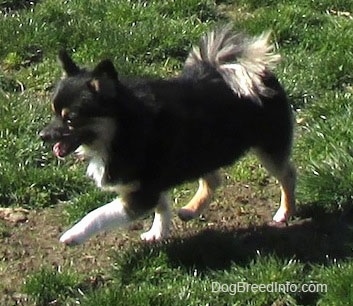 Bean the half Pomeranian half Chihuahua at 5 years old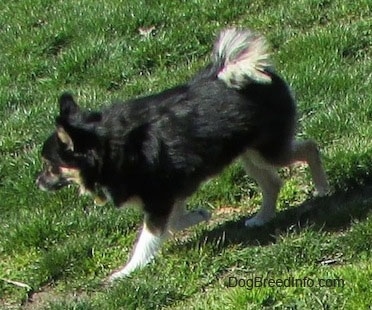 Bean the half Pomeranian half Chihuahua at 5 years old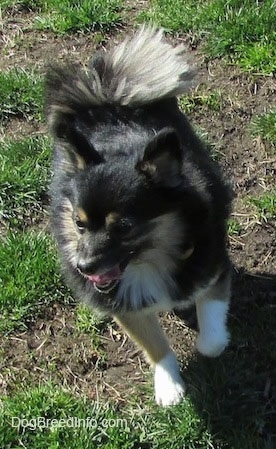 Bean the half Pomeranian half Chihuahua at 5 years old