Bullboxer Pit
Boxer / American Pit Bull Terrier Hybrid Dog
Information and Pictures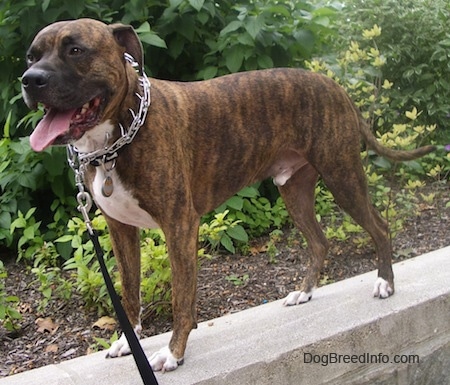 This is Leo the Bullboxer Pit at 4 years old. His dad was the Pit Bull and his mom was the Boxer. Leo was the runt of the litter. Leo looks like a mix of Spencer the Pit Bull with Bruno the Boxer, who are both neutered male dogs, but hypothetically speaking. :)
Description
The Bullboxer Pit is not a purebred dog. It is a cross between the Boxer and the American Pit Bull Terrier. The best way to determine the temperament of a mixed breed is to look up all breeds in the cross and know you can get any combination of any of the characteristics found in any of the breeds in the hybrid. Not all of these designer hybrid dogs being bred are 50% purebred to 50% purebred. It is very common for breeders to breed multi-generation crosses.
Recognition
ACHC = American Canine Hybrid Club
DBR = Designer Breed Registry
DDKC = Designer Dogs Kennel Club
DRA = Dog Registry of America, Inc.
IDCR = International Designer Canine Registry®
Recognized Names
American Canine Hybrid Club = Bullboxer Pit
Designer Breed Registry = American Bullboxer
Designer Dogs Kennel Club = American Bull Boxer
International Designer Canine Registry® = Bullboxer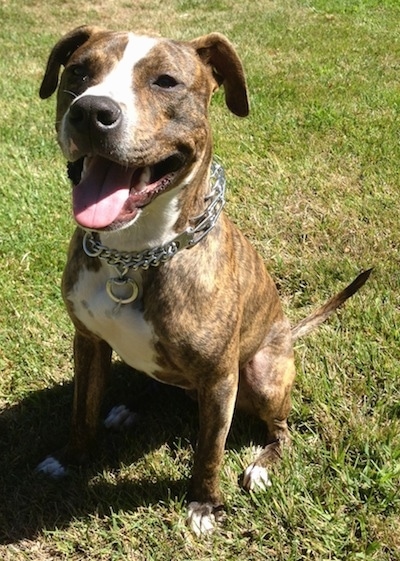 "Raj and Danielle are the proud owners of Marco, a Pit / Boxer / everything-else mix. He's 11 months old (soon to be 1) and enjoys chew toys, meat sticks, long walks on the beach (literally) and generally giving everyone love."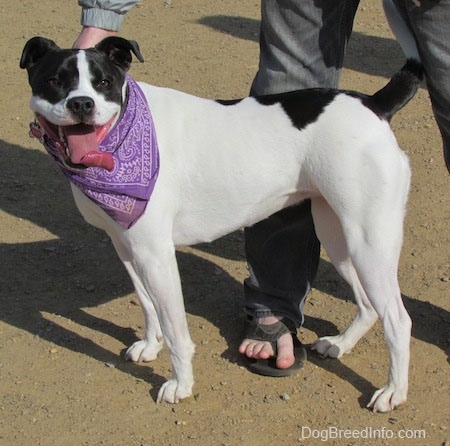 Riley the Bullboxer Pit at 2 years old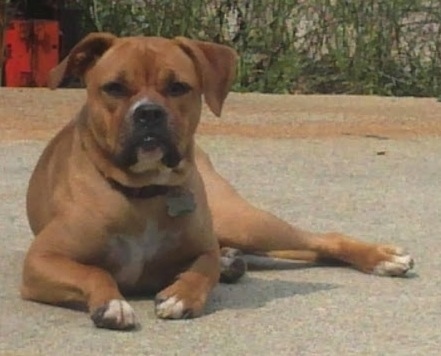 Destiny the Bullboxer Pit as an adult—"Destiny is a Pit Bull / Boxer mix. She is a great dog. She is very loving and has more Pit Bull characteristics than Boxer. She has the Boxer lips and lower jaw that sticks out a little further than the upper."
Destiny the Bullboxer Pit not yet fully grown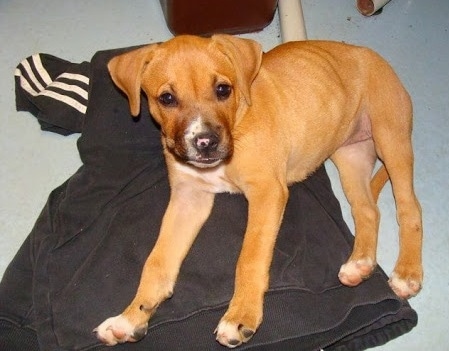 Destiny the Bullboxer Pit as a puppy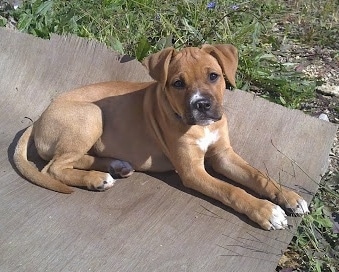 Destiny the Bullboxer Pit as a puppy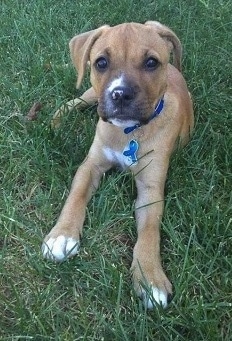 Destiny the Bullboxer Pit as a puppy laying in the grass.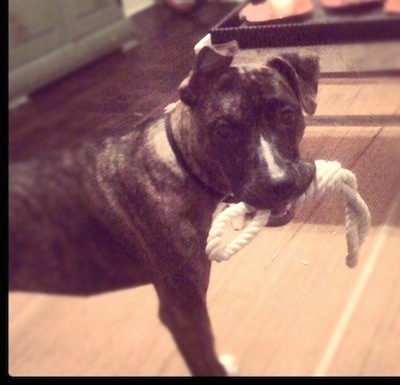 Kismet the Bullboxer Pit at 1 year and 7 months old ready to play—"Kismet (Kiz) was given to me by a stranger when she was only a few weeks old. She is the most loving dog I have ever met! She loves giving kisses and being the center of attention. She loves babies and other animals (even my temporary pet pig) she enjoys chasing fireflies and cuddling up in my arms to sleep. She is a goofy pup who brings a smile to anyone she meets."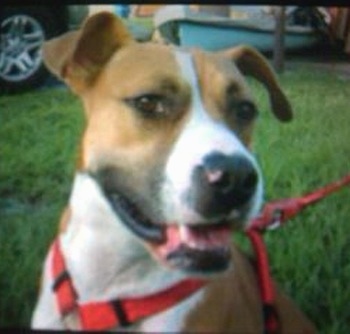 Sam the Bullboxer Pit (Pit Bull / Boxer hybrid dog)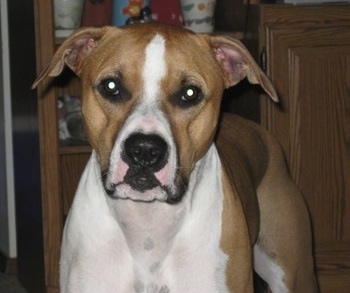 Rocket the Bullboxer Pit (American Pit Bull / Boxer mix) at 2 years old—"He is a very energetic and hyper dog. He is very fast, hence his name. Rocket is a fast learner. He learned many tricks including high five, shake, sit and lie down at only 4 months old. Rocket loves to learn! He loves Meaty Bones. He is a loving dog like a Boxer but also strong and muscular like an American Pit Bull. I rescued Rocket from people who were feeding him raw meat and kicking him just when he was about a month old. He is the best dog I have ever had."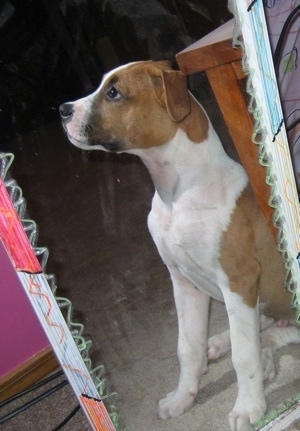 Rocket the Bullboxer Pit (American Pit Bull / Boxer mix) puppy at 5 months old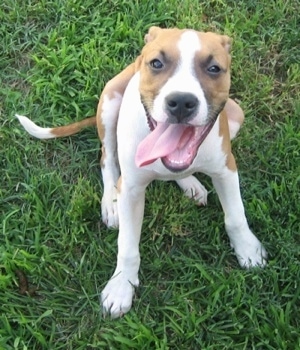 Rocket the Bullboxer Pit (American Pit Bull / Boxer mix) puppy at 5 months old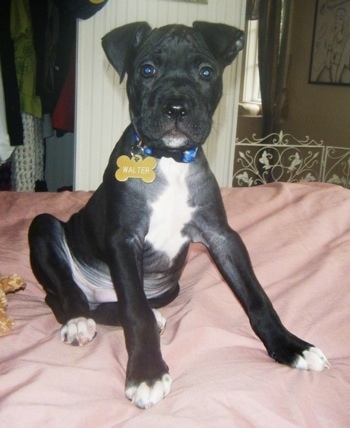 "This is Walter Mellin (get it?) at three months. His mother was a Pit Bull and his father a Boxer. He's very sweet and sleeps a lot. He's a climber! He's also very smart. He already knows sit, stay, lie down, come here, his name, go potty, as well as a variety of other words that indicate where to go (crate, bedroom, outside). He is so gentle that he can attack a balloon playfully for 35 minutes before popping it...with his nails, not with his teeth! Everyone loves him and he's changing everyone's attitudes about Pit Bull type dogs (or Pit Bull mixes)."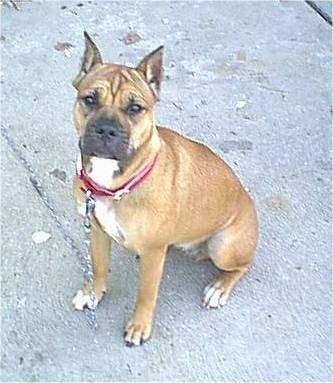 This is Seven, her mother is an American Pit Bull Terrier and her father is a Boxer. Seven is still a puppy in this photo.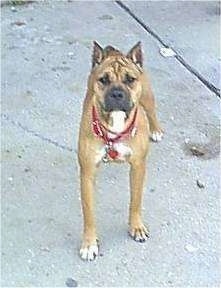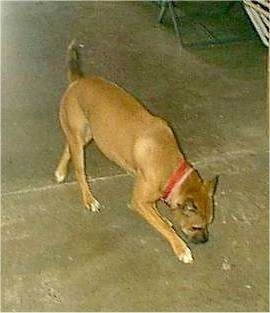 "These pictures were taken when Seven was about eight months old. She was about 47 pounds (22 kg). She should peak at about 60-70 pounds (27-32 kg), which probably won't be reached until about two years of age! If you look at this picture you will see both Pit Bull and Boxer, she really shows the Boxer in her when she is excited and wags her tail. It moves her whole hind end it is really funny! She also is a lot like a Boxer with other dogs she is not very aggressive at all, but she is a lot more mellow than a Boxer or even most Pit Bulls. She is truly magnificent! Photos courtesy of New World Am. Bull Boxer Kennel"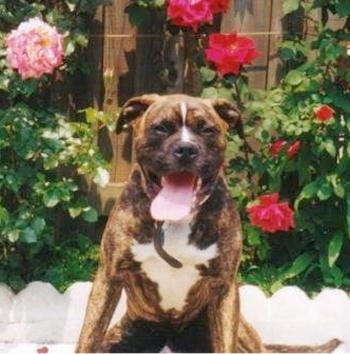 Cypress the Pit Bull / Boxer mix at 6 months old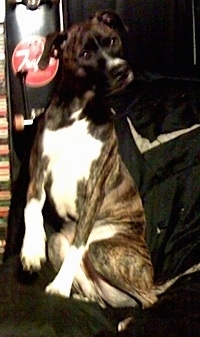 "This is Rude Dog, usually we call him Roo. We found him on a golf course almost a year ago and since then he has grown from a very shy and timid 7 pounds to a brave and playful 70-lb "lap dog" (or so he thinks!) We estimate him to about a year or so. His favorite things in the world are doggy treats and going for a walk every night, especially in the snow. He is very well behaved and responds very well to new people and other dogs he meets; he wants to be friends with EVERYONE!! He knows his rules and boundaries but every once in a while he slips up and may chew a wire or destroy his blanket, but, hey, if he can't upset you, he can't give you his adorable puppy dog eyes! Here he is on his bed waiting for a treat, it took at least 15 minutes to get a decent picture."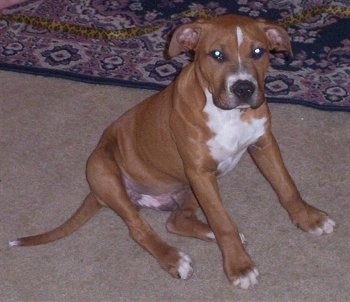 Sarge the 13-week-old Bullboxer Pit puppy—his owner says, "Sarge loves to bark…hence the name Sarge…he barks orders when he wants something."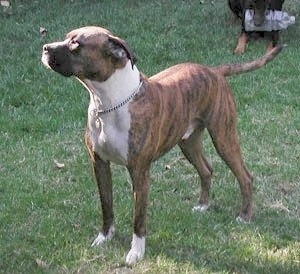 Tango the Bullboxer Pit at 7 years old and about 73 pounds—his owner says, "I think this photo shows off the outstanding physique that Bullboxers often have, between the width of the Pit Bull or Bulldog and the dogline and longer legs of the Boxer. Every Bulloxer I have met displays these traits (although I have admittedly only met a handful)."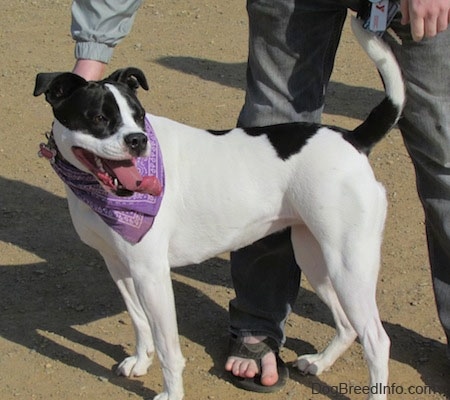 Riley the Bullboxer Pit at 2 years old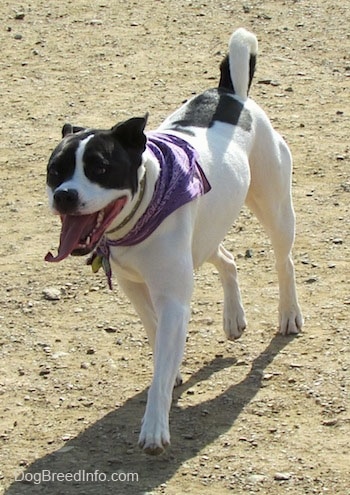 Riley the Bullboxer Pit at 2 years old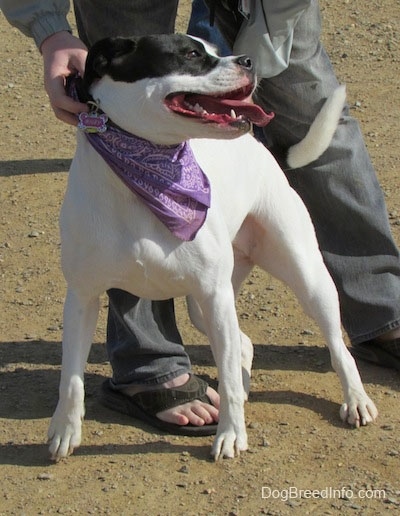 Riley the Bullboxer Pit at 2 years old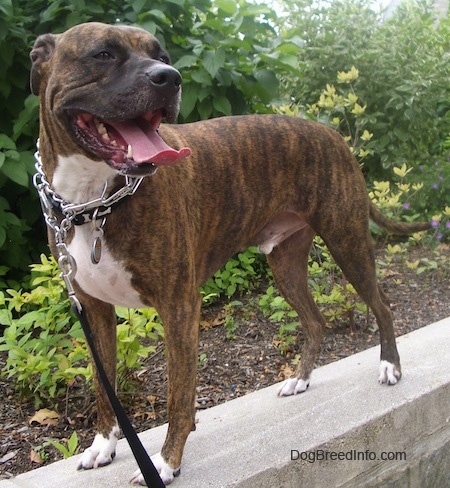 Leo the Bullboxer Pit at 4 years old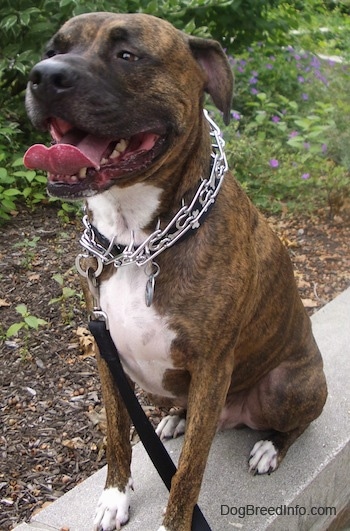 Leo the Bullboxer Pit at 4 years old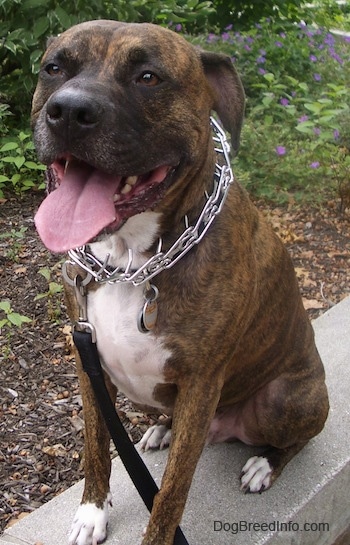 Leo the Bullboxer Pit at 4 years old